Cole Hocker Arrives As US Distance Star By DOMINATING NCAA Men's Mile With 3:53 Meet Record, Doubles Back and Wins 3k
by LetsRun.com
March 13, 2021
Update: This article was written before Hocker came back to win the 3000 in 7:46.15 and complete the mile, 3000 double.
American distance running has a new young star.
If it wasn't already apparent from his 3:50 mile earlier this season, teenager Cole Hocker of Oregon cemented that status on Saturday afternoon by winning his first NCAA title in dominant fashion. After sharing the lead with Texas' Yusuf Bizimana for the first two laps, Hocker made a definitive move to the front after three laps, and from there put on a masterclass in choking the life from a field. Each of his final seven laps got progressively faster, burning off the field one-by-one until only Alabama's Eliud Kipsang remained at the bell.
Article continues below player.
At that point, Hocker shifted into top gear and quickly dropped Kipsang as well. He was so far ahead that when Hocker turned around to steal a glance at Kipsang on the final turn, he couldn't help but smile at how large his lead was.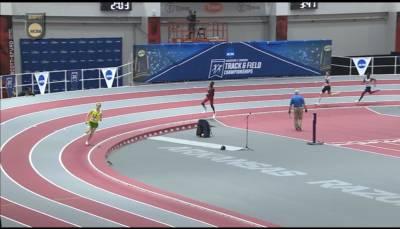 The numbers were remarkable. A 3:53.71 winning time, breaking Lawi Lalang's eight-year-old meet record. A 25.87 final lap — almost two seconds faster than anyone in the field. And perhaps the craziest stat of all: Hocker is still only 19 years old.
Kipsang finished second in a creditable 3:55.93, a personal best — which just underscored Hocker's dominance. Several of the guys behind Hocker ran well, in particular Adam Fogg of Drake, who barely got into the meet as the #15 seed and ran a pb of almost two seconds to take fourth. But realistically, no one else ever had a chance. No one else in this field had broken 3:55 all season. It would have been a lot to ask any of them to run 3:53 today.
###

Less than an hour later. Hocker came back and toed the line in the 3000. He won that as well, kicking down teammate Cooper Teare to win in 7:46.15 to Teare's 7:46.23 thanks to a blistering final 200 of 25.49 (54.23 final 400). Teare's final 1600 was 4:03.82.
Mile Results *Splits
1 Cole HOCKER SO OREGON 3:53.71 MR
2 Eliud KIPSANG FR ALABAMA 3:55.93 PB
3 Waleed SULIMAN SR OLE MISS 3:57.26
4 Adam FOGG JR DRAKE 3:57.32 PB
5 Reed BROWN JR OREGON 3:57.62
6 Sean DOLAN FR VILLANOVA 3:57.91
7 Tom DODD JR MICHIGAN 3:58.65
8 Yusuf BIZIMANA FR TEXAS 3:59.55
9 Lucas BONS FR BYU 4:01.97
10 George KUSCHE JR NEBRASKA 4:03.23
Quick Take: Let us repeat. The mile was masterclass
Coming into NCAAs, we wondered if Hocker might be vulnerable in a championship-style 1500. Afterall, his 800 pb is a modest 1:48.44. Sure Hocker was insanely good at running 57-58 laps back to back, but how would he fare if the pace was more modest?
This afternoon we got the answer and it's "amazingly well." With 400 meters remaining, the clock read 3:00.24. With 200 left, only Kipsang was within striking range. Why wasn't anyone else stil in it? Because Hocker was closing amazingly fast – 27.61, 25.87 – game over.
There was no way anyone in this field besides Hocker could close like that. Last night, off of a 2:12.09 opening 809 meters, Kipsang closed in 1:53.76, with a 27.77 last lap. This afternoon, off of a much faster opening 809 (2:01.42), Hocker closed in 1:52.29 with a 25.87 last lap.
Quick Take: What a meet from Drake's Adam Fogg
Fogg, an Australian, didn't quite have the accolades or experience of some of the other men in this field. With a 3:59.03 personal best, he was the #15 seed coming in and looked unlikely to even make it out of his prelim, which included Kipsang, Big 12 champ Yusuf Bizimana, 3:55 miler Lucas Bons, and 3:34 1500 man Sam Tanner.
But Fogg, who did run 3:40 for 1500 two years ago, ran like he belonged and finished third to advance automatically out of his prelim. And in the final tonight, he ran a personal best of 3:57.32.
Men's 3000 Results *Splits
1 Cole HOCKER SO OREGON 7:46.15 PB
2 Cooper TEARE SR OREGON 7:46.23
3 Mario GARCIA ROMO SO OLE MISS 7:48.59
4 Amon KEMBOI SR ARKANSAS 7:50.54
5 Alec BASTEN SR MINNESOTA 7:52.05 PB
6 Ahmed JAZIRI JR EASTERN KENTUCKY 7:53.19 PB
7 Baldvin MAGNUSSON JR EASTERN MICHIGAN 7:53.72 PB
8 Cameron PONDER JR FURMAN 7:54.56 PB
9 Antonio LOPEZ SEGURA JR VIRGINIA TECH 7:55.87 PB
10 Colton JOHNSEN SR WASHINGTON ST. 7:57.38
11 Gilbert BOIT SR ARKANSAS 7:57.90
12 Tom BRADY SO MICHIGAN 7:57.92 PB
13 Andrew KENT SR GEORGIA TECH 7:58.34
14 Benjamin NIBBELINK SO VIRGINIA TECH 7:59.74
15 Waleed SULIMAN SR OLE MISS 8:02.31
16 Ben FLEMING SO VIRGINIA TECH 8:08.12

Video highlights can be found here. Check out all of our NCAA coverage including our full day 2 men's recap of Oregon's dominance and the women's meet here. 2021 NCAA Indoor Coverage Hub.
Be a fan and talk about the Day 2 action our world famous fan forum/messageboard.