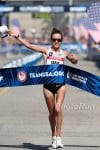 LRC Amy Cragg Gets Vengeance From 4th Place Finish 4 Years Ago, Desi Linden Runs Smart For 2nd And Shalane Flanagan Hangs On – Full Recap and Analysis link fixed Flanagan and Cragg pulled away early, but it took a toll on Flanagan, who barely kept it together and collapsed at the finish. Kara Goucher was a close 4th in 2:30:24 and Janet Bawcom 5th. Videos and more.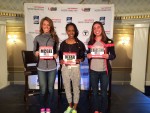 Defar, who surprisingly revealed she plans to run the 10,000 at the Olympics, will run the 3k on Sun., her first track race since Aug. '13. We caught up with Defar, Abbey D'Agostino and Brenda Martinez at the presser, plus non-distance stars Trayvon Bromell & Jenn Suhr. Also entered: Ethiopians Dejen Gebremeskel (3,000) and Dawit Seyaum (1,500) plus Nick Willis (mile), Duane Solomon (1k) Andrew Wheating (1k) and Boris Berian (800).
*MB: Don't forget the New Balance Indoor Grand Prix is Sunday - 4-6 pm ET on NBC Sports - Official Discussion Thread.
*MB: Bad news Molly Huddle and Emily Infeld Fans - Meseret Defar says she's targeting 10k at 2016 Olympics
Some Last Minute Trials Headlines
Doping Updates: Kenya On WADA Probation
Sprint Stuff: Adidas Putting Its $ In NFL Rather Than IAAF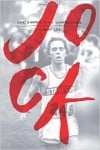 What was it like to be a Stanford runner from 1968 to 1972, during the height of the counterculture? Coe tells you and and nothing is off limits. Coe's stories range from racing Gerry Lindgren and Steve Prefontaine in the legendary 1969 PAC-8 XC Champs to smoking weed with the Stanford football team and Olympic swimmers at his fraternity house. Though his running career was ultimately not successful, this book certainly is. It's getting great reviews on amazon and we agree, giving it 4.5 out of 5 stars. Purchase here.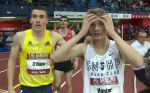 Move over, Alan Webb. Drew Hunter is the fastest indoor high school miler in the US ever. In other action, Marielle Hall blasted the final lap to win the 3k over Sheila Reid in 8:54 as Jordan Hasay and Nicole Tully in 6th and 7th didn't break 9:00, Ajee Wilson won the 800 in a close 2:02.15 over Laura Roesler and Lynsey Sharp, and Robby Andrews won the 800 in 1:48.43. Gabriela Stafford won the women's mile in 4:29.07, beating out NJ-NY's Erin Donohue (4:29.67).
Drew Hunter's Training Exposed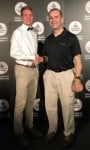 LRC Meet The Elementary School PE Teacher Who Is The Mastermind Behind America's Greatest Prep Distance Runner Tom Schwartz (aka "Tinman" on the message boards) has a training philosophy that is LetsRun.com approved. Will it help Hunter break 4 on Saturday? *Schedule / Results / Streaming
*MB: Get the inside scoop on Drew Hunter's training – LetsRun's feature on Tom "Tinman" Schwartz
Father Time Stays Undefeated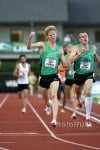 LRC Teg Retires: We Remember The Six Greatest Moments In His Career & Show Some Awesome Old School Video While Tegenkamp may not have been the best of his generation, he helped usher American distance running into a new stratosphere and he's the only American in US history ranked in the top 100 of the both the 1,500 and marathon. We rank his six most impressive accomplishments.
Want a Better Running Shoe?
Beta Better Running Shoe Site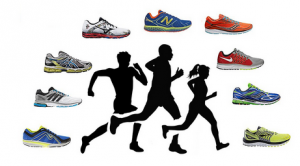 It's Time to Change How We Find Running Shoes