LetsRun.com Debates: Is Galen Rupp The Favorite For The 2016 US Olympic Marathon Trials? Who's Most Likely To Make The Team?
by LetsRun.com
February 3, 2016
It's time to start getting excited as the 2016 US Olympic Marathon Trials are only 10 days away. On the men's side there have already been a number of major developments as Ryan Hall and Matt Tegenkamp both retired, Abdi Abdirahman scratched from the race, and Galen Rupp announced he will make his highly-anticipated marathon debut.
Focusing on the people who are racing, the LetsRun.com staff decided to discuss who their top picks are for the Trials, both to win and make the team. Do we agree with Toni Reavis who last week said, "I think [Galen Rupp] is the best marathoner in America right now"? LRCs Robert Johnson, Jonathan Gault, Steve Soprano, Weldon Johnson and John Kellogg debate below.
---
Article continues below player
Rojo: So Rupp is in the Trials and World Indoors (assuming he qualifies), just as I predicted to those of you on the messageboard way back in December. The question for me is, "Is he the Marathon Trials favorite?"
My answer? Yes. Yes. Yes.
Rupp is a humongous talent and talent wins races. He's less than two years removed from a 26:44 10,000 and has proven he does just fine when he moves up in distance as shown by his 60:30 half pb. Yes, I know he hasn't run a marathon but so what? Look how he looked when running 61:20 in December. It looks like he's jogging.

I know Ritz and Meb are also two huge talents but Meb is 40 and Ritz is an injury-prone 33. The odds of one of those guys getting injured in the race are greater in my mind than any doubts I have about Rupp not being able to move up to the marathon.
Rupp FTW.
Wejo: Well I think the question is a simple one. If I had to bet who was going to win the Trials, I would bet on Galen Rupp. He would be the betting favorite even though it is his marathon debut.
Now unfortunately, track and field is so unpopular there are no betting odds on the marathon Trials to prove Rupp would be the betting favorite. But that is not necessarily a bad thing because it leaves it open to debate who is the favorite and lets us pontificate.
An aside: people who say "gambling would make track more popular" have it backward. You can sports bet on anything of note online. But not track and field in America, which shows how little market there is for it.
While Rupp is my favorite to win the marathon Trials, I don't think he is the guy most likely to make the team. That guy is Mr. Reliable – Meb (Keflezighi).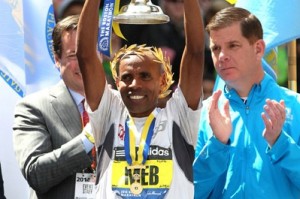 John Kellogg: I'm going to have to go with Meb as most likely to make the team. The only thing he has going against him is age, but with that comes experience, which is invaluable in a marathon, especially if it's only necessary to be in third place rather than win. It's hard to argue that an Olympic silver medalist and Boston winner doesn't know how to get the job done.

Based on apparent potential alone, of course Rupp (a 26:44 guy) is light years ahead of the rest of the contenders – but emphasis is on the word "apparent" here. Until a guy actually races a marathon, even he doesn't know whether or not he'll hold up in the final miles.

Ritz has run some very strong races and I think his chances are good, but he'll have to avoid any injury issues – even incipient ones. Even the tiniest problem, the kind that is often unnoticed in training, can snowball in a 26.2-mile race, leading to mechanical issues that squander precious energy. We know Ritz has been plagued with some injuries, so I say based on his prior accomplishments, odds are better than even he'll make the team but it's more likely that Meb makes it.

A young talent like Puskedra could definitely nab a spot even if none of the others falter, but the talent of Rupp and experience of Meb and Ritz favors those three.

Rupp should win it if his marathoning ability is even close to his proven 10k prowess, but with no marathon history, he also has that chance of blowing up. I have to give the nod to experience – and remember, getting in the top three is the primary goal here. I think Meb has the best chance of doing that.
Rojo: You guys make a good point that the point of the Trials is to qualify, not win. I'm still not convinced that Rupp's odds of not qualifying are lower than Meb or Ritz's. But I'll tell you one thing. I'm hoping that one of the following happens – I want least one of Meb, Ritz or Rupp to not make the team.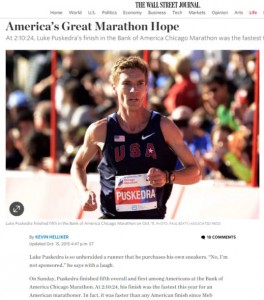 Why? Otherwise we should just cancel all of these post-collegiate groups and limit professional running to only guys who finished top 5 at Foot Locker. Puskedra is viewed as the underdog story this year and he was damn good in HS himself. Damnit. I just went over to Wikipedia and he too was 5th at Foot Locker.
Over the years, we've talked to a few sponsors about having a LetsRun pro team and my response has been, "What would your goal be? If it's to have big-time success, we're going to need a big-time budget as without the best talent, we're not going to do much."
One Brian Sell story would be nice, but it should be pointed out the year he made the team, Meb was battling injury or the team likely would have been Hall, Ritz and Meb. Even the Hansons have realized that you need some studs. Their best hope for the men's team this year might be Bobby Curtis. He was top 10 at Foot Locker twice. 3rd as a senior and 10th as a sophomore – the year Ritz, Webb and Hall went 1-2-3.
Jonathan Gault: As a journalist, I agree with you Robert, it would be nice to see an underdog make it if only because that creates a more interesting story to write about. But as you've pointed out in the past, even the "underdogs" have serious credentials these days. Diego Estrada is debuting and never made Foot Locker finals in high school, but he had a 9:04 HS pb and won the USA Half Championships last year by running 60:51. Sam Chelanga didn't make Foot Lockers in high school either, but that's because he grew up in Kenya — then he came over to the U.S. and started dominating and set the NCAA 10,000 record (27:08).
If you're looking for a true underdog, you want a guy like Nick Arciniaga, Jeff Eggleston or Craig Leon — nobodies in college who have a small outside shot at making the team. I just have a hard time imagining them beating two out of Meb, Ritz, Rupp and Puskedra (as well as everyone else in the field).
In terms of Rupp, I agree with the Wejo/JK line of thought. Meb has been extremely consistent throughout his career — as long as he's relatively healthy, he delivers a strong performance. Though I expect Rupp to make the team, I value that consistency more than Rupp's upside, which is tremendous. So my biggest lock for the team is Meb. I honestly can't tell you who my favorite to win is. Rupp has the highest ceiling, Meb has the highest floor and Ritz beat Meb in Boston last spring and has the best pb of anyone in the field. I will say I'd be shocked if someone other than one of those three won. And really, what are the chances that someone outside of Rupp, Ritz, Meb and Puskedra makes the team? 1 in 4? 1 in 5? Lower?
Wejo: So what you are saying is the odds of someone besides Rupp, Meb, Puskedra, and Ritz making the team are less than 20/25%? I don't think they are that low, but if I can throw in Diego Estrada and Sam Chelanga then I think the odds are that low.
But you guys haven't even mentioned my darkhorse yet. Personally, I was hoping Abdi would make it as I somehow beat him when I used to compete and we're not that far apart in age. But he pulled out on Monday, so now we're left to ponder who the true darkhorses are. I've got a guy not on the list above who has a chance of making it. And let's be honest, very few guys have a chance of making the team. But we can save that discussion for another day.

Rojo: Can the official record state that Weldon beat Abdi once, admittedly it was a big race  — 2003 USAs (Wejo was 4th in 2013, Abdi 5th) — but it only occurred after Abdi became the role model for Molly Huddle to imitate 12 years later and let up right before the line.
Wejo: I was talking to Abdi and Sam Chelanga at the Dallas Marathon this year and I was joking about Abdi being old, and somehow we started talking about nationals in 2003, and it took a while for Sam to figure out what we were talking about because he could not fathom I once was an athlete. He looked at me and said something along the lines of, 'You ran?'

It just cemented to me how impressive what Abdi and Meb and Deena have done all these years. They keep grinding away.
Steve Soprano: To answer Rojo's original question, I'm going to start by saying that no, I don't think Galen Rupp is the favorite to win the Trials. My pick for that distinction is Dathan Ritzenhein.
Why? Well, aside from the fact that he has the best PR in the field, I just think he's got the best combination of fitness and experience. I've been reading/listening to Ritz's interviews in this buildup and recently he's been talking very confidently and saying that he's in as good marathon shape as he's ever been. Specifically, he shared that he's in better shape now than when he was 7th in Boston last spring (where he beat Meb by almost 2 minutes).
Wejo: Let me interrupt to ponder why do we believe everything runners say about their training? Maybe it's my love of poker, but couldn't there be a little deception involved, even if it is self-deception?

Steve Soprano: What would be the point of Ritz faking what sort of shape he is in? Everyone will find out the day of the race.
Rojo, you say "Ritz is an injury-prone 33" and JK alludes to this as well, but the Trials are less than 2 weeks away. If he isn't injured now, the chances that he's going to get hurt while tapering and being super careful the next 10 days are pretty slim. Right now, Ritz has fitness, confidence and experience on his side. Counting against him is the fact that he's been training in the Michigan winter and his history of sometimes underperforming in the marathon due to muscle cramping issues. However, it sounds like the Michigan weather has been fairly cooperative this year and he ran very well in his last marathon, so I'm not counting those things too much against him. Also on his side is the fact that he's clearly very happy to be back with his family in Michigan. Don't discount how big a factor that can be when it comes to training and performance.
Back to Rupp, I agree with what you all have said about him being the biggest talent and having the greatest upside. However, he has zero marathon experience and we all know that 10K/half-marathon performances don't always directly translate to the marathon; especially in a debut where so much can go wrong. For all his personal success as an athlete, Alberto Salazar has not proven extremely adept in training his runners for the marathon (yes, I know he coached Ritz). Mo Farah's debut was respectable, but underwhelming, and even if he has the best potential, I don't expect Rupp to try to "knock it out of the park" on his first try. In his debut, he's way more likely to play it safe and "protect third", rather than go for the glory of a victory. Rupp might be the most likely to "explode" with an amazing performance, but he's also the most likely to "blow-up" and DNF.
Meb is the most credentialed and seasoned marathoner in the field and therefore, Weldon and Jon, you both feel he is the most likely to make the team. It's hard to argue with that and I would never bet against Meb. However, he is 40 years old and while his last two marathons have been respectable, they've had a lot less of a "Meb factor." On the other hand, Ritz is talking confidently about his fitness (saying it's better than when he beat Meb by almost 2 minutes in Boston) and we know Rupp is in great shape as he jogged a solo 61:20 half.
I think the team will be Ritz, Meb and Rupp, but I'm going to do something crazy and predict that out of the "big three", Meb is the least likely to make the team. Meb might be "Mr. Consistent", but even he is not above bad performances. I think it's going to be a 2:09 race and while I don't picture any of them faltering, if someone is going to fall off the pace I'm going with the 40-year-old who hasn't quite been himself (maybe "showing his age") in his last two marathons.
Wejo: I want to defend Meb because I don't think I'll have many more chances. Meb was with the leaders at 20 miles in New York this year. Granted it was a slow pace and Craig Leon was up there at 18 miles, but Meb was the top American in NY and in contention at 20 miles. That's a pretty good run.
Steve Soprano: I 100% would love to see an underdog or three make the team. When I was living in Flagstaff, I ran a lot with Nick Arciniaga, Diego Estrada and guys like them. As a journalist I probably shouldn't have favorites, but it'd make my day to see the blue-collar workhorses types like them in the top three.
Wejo: I think it really is, "As a journalist, I'm supposed to pretend I don't have favorites or put that favoritism aside." You're a human being; you're going to have favorites. But I think it's settled, you like the blue-collar workhorses and I pull for the 'old' guys now. We are what we are.
[gravityform action="polls" id="313″ mode="poll" cookie="1 month" show_results_link="false" display_results="true" percentages="true" counts="false" ajax="true"]