What's Jeremy Wariner Doing Working At Jimmy John's? 7 Questions With The Olympic Legend
by LetsRun.com
January 22, 2016
While Ryan Hall's retirement broke last week in the New York Times, we got a text from a LetsRun.com visitor informing us that another athlete, who redefined what many thought was possible for a Caucasian athlete in his event, also has a new job, but has received zero fanfare. Jeremy Wariner, the third fastest 400 man in history, posted online that he was the new General Manager at a Jimmy John's sandwich restaurant in Dallas, Texas.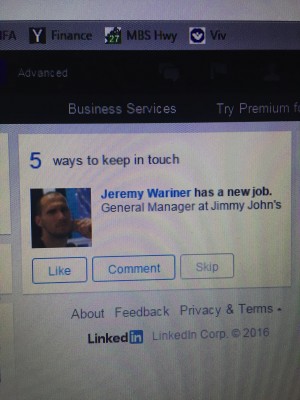 When we heard this we reached out to Wariner to find out more, as we were worried that the three-time individual gold medallist at 400 meters (2004 Olympics, 2005/2007 Worlds) had somehow retired without getting the notice he deserves. Well, Wariner hasn't retired yet and hopes to make the 2016 US Olympic team. And he isn't only a GM at Jimmy John's, but a franchise owner. To find out how the former champion's training is going and why he's now an owner in the restaurant biz, read out interview with him below.
Article continues below player
Like our coverage from Albuquerque?
1) LetsRun: We noticed that you had recently posted on the resume and job networking site LinkedIn.com that you had a new job as a General Manager at Jimmy John's and were curious about it and what it means for your track and field career. Are you retired? Is this a step towards retirement? Or something you are just doing on the side? Assuming you're not retiring this year, is it going to be hard to compete while working full-time or is it a part-time gig?
Jeremy Wariner: Over the last 2 years me and my wife Sarah have ventured into the franchise business. We wanted to replace my income from track and field when I retire. After about a year process, we finally opened up our Jimmy John's in Dallas. We opened up May 2015. At first we hired a GM to run the store since I was still competing. But after about 6 months and 2 GMs we thought it would be best for me to just take over the GM role. So at the end of 2015, I started working as the GM to help improve our location. As for training/competition, it hasn't been hard. I'm only working a few nights right now. So I'm able to work out every day. My training is going well. I'm excited about this season.
2) LRC: Why Jimmy John's specifically? Is there some significance with the brand or was it just a good opportunity? Are you still sponsored by adidas? (USATF doesn't list a current sponsor for you, but it hasn't been updated recently.)
JW: We chose Jimmy John's because of the return on investment and corporate support. They have been amazing. Helping us every time we need it. Also they're Freaky Fast. Unfortunately I have no sponsor at the moment. But that's ok with me. It's making me work even harder this season.
3) LRC: Many pros get into coaching or commentating or go work for a shoe company after they retire from competing. Are these things you considered or might still be considering?
JW: Yes I would still love to coach after I retire.
4) LRC: How is training going and do you have any planned races coming up? I know you haven't done a lot of indoor racing the last couple years (I think the last time you ran USAs was 2013 and you won), but with World Indoors in Portland this year, any chance you'll be doing US Champs in March?
JW: Training is great right now. I am working harder than ever and having a blast. I'm looking forward to my first race to see where I'm at. Right now we aren't looking at running indoors but that might change within the next few weeks. Right now, I'm looking at running a 200 at U[T-Arlington] and TCU. Then opening up in the 400m at Baylor the heading to Bahamas for the Chris Brown invitation. The back to Baylor for another 400m. As for after that no idea. Just want to get a few races in and getting my time down.
5) LRC: Last year in an interview you had a great quote where you said, "Just to show that the last few years were because of injuries, not because I'm getting old or I'm not fast (as) I was before, people doubt you whenever you get hurt, they always say 'you done, you need to go retire', but I know for me the reason why I was not running good was because of injuries."
Despite the past injury issues you seemed pretty optimistic about making the 2015 US World team and running the kind of quick times which have evaded you while you've been injured in recent years. You ended up running 45.42 and won a gold at World Relays, but then didn't make the final at USAs. How did you feel about your 2015 season; why do you think it didn't go better at the end?
JW: I [felt] like my season went well. No I didn't run 44, but my main goal was to stay healthy and finish the season. I felt like after my race in Edmonton (45.42 on July 12, his fastest time in over two years) I was in a good position to get to the low 45 high 44. But unfortunately I didn't get many more races. I had fun this past season which I haven't done in years.
6) LRC: What are your goals for 2016? Are you still allowing yourself to dream of Olympic glory, or at almost 32 years old, do you think Father Time has started to catch up with you?
JW: 2016 goals are to get my time in the 44s before USA trials. I'm working hard this season to make another Olympic team. I'm not focused on the Olympics yet. I am focusing on the trials first. If and when I make the team, then I will focus on the games.
7) LRC: You've had a very long and impressive career which includes three Olympic golds (1 individual, 2 relay) and 5 World titles (2 individual, 3 relay), as well as your 43.45 PR. What stands out as the highlight for you?
JW: A few things stand out in my career. Making and winning my first Olympics at the age of 20 and then running the 3rd fastest 400m in the history of the sport. But other than running, just getting the opportunity to see the world while doing something I truly love to do. I've had a blast and am looking forward to continuing the journey this year.