Don't Forget The 2016 New Balance Indoor Grand Prix Is Sunday – Meet Has Lots Of Names As Meseret Defar Races On Track For 1st Time Since 2013
By Jonathan Gault
February 12, 2016
BOSTON — The running world's attention may be on Los Angeles this weekend, but after the U.S. Olympic Marathon Trials wrap up on Saturday, there's more running in store Sunday as the New Balance Indoor Grand Prix will be held for the 21st time at the Reggie Lewis Track and Athletic Center in Boston.
Several top U.S. and international athletes are scheduled to compete, none more intriguing than Ethiopia's Meseret Defar, who will race on the track for the first time since August 2013. Defar, a two-time Olympic and two-time World champion at 5,000 meters, missed 2014 due to pregnancy and was limited to just one race in 2015 with calf and back injuries. The 32-year-old is entered in the 3,000 on Sunday.
Article continues below player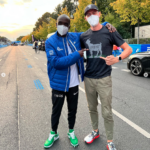 Kipchoge loves the 1:59:40 Shirt Get Yours Today
What a legend!
Other entrants in the distance events include Olympic silver medalists Nick Willis (mile) and Dejen Gebremeskel (3000) plus Ethiopia's Dawit Seyaum (1500), Kenya's Isiah Koech (3000) and Americans Brenda Martinez (1500), Abbey D'Agostino (3000), Boris Berian (600), Duane Solomon (1000) and Andrew Wheating (1000).
In non-distance action, Jenn Suhr will compete fresh off her world indoor record two weeks ago, while Ashton Eaton (60 and pole vault), Tori Bowie (60) and Trayvon Bromell (60) are also entered.
Defar, Martinez, D'Agostino, Suhr, Bromell and Cory McGee were all at the elite press conference today, so I'll add in their comments in the relevant events below.
What: 2016 New Balance Indoor Grand Prix
When: Sunday, February 14, 3 p.m. to 6 p.m. ET
Where: Reggie Lewis Track and Athletic Center, Boston, Massachusetts
How to watch: Live on NBC Sports Network and online on NBC Sports Live Extra from 4:00 p.m. to 6:00 p.m. ET
Schedule (with links to start lists)

All LRC coverage * 2015 LRC coverage * Meet website
Distance Events
Men's 600 (4:10 p.m. ET): Boris Berian enters in great form
| | |
| --- | --- |
| Athlete | Nat. |
| Bershawn Jackson | USA |
| Boris Berian | USA |
| Julius Mutekanga | UGA |
| Sean Atkinson | USA |
Berian, who opened up his 2016 campaign with a stellar 1:46.00 800 in Portland on January 29 (putting him #7 on the all-time U.S. indoor list) is the favorite here in the small four-person field. Bershawn Jackson, ranked #1 in the world in the 400 hurdles last year by Track & Field News, is also entered but he should not be a match for Berian: his 600 best is only 1:18.65 (from a decade ago) and he's run 1:53.64 and 1:55.22 in two 800s so far this season.
Men's 1000 (4:17 p.m. ET): A battle between 2012 Olympians Solomon & Wheating
| | |
| --- | --- |
| Athlete | Nat. |
| Cristian Soratos | USA |
| Duane Solomon | USA |
| Harun Abda | USA |
| Andrew Wheating | USA |
| Mark Wieczorek | USA |
| Patrick Peterson | USA |
This one should be competitive, with 2012 Olympians Duane Solomon and Andrew Wheating the most intriguing entrants. Solomon battled injuries in the months leading up to USA outdoors last year and he ultimately ran out of gas with 100 meters to go in the final, missing out on his third consecutive U.S. title. But the 1:42 man won his three remaining races in 2015 and enters 2016 with a renewed focus. This will serve as his season opener.
Wheating, still only 28, did not run particularly fast last year (SBs of 1:47.75 and 3:38.75) but remained a factor in championship races, taking 5th at USAs in the 1500 and adding Pan Am and NACAC titles in the same event. He's two-for-two so far in 2016, collecting 1500 and 800 wins in Portland last month and based on that form, he'll be favored to win here as 1000 is out of Solomon's comfort zone.
Men's 3000 (4:45 p.m. ET): Gebremeskel goes for two in a row in Boston
| | |
| --- | --- |
| Athlete | Nat. |
| Dejen Gebremeskel | ETH |
| Maverick Darling | USA |
| Brett Robinson | AUS |
| David Torrence | USA |
| Lawi Lalang | KEN |
| Julian Matthews | NZL |
| Dan Stockberger | USA |
| Isiah Koech | KEN |
| Kirubel Eressa | USA |
| Kemoy Campbell | JAM |
Gebremeskel has run this meet in each of the past six years (the last five in the 3000) and has always raced well (remember he famously once lost a shoe and still beat Mo Farah without a shoe here), so expect to see the 7:34/12:46 man leading the charge once again on Sunday. One of his chief rivals figures to be 2013 World Champs bronze medalist Isiah Koech of Kenya, who was eighth at Worlds last year. Koech was only sixth last week in the 3000 in Dusseldorf (7:42.53) but the field in that race was stacked (Augustine Choge, Caleb Ndiku, Yenew Alamirew among others) so he should be ready to roll. David Torrence, 5th at USAs in the 5000 last year, is the American to watch — he's making his 2016 debut here.
Women's 3000 (5:15 p.m. ET): The return of Meseret Defar
| | |
| --- | --- |
| Athlete | Nat. |
| Meseret Defar | ETH |
| Liz Costello | USA |
| Nicole Sifuentes | CAN |
| Siham Hilali | MAR |
| Margherita Magnani | ITA |
| Laura Thweatt | USA |
| Abbey D'Agostino | USA |
| Rachel Johnson | USA |
| Rachel Schneider | USA |
| Heidi See | AUS |
| Melissa Salerno | USA |
| Ciara Mageean | IRL |
| Diana Sujew | GER |
| Elina Sujew | GER |
Defar is the big story here, obviously. Pregnancy knocked her out in 2014 (she gave birth in June) and though she began training again early in 2015, injuries to her left calf and back kept her out of the World Championships last year. She was finally able to start training again in September and since then she's run one race, clocking 50:04 for 15 kilometers on the roads on December 6 in the Netherlands (a race she won by 1:25).
Today at the press conference, Defar said that "it's difficult to say" how fit she is right now and that "she's not 100 percent." Still, she said that training has gone well recently and is optimistic about Sunday's race. Defar won this race in 8:30 in 2005, 2006 and 2007 and said her aim is to better that mark and in the process earn a qualifying time for next month's World Indoor Championships, where she intends to run the 3000 (the IAAF standard is 9:00.00).
Outdoors, Defar, a two-time Olympic champ at 5,000, surprisingly said she will focus on the 10,000 meters (Editor's note: That's not good news for Molly Huddle/Emily Infeld fans).
"I don't have a gold medal or any medal in Olympics [in the 10,000]," Defar explained, when asked how she came to that decision.
Indeed, Defar has never run the 10,000 at the Olympics and her two attempts at it at Worlds did not go well: she was 5th in 2009 and DNF'd in 2011. I thought it was interesting that Defar would stray from the 5,000, an event in which she has fared much better in her career: she medalled in the event at every global championships from 2004 to 2013 and won the last two times she ran it (2012 Olympics and 2013 Worlds). Obviously the tendency for most runners is to move up in distance as they age, but I also wondered whether the emergence of young Ethiopians Almaz Ayana, Senbere Teferi and Genzebe Dibaba had anything to do with Defar's decision.
If they did, Defar wasn't going to admit to it today.
"I don't know who's running [what event in Rio]," Defar said when I asked her about Ayana and Dibaba.
Dibaba is clearly the class of this field and should win handily if she's in decent shape. Behind her, expect Abbey D'Agostino, who made Worlds in the 5,000 last year for the U.S., to challenge Rachel Schneider (8:58 on a flat track two weeks ago; she ran 4:30.72 in the mile on Friday at Boston University so she may be a rabbit) and Morocco's Siham Hilali (4:01 1500 pb) for second.
D'Agostino ran a pb of 8:51.88 on January 2 before heading out to Flagstaff for a month of altitude training and marked her return back east with a 4:31.50 win at the Terrier Classic in Boston two weeks ago.
"So far I've responded well,"said D'Agostino. "We had the opportunity to race right when we got down, which was about two weeks ago, and then put in some good work and then raced again. In terms of the research and science behind it, you're supposed to race right when you get down then there's an adaptation phase and 10-14 days later you race again, so we've been very intentional about our race decisions."
D'Agostino said that she has felt "stronger than ever" in recent workouts and that she's aiming for 8:45 on Sunday, which would be a six-second PB and give her the World Indoor qualifier (her 8:51 came in a mixed-gender race and is not an eligible mark for qualifying purposes). Since the field will likely let Defar go if she goes out on 8:30 pace, D'Agostino said that she'd be willing to do the work pushing the pace in the second group if necessary.
Men's mile (5:42 p.m. ET): Willis headlines a small field
| | |
| --- | --- |
| Athlete | Nat. |
| Nick Willis | NZL |
| Bethwell Birgen | KEN |
| Vincent Kibet | KEN |
| Brandon Lasater | USA |
| Dusty Solis | USA |
| John Travers | IRL |
This race should serve as a good Wanamaker Mile tuneup for 2008 Olympic silver medalist Nick Willis. The Michigan grad has already raced four times this year outdoors in his native New Zealand — all victories, the most recent of which was a 4:15 road mile victory in Christchurch over Aussies Ryan Gregson and Brett Robinson. Last year, Willis ran 3:51.61 here to break the legendary John Walker's national indoor record (he lowered it again a week later in New York) so it will be interesting to see how Willis treats this one. The field may be small, but Kenyans Vincent Kibet (3:31 pb, 7:44 last week in Karlsruhe) and Bethwell Birgen (3:30 pb, 7:43 last week in Karlsruhe) are no pushovers.
Women's 1500 (5:52 p.m. ET): World Champs 4th placer Dawit Seyaum takes on Brenda Martinez – What type of shape is Morgan Uceny in?
| | |
| --- | --- |
| Athlete | Nat. |
| Dawit Seyaum | ETH |
| Melissa Duncan | AUS |
| Treniere Moser | USA |
| Morgan Uceny | USA |
| Violah Lagat | KEN |
| Brenda Martinez | USA |
| Christy Cazzola | USA |
| Kate Grace | USA |
| Alexa Efraimson | USA |
| Stephanie Brown | USA |
| Megan Krumpoch | USA |
| Fiona Benson | CAN |
The 19-year-old Seyaum, who ran 3:59.76 last year and took fourth at the World Champs, won the 2000 here last year and will be favored to claim another victory in the 1500 on Sunday (though I can't be totally sure of her fitness as she has yet to race this season). Former U.S. champs Treniere Moser and Morgan Uceny are both in the field to challenge her, as is 2013 World champs 800 bronze medalist Brenda Martinez. Martinez battled a peroneal injury in her lower leg last year and as a result regressed after strong 2013 and 2014 seasons (though Martinez did still manage to make it to the semifinals at Worlds last year).
"Last year was a little bit shaky," Martinez said. "I already knew what the issue was and it's always an issue that wants to come back. I'm healthy now but it's just about finding the right kind of therapy and I felt like I've done that."
Martinez connected with Melvin Tann, a therapist who has worked with UFC fighters and the NFL's San Diego Chargers, and said that he has helped resolve her injury issues. It's a three-hour drive round trip from Martinez' home to Tann's office in Santa Ana, but Martinez believes that's time well spent.
"It's worth the drive to stay healthy," Martinez said.
Listen to your body. Recovery is key to improving performance and staying injury free. Thank you @MelvinTann pic.twitter.com/Z656o4nsaZ

— Brenda Martinez (@bmartrun) February 9, 2016
So far, the therapy appears to be working: Martinez won her 2016 opener, a 4:32.05 mile in Portland on January 29, by almost eight seconds. She said her plan is to hit the IAAF standard on Sunday (4:13) and stay on the East Coast for a week before taking on Ajee Wilson in the 800 at the Millrose Games. Then it's USA Indoors, likely in the 1500 (Martinez said she'll remain focused on the 800 outdoors).
As for Uceny, she's been healthy in the offseason for the first time in a while so it will be interesting to see what she does in her first test of 2016.
Non-Distance Events
Men's 60 (5:35 p.m. ET): Trayvon Bromell takes on Ashton Eaton and world leader Mike Rodgers
| | |
| --- | --- |
| Athlete | Nat. |
| Trell Kimmons | USA |
| Trayvon Bromell | USA |
| Kimmari Roach | JAM |
| Ashton Eaton | USA |
| Nickel Ashmeade | JAM |
| Zhenye Xie | CHN |
| Michael Rodgers | USA |
Bromell said that he's more comfortable running the 100 outdoors than the shorter 60-meter distance indoors, but he's pleased with the progress he's been making this year (he tied his pb of 6.54 on January 23 and has won all four of his races in 2016). After Boston, he's planning on racing in Stockholm and Glasgow next week and from there will make a decision about whether to run USA/World Indoors.
Bromell, who split the bronze medal in the 100 at Worlds last year with Andre De Grasse, was not shy about his 2016 ambitions, saying that he'd like to win the Olympics, but he's not putting any pressure on himself.
"I feel like there's no pressure," Bromell said. "I'm young, I'm new to this. I feel like there's more expectations on the older guys, they're getting toward the end of their careers, they're sitting there like they have to win. I feel like me, I'm under the radar. I kind of feel like my freshman year in college where nobody really worried about you but then you can have a breakthrough and everybody's like 'Whoa.'
"So I feel like I'm taking this first year as a professional like my freshman year in college, I'm just going to run my best and hopefully it will come all together. My freshman year, I came in [and] I won the national title. Hopefully this year I come in, win the Olympics. I'm just keeping my head straight, staying focused and hopefully the best will come out of it."
Bromell also revealed he is very serious when it comes to his hair: he gets it cut every three days.
Women's pole vault (3:15 p.m. ET): Fresh off an indoor WR, can Jenn Suhr challenge the overall mark?
| | |
| --- | --- |
| Athlete | Nat. |
| Jenn Suhr | USA |
| Janice Keppler | USA |
| Katerini Stefanidi | GRE |
| Cimran Virdi | CAN |
Suhr, who set a new indoor world record of 5.03 meters two weeks ago at a small meet in Brockport, N.Y., has thought about the overall world record (5.06m by Yelena Isinbayeva) but said she won't know if she's ready to go after it until after her practice session on Friday afternoon (she spoke to me Friday morning).
Suhr said "things are looking really good" in training — she's been scraping the ceiling of her special indoor practice barn — but said that the hardest bar to get over before the world record is the opening height. Once she's got that out of the way on the day of competition, Suhr can shift her focus onto the really big heights.
Suhr also said she's not concerned about the Zika virus, which has raised concerns in the buildup to the Rio Olympics.
"Any time there's a World Championships or there's an Olympics, there's always some kind of problem that comes out ahead of time and everyone is worried about it– and it seems like [the Zika virus] is the problem right now — and then it comes closer and all of a sudden it's not a problem anymore," Suhr said. "Honestly, there's no worry. I have no plans to not go….I don't think it's going to be a problem."
More: Talk about the meet on our fan forum: MB: Don't forget the New Balance Indoor Grand Prix is Sunday – 4-6 pm ET on NBC Sports – Official Discussion Thread.