15 Minutes With Meb Before the Olympic Marathon Trials: "I'm just fortunate to be in the position that I'm in. Everyone else is trying to do what I have done"
by LetsRun.com
February 11, 2016
We're going to be doing our 2016 Marathon Trials Preview Podcast today (Thursday) and in the process spoke to Meb Keflezighi for 15 minutes on Wednesday.
Article continues below player
Meb has been away from his family training in Mammoth Lakes, Calif., leaving no stone unturned as he tries to make his fourth Olympic team at age 40. Meb said marathoning is a full-time job. Just after we stopped recording, he told us he's been doing more treadmill running than ever to get ready for the heat of LA.
Instead of making you wait for the podcast, we are posting the audio with Meb below.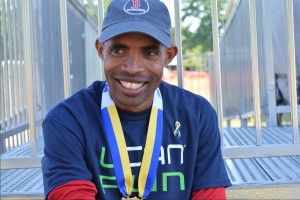 Highlights: 
On His Success and Longevity: "I really believe it is doing the small things that make a difference. I know I say it is a full-time job. It is literally, figuratively a full-time job. Until I put my head on the pillow there is always something I could do. Whether it is stretching, whether it is core, drills, whether is eating right with Generation UCAN immediately after my workouts, every second is almost accounted for. I try to relax… I've been very fortunate to have the longevity of my career."
On His Buildup: "I've been very fortunate. For the most part I've been healthy with consistent training. It's been difficult to stay away from my wife and family for five weeks," said Meb, saying he was surprised by his family once in Mammoth and has been FaceTiming them.
On the race: "You can't play defense or have a timeout. [We'll see] whoever is ready."
On Galen Rupp: "Galen Rupp will be an addition and he'll have to run 26.2 miles on that day. We all have to do that… but on paper I never would have won an Olympic medal or New York or Boston… I'm just fortunate to be in the position that I'm in. Everyone else is trying to do what I have done…I have nothing to lose. Him being there is an interesting element. We know what kind of style he runs and Alberto and all that stuff. It's one less spot to complete for [on the Olympic team] probably, but everyone has to run 26.2 miles and we'll see what the results are."
Meb also said he's revealed all his secret workouts in his books.
If you'd like to download Meb's interview instead click here We have similar audio with Dathan Ritzenhein here.
Thanks to our advertising partner Generation UCAN for helping make Meb available. We told UCAN we'd love to talk to Meb before the Trials and next thing you know we were speaking to both Meb and Dathan Ritzenhein. If you're going to be in LA for the Trials, both Ritz and Meb Keflezighi will be at a Generation UCAN event open to the public Saturday afternoon after the Trials.