The Moment You've All Been Waiting For: The Results For Our "Dirty" Or "Clean" Doping Polls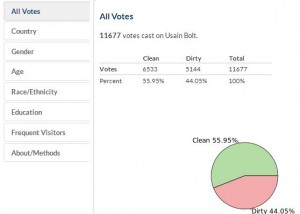 LRC World Record Holders "Dirty" Or "Clean" Doping Poll Results Without further ado, we present to you the results of our world record doping poll. LRC The "Dirty" Or "Clean" Doping Polls: Why Did We Do Them? Many of you get it. You voted and gave us some very interesting demographic data. We think you'll find the data very interesting. Some of you don't get it and have said so. Here we address some of your concerns.
Doping News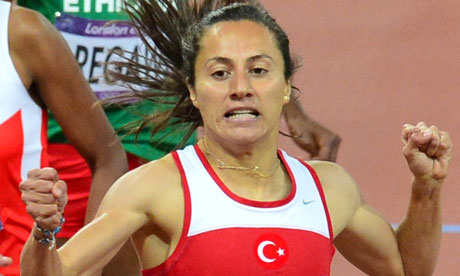 The IAAF Fights Back And Re-Suspends Olympic 1,500 Champ Asli Cakir Alptekin For Biological Passport Violation The IAAF has appealed the Turks' exoneration of Alptekin and now the Court of Arbitration for Sport (CAS) will decide. The verdict will be monumental as she'll either get a lifetime ban or be named Olympic champion. *More 
Big Doping News
The Double Standard Continues: Tyson Gay Tested Positive After Trusting Doctor Of Many NFL Stars  David Epstein, in a joint piece for Pro Publica and Sports Illustrated, says that Tyson Gay tested positive this summer after seeing a doctor favored by a slew of NFL stars. It's believed Gay's positive resulted from him taking a cream which the manufacturer says doesn't even have testosterone in it (but the label does), just DHEA – a substance legal in both the MLB and NFL but banned in track as it's a steroid precursor. USADA has been told that Jon Drummond carried the cream around Monaco for Gay in 2012. *Piece On SI.com *Discuss On MB: Doping Double Standard Continues: D Epstein Reports Tyson Gay Tested Positive After Seeing Doctor Favorited By NFL Stars *LRC Archive: The Doping Double Standard In American Sports Needs To End
RAK Half Marathon Was Early Friday
World's #1-Ranked Marathoners Lelisa Desisa And Priscah Jeptoo Win 2014 Rak Half Marathon As Record 8 Men Break 60:00 In A Single Race Desisa, the 2013 Boston Marathon champion, won in 59:34 as Jeptoo (2013 NY and London winner) ran in 67:00. *IAAF Recap *MB: RAK HALF *LRC Preview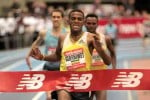 Nick Willis won the mile as Galen Rupp dropped out and Leo Manzano got last place. Hagos G won the 3k, but the big news was Ryan Hill has officially arrived.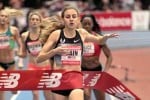 Mary Cain keeps rolling, Jenny Simpson entertained, Treniere Moser is going for it, Chanelle Price keeps improving and Kim Conley is crushing everyone. Analysis and video interviews.
Genzebe Dibaba, the younger sister of Tirunesh Dibaba, ran 3:55.17 for 1,500m in Karlsruhe, Germany to absolutely destroy the previous world record of 3:58.28 by Yelena Sobolova of Russia. Dibaba's time is arguably the greatest 1,500m ever run as it is the fastest time indoors or out since 1997. Nixon Chepseba ran 3:37.02 to win the men's 1,500m. Caleb Ndiku won the men's 3,000m in 7:36 with Augustine Choge, Yenew Alamirew and Bernard Lagat 2-4.
Win $100 – Submit Your Photo Now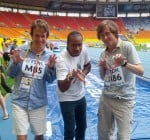 Rojo, Wejo and Yohan Blake performing "The Beast" is our personal LRC photo of the year. What's your 2013 running photo of the year? Submit or tweet your entries to us. Winner gets a cool $100.
Want a Better Running Shoe?
Beta Better Running Shoe Site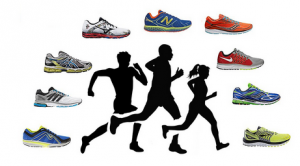 It's Time to Change How We Find Running Shoes