2014 New Balance Boston Indoor Grand Prix Results
Via www.nbindoorgrandprix.com
February 7, 2014
Full results below from the 2014 New Balance Indoor Grand Prix in Boston.
The 4×800 World record was the highlight along with Mary Cain beating her world junior 1000m record. Links to detailed results at bottom.
Article continues below player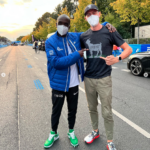 Kipchoge loves the 1:59:40 Shirt Get Yours Today
What a legend!
08/02/2014
New Balance Indoor Grand Prix
Boston (Roxbury), MA, 08/02/2014
Men' results
60 Metres – Men Final
1 Bracy , Marvin USA 6.53
2 Morris , Joseph USA 6.55
3 Rodgers , Mike USA 6.56
4 Ricks , Keith USA 6.59
5 Cherry , D'Angelo USA 6.61
6 Ashmeade , Nickel JAM 6.62
7 Bailey , Ryan USA 6.64
8 Fraser , Warren BAH 6.65
60 Metres – Men Heats Race 1
1 Rodgers , Mike USA 6.61
2 Morris , Joseph USA 6.61
3 Cherry , D'Angelo USA 6.62
4 Ashmeade , Nickel JAM 6.63
5 Ricks , Keith USA 6.64
6 Williams , Ivory USA 6.74
7 Edwards , Monzavous USA 6.75
8 Newman , Calesio USA 6.75
60 Metres – Men Heats Race 2
1 Bracy , Marvin USA 6.58
2 Bailey , Ryan USA 6.64
3 Fraser , Warren BAH 6.66
4 Kimmons , Trell USA 6.67
5 Roach , Kimmari JAM 6.69
6 Eaton , Ashton USA 6.73
7 Webb , Ameer USA 6.82
500 Metres – Men
1 Solomon , Jarrin TTO 1:01.84
2 Quow , Renny TTO 1:01.90
3 Smith , Calvin USA 1:03.78
One Mile – Men
1 Willis , Nicholas NZL 3:57.41
2 Casey , Patrick USA 3:58.18
3 Brannen , Nathan CAN 3:58.37
4 Lomong , Lopez USA 3:58.52
5 Bolas , Jack USA 3:59.35
6 See , Jeff USA 4:00.00
7 Manzano , Leonel USA 4:04.92
Rupp , Galen USA DNF
Stockberger , Daniel USA DNF
3000 Metres – Men
1 Gebrhiwet , Hagos ETH 7:34.13
2 Gebremeskel , Dejen ETH 7:34.70
3 Hill , Ryan USA 7:34.87
4 Heath , Garrett USA 7:37.40
5 Bumbalough , Andrew USA 7:37.62
6 Ibrahimov , Hayle AZE 7:39.73
7 Levins , Cameron CAN 7:41.59
8 Leer , Will USA 7:42.95
9 Mead , Hassan USA 7:44.88
10 Chelanga , Samuel KEN 7:45.21
11 Blankenship , Ben USA 7:46.55
12 Miller , Craig USA 7:49.05
13 Cabral , Donald USA 7:51.47
14 Bruchet , Lucas CAN 7:56.33
Turner , De'Sean USA DNF
Shot Put – Men
1 Kovacs , Joe USA 21.35
2 Whiting , Ryan USA 21.18
3 Martin , Cory USA 20.63
4 Majewski , Tomasz POL 20.61
5 Clarke , Jordan USA 19.66
6 Eaton , Ashton USA 15.05
Rodhe , Justin CAN NM
4×800 Metres Relay – Men
1 USA All Stars USA 7:13.11 WIR
2 NJ/NY Blue UND 7:13.22
3 Brooks Beasts UND 7:18.52
4 NJ/NY Red UND 7:20.41
5 SMTC UND 7:22.24
Women' results
60 Metres – Women
1 Bartoletta , Tianna USA 7.17
2 Knight , Bianca USA 7.22
3 Young , Jessica USA 7.25
4 Lawson , LaKeisha USA 7.28
5 Bayne , Chauntae USA 7.29
6 Asumnu , Gloria NGR 7.34
7 Solomon , Shalonda USA 7.38
8 Barber , Mikele USA 7.42
400 Metres – Women
1 Hastings , Natasha USA 52.05
2 George , Regina NGR 52.20
3 Beard , Jessica USA 53.19
4 Hargrove , Monica USA 53.34
5 Smith , Stacey-Ann USA 54.34
6 Dorr , Wendy Fawn CAN 54.72
1000 Metres – Women
1 Cain , Mary USA 2:35.80 WJR
2 Price , Chanelle USA 2:36.63
3 Brown , Sarah USA 2:36.90
4 Beckwith-Ludlow , Molly USA 2:37.19
5 Moser , Treniere USA 2:37.88
6 Bishop , Melissa CAN 2:39.77
7 Lagat , Viola KEN 2:40.72
8 Kampf , Heather USA 2:40.90
9 Edao , Dureti ETH 2:48.13
10 Wilson , Ajee USA 2:48.88
Theisen Eaton , Brianne CAN DNF
2000 Metres – Women
1 Conley , Kim USA 5:41.10
2 Coburn , Emma USA 5:47.20
3 Van Dalen , Lucy NZL 5:47.62
4 Garcia , Stephanie USA 5:48.25
5 Bush , Nicole USA 5:49.29
6 Uceny , Morgan USA 5:49.97
7 Wilson , Heather USA 5:50.35
Gregson , Heidi AUS DNF
Two Miles – Women
1 Kipyego , Sally Jepkosgei KEN 9:21.04
2 Simpson , Jennifer USA 9:26.19
3 Hasay , Jordan USA 9:36.00
4 Gebreslase , Gotytom ETH 9:49.08
5 Rowbury , Shannon USA 9:52.16
6 Anderson , Gabrielle USA 9:55.21
Browning , Charlotte GBR DNF
Charnigo , Stephanie USA DNF
Pole Vault – Women
1 Suhr , Jennifer USA 4.70
2 Hutson , Kylie USA 4.60
3 Saxer , Mary USA 4.50
4 Stefanídi , Ekateríni GRE 4.50
5 Steiner Bennett , April USA 4.30
Long Jump – Women
1 Bowie , Tori USA 6.67
2 Nettey , Christabel CAN 6.49
3 Hayes , Chelsea USA 6.33
4 King , Arantxa BER 6.17
5 Howard , Nia USA 5.84