2014 Millrose Games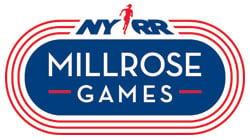 Manhattan, NY
February 15, 2014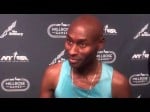 The men's mid-d and distance action was pretty spectacular at the 2014 Millrose Games. In the 2k, Bernard Lagat won yet another Millrose title and set a new American record in the process in a race where three other Americans also broke the old American record, Will Leer ran a lifetime PR of 3:52.89 to stun the field in the Wanamaker mile and get past Lawi Lalang, who set a new collegiate record, and one man ran faster than the American record in the 1,000 but he wasn't American - France's 21-year-old Pierre-Ambroise Bosse.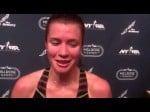 Mary Cain won the mile, Ajee' Wilson the 800 and Kim Conley the 3,000.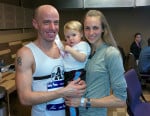 Webb, the American mile record holder, talks about his career after running one last mile in the place where he first broke 4:00. "I gave it everything that I had ... in every way. Trying to do the best I could with what I was given. That's what I was always trying to do. Every move that I made, every workout that I ran, I was trying to get the best out of myself. That was the common denominator."
Full distance recap of the meet from Race Results Weekly.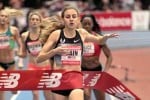 The action at the 2014 NYRR Millrose Games promises to be special as there is a slew of great events to watch. At Millrose this year, Alan Webb is retiring, Mary Cain, Alexa Efraimson, Nick Symmonds and Robby Andrews are going for records, Nick Willis and Kim Conley are trying to stay in the winner's circle, America meets Iceland's version of Mary Cain and Bernard Lagat looks for perhaps a final Millrose victory.
A look at the elite fields for next weekend's Millrose Games.
Mary Cain will race Morgan Uceny on the women's side and Centrowitz will take on Nick Willis, Lawi Lalang and Alan Webb in his final indoor track race. Meet will be live on NBC Sports Network.
Also in the field will be Evan Jager, German Fernandez and Cam Levins.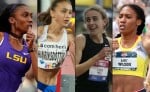 US junior stars Mary Cain and Ajee Wilson will square off at 800m at the Millrose Games along with NCAA champ Natoya Goule and Iceland's teen superstar Anita Hinriksdottir.
Outside Letsrun