Sunday NFL Track Action
Post-Brussels News
Other Weekend Action
Random News
Pre-Race News
A Lot More On The CGI Decision: 3 Recommended Reads
US Pro / NCAA News
US News
Sprinting / Doping News
Distance News
Competitor Group Gives Up On Competition
Competitor CEO Defends Decision To Drop All Elite Athlete Support - "We're a health and lifestyle company." For years, LRC wondered if it was going to be a problem that a hedge fund owned most of the biggest races in the US and now our nightmare is a reality.
Tony Reavis Has Excellent Insight On CGI's Decision To Cancel Elite Athlete Program In case you were gone over the weekend, Competitor Group (the private equity owned group that owns the Rock N Roll Marathons, the Muddy Buddy Runs, and puts on the NFL Run Series) decided to effective immediately cancel its elite athlete program and not honoring appearance fees for upcoming races. A business decision that could impact the future of the sport of running. Reavis, with long ties to the Rock N Roll series, talks about why this was done with such haste (remember kids, if you want to know why something is done, follow the dollars). Sad day for the sport of running if this doesn't hurt CGI's bottom line.

Competitor Group Says Goodbye To The Sport Of Running Competitor Group (Rock N Roll Races, Muddy Buddy, NFLRunSeries) Eliminates Any And All Support Of Elite Athlete Fields, Including Appearance Fees, Travel And Lodging updated They are owned by a private equity group and they say it's better for businesses not to spend money having pro fields and keeping the money for themselves. We understand the logic and no race has to have a pro field. What's ridiculous is that elite athletes for the Philly Half Marathon on September 15th will not have their appearance fees honored. The only way to fight back is by not running ANY of their events and using your influence to encourage your friends not to run any of their events: all the Rock N Roll Races, all the NFLRunSeries Events, Muddy Buddy events and more. If enough people care about the sport and inspiring a future generation of runners and Competitor thinks it will help their bottom line then they will re-institute the program. We're all for private enterprise, however the Competitor Group is a private equity group that profits to a large extent because of public resources. It relies not only on volunteers and the government shutting down roads, but on millions of dollars (more here, here, here) of government tax dollars going directly to Competitor Group. We believe with such dollars comes some obligation to inspire a future generation of runners by supporting the (top end of the) sport of running just a little. Vote with your feet. *Original RunBlogRun Story
Discuss: *Competitor drops support for elite athletes immediately
*I support Competitor group's decision to withdraw support for Elite Athletes
*Competitor ditching the elites is a blessing in disguise b/c I'm sick of watching our runners get paid to "race"
Billy Mills Gets His Wish
$200,013 Worlds Prediction Contest Powered By Karhu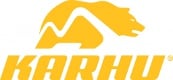 O Canada! LRC 44th @ World XC, 1st In The LRC Prediction Contest, Canadians Continues Dominating LRC Contests Canada may only be 4.6% of the LRC audience, but Canadians keep dominating our contests. Our Moscow Worlds Contest Powered by Karhu was no different, as Matthew Walters (44th at World XC) came out on top. The University of Victoria kept up its fine tradition of excellence as well. Read all about it and check your scores.
Marathon News
LRC Men's 800: Mo Aman Saves The Best For Last, Nick Symmonds 1:43.03 Mo Aman was spectacular and leaves Brussels $50,000 richer and with a new world lead and a spot in the all-time top 10. Nick Symmonds was pretty darn good as well - as he ran 1:43.03 to grab second and take home the 2013 USA top mark. *Race Video
MB: Symmonds 1:43.03!!!


LRC Women's 1,500: What a Disappointment: Aregawi Wins, Jenny Simpson And Five Others Fall Talk about a disapointment. The field was loaded and claimed it wanted to run fast. Then the gun went off and no-one went with the rabbits. It only got worse from there as Jenny Simpson ended up doing her best Morgan Uceny impersonation. *Race Video
MB: DOWN GOES SIMPSON! DOWN GOES SIMPSON!

IAAF Full Brussels Recap: Fraser-Pryce's 10.72 (-.3 m/s) leads Jamaican sprint triple in Brussels (Bolt 9.80 & Weir 19.87).
*Athletics Weekly Full Meet Recap - Aman Smashes 800 World Lead
*Bolt Wins Again - Says This Wasn't His Best Season He was pretty darn dominant.
*USATF List US Performances: Dawn Harper And Ryan Whiting Win Natasha Hastings had a big upset win in the 400 over Amantle Montsho and Christine Ohuruogu.
*French TJer Teddy Tamgho Only Goes 17.30 In Brussels But Still Wants To Eventually Get Johnathan Edwards' WR
*Bolt: "I've been smiling ever since I got to the stadium because it's my last one and I'm just happy to be done. I'm looking forward to chilling with friends ..."
*Bolt Says Years Of Sprinting Starting To Take Toll "The older you get the harder it is to come back from injury. I gotta stay injury-free during the season that's the main factor."
*Bolt On Commonwealth Games: "I would love to go, I would love to get a Commonwealth gold medal to say I have got a Commonwealth gold medal." He's not committing though; it will be Coach Glen Mills' call.
IOC Voting News
Pre-Race Brussels News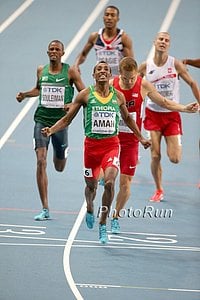 LRC Men's 800 Preview: Nick Vs. Mo Aman For All The Marbles In Brussels The DL finale is a great one with 7 of the 8 Moscow finalists squaring off, including World Champion Mo Aman, winner of 8 straight, taking on silver medallist Nick Symmonds, winner of 6 of 7. Duane Solomon, still the world leader, is also in the field fresh off of his 46.08 400m in Zagreb (video).


LRC Men's 5,000 Preview: A Dream Way To End The Season: Africa's Best Vs. America's Best Many fans may be sad that the 2013 DL season is coming to an end, but the last major distance race of the year is a REAL treat. The American record holders at 1,500/3,000/5,000 (Bernard Lagat), steeplechase (Evan Jager), and 10,000 (Galen Rupp) will clash for American supremacy as the six sub-13:00 men on the year from Africa will battle for world supremacy with the $40,000 DL title on the line. Everyone is there but Mo Farah and his absence shows why he's got a long way to go catch the likes of Haile Gebrselassie or Kenenisa Bekele for GOAT status. More previews coming later.
MB: Rupp Running Brussels!!!!
MB: Brussels Men's 5000M this Friday
MB: Stat geeks – help us out – when is the last time thw US 1500/5000, steeple, and 10,000 record holders raced in the same 5000?
Non-Brussels Weekend Action
Other News
Previous Pre-Brussels News
AK Turmoil
The Berlin Marathon Is September 29th
Other Upcoming
Random But Interesting
Interesting Reads
News From Japan
Random Action/News
Berlin: 53,000 Spectators In Berlin As Women's Javelin, Men's Discus Highlight Berlin
*Valerie Adams Ends Season In Berlin With 42nd-Straight Win
*Berlin ISTAF Results World Champion Mo Aman won the 800 over Duane Solomon. Dayron Robles with a win.

Padua, Italy Recap: Dylan Armstrong Throws Far, LaShawn And Aries Merritt Both Win Andrew Wheating was 4th in the 800m in 1:47.33, Erik Sowinski was 3rd in 1:47.31. Emily Infeld 2nd in 1,500.
*Results
On The Boards: Wheating Making Progress It's up for debate.
Kenyan Athletics May Finally See Some Change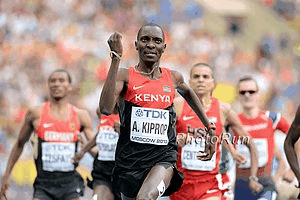 Recommended Read Toni Reavis Tries To Brainstorm Ideas For Running To Become A Truly Professional Sport He's got some good ideas like turning running into the PGA Tour at the elite level and the AARP at the grass-roots level. What's holding us back? Well, as Anne Audain of New Zealand once said, "Toni, if this sport truly went professional, most of the people running it would lose their positions."
Doping News
The Rich Get Richer
LRC Eric Jenkins Has Transferred To Oregon The message board rumors are true. After Northeastern changed distance coaches for the second time in less than a year, the 13:18 phenom Jenkins has decided it's time for him to make a change as well. Are the Ducks, who didn't even make NCAAs in 2011 and were only 20th in 2012, now the NCAA favorites over Dave Smith's Oklahoma State Cowboys?
MB: Jenkins to OREGON!
MB: The ducks, how good?
Chicago Elite Fields Released
Elite Field For Chicago Marathon Released: Moses Mosop Leads 3 Other Sub-2:05 Men As The Top 2 Women From Last Year Return Mosop faces Dennis Kimetto (2:04:16), Emmanuel Mutai (2:04:40) and Ayele Abshero (2:04:23), as well as Dathan Ritzenhein, Matt Tegenkamp in his debut, Rotterdam champ Tilahun Regassa, World Half Marathon champ Zersenay Tadese and 58:47 half runner Atsedu Tsegaye. On the women's side, Atsede Baysa and Rita Jeptoo return after Baysa beat Jeptoo by only a second last year. They also face Rotterdam champ Jemima Sumgong, Maria Konovalova (2:23:50) and Stephanie Pezzullo as the top American.
Doping News
IOC News: Hide And Seek An Olympic Sport?
International Stuff
Swoosh Takeover: UK Athletics Switches Its Kit Supplier From Adidas To Nike After Adidas Loses Courtroom Challenge Adidas tried to stay GB's sponsor going to court arguing its current contract included a "matching rights" clause that gave it the right to match any rival offer when the deal came up for renewal, but they lost.
Italian Doping Investigation On Asafa Powell And Sherone Simpson Delayed Due To Bureaucratic Problems Italian authorities have been unable to contact them to see if they want to be present when the substances confiscated from their hotel are tested.
2 Rock 'N' Roll Half Marathons Cancelled In St. Petersburg, Florida And Pasadena, California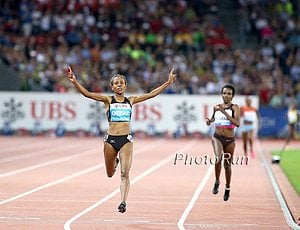 Distance Stuff
Random News
News From Jamaica
Veronica Campbell-Brown Doping Hearing Doesn't Start Well - Jamaica Athletics And Anti-Doping Agency Were Totally Unprepared Campbell-Brown's attorney is the former Prime Minister of Jamaica.
*VCB Hearing Held Behind Closed Doors - No Media Allowed
*Columnist Wants US Vs. Caribbean Track Meet