Bernard Lagat Runs 12:58.99, Galen Rupp 13:01.37, Evan Jager 13:02.40, Chris Derrick 13:08.04
by LetsRun.com
September 6, 2013
In his first race since his surprisingly poor ninth place finish at Worlds, Yenew Alamirew of Ethiopia picked up a nice consolation prize tonight at the 2013 Belgacom Memorial Van Damme as he won a three-way battle over the final 100 meters to finish off a 56.60 last lap (leader to leader – he was slightly faster) to win the men's 5000 as well as the 2013 Diamond League 3000/5000 series and $50,000 ($40,000 for the series win and $10,000 for the race).
Alamirew's winning time was 12:58.75. The man who had the lead heading into the final 100 was non-other than America's ageless wonder, Bernard Lagat. The 38-year old had taken the lead just prior to 200 to go and ended up second in 12:58.99 in his best showing of the year. The third placer in the race in 12:59.33 was 2013 Moscow silver medallist Hagos Gebrhiwet of Ethiopia who needed to beat Alamirew to win the $40,000 DL series jackpot.
Those three were clearly the three best over the final 400 but heading into the last lap there were still 8 men in the lead pack, including two other Americans besides Lagat. Galen Rupp and Evan Jager were in the lead pack that included the American record holders at 1500/5000 (Bernard Lagat), steeple (Evan Jager) and 10,000 (Galen Rupp), as this one lived up to the pre-race hype.
Article continues below player
The top American for most of the race was Galen Rupp who had been running aggressively in the top three for the entire last mile. With 620 meters to go Rupp took the lead and he still led at the bell. Rupp was doing his best to imitate his training partner Mo Farah's tactics but the field started poring by him with 300 to go when the real kicking started. Rupp would end up fifth in 13:01.37 after a 59.92 final 400.
Jager didn't beat anyone in the lead pack over the final 400 as he ended up eighth in 13:02.40, but he left very happy as the result represented a monumental 12.20 second personal best (previous pb 13:14.60).
Jager wasn't the only American to set a personal best. Moscow 10,000 meter runner Chris Derrick ran 13:08.40 (previous pb of 13:08.04) to finish 11th. US 5000 team member Ryan Hill was 14th in 13:43.14.
Quick thoughts, results, video of last lap and race photos appear below.
Quick Thought (QT) #1: A nice consolation prize for Alamirew but we'd still like to know what happened to this guy at Worlds. How did he only finish ninth?
QT #2: Alamirew gave the old warrior Bernard Lagat a much deserved hug after this one. The 38-year old Lagat made things interesting when he took the lead just before 200 to go. We had Lagat's final 200 in an unofficial 26.7-8.
Lagat may not be the World's best 5000 guy any more but the's still the US's best. Not bad for a 38-year old. Could he possibly make the US Worlds team at age 40 in 2015? We hope he tries.
QT #3: This race was the second time this year where four US men broke 13:10.00 in the same race which we assume is something that had never been done before this year (it also happened at Prefontaine).
Rupp's time of 13:01.37 is the second best of his career and only the second time he's run under 13:05.00 (His pb is 12:58.90 from last year's Prefontaine meet). He ran a little bit of a negative split here as we estimate Rupp went through half-way in 6:33 which is 13:06 pace which is roughly the pace he was on at the bell (13:04 befor the 59.9 last lap).
QT #4: Below you can see the updated all-time US list at 5000 (indoors and out).
Jager came in with a 13:14.60 which placed him outside the to 20 all-time in US history. With his 12.20 second pb, he vaults up to #8 all-time. Despite running a 1.00 second pb of 13:08.40 (previous pb of 13:09.40), Chris Derrick actually falls down one spot on the US all-time list.
Getting dropped from the top-10 all time in US history at 5000? Adam Goucher.
Getting dropped from the top-20 all time in US history at 5000? Abdi Abdirahman.
All-Time US 5000 List
1 12:53.60 Bernard Lagat
2 12:55.53 Chris Solinsky
3 12:56.27 Dathan Ritzenhein
4 12:58.21 Bob Kennedy
5 12:58.56 Matt Tegenkamp
6 12:58.90 Galen Rupp
7 13:01.15 Sydney Maree
8 13:02.40 Evan Jager
9 13:07.00 Lopez Lomong
10 13:08.04 Chris Derrick
11 13:10.00 Adam Goucher
12 13:10.86 Alan Webb
13 13:11.59 Ben True
14 13:11.77 Mebrahtom Keflezighi
15 13:11.77 Tim Broe
16 13:11.80 Hassan Mead
17 13:11.93 Alberto Salazar
18 13:11.93 Anthony Famiglietti
19 13:12.01 Andrew Bumbalough
2013:12.91 Matt Centrowitz (father of Matthew)
21 13:13.32 Abdi Abdirahman
Bold = Achieved in 2013
QT #5: The full results were as follows:
RANK
ATHLETE
NATION
RESULT
DIAMOND POINTS
DIAMOND RANKING

1

ETH

12:58.75

19

1

2

USA

12:58.99

SB

4

4

3

ETH

12:59.33

15

2

4

KEN

13:01.00

4

3

5

USA

13:01.37

SB

6

KEN

13:01.74

2

5

7

BRN

13:02.31

2

5

8

USA

13:02.40

PB

9

KEN

13:03.98

2

5

10

ETH

13:06.44

1

8

11

USA

13:08.04

PB

12

AUS

13:23.87

13

ETH

13:33.05

14

BEL

13:34.95

15

USA

13:43.14

16

AUS

13:44.27

USA

DNF

KEN

DNF

FRA

DNF
1000m: Heath, Garrett (USA) 2:35.10
2000m: Heath, Garrett (USA) 5:13.18
3000m: Rono, Vincent (KEN) 7:52.02
4000m: Rop, Albert (BRN) 10:28.90
QT #6: Below you can see the final two laps in pictures. Click on any thumbnail to be taken to a larger picture.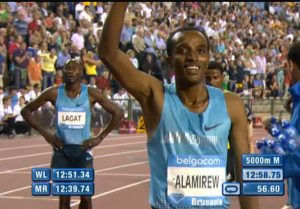 Race video

More: Messageboard Discussion:
MB: Four Americans, one 38 years old, just ran sub 13:09. And you still think thyroid and TUEs are not being abused?
MB: The Future Has Arrived, Jager Almost Beats Ruppp!!!!!!!!!!!!!
MB: Jager 13:02!
MB: Cheers to Bernard Lagat
MB: What has Rupp done recently to make you believe he can break 13?
MB: Why doesn't Mo Farah race in fast non championship races

From The LRC Vault: 2013 IAAF Moscow World Championships Men's 5000 Coverage
---
Advertisement
The 1:59:40 GOAT shirts are here