What a Disappointment: Aregawi Wins, Jenny Simpson and Five Others Fall – Brussels Women's 1500m Recap
by: LetsRun.com
September 6, 2013
What a disappointment.
Prior to the start, the women's 1500m at the 2013 Belgacom Memorial Van Damme seemingly had it all, a tremendous field including World Champion Abeba Aregawi of Sweden and silver medallist Jenny Simpson of the USA, a supposed desire to run fast (the BBC announcers said initial plans were for a 2:08 pace at 800m, but Aregawi and others protested and got plans for a 2:06 pace put in place), and a lot of intrigue (could Jenny Simpson go sub 4:00 again, could Shannon Rowbury do it for the first time ever?).
Article continues below player
Like our coverage from Albuquerque?
It all started to fizzle out very quickly when the field did not go with the rabbits at the start, and then it came crashing down at the bell when a fall knocked down six runners including Jenny Simpson, and severely impacted eight of them. In the end, Aregawi got what most people expected – the win in 4:05.41.
But there is no way to mask the fact that this race was a huge disappointment.
The Race (*Race video here)
American Phoebe Wright took the field out in 64.45. There was a gap behind the second rabbit and the rest of the field and Wright on the second lap kept looking over her shoulder and slowing down to let the gap narrow. Wright reached 800m in 2:13.79, and any hope of a sub 4:00 race was gone (sub 4:00 is 2:08 pace). The field had claimed it wanted to run fast, but didn't do anything to insure a fast pace.
Just after the bell (3:04.4) disaster struck. Sifan Hassan of Holland/Ethiopia went down and then so did nearly everyone behind her. In all six women went down, including Simpson, and eight were severely impacted.
The favorite Aregawi was not impacted and neither was World 5000m silver medallist Mercy Cherono, or World 1500m bronze medallist Hellen Obiri. Aregawi took the lead at 1200 when the final rabbit Mary Kuria dropped out. Cherono was behind her single file as was Obiri. Aregawi pulled away over the final 200m, not too impressively to win in 4:05.41, Cherono got second in 4:05.82 and Obiri was a distance third in 4:06.92 as Shannon Rowbury was 4th (4:07:05).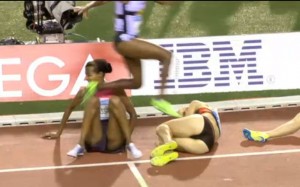 Did Contact Between the Americans Cause the fall?
About 15 meters before the bell, Shannon Rowbury and Jenny Simpson were side by side and had some contact. The field was tightly bunched at this point and a logical explanation is the bumping between Rowbury and Simpson set in motion the events that led to the fall.
Just a few strides later, Hassan went down hard directly in front of Simpson. Her legs definitely clipped together. We're not sure if she was avoiding some of the movement in the pack, or if Jenny Simpson (directly behind her) clipped her first. Once Hassan went down near the front of the pack, she took out a whole slew of runners behind her.
QT#1: What a disappointing race.
Maybe it's just as well that there was a fall as a win in a time over 4:00.00 even for Simpson would have done little for us.
QT #2: Someone find one more race for Jenny Simpson to run in and make a sub 4:00 attempt.
If you've got any ideas, post here.
QT #3: Aregawi Didn't Look Invincible Today
It's too bad Simpson fell as Aregawi did not look unbeatable today.
However having said that, Simpson was boxed in at the bell and with ground to make up on Aregawi. That wouldn't have been easy.
The last lap leader to leader was just 61.04. That being said, Aregawi's last 300 was 44.3 and we unofficially timed Aregawi's last 200 at 28.6 which is pretty strong.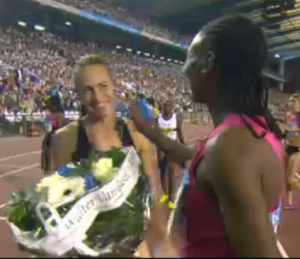 QT #4: Simpson handled the fall with great class. She went up to Aregawi after the race and gave her a big hug (See photo to the right).
QT #5: The full results were as follows:
| | | | | |
| --- | --- | --- | --- | --- |
| 1 | | SWE | 4:05.41 | |
| 2 | | KEN | 4:05.82 | SB |
| 3 | | KEN | 4:06.92 | |
| 4 | | USA | 4:07.05 | |
| 5 | | GBR | 4:08.31 | |
| 6 | | KEN | 4:08.62 | |
| 7 | | RUS | 4:08.96 | |
| 8 | | MAR | 4:09.04 | |
| 9 | | ETH | 4:10.54 | |
| 10 | | USA | 4:10.70 | |
| 11 | | NED | 4:11.33 | |
| 12 | | USA | 4:16.20 | |
| 13 | | BEL | 4:17.18 | |
| | | AUS | DNF | |
| | | KEN | DNF | |
| | | POL | DNF | |
| | | USA | DNF | |
400m Wright, Phoebe (USA) 1:04.45
 800m Wright, Phoebe (USA) 2:13.79
1200m Aregawi, Abeba (SWE) 3:21.10
More: Messageboard Discussion: MB: DOWN GOES SIMPSON! DOWN GOES SIMPSON!
From the LRC Vault: Coverage of Women's 1500 at 2013 IAAF World Championshps of Athletics