European Action Shows How Stellar World Cross-Country Is
Netherlands: Micah Kogo's 27:15 Triumphs Over Mike Kigen's 27:26, Irina Miktenko Wins women's Race in 32:06 in Brunssum

Spain Track: World XC (and 5k) Champ Vivian Cheruiyot Clocks 31:07 10,000m in Spain in Her Track Debut This appears to be Cheruiyot just getting the world 10k qualifier out of the way in case she wants to try and double.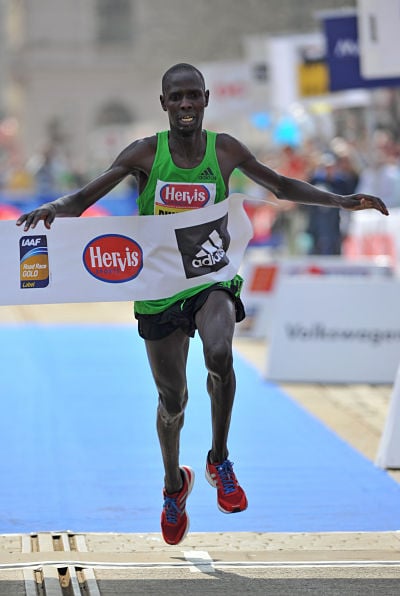 Prague: 7th-Placer At 2011 World Cross, Philemon Limo, Breaks Course Record With 59:30, As Lydia Cheromei Breaks Women's Record With 67:33 Limo's time also set the world lead for 2011.

Berlin: 2011 Jr. World Cross Champion Geoffery Kipsang Runs 60:38 Two Weeks After Winning World Cross & Calls Pace "A Bit Too Slow" The 18-year-old was hoping for sub-60. Meanwhile, in America, people go bonkers when a teen runs 67 minutes. An 18-year-old Kenyan won the women's race in 70:12.

News from Kenya: Narok, Kenya Recap: Asbel Kiprop Only 3rd in 800m in 1:49.7
NCAA News/Controversy
UK News
Friday's Action
Australia: Jana Pittman Wins Her First Race In Nearly 2 Years, Jeff Riseley Drops Down To Beat National Champ Lachlan Renshaw At 800 Riseley will race Craig Mottram at 1,500m at the Australian Champs.
April Fools News
LetsRun's 2011 April Fools Edition Yesterday's Homepage was an April Fools prank. However, the news the day before on Alan Webb leaving Alberto Salazar and (according to our source) no longer receiving paychecks from Nike was not part of the prank.

Alberto Salazar Talks With More Detail And Says There Are No Hard Feelings With Alan Webb Leaving Oregonian
Alan Webb Parts Ways With Alberto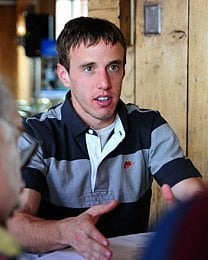 LRC Alan Webb Switching Coaches The American record holder in the mile has called it quits on the coaching experiment with Alberto Salazar after 19 months. No official word yet on where Webb goes next. This is Webb's third major coaching switch in his career due to performances he was frustrated with. And for those of you who question Webb's future, remember this Alberto Salazar quote from last year: "I would have to say that even my athletes agree as a group - Galen Rupp and Dathan Ritzenhein - we all know he (Alan Webb) is the most talented in the whole group."
Big News Coming From The UK
Sammy Wanjiru Out - Martin Lel In For Virgin London Marathon Wanjiru, who only months ago was accused of attempted murder, is out with a supposed knee injury. The good news is that three time London champ Martin Lel, who hasn't run a marathon since the Olympics, is in as a late addition. Prior to his recent injury woes, Lel was viewed by many as the best marathoner on the planet. *LRC MB *Sammy Out Of London *Wanjiru Out, Lel in

College News
Recommended Read Ato Boldon's 10 Pieces Of Wise Advise That Current Pro Track Athletes Don't Understand (But Retired Ones Do) Among the highlights, he advises staying away from European wine and women and to beware of falling in love with insincere shoe companies.
The Only Required Reading In The Industry

LRC: Week That Was: Flanagan Gets Bronze, Rupp Makes An Impressive Debut, An American Runs 2:27 At LA, And The US XC Dream Team Sure, we bet you know about Shalane Flanagan's bronze at World XC and Galen Rupp's half marathon in NYC. But we help put these in perspective and tell you about the American who ran 2:27 in LA (Amy Hastings) and wonder how well the US dream team of Lagat, Rupp, Solinsky, Tegenkamp and Ritz would do at World XC. And of course the most important news of the week, the fight at World XC.
Mo Farah Gets Win & Caroline Rotich Gets Course Record But Galen Rupp Steals The Headlines In his half marathon debut, Mo Farah won a 3-way sprint with Gebre Gebremariam and Galen Rupp as he took the victory in 60:23. Rupp made waves early by wearing a mask, then falling down, but then made way bigger waves late with his legs as he got faster each 5k (15:05-14:27-14:04-13:53) to became the 5th-fastest American in history thanks to his spectacular 60:30 debut. The "old guard" of US men's distance running didn't do nearly as well, as Meb Keflezighi ran 62:52, Abdi ran 63:12 and Ryan Hall was way back in 63:53. But the "old" woman, Kara Goucher, was great as she ran 69:03 to get third (remember she ran 74:02 in January).
*Telegraph Recap: Mo Farah Wins His Half Marathon Debut In New York Afterwards, he says Salazar has him in the best shape of his life.
*Salazar's Runners Farah, Rupp And Goucher All Leave New York Very Pleased
*RRW Recap *AP Recap Of NYC Half Marathon *WSJ Recap Of NYC Half Marathon
*Alistair Cragg Breaks Martin Fagan's Irish Record By Running 60:49
Zersenay Tadese Misses His Own WR But Runs 2nd-Fastest Half Marathon Ever (58:30) In Portugal Despite having little help from rabbits and having to run into the wind the last 3 miles, Tadese was great as usual at the 13.1 distance.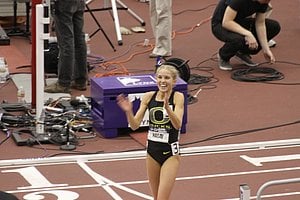 Day 2: LRC 3ks: Hasay Becomes A Legend, Heath Unleashes His Legendary Kick As of Fri. night, Jordan Hasay was viewed as the former teen prodigy who couldn't quite kick for the big one in college. Now, just as was the case for Galen Rupp two years ago, she is college distance running's biggest star, as she won the mile and then came back in the 3k to make herself into a legend by turning the tables on Sheila Reid. Stanford's Elliott Heath's kick was even more lethal, as he destroyed a super-talented men's 3k field over the final 140m. Includes last lap video coverage.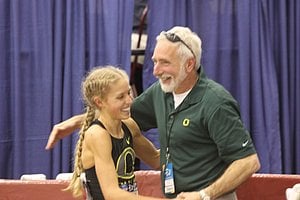 Day 2: LRC Mid-D: Hasay Gets Title #1, Batty Gets Title #2, Fred Samoei Wins A Nailbiter, And BYU's Bleazard Dominates After being outkicked in the DMR on Fri. night, Jordan Hasay outkicked the competition to grab her first NCAA title as BYU's Miles Batty completed the double in the men's mile, holding off a spirited challenge from Tulsa's Chris O'Hare. The men's 800 featured the best finish of the night as Michael Rutt's bold move to the lead 400 meters in almost held up. In the women' s 800, BYU's Lacey Bleazard won her 2nd indoor title - it's a shame the ESPN3 announcers had no idea who she was. Includes last lap video coverage.
Day 1: LRC DMR: Villanova's Reid Outkicks Oregon's Hasay, BYU's Miles Batty Holds Off Incredible 3:53 Anchor From Andy Bayer Both DMRs had great finishes. The women were first and 'Nova's Sheila Reid and Oregon's Jordan Hasay put on a battle for the ages. On the men's side, Andy Bayer split a sick 3:53 to take Indiana from 9th to 2nd, but it was not enough to overtake BYU's Miles Batty, as the night of incredible men's distance running continued with three sub-3:55 splits. Arizona's Lawi Lalang split 3:56.9 and his team lost 3 spots. Recap, interviews, photos, and video of last laps.


LRC 5,000m Recaps: Unheralded Leonard Korir Storms To NCAA Record, Jackie Areson Impresses, Mia Behm Surprises Everyone The men's 5,000m witnessed Iona's Leonard Korir winning a scorching-fast 5k in 13:26.01 over Sam Chelanga, as three guys broke the previous NCAA meet record. On the women's side, Jackie Areson put on a display over the last 600m and Mia Behm, who was 7th at the Big 12, shocked everyone to get 2nd.
Sad News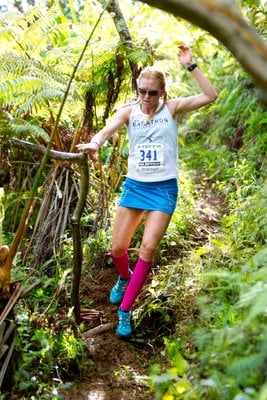 Sad News: Sally Meyerhoff Killed In Cycling Accident The two-time All-American and US Olympic Trials qualifier as well former US champion at 25km was killed on Tuesday in a cycling accident at the young age of 27 while she trained for the Ironman World Championship. *LRC MB: Sad News: Sally Meyerhoff Killed in Accident
*Abc15.com Article With Video On Meyerhoff's Death
*Ahwatukee.com Article On Meyerhoff's Death
*AZcentral.com Article
*USATF Article
*New York Road Runners Article
*More Sad News: Florida High School Track Athlete Sarah Landauer Dies After Collapsing At Practice
A Dream Outdoor US Track Matchup In March In Australia
LRC: Bernard Lagat Wins And Leads Five To "A" Standard; Jeff Risesey Stuns Kiprop And Willis (And Webb) In 1,500; David Rudisha Cruises To 1:43.88 Win In 800 The Melbourne Track Classic was full of hot distance action. In the 5k, Lagat (13:08.43) pulled away from Chris Solinsky (13:10.22) and then held off a shocking late charge by Australia's Ben St. Lawrence, who had a massive 15-second personal best to finish second, as Matt Tegenkamp and the surprising Andrew Bumbalough also got the "A"' standard. In the 1,500, Jeff Riseley came in saying he was in even better shape than last year and then backed it up by getting an upest win for the second-straight year in 3:36.71, as American Alan Webb (3:37.82) drastically improved his 2011 fortunes by finishing right behind the Olympic gold medallist Asbel Kiprop (3:37.63) and well ahead of the Olympic silver medallist Nick Willis (3:38.76), as David Rudisha (1:43.88) and Nick Symmonds (1:45.08) opened fast.

Week In Review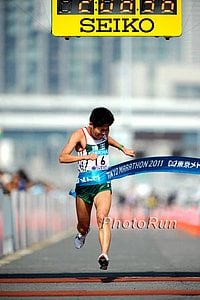 LRC Week That Was: Haile G Jokes, Bernard, Galen And Jenny, The Track & Field Labor Dispute, And Our Hero Kawauchi We span the globe to cover the running world like no one else. From the roads of Tokyo to the mountains of New Mexico, we've got it covered.
LRC Bernard Lagat Wins 3,000m At USA Indoors And Makes It Look Easy Galen Rupp tried his best to beat Bernard Lagat on Saturday night, but Lagat ran away from Rupp with ease on the final lap, reminding us how damn good he is at 3,000m. Last year, when Lagat won World Indoors, we said he was "Utterly Brilliant." This one was "utterly smooth." Jenny Simpson ran away from Sara Hall on the last lap to win the women's 3,000m. More Sunday.
*On The Boards: USATF 5000m: Lagat, 7:57.17, Rupp 7:59.91
*Day 1 Photos
The Secret Is ... There Is No Secret
Coaching: There Are No Secrets, Substitutes Or Shortcuts For Success ... Do The Work
Stellar US Road Action
Washington DC: Lelisa Desisa Breaks 16 Year Old Cherry Blossom 10 Mile Record in 45:36 to Win 2nd Race in Two Days and Complete $18,250 Weekend Desisa, who won Bolder Boulder and set a coure record at Boilermaker last year, is making a name for himself on the roads. First on Saturday was a $10,000 sprint win at the Cooper Bridge Run in S. Carolina. He followed that up with a stellar 45:36 in DC to break the course record and win an additional $8,250. Julliah Tinega got the sprint win on the women's side. *Results


Carlsbad: With 2 Shoes Dejen Gebremeskel Outkicks Eliud Kipchoge to Win Carlsbad 5000m, Aheza Kiros Gets Her 2nd Carlsbad Crown Gebremeskel is the guy who ran most of the Boston 3000m this year with one shoe before outkicking Mo Farah there. In San Diego, he just sat on former world champ Kipchoge until it was time to win. Kiros, is most known for winning Carlsbad, as this was her second win at Carlsbad.
*Results Jen Rhines and Bobby Curtis 3rd, Christin Wurth-Thomas 4th, and Ben St. Lawrence with a really bad performance (he's struggled since beating Solinsky at 5000m in Australia)
*Carlsbad Photos

Saturday: Lelisa Desisa Wins Cooper Bridge Run and $10,000

Ukrop Richmond Monument Ave 10k: Megan Wright Defends, Julius Kogo Wins
*Results
US Track Action
LSU: Texas A&M Sweeps Team Titles at LSU Invite We may not agree with all of A&M coach Pat Henry's ideas for the sport but share one common goal with him, getting butts in the seats at track meets. We applaud his efforts tremendously and three cheers for LSU scoring the meet, and this quote form Henry, "It's exciting for our group and something that needs to happen more in track (having scored meets). We scored all of our home indoor meets and this is another attempt to try to help track and field while getting people in the stands to watch someone win a track meet."
LSU Results Tabarie Henry's 44.84 led 3 Aggies under 45.50 in the 400 and LSU's Brittany Hall 2:04.88 and Charlene Lipsey 2:05.12 in 800 were #1 and #2 in the country.

Florida Relays: Francena McCorory 50.50 400m, Jeff Demps 10.07 100m

UCLA-Tennessee: *Tennessee Women Edge UCLA by 1 Point at Dual Meet in California
*UCLA Men Crush Tennessee in Dual Meet
US Women Receiving Some Lengthy Profiles In Major Publications
Sally Meyerhoff Profiled In Washington Post On Eve Of Cherry Blossom Ten Miler Meyerhoff had set the US 10-mile record in Washington in 2009 and the Post has written a nice article. For all of those of you that the LRC message boards are so bad, we encourage you to read the comments below the article on Meyerhoff, where people rip her for exercising a lot and for running a stop sign.

Recommended Read: SD Union-Tribune: Three-Time Olympian Jen Rhines Thrives As She Ages The article is great, as it gives insight on how Rhines first got started in the sport and how she manages to thrive into her late thirties (motivation and attention to detail). Plus, it also reveals Rhines is aiming for the 10,000 in 2012.
Some Big Goals
Looking Ahead To 2012
Interview With Former WR Holder And World XC Champ From The 1980s, Zola Budd
Week In Review
LRC Week That Was: Sage Advice There was not a ton of action on the track last week, so we go behind the scenes and give you lots of wise advice from Renato Canova, Lisa Dobriskey, Ato Boldon and others. Plus we look at Sara Hall's chances in the steeple.
News From Britain
Drug News
The Bonds Trial: Barry Bonds Childhood Friend And Business Partner Says He Saw Bonds' Trainer With A Syringe And Barry And Trainer Discuss Steroids

We Haven't Given This The Attention It Deserves: (Update: Lengthy AP Article) Agent To Some Of The Sport's Stars, Mark Block, To Appeal 10-Year Ban From Sport Block is a fairly big agent in the sport and was busted last week by USADA. His agency now represents Xavier Carter, Carmelita Jeter, Nick Symmonds and others. Block was the President of the agency and presumably the owner and is listed on the Association of Athletics Managers website. Now the old staff page is gone, and former Director of Communications Chris Layne is listed as Managing Director. Not sure if owning the agency is considered involvement in the sport. Block's statement say the decision "misstated the evidence." You can read the decision yourself here which includes this: "Mark Block also admitted paying Balco/Conte for all the drugs received by Mark Block, including EPO, 'The Clear' and 'The Cream' and Modafinil." Good riddance unless overturned on appeal.

Mark Block USADA Decision
Good Read: Lengthy ESPN.com Profile On Stephen Shay (Ryan's Brother)
World XC News We Didn't Cover Monday:
*Kenya's Linet Masai Just Misses World XC Title For Third Straight Year
*South Africa's Stephen Mokoka Happy With His 15th Place Finish This equals the best finish ever for a SA senior male runner.
*Craig Mottram Pleased With World XC Run
*World XC Champ Imane Merga Has One More XC Race This Weekend, Then Will Turn Focus To Track And with our sport's emphasis on time, he still has to go out and get a 10k qualifier. IAAF
*Faith Kipyegon Chepngetich Won Girls Juniors Barefoot
*New Women's Race Photos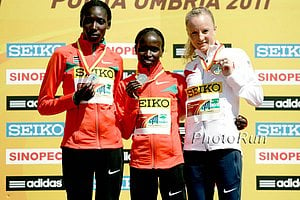 LRC: Shalane Flanagan Gets Bronze The Olympic bronze medallist and ING NYC Marathon runner-up ran a stellar race to snatch the bronze versus a star-studded field. Flanagan appeared to be dropped with 2km to go, but dug deep to stay in contention and battle back for the bronze. World 5,000m champ Vivian Cheruiyot pulled away from World 10,000m champ Linet Masai for gold. The American women did very well to get a repeat bronze medal.
*IAAF Recap Of Women's Race
*Charlotte Purdue Is Top European On Weekend In 14th In Women's Race If you weren't born in Africa, you didn't finish any better than 21st in the men's race, which is where Craig Mottram finished - aided in part as two guys ahead of him came to blows as they ran down the finishing straight. *2nd LRC MB Thread On Fight
*Japanese Jr. Girls Earn Bronze
*Cheruiyot: "I have won everything now, save for that elusive Olympic medal."
*Nice Recap Of Women's Race *Nice Recap Of Races From Kenyan Perspective *Athletics Weekly Recap Of World 2011 World XC *Video Highlights Of World XC Women's Race

Men: Imane Merga Blasts Away From Four Kenyans In Sprint To Win The Kenyan men dominated the team competition and had 4 of the top 5 guys in the pack for the sprint the final 400m. However, the lone Ethiopian - Imane Merga, the Diamond League 5,000m champion - got the win the Kenyan nation wants most every year. Ben True was the first American in 36th, as he and fellow Ivy Leaguer Max King were America's two best.
*Merga: "Before I used to think of myself as a track runner but this winter I have got to like cross-country races more."
*Craig Mottram Finishes As Top Non-Afrrican Born Male In 21st As Two Guys Ahead Of Him Are DQed For Fighting In Race To Line Eritrea's Samuel Tsegay and Ethiopia's Abera Kuma were given the DQ.

Junior Boys: Geoffrey Kipsang Leads Kenya To 13th Straight Title Kipsang was only 4th at the Kenyan Trials but dominated. High schooler Craig Lutz was the first American in 29th.

Junior Girls: Faith Kipyegon Of Kenya Wins, But Ethiopia Edges Them For Team Title High schooler Aisling Cuffe was the first American in 17th.
Week That Was
LRC 10 Thoughts On NCAAs We go behind the results and point out some interesting stats from the NCAAs. We not only look at Jordan Hasay's amazing weekend, but also point out how great her DMR loss was. Then we look at the emergence of Elliott Heath and tell you why he likely will end up on an Olympic or Worlds team. Along the way, we give out a history lesson about the greatness of John McDonnell and remind ourselves how he defeated the whole NCAA combined from 1984 to 2008. We also hand out some sympathy for Diego Estrada and Lali Lalang and give some advice to the folks at ESPN. At the very least, it's worth clicking on, as we have a chart with the last 10 years of NCAA mid-d and distance champs on the men's side so you can take a trip down memory lane.
HS: Lukas V. Runs Away From The Top Milers To Complete Historic High School Nationals Triple His double on Sunday was super-impressive, but we had completely forgotten about German Fernandez's 4:00, 8:34 double at the California state meet.
*IAAF Article On Verzbicas

We Wrote This Article Too Soon:
Gerry Lindgren's Legendary 47-Year-Old High School National Record Survives Scare From Lukas Verzbicas And Edward Cheserek Verzbicas hammered home over the final lap to pull away from Cheserek, but in the end, Lindgren's 8:40.0 lived to see another day, as Verzbicas ran 8:40.70 and Cheserek shattered the high school indoor and overall sophomore class records with his 8:42.66. More: Gerry Lindgren 8:40 indoors *LRC MB Lukas V. 8:40.7!! *LRC MB So close *Running Times Q&A With Lindgren About His 8:40.0 Note: This article incorrectly implies the record was set in a 16-lap race.
*Lucas Verzbicas (14:06.78) & (Waverly Neer) 16:35.15 Set National HS 5,000 Records
Sally Meyerhoff News
Tokyo Marathon: A Legend Is Born *Photos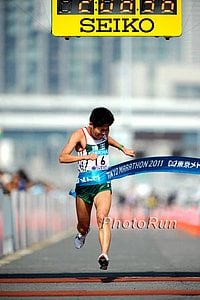 Hailu Mekonnen Wins, Japanese Amateur Yuki Kawauchi Runs Amazing 2:08:37 For 3rd And Faints At Finish Yuki Kawauchi's story is amazing. A 13:59 5ker and 29:02 10ker, he has a full-time job and has stayed away from the Japanese collegiate and professional system, yet he stunned all of Japan with a 2:08:37 run. Dreams do become reality.
*On The Boards: 13:59 5k, 29:02 10k Japanese AMATEUR Runs 2:08:37 at Tokyo Marathon and Passes Out
Galen Rupp & Mo Farah Set National 5k Records! (13:11.44 and 13:10.60) The two Alberto Salazar-coached athletes put on a brave battle, with Farah coming out on top on the last lap, as Rupp regained his American record from Bernard Lagat by .06. Rupp and Farah will be training together through 2012 and their partnership is off to a strong start. Rupp is scheduled to go for the American 10k record next week in New Zealand. The meet also saw a cool 400m hurdles race (video here or on the right), an 8:30 3k and American Morgan Uceny going sub-2:00 in the 800.
*Mo Farah Breaks British 5,000m Record With His New Coach Alberto Salazar One Of The 8,000 In Attendance Telegraph.co.uk
*Farah Credits Salazar's Coaching
*Rupp/Farah 5k Video
The 10 Best High School XC Runners Ever
LRC Week That Was: The 10 Best High School XC Runners Of All Time, Verzbicas, Tribute To Gary Reed, The NY Times & The NE Patriots And More We've got the entire running world covered from San Diego to Japan, from the high school ranks to the pros, and even talk about the NE Patriots and the NY Times.
Multi Event News
Dutch Heptathlete Jolanda Keizer has Moved to Sweden to Train With Carolina Klüft Klüft meanwhile has still abandoned the heptathlon.
Running Documentary That Aired March 31st (For Reviews Click Here)
Blows At World XC (More Info Here)
Women's World XC In Photos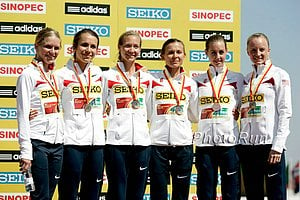 Men's World XC In Photos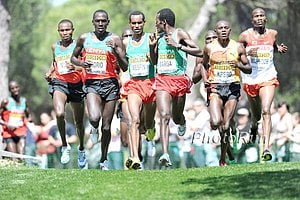 Ritz's Injury Is Serious
Dathan Ritzenhein Has Surgery On His Achilles And Has Neuroma Removed On Other Foot The good news is Ritz saw the same surgeon Paula Radclife saw for her foot surgery (and the unofficial West Coast LRC surgeon Amol Saxena (who did Rojo's Achilles surgery)).
On The Boards: Ritz under the knife
The Greatest Comeback Ever?
Definitely Worth A Read
Hall Of Fame Running Back And Olympic 400m Bronze Medalist (46.8) Ollie Matson Dies Our sport's history is amazing, as is Matson's story. He was on the 1951 Univ. of San Francisco team that he called the "greatest of all time" (they went undefeated and are the only college football team with 3 future NFL Hall of Famers on it). However, there was one "problem" with the team. It had two black players on it. That meant bowl inviations only if the black players didn't play. The team said no, the team lost $70,000 and the school CANCELLED football the next year. Amazing. Great Frank Litsky writeup.
Last 800m (Or Full Race) Of Galen Rupp's American Record Run In Britain
This Is Awesome: Indoor 400m Hurdles At Aviva Birmingham Meet
Training Talk Is Back
Training Talk With New Marathon Star Stephanie Rothstein And Ben Bruce Stephanie lowered her marathon PR by over 10 minutes, skipping the 2:30s entirely, running 2:29:35 in Houston. And she's still got her sights on lowering it another 10 minutes. Textual recap coming later, but you can listen above or download the podcast here (1:30).
Last 250 (Or Full Race - Rewind It) Of Dejen Gebremeskel Outkicking Mo Farah In Boston With 1 Shoe
Save Some Cash

Two Of The Best Running Movies Of All Time (Don't Believe Us? Click Here)
Relive Men's NCAAs: *Recap *Results *Photos *New (2nd Photo Album Added Here)
800m Royalty Together For The First Time Ever: Juantorena, Coe, Kipketer And Rudisha (It's Well Worth A Watch If You Have The Time, Or Read The Recap Here)
Save Some Cash

Train Smarter
Great Deals

Universal Sports Back To Top