Course Records Falls At Hervis Prague Marathon
Philemon Limo Run 69:30 as Lydia Cheromei Runs World's #2 Time In Women's Race (67:33)
Courtesy of Race Organizers
April 2, 2011
Prague - The ambition for all half-marathon race directors is to have a sub-60 minutes race. And one of the latest recruits to world class athletics, Philemon Limo of Kenya, obliged in the Hervis Prague Half-Marathon on Saturday lunchtime.
Limo, 25, has only been running seriously for two years, and racing at world class for 12 months. But he ran away from three men who have already gone sub-60. He beat Azmeraw Bekele of Ethiopia and his compatriot, Titus Masai, by over a minute, clocking a superlative 59.30, and taking 37 seconds off the two year old course record, to become the third fastest man of the year at the distance.
His colleague Lydia Cheromei, who was winning world titles at the age of 13, more than emulated Limo. Her 67.33 took exactly a minute and a half from the former record, and is the second fastest time of the year.
Following his own sub-60, a 59.39 clocking in Holland three weeks ago, Azmeraw was a marginal race favourite, and he set out to justify that claim. The Ethiopian was in the van behind pacemaker Edward Muge in the early stages of the race, along with Masai and another Kenyan, Jairus Chanchima. But Limo was lurking in the background, and stayed with the favourites when a group of five broke away after just five kilometres.
Shortly after halfway, and well on course for that magic mark, the group was down to three, Azmeraw, Masai and Limo. The surprise came less than two kilometres later. Limo shot away from the more famous pair, and quickly built up a lead, which just grew and grew. The danger was that he had run too fast, and would crack up. But despite temperatures in the low 20s centigrade, and one or two tough gradients coming out of the road tunnels which border the Vltava River, Limo barely missed a step, and came home an easy winner.
The previous record holder, Nicholas Koech, who ran 60.07 two years ago, had to withdraw from the race earlier in the week, with an ankle injury. That may have saved him from a fate worse than losing his record, because Limo looked unbeatable today.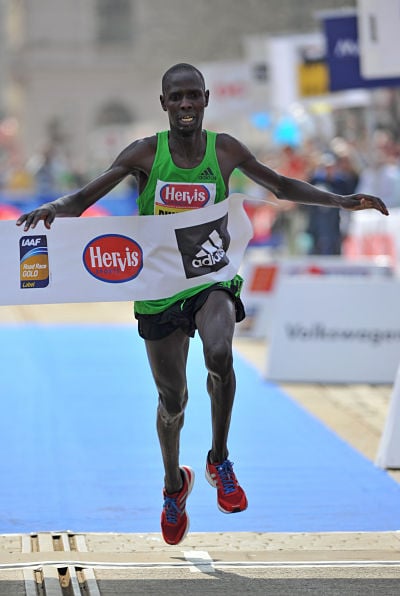 Limo's background in cross country running – he was seventh in the recent IAAF World Championships – served him well. And so did his ambition. His only previous half-marathon (on his first trip outside Kenya) was exactly a year ago, 61.25 in Milan. "But I knew I could run under 60 minutes because my training has been wonderful," he said immediately afterwards. "But I think I can do even better than that".
It is just over 20 years since Cheromei shocked the athletics world by taking the world junior cross country title a month or so short of her 14th birthday. Such brilliance so young often ends in eclipse, and Cheromei did fade away in the following years, even suffering a drugs ban.
But following the birth of daughter Faith, she has returned as a marathon runner, with a best of 2.23.01 in Dubai in January. She now has an equally good 'half' to her name after running away from Belainesh Zemedkun of Ethiopia, and colleague Rose Kosgei, whose course record from 2009 she erased. Zemedkun clocked 69.16 for second, and Kosgei was third in 69.31.
Enlisted for the Marathon here in Prague in five weeks time, she said she hoped to do as well. The organisers are already rubbing their hands.
Local interest was very well served, with Robert Krupicka finishing 14th in the men's race in a very respectable 1:08:27 and Petra Kaminkova coming 9th in the women's race in 1:17:00. Also posting an incredible result was Jiri Jezek, the Paralympic gold medallist and recent winner of the Para-Track World Championships in Cycling. He crossed the finishing line in an amazing 1:50:35, giving him high expectations for his participation in the Volkswagen Prague Marathon in just six weeks' time.
For more information on all of the above, please visit: www.praguemarathon.com.
Ends.
---
Runner's World &
Running Times



Combined Only $22
a Year
Save $87

---

Running & Track and Field Posters
---

Running Shoe Savings: Nike Lunar Glide 20% Off Super popular shoe from Nike featuring Flywire and Lunar Foam
---
Comments, questions, suggestions, story you'd like to submit? Email us.