Ten Thoughts About The 2011 NCAA Indoor Track & Field Championships

(The Week That Was In Running - March 7 - March 13, 2011)
To read last week's LRC Week That Was, click Here.
To read any 2010 LRC Week That Was, click Here.
By LetsRun.com
March 18, 2011
It took us a bit longer than normal to get out our weekly recap this week, as we were busy preparing our NCAA basketball brackets and getting ready for St. Patrick's Day, but we're pretty proud of what we've come up with. Seriously, it is simply just better late this time.
Before we give you some thoughts on NCAAs, let us share an email from our friend Brett Larner of Japan Running News about giving to the Japanese earthquake relief fund, as we figured some would rather give to a running-related charity than simply to, say, the Red Cross.
I'm sure you get this kind of thing all the time, but I wanted to ask if you could put a link or short blurb up somewhere on the LRC front page to two-time World Championships 400 mH medalist Dai Tamesue's Team Japan relief fund. He is trying to raise funds to support the Civic Force emergency response crews working in the tsunami-hit areas. URL for donations and more info is here:

http://www.justgiving.com/Team-Japan

Again, I'm sure you get this kind of thing frequently, but with the situation deteriorating a bit here I'd much appreciate it. Thanks, and all the best.

Brett Larner
#####
Ten Thoughts About NCAAs
(If you were gone last week and want to relive NCAAs, go here to see the home page the day after NCAAs)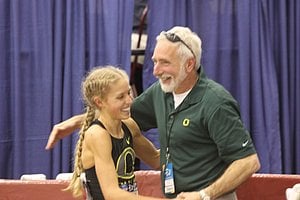 1) On the women's side, the weekend will probably always be remembered for being Jordan Hasay's coming out party as an NCAA champion - make that double NCAA champion. To think, on Friday, she was a lovable little runner-up and then on Saturday, she was viewed totally differently.
Now that she's a double NCAA champion, it's worth looking back at her losing effort in the DMR on Friday and realizing "Hey, even though she lost - that, too, was pretty darn good." On the DMR, Hasay split 4:30.47 for 1,600 meters. Add about 2.5 seconds to that to make up for the fact she got a running start and didn't run a full mile and you get basically 4:33-flat for the mile. Even though she lost the race, that performance right there is arguably the best single performance Hasay had ever had in her life.
People need to realize that Hasay came into the meet with a 1,500 PR of 4:13.85, which "equates" to 4:34.16 for the mile.
So on Friday, in a losing effort on the DMR after running the mile prelims, Hasay basically went out and ran a lifetime PR from the front. Not very many pro US women can go run 4:33 in the mile from the front after running a 4:38 mile earlier in the evening. Then she came back the next day and essentially equalled that performance in winning the mile final, as Hasay ran 4:33.01 to win the mile - a new official lifetime personal best. That right there is very, very impressive - two great performances.
But Hasay wasn't done. Her turn-the-tables victory over Villanova's Sheila Reid, who kicked past Hasay in the DMR, cemented her as an NCAA legend, as Hasay won the 3k in her fourth race of the weekend - while Reid was running only her second race of the weekend. Truly unbelievable.
If you watch a replay of this race, the key in our minds was the fact that Hasay was the aggressor and beat Reid to the pole just before the bell. Had Reid gotten the lead, no way Hasay wins, as over the last 200, the two ran the same splits, with Hasay splitting 30.30 to Reid's 30.31, but Reid ran basically the entire last lap in lane two and finished the race in lane 4.
2) On the men's side, will the meet be remembered as the coming out party for Elliott Heath of Stanford? Heath uncorked a devastating kick to decimate a totally loaded field in the men's 3k and grab his first NCAA title. Big deal you say, he just won one race.
Elliott Heath After 3k Win
Well, winning an NCAA title in a distance event for an American male is a big, big deal. In doing so, Heath joined some illustrious company. We did some research by looking at all of the NCAA 3,000-meter champions at NCAAs on the men's side from the 10 previous NCAA meets (from 2001-2010). We bet you didn't realize the following statements to be true:
Did you know that all of them are either Olympians or World Championships team members?
Do you realize that an American male has now won the NCAA title at 3k for 7 straight years? Yes, that's right ... well, sort of.
Let us explain.
The previous six years of NCAA 3,000 winners are as follows: Dorian Ulrey, Galen Rupp, Kyle Alcorn, Lopez Lomong, Chris Solinsky and Chris Solinsky - all of them have represented the US at an Olympics or World Championships in track or both.
Lomong, who was the US flag bearer at the 2008 Games in Beijing, won the 3,000 in March of 2007 when he was well on his way to citizenship - he didn't officially become a US citizen until that July.
All of those men have already represented the US at the Worlds or Olympics. So all we're trying to say is - history says there is a very good chance Heath does so as well down the road.
3) The stats about Heath got us to thinking - what if we looked at all of the American mid-d and distance champs for the last 10 years at NCAAs? How many of them went on to make an Olympic or Worlds team outdoors on the track?
Take a look for yourself; those that made an outdoor global championship in track appear in red, those that did not appear in blue. Foreigners appear in black.
| | | | | | | | | | | |
| --- | --- | --- | --- | --- | --- | --- | --- | --- | --- | --- |
| Event/Year | 2010 | 2009 | 2008 | 2007 | 2006 | 2005 | 2004 | 2003 | 2002 | 2001 |
| 800 | Robby Andrews | Jacob Hernandez | Tyler Mulder | Ryan Brown | Nick Willis | Jackson Langat | Kevin Hicks | Nate Brannen | Otukile Lekote | Otukile Lekote |
| Mile | Lee Emanuel | Lee Emanuel | Leo Manzano | Leo Manzano | Christian Smith | Nick Willis | Sean Jefferson | Chris Mulvaney | Christian Goy | Patrick Nduwimana |
| 3k | Dorian Ulrey | Galen Rupp | Kyle Alcorn | Lopez Lomong* | Chris Solinsky | Chris Solinsky | Alistair Cragg | Alistair Cragg | Adrien Blincoe | David Kimani |
| 5k | David McNeill | Galen Rupp | Isaac Songok | Chris Solinsky | Josphat Boit | Ian Dobson | Alistair Cragg | Alistair Cragg | Alistair Cragg | David Kimani |
| 800 | Andrew Wheating | Andrew Wheating | Jacob Hernandez | Andrew Ellerton | Ryan Brown | Dmitrijs Milkevics | Jonathan Johnson | Sam Burley | Otukile Lekote | Otukile Lekote |
| 1,500 | Andrew Wheating | German Fernandez | Leo Manzano | Lopez Lomong* | Vincent Rono | Leo Manzano | Chris Mulvaney | Grant Robison | Donald Sage | Bryan Berryhill |
| 5k | David McNeill | Galen Rupp | Bobby Curtis | Chris Solinsky | Chris Solinsky | Ryan Hall | Robert Cheseret* | Alistair Cragg | David Kimani | Jonathon Riley |
| 10k | Sam Chelanga | Galen Rupp | Isaac Songok | Isaac Songok | Josphat Boit | Robert Cheseret* | Alistair Cragg | Dan Lincoln | Boaz Cheboiywo* | Ryan Shay |
| Steeple | Matt Hughes | Kyle Perry | Kyle Alcorn | Barnabas Kirui | Josh McAdams | Mircea Bogdan | Jordan Desilets | Dan Lincoln | Dan Lincoln | Dan Lincoln |
*American citizen now but not at time of victory. As a result, for this chart, Lopez Lomong wasn't counted as an American because he - along with Boaz Cheboiywo and Robert Cheseret - didn't win their NCAA track titles as American citizens even though they are American citizens now.
If we've counted correctly, it looks like 28 American men won an individual mid-d or distance track title from 2001-2010. Of those 28 men, 17 of them (64.3%) have made an Olympic or Worlds outdoor team. (Editor's Note: Originally the story said 16 of 28 made it in track but someone wrote and pointed out that Ryan Shay made it in the marathon which should count and Sam Burley made it in 2005 for the 800 but was DQd in the heats which also should count. Also it should be pointed out that some of those that haven't have made it outdoors have made it indoors or in cross-country).
One way for Heath to virtually guarantee himself a spot on a Worlds or Olympic team would be for him to win another NCAA title in his final 1.5 years at Stanford. We say that because of the eight multiple-time individual NCAA champions in track over the last decade - Chris Solinsky (five), Daniel Lincoln (four), Leo Manzano (four), Galen Rupp (four), Andrew Wheating (three), Kyle Alcorn (two), Jacob Hernandez (two), Ryan Brown (two) - only one, Jacob Hernandez, hasn't made a Worlds or Olympic track team outdoors, and his career isn't over yet.
4) Making that chart made us remember how damn good John McDonnell was when he was at Arkansas. Sure, when he retired in 2008, the days of Arkansas contending for a triple crown on an annual basis were probably over (as they probably are for every single men's team in this day and age) but man did McDonnell get his boys ready to produce at NCAAs, no matter whether it was foreign stars like Alistair Cragg, Josphat Boit or Chris Mulvaney or home-grown walk-ons like Dan Lincoln - all multiple time NCAA champions in the last ten years.
We guess given the success his teams were having, it's a natural that he had so many individual national champions. But many of the current visitors to LetsRun.com are probably under the age of 25 and likely don't really know how dominant McDonnell was for the final 25 years of his coaching career. So let us give you a little history lesson - we call it John McDonnell 101.
From 1984 to 2008, the final score at all of the NCAA cross-country and track and field meets stood as follows:
42 - NCAA Titles Won By John McDonnell
35 - NCAA Titles Won By Everyone Else.
Ridiculous. Even if one goes with the vacated score, it's 40 to 35.
5) #4 got us to take a look at how the Arkansas men did this year. With Dorian Ulrey on the sidelines, out of eligibility until outdoors, Arkansas scored a grand total of 10 points.
6) Before the meet, if we'd told you, "Arkansas is going to score ten points on the men's side and still beat Oregon," would anyone have believed us?
The answer is simply no.
But that's what happened. As good as the meet was for the Oregon women, it was bad for the Oregon men, who had nothing go their way, as #1 seed Elijah Greer got sick prior to the 800 and was a total non-factor. His absence in the DMR greatly hurt that team's chances before a lost shoe on the anchor killed those chances.
But hey, we can't just pick on a few big-time programs. Two-time defending cross-country champion, Oklahoma State, scored zero points.
7) Speaking of Oklahoma State, before the meet, if we'd told you, "German Fernandez is going to run less than 50 meters of the men's 3k but won't be hurt or sick," would anyone have believed us? No.
But sometimes truth is stranger than fiction.
8) Sometimes truth is stranger than fiction in a bad way, as it was with Fernandez, and sometimes it's stranger than fiction in a good way, as it was at the 2008 Big 10 Meet. German's DNF led to someone posting the following video on the message board and we honestly might think it most be the best race we've ever seen. We don't want to tell you what happens in case you haven't seen it, but think of Eric Liddell in Chariots of Fire.
9) The competitiveness at NCAAs just keeps getting tougher and tougher and on the men's side it is just brutal now - both individually and team-wise.
Individually, two #1 seeds didn't even make the final in Elijah Greer (800) and Patrick Casey (mile). Team-wise, while it may sound catastrophic for teams like Arkansas and Oregon to not score more than 10 points, one needs to realize there are very few points, 663 to be exact, to be spread among a ton of schools, and 65 teams scored. Only 6 schools scored more than 20 points.
One can understand why so few schools score big points - they are hard as hell to earn.
For whom should we have the most sympathy? Three candidates.
i) Northern Arizona's Diego Estrada. Estrada ran 13:29.01 - that's within .08 of the old meet record - in the men's 5,000 and finished just fourth (5 points). In the same event, 13:36 was good for only one point, as the top eleven finishers all ran faster than the time they put up to qualify for the meet. Those traditionalists who says the oversized tracks are responsible for all of the fast NCAA times aren't totally correct - the level of competition is playing a huge part as well (although oversized tracks help qualifying meets get more people on the track in the top heats).

ii) Arizona's Lali Lalang. If we told you a freshman on the anchor of the DMR got the baton in 2nd place and ran a 3:56.93 anchor leg, one would probably think his team finished in the top two spots. Well, that's exactly what happened to Lalang and yet he lost three spots.

iii) Arkansas' Tarik Batchelor, who jumped over 26 feet in the long jump, 26'00.25", and scored just 4 points (5th place).
10) TV Guys at ESPN, next time just read our NCAA Previews (Men's Preview, Women's Preview) or hire us as consultants, as a lot of our insight sure did come in handy before you put out your re-edited broadcast on ESPN. During your live Internet broadcast, you all at ESPN3 seemed stunned that Lacey Bleazard, someone from the lowly Mountain West Conference, had somehow won the women's 800. We bet you were even more stunned when she told you she had won the meet two years ago in the same stadium as Lacey Cramer and was the runner-up last year as well. We certainly weren't stunned - we picked her as the winner before the race.
And after the race, we seemingly were the only one's pointing out how Hasay's performance at NCAAs this year was very similar to Galen Rupp's spectacular showing at NCAAs two years ago. Lo and behold - that same sentiment showed up on your broadcast. Maybe that means you guys wised up already after the meet. We know it can be tough, as one of the favorite pastimes of the LetsRun.com audience is to criticize the routinely sub-standard television broadcasts found on the airwaves in the US. But if LetsRun.com is good enough to be required reading for some of the very best in the business like Ato Boldon and Toni Reavis, then it's got be good enough for you guys as well.
More: (Un)Official NCAA ESPN3 Announcing Gaffes Thread
#####
Other Happenings Of Note
Lukas V Runs Away From the Top Milers To Complete Historic High School Nationals Triple His double on Sunday was super-impressive, but we had completely forgotten about German Fernandez's 4:00, 8:34 double at the California state meet.
*Gerry Lindgren's Legendary 47-Year-Old High School National Record Survives Scare From Lukas Verzbicas And Edward Cheserek
#####
Recommended Reads
*Day 2: LRC 3ks: Hasay Becomes A Legend, Heath Unleashes His Legendary Kick
*Day 2: LRC Mid-D: Hasay Gets Title #1, Batty Gets Title #2, Fred Samoei Wins A Nailbiter, And BYU's Bleazard Dominates
*Day 1: LRC DMR: Villanova's Reid Outkicks Oregon's Hasay, BYU's Miles Batty Holds Off Incredible 3:53 Anchor From Andy Bayer
*Sally Meyerhoff Left A Positive Impression On Arizona Journalist Jeff Metcalfe
*Profile On Edward Cheserek, Who Will Race Lukas Verzbicas In HS Indoor Nationals 2 Mile
*Thrower Louis Day Shows Honesty And Sportsmanship By Trying To Take Himself Out Of The Final
*Meet UF Freshman Sensation Cory McGee
#####
Looking Ahead (Time To Start Getting Excited For ...)
This Weekend: World Cross-Country, NYC Half Marathon
Next Weekend: Stanford Invitational
#####
Quotes Of The Day From Last Week
Monday: "The mile, excuse my language, but I pulled out of my ass. I don't know where that came from."
- Lukas Verzbicas after winning the mile at the New Balance Nationals to finish an incredible triple. He won the 5,000m Friday night in a high school indoor record of 14:06, then yesterday outkicked Kenyan Edward Cheserek to win the 2-mile and just miss Gerry Lindgren's high school record of 8:40.0 by 0.70, then came back just over an hour later to show the rest of the high school milers he's in a completely different league by winning by over a second in 4:10.67. He made the nationals look like a dual meet. It might be the best high school triple ever, but German Fernandez's 4:00 (1,600), 8:34 (3,200) double is better.
---
Sunday: "We talked about going 1-2-3 like the guys did outdoors (in the 1,500). Going 1-3-4 is pretty close. I'm still in shock."
- A thrilled Jordan Hasay, who a day after getting outkicked in the DMR, came back to lead Oregon to a 1-3-4 finish in the mile before becoming a legend in the 3,000 by turning the tables on a fresh Sheila Reid to take home her second NCAA win and lead the Oregon women to a romp win - eerily similar to Galen Rupp's heroics from two years ago.
---
Saturday: "I feel like they calculated the results wrong. Like I didn't run the right amount of laps. (Maybe) They miscounted some girls ahead of me. I don't know ..."
- A super-excited Mia Behm, from the University of Texas, after her 2nd place finish at NCAAs. Behm was 7th at the Big 12 meet in her last race. In the men's 5,000m, Leonard Korir, who had a 14:43 5k best last year, ran a 13:26 meet record and had a cool quote himself: "I was just (hoping) to get position two or three but I saw that nobody was coming after me, so I was like 'Why don't I win this thing?'"
---
Friday: "I think football has the right model. They have a BCS, a I-A and a I-AA (championship). I think that's something that needs to be thought about, because we so reflect football in a lot of different ways. One of them is the strength of our conferences, and you just can't try to put 300-plus teams into one shoe."
"It's not working for us. That's a concept that needs to be considered."
- Arkansas coach Chris Bucknam, the former coach at Northern Iowa, talking about changing the format for the NCAA championships in track and field. In the same article, Texas A&M coach Pat Henry advocates letting only eight teams into NCAAs.
---
Thursday: "It's OK if I fail, I just want to take that first step. After that it's just a question of how far I can go. I know it'll be tough, but if there's even slightest crack in the wall [of making the national team] then I want to go for it."
- 31-year-old Noriko Matsuoka talking about taking a shot at making Japan's World Championships marathon team at the Nagoya International Women's Marathon. She had dreamed of running a fast marathon early in her career, but a 2001 accident followed by chronic injury delayed her plans. Now, 10 years later, she is ready to finally make her debut.
---
Wednesday: Sorry, our archives function failed this day; if somehow you know what the QOTD was, please email us.
---
Tuesday: "So every day, I pray. I pray for the man who gave me my name, who taught me the importance of working hard, how to care for others, and how to show your family how much you love them. I pray for my mother, who has to watch the man she's loved for more than 50 years ebb away. I pray that the compassion my father bestowed upon so many people will be passed on to others."
- Jerry Carnes, talking about his dad's, Jimmy Carnes', battle with prostate cancer, which he lost over the weekend. Jimmy Carnes founded the Florida Track Club (Frank Shorter, Marty Liquori), coached at the Univ. of Florida, was an Olympic coach and was a president of TAC (USATF), and apparently a very generous man. The article above is an emotional read and the Gainseville newspaper has a good read on Carnes' life.
#####
Last Week's Homepages
*Mon (March 14) *Sun (March 13) *Sat (March 12)*Fri (March 11) *Thu (March 10) *Wed (March 9) *Tue (March 8)
---
Runner's World &
Running Times



Combined Only $22
a Year
Save $87

---

Running & Track and Field Posters
---

Offers of interest: Nike Lunar Glide Discount Discounting on this shoe not allowed until recently.
---