The Best Races of 2017: Gold & Silver for U.S. in the Steeple, Shalane Wins NYC, Kipchoge Runs 2:00:25 & More
By LetsRun.com
December 19, 2017
2017 is almost at an end, and with no big races on the calendar until January, it's time to look back on what happened in the sport of running this year. Legendary retirements — Usain Bolt, Meb Keflezighi, Mo Farah (from the track) — were a big theme, but there were also a ton of exciting races in 2017. Who can forget Emma Coburn and Courtney Frerichs leading the U.S. to a shocking 1-2 finish in the steeplechase at the World Championships, or Galen Rupp and Shalane Flanagan ending lengthy U.S. droughts in Chicago and New York? And while those races earned the headlines (deservedly so), there were also epic finishes like the women's 1500 final at NCAAs, which saw the leaders running five-wide for the title in the final meters.
Below, we've linked to the LetsRun recaps of our favorite races (with a distance bias) of 2017. We hope you enjoy reminiscing about them as much as we did.
Article continues below player
Races in chronological order.
NCAA Men's Mile (March 11): Edward Cheserek Loses as The Legend of Josh Kerr Is Born
Edward Cheserek made plenty of history in his four years at the University of Oregon, but his task at the 2017 NCAA indoor meet may have been his toughest yet: the Ducks entered Cheserek in the mile, 3k, and 5k, with the hopes that he could become the first man in history to win three individual events at the NCAA meet.
Cheserek easily handled part one by winning the 5k on Friday, and he added the 3k title 24 hours later. But in between, he was shocked by a 19-year-old Scottish freshman from New Mexico, Josh Kerr, who blasted his last three laps in 27.41-26.52-26.68 to blow out Cheserek and the rest of the NCAA field. Kerr went on to win the NCAA 1500 title three months later and qualify for the World Championships in London and looks set to dominate the NCAA in 2018.
LRC Upset City! New Mexico Freshman Josh Kerr Stuns Edward Cheserek & Runs Away With 2017 NCAA Mile Title
2017 NCAA Mile Final (set to start with 400 to go)
NCAA Men's 4×400 Final (March 11): Texas A&M Passes Florida in the Final Straight to Win NCAA Title By Half a Point
Texas A&M wasn't even supposed to have a chance. The pre-meet NCAA indoor projections had the University of Florida men easily winning the 2017 NCAA indoor title, but after 16 of 17 events, it came down to this: Florida led Texas A&M by 1.5 points. Whichever school won the decisive 4×400 relay would be crowned NCAA champions. Florida entered the final exchange with the lead and the Aggies' best runner — individual 400 champ Fred Kerley — already used up on leg #1. But Fred's brother Mylik, after stalking the Gator's Ryan Clark for a lap and a half, swung wide on the final turn, passed Clark on the final straight and gave the host Aggies their first indoor title — and the 36th in the career of legendary head coach Pat Henry.
RECORD BREAKING WIN!@aggietrk's men ran a record-breaking 3:02.80 in the 4×400 to capture their first NCAA Indoor team title. pic.twitter.com/YOUkqkgY4m

— NCAA Track & Field (@NCAATrackField) March 12, 2017
LRC Best Ending Ever? Texas A&M Men Win Their First NCAA Indoor Title by Half a Point After Coming from Behind to Win 4×400
World Cross Country Championships, Men's Senior Race (March 26): Geoffrey Kamworor Repeats After Joshua Cheptegei Goes for It Heroically In Front of the Home Fans
The first World Cross Country Championships to be held in Kenya, in 2007, were unlike anything we had ever seen. The first time World XC visited Uganda was almost as wild, with an eerily similar result in the grandaddy of them all: the men's senior race. Just as Kenenisa Bekele took the lead before dropping out in 2007, in March Uganda's own Joshua Cheptegei looked to be on course for the title in front of a delirious crowd in the Ugandan capital of Kampala. But less than half a mile from the finish line, Cheptegei's body gave out in the heat and humidity as he faded to 30th place.
While it was difficult to watch a depleted Cheptegei stagger his way to the finish line, the image of one man laying it all on the line to win gold for his country was one that will stick with us forever. And Cheptegei did eventually win some hardware five months later, taking home a well-deserved silver medal in the 10,000 meters at Worlds.
LRC Geoffrey Kamworor Defends His World Cross Country Crown and Denies Host Uganda A Fairy Tale Ending
London Marathon Women's Race (April 23): Mary Keitany Runs 2:17:01 After Near-Suicidal 66:54 First Half
No race better epitomizes Mary Keitany than the 2017 London Marathon. At her best, few women in history can hope to contend with the diminutive Kenyan. When she's on her game, all you can hope for is that Keitany somehow beats herself — as she did in New York in 2011, when ran her first half in 67:56 and built a lead of 2:24 before giving it all away. In London this year, Keitany came through over a minute faster than that (66:54), easily the fastest first half of a marathon in history. But unlike in New York, this time she held on, clocking an astounding 2:17:01 (only Paula Radcliffe's 2:15:25 world record is faster). Runner-up Tirunesh Dibaba became the first woman to run under 2:19 and lose — as well as the first woman to run under 2:18 and lose — as she moved to #3 on the all-time list with her 2:17:56.
LRC Wow: Mary Keitany Survives Nearly Suicidal First Half and Blitzes A 2:17:01 To Take Down Paula Radcliffe's Women's Only World Record and Win 2017 London Marathon
Breaking2 (May 6): Eliud Kipchoge Runs 2:00:25 for 26.2 Miles
Okay, so this was really more of an exhibition than a race, and Eliud Kipchoge's time of 2:00:25 for the marathon distance won't count in the world record books. But for anyone to run that fast for that long — no matter how it was achieved — is simply phenomenal, and Kipchoge came far closer to actually breaking two hours than all but the most realistic pundits predicted. The whole thing felt like a two-hour Nike ad — which it basically was — but that didn't mean that it was not compelling.
LRC Breaking2 Falls Short, But Eliud Kipchoge Runs an Astonishing 2:00:25 for the Marathon Distance
NCAA Women's 1500 (June 10): Michigan's Jaimie Phelan Goes From Last To First on the Final Lap to Win a Thriller
Arkansas' Nikki Hiltz had to go out to lane 4 at the end of this one, such was the traffic in the home straight, and she almost won it. Instead, it was Jaimie Phelan — who had been outkicked by an Oregon runner at the NCAA cross country championships seven months earlier, costing Michigan the title by one point — who gained some personal revenge and won a classic at Hayward Field.
WHAT A FINISH!

Jaimie Phelan held on to win the 1500m. #ncaaTF pic.twitter.com/R3a5vGyoka

— NCAA Track & Field (@NCAATrackField) June 10, 2017
LRC NCAA Women's Distance Recap: Raevyn Rogers Makes it Three for Three, Karissa Schweizer Gets #3, Jamie Phelan and Allie Ostrander Get #1
NCAA Women's 4×400 (June 10): Raevyn Rogers and Oregon Close Out the Triple Crown
The University of Oregon women entered the 2017 NCAA outdoor championships as heavy favorites: the Track & Field News form chart had them over 20 points ahead of projected runner-up USC. But an incredible performance by the Georgia Bulldogs and a few missteps by Oregon — including a faceplant by sprint star Deajah Stevens in the 200-meter final — left Oregon needing a win in the final event, the 4×400 relay, to win the title and ensure an unprecedented cross country-indoor track-outdoor track sweep.
It came down to the final leg, and despite allowing USC anchor Kendall Ellis to pass on the inside of the first turn, Bowerman award winner Raevyn Rogers delivered a 49.77-second split, a 3:23.13 collegiate record, and the sweep to Oregon in front of a deafening Hayward Field crowd. As Ducks coach Robert Johnson said afterward: "Is that a way to end a freakin' track meet or what?"
This is what track is all about!! Here's the final leg of the 4×4 that decided the national title. What. A. Finish! ?? @OregonTF pic.twitter.com/2yi8Jm4BY3

— ESPNU (@ESPNU) June 11, 2017
LRC From Choke to Clutch: Oregon Ducks Complete First Triple Crown With NCAA Record in 4×400
USA Men's 1500 (June 24): Robby Andrews Earns Redemption & First U.S. Outdoor Title
After coming up short to Matthew Centrowitz in 2015 (USA outdoors) and 2016 (USA indoors, World indoors, US Olympic Trials), Robby Andrews finally turned the tables on his rival in Sacramento, kicking by him in the final straight to win an exciting 1500 final. Andrews admitted later that he knew Centro wasn't 100%, but a win is a win. The race for third was just as exciting, as Craig Engels went made a bold move for the win only to be run down by Johnny Gregorek at the line, who beat him by .02 of a second to secure the final spot at Worlds.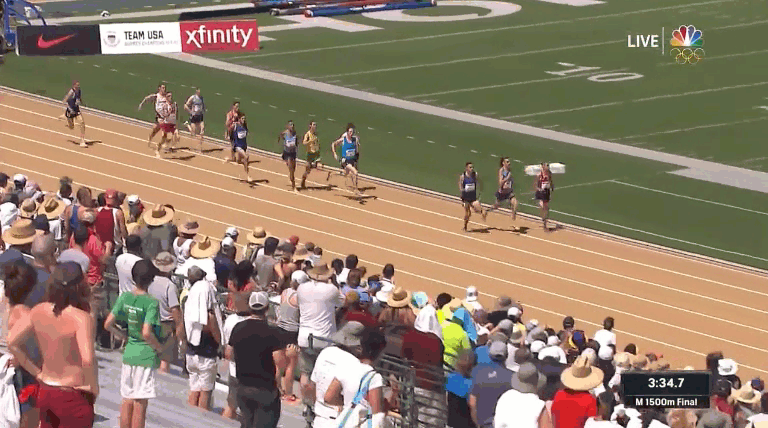 Full Race:
LRCAfter String of Misses, Robby Andrews Takes Down Matthew Centrowitz to Win First US Outdoor 1500 Title
Herculis Monaco Women's 800 (July 21): Ajee Wilson Goes Toe-to-Toe With Caster Semenya & Crushes the American Record
Since the start of the 2016 season, no woman has beaten Caster Semenya over 800 meters. But on July 21 in Monaco, two women came awfully close. One of them was American Ajee Wilson, who fell .34 of a second short of Semenya but still smashed the 18-year-old American record of 1:56.40 by running 1:55.61. Semenya's win streak stands at 20 as we head into 2018, but Wilson (and Francine Niyonsaba, who was second in the race) showed in Monaco that it's not foolish to dream of one day defeating the Olympic champion.
LRC Ajee Wilson Smashes The American 800 Meter Record, Runs 1:55.61 in Monaco
World Championship Women's Marathon (August 6): Rose Chelimo Wins as Amy Cragg Earns Historic Bronze
Given what unfolded in the American marathons this fall, we'll forgive you if you forgot about the World Championship marathon in London. Here's a reminder: with 5.5 miles to go, there were 14 women remaining in the lead pack before American Amy Cragg made a move to break up the pack. Eventually, that pack whittled down to four, and the final drama-packed miles featured two back-and-forth battles: one for gold between Bahrain's Rose Chelimo and Kenya's Edna Kiplagat, and another for bronze between Cragg and Kenya's Flomena Daniel. Cragg may not have won the race, as her training partner Shalane Flanagan would three months later in New York, but no American ran a tougher final mile this year than Cragg who ended up only 7 seconds away from the gold.
LRC Amy Cragg Ends America's 34-Year Medal Drought In The Women's Marathon At Worlds By Snagging A Surprising Bronze in London
Race Highlights:
https://www.youtube.com/watch?v=yEmjpNrAROQ
World Championships Women's 1500 (August 7): Faith Kipyegon Wins & Jenny Simpson Comes Through in the Clutch for Silver as Sifan Hassan Craters
The women's 1500 at Worlds was hyped as one of the races of the meet, and it didn't disappoint. Consider this: the world leader (Sifan Hassan of the Netherlands), world record holder (Genzebe Dibaba), and home favorite (Laura Muir of Great Britain) all failed to medal. But with such a loaded field, someone was bound to go home devastated. Hassan made a huge move for the win, running her penultimate 200 in 28.2, but could not hold on and faded to fifth. Muir, just as she did in Rio, once again made a bid to follow the leaders, and once again found herself run down by Jenny Simpson, who ran a brilliant tactical race. And no one closed harder in the home stretch than Caster Semenya, who became the first woman since Svetlana Masterkova in 1999 to medal in both the 800 and 1500 at Worlds. For fans of pure racing, this was the race of the 2017 World Championships.
LRC Women's 1500: Faith Kipyegon Wins Another Gold As Jenny Simpson Beats Caster Semenya To Nab Her Fourth Global 1500 Medal
https://www.youtube.com/watch?v=34HqkYG8UK8
World Championships Women's Steeplechase (August 11): Americans Emma Coburn & Courtney Frerichs Go 1-2 in a Wild Race
This race had everything. From the moment pre-race favorite Beatrice Chepkoech missed the first water jump and had to retrace her steps, it was clear this was going to be a crazy one. Even still, no one could have predicted the ending, which saw Emma Coburn break her own American record by five seconds to win gold and, even more surprisingly, Courtney Frerichs run a 16-second PR to earn one of the unlikeliest silver medals in the history of U.S. distance running. When it was done, the favored Kenyans walked through the mixed zone silently while Frerichs ran around the track trying to convince herself that she was not in a dream. This was the steeplechase's Billy Mills moment.
LRC Americans Emma Coburn and Courtney Frerichs Pull Off Incomprehensible Upset and Go 1-2 in Women's Steeple
World Championships Men's 5,000 (August 12): Muktar Edris Takes Down Mo Farah on Home Soil to End His Epic Win Streak
For almost six years, from his first world title in Daegu on September 4, 2011, to his last in London on August 4, 2017, Mo Farah was undefeated in global championships on the track. But Muktar Edris would not allow the 34-year-old Brit to have a storybook ending, throwing down a 3:57.5 final mile — and 52.3 final lap — to win his first global title in thrilling fashion.
LRC The upsets continue: Mo Farah is beaten in men's 5,000 at Worlds, Muktar Edris dethrones the king
Weltklasse Zurich Men's 5,000 (August 24): Mo Farah Gets Revenge to End His Track Career in Style
Farah may have lost the big one in London, but he gained a measure of revenge 12 days later at the Diamond League final in Zurich. Five men came off the final turn tightly bunched, and four of them would still be there at the finish. And despite a desperate dive from Edris, it was Farah who took the victory, grabbing the lead by the bell and holding on to the inside track for the entire final 400 meters. In a race in which the top three were separated by just .13 of a second (Paul Chelimo was also in there but later DQ'd), running the shortest line — something Farah has consistently done in his victories — may have been the difference between winning and losing.
LRC The great Mo Farah ends his track career with an epic win after one of the craziest finishes we've ever seen
Berlin Marathon Men's Race (September 24): Eliud Kipchoge Holds Off Marathon Debutant Guye Adola for the Win
In a race that included legends Eliud Kipchoge, Wilson Kipsang, and Kenenisa Bekele — three of the four fastest marathoners in history on record-eligible courses — fireworks were expected. But it was not Kipsang or Bekele challenging Kipchoge in the final miles, but Ethiopian debutant Guye Adola, who actually took the lead with under two miles to go. In a classic battle — Kenya vs. Ethiopia, Nike vs. adidas, Kipchoge vs. Adola — it was Kipchoge who once again came out on top, but he had to give it everything.
"This was the hardest," Kipchoge said afterward.
LRC Eliud Kipchoge (2:03:32) Holds Off Debutant Guye Adola (2:03:46) to Win 2017 Berlin Marathon as World Record Attempt Fizzles
Chicago Marathon Men's Race (October 8): Galen Rupp Ends the U.S. Drought in Chicago
It had been a generation since an American-born man won the Chicago Marathon — or any major marathon, in fact. But Galen Rupp, as he has done so many times in his career, accomplished something that had previously been the near-exclusive territory of African-born runners and won a major marathon with a ridiculous close — 4:39-4:35-4:30-4:34-4:33 for his final five miles. While Rupp's win was historic, the reaction from his peers was one of uncertainty, given the ongoing investigation into his coach and training group.
LRC American Galen Rupp Wins 2017 Chicago Marathon – 1st American-Born Winner in 35 Years
https://www.youtube.com/watch?v=o1djfuXYD18&start=5580
New York City Marathon Women's Race (November 5): Shalane Flanagan Shocks Mary Keitany to Win First Major Marathon at Age 36
While many counted her out against the incredible Mary Keitany — the three-time defending NYC champion and a woman who had run the second-fastest marathon in history seven months earlier — Shalane Flanagan never stopped believing that she could one day win a major marathon if everything broke right. And that's exactly what happened in New York, as Flanagan ran the greatest of her 10 career marathons to become the first U.S. female champion in New York since 1977. Americans will remember, remember the fifth of November for years to come.
LRC Shalane Flanagan Wins 2017 New York City Marathon – 1st American Winner in 40 Years