The great Mo Farah ends his track career with an epic win after one of the craziest finishes we've ever seen
by LetsRun.com
August 24, 2017
ZURICH – In what was expected to be the final track race of his glorious career during which he won 10 world or Olympic titles, Mo Farah went out a winner in dramatic style in the men's 5000 at the IAAF Diamond League final here tonight at the Weltklasse Zurich as he somehow found a way to hold off three runners in one of the wildest finishes we've ever seen as the top four finishers literally almost ended up on top of each other.
Giving the finish of this race justice as print journalists isn't easy:
Agreed. It was a finish even the best writers will struggle to describe. Credit to the support cast too.

— Mutwiri Mutuota (@MutwiriMutuota) August 24, 2017
Article continues below player
So perhaps the best option would be for you to watch the finish yourself:
(Video shows final 150 meters. Longer video at bottom of page)
After it was over, Farah was the winner in 13:06.05 thanks to a final lap of 52.61 (25.7 final 200 unofficially) which was just enough to hold off Olympic silver medallist Paul Chelimo (13:06.09, though he was later DQ'd) who literally ended up on top of 2017 World champion Muktar Edris (same time, 13:06.09) as Edris fell to the track as he desperately tried to get to the line first/tied up from exhaustion. Ethiopia's Yomif Kejelcha, the 2016 world indoor champ at 3000, was third (fourth across the line) in 13:06.18 as just .13 separated the top four finishers across the line. If those names — Farah, Chelimo, Edris and Kejelcha — sound familiar, that's not surprising as those were the top four finishers in the world championship 5000 that was won by Edris in London just 12 days ago.
Results – 5000 Metres – Men
1 Farah , Mohamed GBR 13:06.05
2Edris , Muktar ETH 13:06.09
3 Kejelcha , Yomif ETH 13:06.18
4 Barega , Selemon ETH 13:07.35
5Ahmed , Mohammed CAN 13:10.26
6 Alamirew , Yenew ETH 13:13.08
7 Rop , Albert Kibichii BRN 13:14.31
8 True , Ben USA 13:17.62
9 Legese , Birhanu ETH 13:24.89
10 Kwemoi , Ronald KEN 13:55.56
Chelimo, Paul USA DQ
Cheboi , Collins KEN DNF
Kangogo , Cornelius Kipruto KEN DNF
Mechaal , Adel ESP DNF*Lap by Lap splits at bottom of page
Quick Take: Farah's tactical acumen won him this race
Farah won this race in the same manner in which he won many of his global titles: by getting to the front by the bell and running the shortest distance for the final 400 meters. In a race where the top four finishers were separated by .13 of a second, positioning is key and Farah fought hard to maintain the lead, especially when Kejelcha challenged him on the backstretch. Kejelcha got slightly ahead of Farah, but never by enough to come in to the rail and as a result he and Edris had to run extra ground on the turn.
The fact that Farah closed in a blazing 52.61 seconds and still almost lost shows how strong the guys were behind him as they had to have closed even faster than that. But beating someone who closes in 52.61 is already tough, and when you have to run extra distance, it's even harder.
Farah said after the race that he wanted to sit on Edris, but once he got to the lead, he knew he could not afford to give it up.
"Tonight, the game plan was just sit on him and make him do a lot of the work," Farah said. "And at the same time, going into the last lap, do not give anyone an inch. And that's what I did. At one point, I was like, Oh my god, can I hold this? And I was telling myself: yes you can, yes you can."
While Kejelcha and Edris may have some regrets, Paul Chelimo may be kicking himself most of all. Chelimo had plenty of run in his legs over the final 100 meters but he was completely boxed in and found himself blocked by Edris and Farah as he approached the finish line.
Quick Take: What a way for Farah's track career to come to an end
Farah has won a lot of races in his career, and while he's often had to work for it in the home stretch, he's been so good that he's usually had time to celebrate at the finish line. But in Zurich, as in the 5k in London, he had to run hard all the way through, and this time he got the outcome he wanted.
"There was a lot of talk [going in about] me and Edris," Farah said. "What a way to end my career and what a way to show the world revenge."
Making the win extra special was that today is the fifth birthday of Farah's twins, Aisha and Amani.
MB: MO GOES HOME DELIGHTED! / Mo Farah is the greatest ever 
Quick Take: If he hadn't been boxed, we think Paul Chelimo might have been the winner
UPDATE: Chelimo has now been disqualified from the race. It wound up being a costly DQ as instead of a $20,000 check for second place, Chelimo will head home with nothing.
MB: Breaking Paul Chelimo has been DQ'd from Zurich and It Cost Him $20,000 If he hadn't committed a foul, he probably would have been third so maybe it's fairer to say it cost him $10,000.
In looking at video replays, it appears that Edris went down as he was running out of gas and trying to figure out a way to get make it to the finish line. As we saw in the women's 400 final last year in Rio, sometimes the desperation that comes with a tie-up results in a near-perfect dive and and that's almost what happened for Edris. However, as Edris was tying up, the man moving the best over the final 20 meters was Chelimo. Unfortunately, he started the final 100 on the rail and in fourth and had nowhere to go as both Farah and Edris were ahead of him.
Chelimo ended up putting his arms on both Farah and Edris in the closing meters.
Here is a GIF of Chelimo at the finish.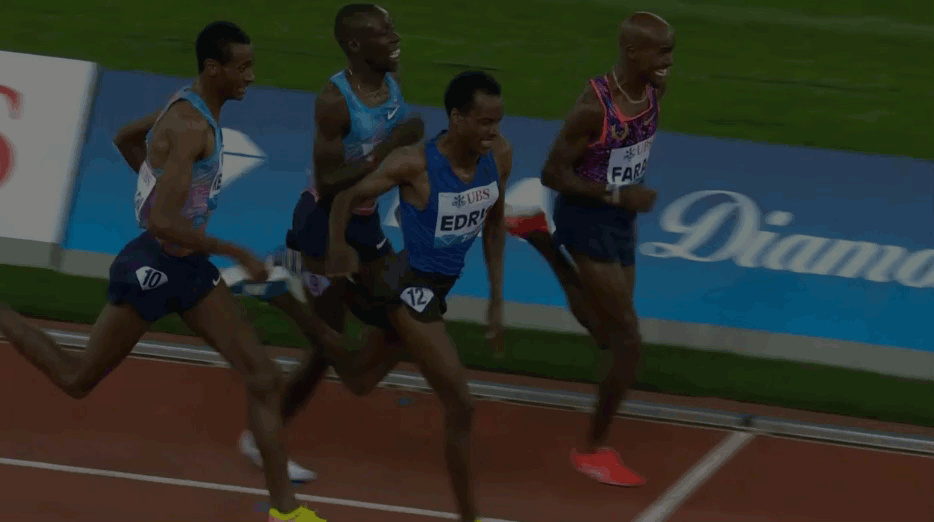 MB: Paul Chelimo spoiled the race – would Edris have beaten Farah again? 
Quick Take: Paul Chelimo says he needs to be stronger but he also needs to be able to close in 50 seconds; said he could not wear US Army singlet for security reasons
Chelimo was disappointed to come so close to beating Farah in his final race; this was the closest Chelimo has ever come to Farah in four finals (.04) but he won't get another shot. Chelimo said that he wanted to accelerate with 100 to go but he was boxed in and that prevented him from moving as quickly as he would have liked.
When we asked Chelimo if he had to improve tactically, he gave an unclear answer. At first, he said that he felt relaxed running 13:06 pace, but then suggested that he needs to improve his strength to reach the bell feeling good.
"I think it's just the strength," Chelimo said. "When I get to the last lap, I tie up. I just need the strength to just get there, just get to the last lap. I just need the strength to get there strong. To win, you gotta be stronger. I need to have [a] 50-second lap in me, last lap."
We'd say Chelimo needs to improve two things. First, get stronger so that he can respond when moves are made in the final laps and get to the lead at the bell. And second, position himself better in tight races. Closing a 13:06 race in 50 seconds is pretty much impossible.
As for Chelimo's DQ, we spoke to him before he knew he was DQd, but he said that in order to win the race, he was left with no other options.
"Edris was coming towards the middle," Chelimo said. "And I was coming into lane 2, I was coming into the inside lane. And they were blocking me, so I couldn't let that go. You can't let position 1 just go. I had to push my way through it and make it."
You may have noticed that tonight Chelimo was wearing the blue Nike kit that most of their pros wear. We asked why he was not wearing his Army singlet instead.
"It's just because of security reasons," Chelimo said. "I cannot run with the Army singlet out here in another country."
When we asked who told him that, Chelimo responded, "I don't need to discuss that on camera."
This was Chelimo's second time racing overseas this year outside of U.S. national team competition. In Doha in May, he wore a Team USA singlet. But in this very same race in Zurich last year, Chelimo wore his Army singlet. Puzzling.
Update: We emailed Colonel Sean Ryan who is the Army Distance Coach and Director of Communications for the World Class Athlete Program (WCAP) and asked him about what Chelimo said about the uniform and how he wore it last year in Zurich, Ryan replied, "As for the singlet,  I've told my athletes not to wear U.S. Army gear while overseas for security reasons,  including training runs and competition.  As Soldiers, they have to remain vigilant and not stand out as best as they can, and another reason WCAP is different from other professional athletes. As for last year,  I wasn't the military coach,  but I can tell you I can't allow my guys to become targets, which is why I personally escorted them to and from London stadium."
Talk about the meet/race on our messageboard:
Longer race video
(US visitors)
Everyone:
https://www.youtube.com/watch?v=ODLjWDQ3pq8
Lap by Lap splits:
Timetable 2017 – Diamond League – Zurich
| | |
| --- | --- |
| 1 | 1:01.56 |
| 2 | 1:04.61 |
| 3 | 1:04.11 |
| 4 | 1:02.77 |
| 5 | 1:03.68 |
| 6 | 1:03.54 |
| 7 | 1:01.90 |
| 8 | 1:05.06 |
| 9 | 1:07.88 |
| 10 | 1:07.48 |
| 11 | 1:01.79 |
| 12 | 52.61 |