Best Ending Ever? Texas A&M Men Win Their First NCAA Indoor Title by Half a Point After Coming from Behind to Win 4×400
By LetsRun.com
March 11, 2017
COLLEGE STATION, Texas — Track and field rarely produces those bottom-of-the-ninth, bases-loaded moments, but when it does, they are spectacular. That was the case at Gilliam Indoor Stadium on Saturday evening as the men's 4×400-meter relay set up the opportunity for the equivalent of a walk-off home run — or more appropriately, a run-off.
With only the 4×400 remaining, the team standings were as follows:
38 Oregon
37.5 Florida
36 Texas A&M
Article continues below player.
Oregon, with no 4×400 squad entered, was maxed out, but Texas A&M and Florida didn't just have the top two seeds — they had the two fastest relay squads in NCAA history, the Aggies running a collegiate-record 3:02.39 at the SEC Championships, .34 ahead of the Gators.
One race between the greatest 4×400 teams in NCAA history for the national title. Track and field does not get any better.
If you just want to watch the race and not read about it until after you've seen it you can do so here:
RECORD BREAKING WIN!@aggietrk's men ran a record-breaking 3:02.80 in the 4×400 to capture their first NCAA Indoor team title. pic.twitter.com/YOUkqkgY4m

— NCAA Track & Field (@NCAATrackField) March 12, 2017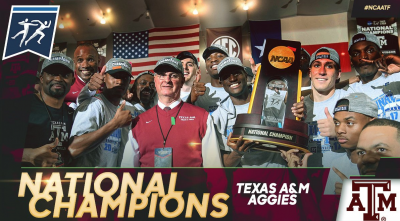 The drama began on the very first leg, with Texas A&M electing to use 400 champ Fred Kerley — whose 44.85 two hours earlier was the third-fastest time ever by a collegian — on the opening leg. As expected, he built a lead (even though Florida put its fastest leg on paper first as well), splitting 45.08, and the Aggies handed off in first with Florida's Kunle Fasasi — whose disqualification in the individual 400 was a costly mistake — in second exactly a second behind.
Leg #2 for the Gators was true freshman Grant Holloway and the 60 hurdles champ demonstrated his insane versatility by overhauling A&M's Robert Grant and handing the Gators a lead thanks to a ridiculous 44.81 split, the fastest of the night.
Eric Futch held the lead for the Gators on leg three, but the Aggies were only .78 behind in second. If A&M anchor Mylik Kerley — Fred's brother — could catch Florida's Ryan Clark, the Aggies would have the program's first NCAA indoor title, on their home track, to boot.
Clark took off like a cannonball after receiving the baton, but Kerley resisted the urge to follow, biding his time in second. On the final lap, he began closing Kerley down and as he swung off the final turn, he went wide and passed Clark, who was totally out of gas. Kerley kept running wide, crossing the finish line in lane 4 before launching into a well-earned celebration. Texas A&M had won its first indoor national championship by half a point.
Serious track nerds may have had a case of deja vu after this one was over as the exact same thing happened on the women's side in 2014. That race also pitted the two fastest 4×400 squads ever — Oregon and Texas — against each other in the final event of the meet. Oregon won the race by .02 over Texas, clinching the national championship by half a point.
Photos of 4×400 Final Leg
Quick Take #1: The "What If? Game
Every team has athletes who underperform and overperform at every single meet, so it's not fair to single out any one individual for blame. But after analyzing the results, here are some of the events that helped decide the national title:
400: Both Florida and Texas A&M had two finalists. But while the Aggies went 1-3 with the Kerley brothers (16 points), Florida only scored four. Futch was fifth and Fasasi was DQ'd, which, crucially, meant that he did not score

any

points (even though he would have scored one by simply walking the race and staying in his lane). Obviously, that's huge in a meet decided by half a point.

Long Jump and Pole Vault: Texas A&M coach Pat Henry afterwards said the key to the national championship was two things that happened Saturday – unexpected second places in the long jump and pole vault. Henry said, "You think it comes down to the mile relay but actually the meet yesterday

Audie Wyatt

gets second in the pole vault and he wasn't supposed to score.

Will Williams

gets second in the long jump and he wasn't supposed to score. That 16 points yesterday that got us home." (LRC note: Wyatt was the last seed in the pole vault and Williams was in a three-way tie for 8th in the long jump).




Meanwhile, Holloway was the #2 seed in the long jump and was only 11th. But without his win in the hurdles and heroic 4×400 leg, Florida isn't even close.

800: Andres Arroyo was seeded 10th, so on paper he wasn't projected to make the final. But as an Olympic semifinalist, it certainly wouldn't have been a surprise to see Arroyo make the final, where all finishers are guaranteed at least a point.
We imagine some of you are wondering how Oregon would have done had they run Edward Cheserek in the DMR (which he said he wanted to do). It would not have affected the outcome. Even if Oregon won the DMR and Cheserek won the mile, Oregon would still have finished third — the place they ultimately finished anyway. Oregon actually exceeded its pre-meet projection of 33 points, but needed more points from non-Cheserek athletes to contend for the title. Cheserek scored 28, while the rest of the Ducks combined for 10.
QT #3: Class Acts All Around from Florida and A&M
Florida coach Mike Holloway made no excuses after the meet despite his team losing by the smallest of margins and suffering a DQ in the 400 where if Fasasi had just crossed the line — even in last — the one point would have given Florida the national title.
Holloway was quick to congratulate A&M saying, "I'm happy for Pat. He and his staff did a good job" and noting his team just didn't do enough to get the job done.
As for the DQ, Holloway said the officials ruled Fasasi cut off a runner and was subject to DQ. The interesting thing at NCAAs now is there no longer a jury of appeals. The meet officials make their decision and once it is issued there is no appeal. Holloway took the jostling in stride saying, "That's indoor track."
Holloway was also impressed with the crowd noting teams could no longer just "complain" about Oregon anymore. It's been common for some NCAA coaches to say it's unfair for Oregon to host the NCAAs outdoors every year as it gives them an unfair advantage. The pro A&M crowd on the 4×400 was tremendous.
After Coach Holloway congratulated Texas A&M, Coach Henry congratulated Florida. He said, "You've got a lot of credit to Florida tonight. Those guys lined up and ran very fast. We had to come from behind to beat them. My hats off to Florida."
QT #4 – National Title #36 for Pat Henry
This was coach Henry's 9th national title at Texas A&M and 36th ever (he won 27 at LSU). Texas A&M swept NCAA outdoors (men and women) from 2009-2011, but had "only" won two titles since. And Henry had never won an indoor title of any kind at A&M.
That changed tonight as Henry got his first indoor title at A&M. Asked if any stood out Henry said, "You just take the last one…. I can't delineate between championships. This was a fine championship because of the crowd, because of the volume in this building."
Henry noted like is usually the case, he thinks his team is more suited for outdoor track saying, "I really think we're going to be a better outdoor team than indoor."
Quick Take #5: How Do Indoor Track Teams Get to Celebrate National Championships? By Practicing on Monday
No other NCAA sport is like indoor track because the second the season ends, athletes are already training for outdoors.  When asked how he would celebrate the national championship, Pat Henry said, "We have a workout on Monday." But he did note A&M was going on spring break to Arizona next week.