USADA: "It Appears Highly Likely" That 6 NOP Athletes Including Galen Rupp and Dathan Ritzenhein Violated Anti-Doping Rules
6 Takeaways from USADA's report on Alberto Salazar, the NOP and Dr. Brown
Ritz: "If you want to be in the Oregon Project, and you want Alberto to coach you, you have to do it"
by LetsRun.com
May 23, 2017

Today, a report made by USADA investigating Dr. Jeffrey Brown, Alberto Salazar and the Nike Oregon Project was published in its entirety by Flotrack. The report, which runs 269 pages, was supposed to remain privileged and confidential between USADA and the Texas Medical Board, but was hacked by Fancy Bears and previously reported on by both the Times of London and New York Times. Now it is in the public domain in its entirety.
The report, which used information from USADA's ongoing investigation into Brown, Salazar and NOP, was created by USADA in March 2016 after a subpoena from the Texas Medical Board which asked for USADA's investigative file on Dr. Brown.
We know most of you don't have time to read the whole report so here are our six takeaways.
Article continues below player.
1) USADA presents strong evidence that all of the Nike Oregon Project runners that received L-carnitine injections from Dr. Brown – Dathan Ritzenhein, Galen Rupp, Tara Edrmann (now Welling), Lindsay Allen, Alvina Begay, and Dawn Grunnagle – committed anti-doping violations 
USADA's logic for this argument is pretty simple. The WADA code limits IV infusions and/or injections to 50 ml over a 6-hour period. USADA argues it's scientifically impossible to raise your post-infusion L-carnitine levels to over 2,000 umol/L from a starting point of less than 100 umol/L in the span of a treatment that only lasts about an hour without infusing way more than 50 ml.
The conclusion for each runner (except Ritzenhein, about whom they went into much more detail) was damning and basically as follows:
For the reasons set forth above, it appears highly likely that Galen Rupp received an L-carnitine infusion from Dr. Brown in excess of 50 mL in violation of the applicable anti-doping rules and in violation of Dr. Brown's duty to Galen Rupp not to cause him to violate the rules. USADA's investigation of Mr. Rupp's potential violation of sport anti-doping rules is continuing.
Just change Galen Rupp's name out for Lindsay Allen, Tara Erdmann, etc. and the conclusion was the same for all of the runners. Now that doesn't mean the runners were complicit in the anti-doping violation. The report states that some say they had huge reservations about getting L-carnitine from Dr. Brown at Salazar's direction as they wondered if it was legal. For example, Ritzenhein initially balked at having it done and Rupp said he asked Brown if the procedure was complicit with the WADA Code.  It's USADA's assertion that Alberto Salazar told them what they were doing was legal, even though it wasn't.
USADA also has some evidence backing up their theory that the L-carnitine supplementation was illegal besides their claim that it's scientifically impossible to raise someone's values that much in such a short period of time without using more than 50 ml of IV.
For starters, Galen Rupp's lawyer handed over a worksheet from the pharmacy that prepared Rupp's IV that the lawyer may have not understood. USADA thinks he thought it vindicated Rupp as he thought it referred to a "45 ml injectable" when in reality it referred to "four (4) 100ml IV infusion bags" each "containg a concentration of 9.67 grams of L-carnitine per 45 milliliters." They also have evidence that Dr. Brown altered medical records or intentionally withheld information unlawfully to cover his ground and make it seem as if the amount of the infusion was legal.
Additionally, Alberto Salazar appears to have misled people at British Athletics (whom he was advising about giving L-carnitine to Mo Farah) about how much L-carnitine Galen Rupp received.
Thus, it may be suspected that Alberto Salazar had a reason for not sharing the amount of L-carnitine used in Galen Rupp's infusion. Of course, a possible reason for not wanting to share the amount of L-carnitine used would be Salazar's knowledge that the infusion exceeded the WADA 50 mL threshold.
Similar, Salazar didn't want his athletes to report to USADA that they had received the infusions at all.
This conduct begs the question of why, if Salazar was confident that the infusions received by his Oregon Project athletes were not in violation of the rules, did he feel the need to create a deceptive and misleading email record and to specifically instruct these athletes not to report their infusions to anti-doping authorities?
2) Alberto Salazar misled athletes about his interactions with USADA and the treatment they were receiving
If the athletes who received L-carnitine injections broke WADA rules, the USADA reports makes it sound like they had no idea they were breaking the rules, largely because Alberto Salazar told them what was being done was legal. Alberto wrote Dathan Ritzenhein and said, "Everything is above board and cleared thru USADA. They know me very well because I always get an okay before doing anything!" Athlete Lindsay Allen says Salazar told her about the L-carnitine injections, "we are testing it for USADA" which was not the case at all.
The report in quite a few instances shows Salazar professing the desire to not break USADA rules, yet implies behind the scenes he broke them and misled his athletes on what USADA told him.
3) Alberto Salazar had no problem playing doctor and both he and Dr. Jeffrey Brown showed little regard for the health of NOP athletes
Update: After a viewer email, we've changed point #3 to: Alberto Salazar had no problem playing doctor and both he and Dr. Jeffrey Brown showed performance enhancement, not athlete health, was the primary focus of their relationship
Salazar had a close relationship with Dr. Brown and often had more information about his athletes' visits to Brown than the athletes themselves. Brown would send medical information directly to Salazar, who would then share it with the athlete if he so desired.
Because of his relationship with Brown and his position as head of the Nike Oregon Project, Salazar wielded immense power over his athletes' medical treatment. On multiple occasions, Salazar told his athletes to use prescription drugs that they did not have a prescription for or asked Brown to provide them with prescriptions even if Brown had not personally diagnosed a condition that necessitated such medication. Athletes like Dathan Ritzenhein felt compelled to use these substances in order to remain part of the group.
"If you want to be in the Oregon Project, and you want Alberto to coach you, you have to do it," Ritzenhein said he told his wife when Salazar was pressuring him to receive an infusion of L-carnitine. The report continues,"Ritzenhein felt he had no choice other than to get the infusion or leave the Oregon Project, '[t]here's no way for me to get around it at that point, in my eyes.'"
The report goes on to state:
Salazar was able to influence and manipulate physicians, including Dr. Brown, to prioritize Salazar's personal interest in the athletic performance of Salazar coached athletes and Salazar's ability to control those athletes over patient confidentiality, patient loyalty, and patient health and well-being.
In addition, the report lambasts Salazar for doling out "appalling medical advice" after interpreting Ritzenhein's blood tests in June 2010. At the time, Ritzenhein was deciding whether or not to undertake thyroid replacement treatment; Salazar totally misrepresented the situation according to the report.
The report also criticizes Salazar and Brown for putting Mo Farah on nasal calcitonin and high levels of Vitamin D (83 times the recommended daily allowance), both of which required prescriptions. When British doctor John Rogers discovered in July 2011 that Farah was taking both substances, he immediately intervened. Farah has a history of hypercalciuria, and "Dr. Rogers recognized that an individual like Farah who has hypercalciuria should not be taking high dose Vitamin D" (Rogers also said Farah should not have been using calcitonin given that his hypercalciuria). Salazar and Brown were either not privy to Farah's history of hypercalciuria, or they simply did not care that it might interfere with the medications they put him on.
Additionally, calcitonin has been shown to increase one's chances of getting cancer. NOP team member Dorian Ulrey figured that out on his own so assistant coach Pete Julian, a cancer survivor himself, emailed the team and told them to stop taking the drug. Dathan Ritzenhein was clearly very angry as he replied, "Is this some kind of joke? I have been taking this for the last four years!"
Take a look for yourself at that page.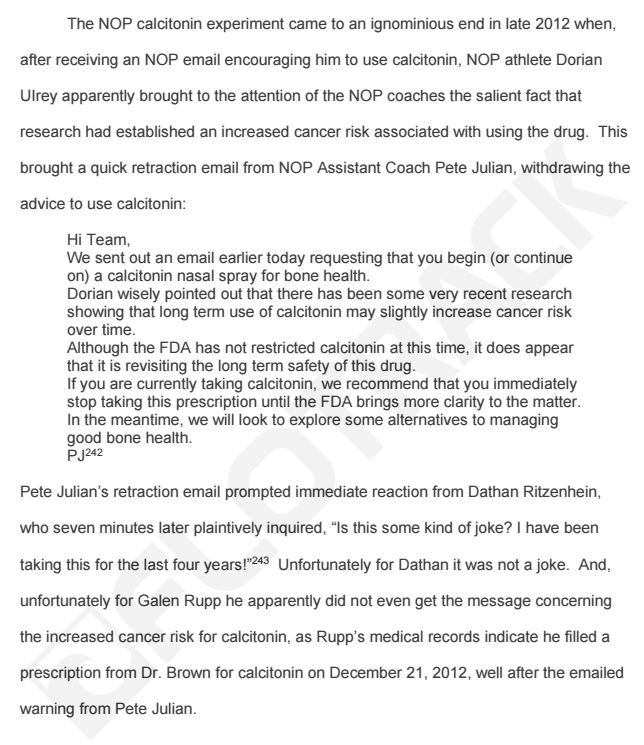 4) Athletes were diagnosed with hypothyroidism even if their thyroid levels were within normal ranges
Ritzenhein had his blood tested three times on the Nike campus during June of 2010. Each time, he showed a TSH level (thyroid-stimulating hormone) well within the normal range. Yet he went to Brown at the end of the month for a fourth test and was prescribed thyroid medication. Toward the end of 2011, Ritzenhein became uncomfortable taking the medication, but with the Olympic Marathon Trials fast approaching, he was feeling immense pressure from Salazar to continue taking it. As a result, he stopped taking it but told Salazar that he was still taking the medication.
The report reads:
In this situation the athlete found that athletic performance was so important to the coach that the only way the athlete's health would take priority over his coach's desire for performance enhancement was if the athlete lied to his coach and disobeyed the instructions of the coach and the doctor tied to the coach.
More chilling is the case of Arianna Lambie.
Lambie said that Brown conducted testing on her and told Lambie that she did not have a thyroid condition. Brown told Lambie that her TSH level was 1.00.
According to Lambie, Brown also told Lambie that most endocrinologists consider any TSH level below 5.00 to be normal but that athletes require treatment at much lower levels. Lambie told USADA that, despite telling her that her thyroid was functioning normally, Dr. Brown prescribed Lambie Levoxyl at a high dose.
Within two weeks, Lambie began feeling sick. She went to another doctor, who immediately told her to stop taking the medication.
5) Salazar was obsessed with trying to improve his athletes' testosterone levels
This may not exactly be breaking news, but it was one of the biggest takeaways from the report. If there was any substance not listed on the WADA banned list, that might be able to boost testosterone, Salazar would try to procure it for his athletes — even if it meant procuring a prescription that they didn't need or, in some cases, simply giving it to them without a prescription (even though one was required).
Salazar may have viewed all this as "legal" because it did not violate the WADA Code, but he is wrong in terms of U.S. law. Under U.S. law, it is not legal to dole out prescription medication without a license.
As for Salazar's personal testosterone use, the report revealed that he has received two separate prescriptions for testosterone simultaneously — one from his doctor in Portland and one from Brown — and that his Portland physician, Dr. Kristina Harp, was apparently unaware that he was receiving a second prescription from Brown. Though Salazar provided letters from Harp and his cardiologist supporting his use of testosterone, he has refused to share the medical records that led to his diagnosis of hypogonadism (the condition for which he is prescribed medication). As a result, in USADA's eyes, Salazar has not justified possessing testosterone. And under WADA rules, as a coach, he needs a proper justification in order to possess such a substance.
The report reads:
Because Mr. Salazar and his lawyer have, to date, refused to provide adequate documentation USADA is unable to substantiate that Alberto Salazar has ever received a diagnosis for hypogonadism and that his possession of testosterone as an athlete support person working with elite athletes has been with acceptable justification. USADA therefore considers that as of this date Mr. Salazar has not established acceptable justification for possessing testosterone and his admitted possession of testosterone appears to have been violation of sport anti-doping rules.
Salazar previously admitted to carrying out a testosterone experiment on his sons; he says he did it in order to see whether it was possible to sabotage an athlete and make them test positive by rubbing testosterone cream on them. The report questions this motive. In addition to highlighting Salazar's focus on testosterone levels, it notes that athlete Amy Begley and her husband admitted to transporting a package containing testosterone from Dr. Brown in Houston to Salazar. The implication is this would not be necessary if Salazar was testing standard testosterone on his sons — the kind he could procure from his personal prescription in Oregon. However, if he was testing special compound testosterone, which was designed not to be detetected by drug testers, on his sons, he would have to procure this from somewhere else and the report tries to argue this could be what Dr. Brown sent him. The report also notes that Salazar would also regularly give the team masseuse the night off and massage Galen Rupp himself, which was suspicious to other athletes in the group with the implication being he could have been rubbing testosterone on Galen Rupp.
The report paints a picture of Salazar being very interested in testosterone and how it affects performance, starting with Alberto not ruling out entirely that he might have started taking testosterone prior to winning the Comrades Marathon in 1994.
6) Nike CEO Mark Parker was kept informed of Alberto Salazar's L-carnitine discoveries
Previously, it had been reported that Salazar was so excited with gains he thought he saw from the initial L-carnitine test on Steve Magness that he emailed Lance Armstrong his findings. It had not been reported that also on that email was Nike CEO Mark Parker. Salazar also wrote in an email that he was so excited by the initial findings on L-carnitine that he planned on meeting with Parker in-person to discuss them. It is uncertain whether that meeting ever took place. There is no implication that Parker may have known Salazar was committing anti-doping offenses, but this is the first report we have seen that he had active involvement with Salazar's program.
---
Talk about the report on our messageboard. MB: The full USADA report on Alberto Salazar has been leaked – Here it is 
PS. One final interesting anecdote from the report that really surprised us. Alberto Salazar only found out about Dr. Jeffrey Brown because University of Colorado coach Mark Wetmore recommended him to Adam Goucher. From Adam Goucher's email: "My coach, Mark Wetmore, recommended that I contact you. He has sent an athlete to see you before and says that you are the best Endocrinologist in the country."