Wow: Mary Keitany Survives Nearly Suicidal First Half and Blitzes A 2:17:01 To Take Down Paula Radcliffe's Women's Only World Record and Win 2017 London Marathon
by LetsRun.com
April 23, 2017
In a monumental effort, Kenya's Mary Keitany ran 2:17:01 to win the 2017 Virgin Money London Marathon and break Paula Radcliffe's 12-year-old 2:17:42 women's-only world record. Keitany's time was the second-fastest women's marathon ever run. Only Radcliffe has run faster, though her 2:15:25 in 2003 (also in London) came with the aid of male pacemakers.
Keitany had to put up such a historic effort to win versus the deepest field ever in women's marathoning as Ethiopia's Tirunesh Dibaba took second in 2:17:56, becoming just the third woman to break 2:18 in the marathon. No one else in the stacked elite field could run faster than 2:23 as the suicidal half marathon splits (1:06:54 for Keitany, 1:07:53 for the chase pack) left wreckage all over the course. On the American front, Laura Thweatt had a super impressive run, taking almost 3-minutes off her PB to finish sixth in 2:25:38.
Full analysis and recap below.
The Race
The 35-year-old Keitany had spoken of attacking Radcliffe's women's-only mark in the days leading up to the race, and she did so with furor, clocking splits never before seen in a women's marathon. Keitany had already begun to drop the rest of the field — save for pacer Caroline Chepkoech — by two miles (10:24), but it was her downhill third mile, run in an unbelievable 4:37, that created a gap that would not close the rest of the way.
At 5k (15:31), Keitany led the chase pack of nine women by 10 seconds and was on pace for an inconceivable 2:10:57 marathon. By 10 kilometers, Keitany was not only pushing her own limits, but those of the pacer Chepkoech, as well, as they came through in 31:17 — just one second off Chepkoech's PR for 10,000 meters on the track, set last spring.
Keitany would continue to slow, going 15:31-15:46-15:58-16:11 for her first four 5k splits, but still reached halfway in 1:06:54, by far the fastest first half in a women's marathon ever and well under Radcliffe's 1:08:02 opening split in her 2:15 from 2003. The rest of the top women chose to chase Keitany rather than tap the brakes and four others — Dibaba, 2015 world silver medallist Helah Kiprop, 2010 London champ Aselefech Mergia and 2016 Olympic 5k champ Vivian Cheruiyot, making her debut — hit halfway in 1:07:53.
After the incredible opening half, it was a given that nearly everyone was going to slow down considerably during the second half of the race. But even with a sizable positive split, historically fast times were still on the table on a perfect day for marathoning (low-50s, little wind, overcast skies).
Between halfway and 25k, pacer Chepkoech dropped out and Keitany was all alone up front. Behind Keitany, Cheruiyot had been dropped from the chase pack. By 30k, Mergia had joined her. Keitany was still slowing up front — in fact, every one of her 5k splits would be slower than the one before it — but at 30k (passed in a new world record of 1:36:05), she was still on pace to break Radcliffe's world record. Her margin, however, was slipping with every passing mile. A 5:19 19th mile brought her projected time up to 2:15:11, followed by another 5:18 for mile 20 (2:15:23 projected time). Finally, after a 5:19 21st mile, Dibaba was, for the first time, outside Radcliffe's 2:15:25 overall world record pace, but with just over five miles to go in the race, it was clear we were still in for something truly special if Keitany did not totally fall apart before the finish.
The fatigue was really setting in now, as Keitany's next two miles — 5:22 and 5:31 — were her slowest of the race, but she rallied as she ran along the Thames, going 5:25, 5:22 and finally 4:53 for mile 26 to bring the finish line at Buckingham Palace within sight. She stopped the clock on one of the finest runs in history at 2:17:01, earning her third London Marathon title — and her most impressive by far.
Dibaba, running just her second career marathon, dropped Kiprop just after 30k and actually began to close the gap on Keitany, but she slowed as she approached mile 25, repeatedly grabbing her stomach. Eventually, she stopped, bent over, and tried to throw up. Though nothing came out, the stop seemed to work as Dibaba resumed her previous pace with no further sign of trouble. In all, the episode cost her around 20 seconds but she still managed to cross in 2:17:56 to join Radcliffe and Keitany as the only female members of the sub-2:18 club.
Though the top two women produced video-game times, the insane early pace led to some massive blowups for others in the elite field. Aselefech Mergia was the next woman across the line, over five minutes behind Dibaba, taking third in 2:23:08 (splits of 1:07:54/1:15:14). Vivian Cheruiyot, who took fourth in 2:23:50 (1:07:54/1:15:56 splits), Helah Kiprop (seventh in 2:25:39; 1:07:53/1:17:14 splits) and Florence Kiplagat (ninth in 2:26:25; 1:08:17/1:18:08) were others who suffered mightily on the way home after running way too fast early in the race.
A couple of women took advantage of the blowups to finish well up the field thanks to some smart pacing. Australia's Lisa Weightman finished fifth in 2:25:15 (1:12:26/1:12:49) and the U.S.'s Laura Thweatt was sixth in 2:25:38 (1:12:36/1:13:00), a nearly-three-minute PR that made her the seventh American woman under 2:26.
But this was Keitany's day, and the impact of her 2:17:01, and Dibaba's 2:17:56 in second, will be felt for years to come. Back in the early 2000's, Paula Radcliffe set the bar for what was possible from a female marathoner, running 2:15:25, 2:17:18 and 2:17:42 in a three-year span. But those marks had gone unchallenged for so many years that they began to look unattainable; Radcliffe's times were drifting off to the heavens like untethered balloons. Today, Keitany yanked those balloons back to earth, reaffirming that it is possible for women to run 2:17 — and perhaps much faster with better pacing.
Results and quick take analysis appear below.
Top 10 Results (Deeper results at bottom of document)
1. KEITANY, Mary (KEN) 2:17:01
2 DIBABA, Tirunesh (ETH) 2:17:56
3 MERGIA, Aselefech (ETH) 2:23:08
4 CHERUIYOT, Vivian (KEN) 2:23:50
5 WEIGHTMAN, Lisa (AUS) 2:25:15
6 THWEATT, Laura (USA) 2:25:38
7 KIPROP, Helah (KEN) 2:25:39
8 TUFA, Tigist (ETH) 2:25:52
9 KIPLAGAT, Florence (KEN) 2:26:25
10 TRENGOVE, Jessica (AUS) 2:27:01
Quick Take #1: Oh My Goodness, What A Run By Keitany
What a ridiculous run by Keitany.  Whenever you set a world record of any sort (and this counts as a women's-only marathon world record), you obviously put up an incredible performance, but the way that Keitany ran today may have been more mind-boggling than her final time. At 5k, she was on 2:10:57 pace. At 10k, she was on 2:12:00 pace. The fact that she didn't blow up after going out that fast is remarkable. In the coming days, we'll try to figure out what the 35-year-old might have run had she run a more reasonable first half.
Update. Our stat expert has weighed in with an opinion: MB: With even pacing, John Kellogg thinks Mary Keitany could have run 2:15 and change today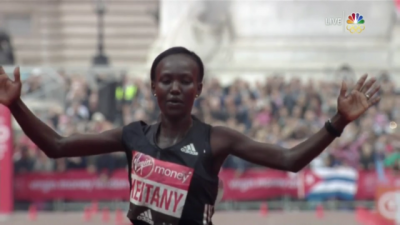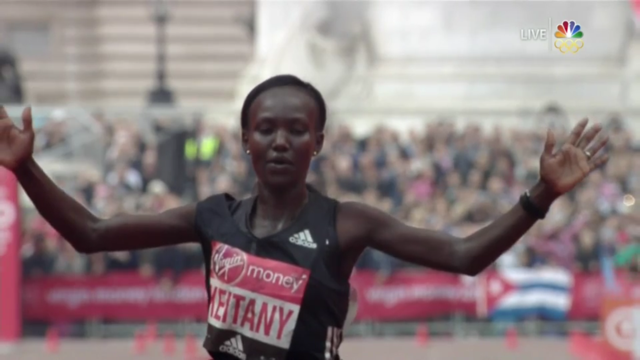 Keitany's first half today of 66:54 was by far the fastest first half-marathon ever run in a marathon in women's history. We believe it's more than a minute faster than any first half ever recorded in a women's marathon as we believe the previous fastest was Keitany's own 67:56 that she ran in the first half of New York in 2011 (and spectacularly blew up to a 2:23:38 — 2011 ING New York City Marathon Women's Race Recap: Mary Keitany Beats Herself). As mentioned previously, when Paula Radcliffe ran her 2:15:25 world record in London in 2003, she ran her first half in 68:02 and her second in 67:23.
Today's run made us confident in a prediction we recently made – we'll see a woman break 2:15:00 in the marathon before we see a man legitimately break 2:00:00.
MB: Mary Keitany Sets the Women's Clean WR!!! 2:16:59
Quick Thought #2: Tirunesh Dibaba's Run Was Also Pretty Special
Dibaba, the 12-time World and/or Olympic champion, clearly has a ton to be proud of. Not only did she run the fifth-fastest time in history and become only the third woman under 2:18:00, she also did so after going out in 67:54 and having to stop later in the race.
Before today, every time a woman had run 2:19:25 or faster in a marathon she had emerged as the winner as the fastest runner-up time in history was Catherine Ndereba's 2:19:26 at the 2002 Chicago Marathon when Paula Radcliffe ran her first world record of 2:17:18. Today, Dibaba ran a minute and half faster than Ndereba and still lost. She's just the sixth woman in history to break 2:20:00 in a marathon and lose.
MB: Tirunesh Dibaba pukes 10 times and still runs 2:17 
Quick Take #3: Australia's Lisa Weightman and American Laura Thweatt Both Ran Great and The Suicidal Early Pace For The Leaders Really Helped Them Place High
The 39-year-old Weightman lowered her PB from 2:26:05 to 2:25:15 and the 28-year-old Thweatt, who ran 2:28:23 in her debut in New York in 2015, lowered her pb to 2:25:38 in marathon number two of her career. They both PR'd by running smart races that were fairly even paced as Weightman hit halfway in 72:26 and Thweatt in 72:36.
The surprising thing about Weightman and Thweatt's runs today was that they placed fifth and sixth with those times. They greatly benefitted from the fact that virtually everyone not named Keitany or Dibaba that went out crazy fast up front blew up big-time.
Consider this: Thweatt has a half marathon pb of 71:02. Even if you take her marathon time today of 2:25:38 and convert it to the half, it equates to a 69:12 according to McMillan. The top 6 women race in the race today all hit 13.1 in nearly a minute faster than that (Keitany's split was 66:54, the next four women (Kiprop, Dibaba, Cheruiyot, Mergia) all were 67:53-4 and then Kiplagat ran 68:17. So they all ran the equivalent of a sub-2:24 marathon in the first half (Florence Kiplagat's 68:17 half-marathon split is equivalent to a 2:23:42 marathon) but most blew up after the overly ambitious first half.
Quick Take #4: And The British World Championship Spots Went To…
The top two Brits in the race earned spots at the 2017 World Championships which will be held in London and those spots went to two women who set new PBs. 38-year old Alyson Dixon ran 2:29:06 (previous pb 2:29:30) to place 14th and 25-year old Charlotte Purdue ran 2:29:23 (previous pb 2:30:04) to finish 15th. After a 74:45 first half, 43-year old Jo Pavey dropped out before reaching the 30k mark.
Talk about the race on our fan forum / messageboard:
Elite Results.
1 KEITANY, Mary (KEN) 102 18-39 – – +00:00 02:17:01
2 DIBABA, Tirunesh (ETH) 107 18-39 – – +00:56 02:17:56
3 MERGIA, Aselefech (ETH) 103 18-39 – – +06:07 02:23:08
4 CHERUIYOT, Vivian (KEN) 130 18-39 – – +06:50 02:23:50
5 WEIGHTMAN, Lisa (AUS) 110 18-39 – – +08:14 02:25:15
6 THWEATT, Laura (USA) 115 18-39 – – +08:38 02:25:38
7 KIPROP, Helah (KEN) 108 18-39 – – +08:39 02:25:39
8 TUFA, Tigist (ETH) 109 18-39 – – +08:52 02:25:52
9 KIPLAGAT, Florence (KEN) 104 18-39 – – +09:24 02:26:25
10 TRENGOVE, Jessica (AUS) 113 18-39 – – +10:00 02:27:01
11 KEBEDE, Aberu (ETH) 106 18-39 – – +10:27 02:27:27
12 LOBACEVSKE, Diana (LTU) 114 18-39 – – +11:48 02:28:48
13 TAYLOR, Kellyn (USA) 118 18-39 – – +11:51 02:28:51
14 DIXON, Alyson (GBR) 119 18-39 – – +12:05 02:29:06
15 PURDUE, Charlotte (GBR) 121 18-39 – – +12:23 02:29:23
16 BARLOW, Tracy (GBR) 123 18-39 – – +13:42 02:30:42
17 DEELSTRA, Andrea (NED) 111 18-39 – – +14:32 02:31:32
18 JONES, Tish (GBR) 126 18-39 – – +16:56 02:33:56
19 PANAYIOTOU, Melanie (AUS) 124 18-39 – – +18:24 02:35:25
20 VANDENBUSSCHE, Hanna (BEL) 128 18-39 – – +20:28 02:37:28
21 PARTRIDGE, Susan (GBR) 122 18-39 – – +20:51 02:37:51
22 SPINK, Jenny (GBR) 125 18-39 – – +21:10 02:38:11
23 WOOD, Casey (AUS) 131 18-39 – – +22:27 02:39:27
24 Graham, Laura (GBR) 132 18-39 – – +25:38 02:42:38
25 DUCHENE, Krista (CAN) 117 40-44 – – +26:31 02:43:31
26 SANCHEZ, Barbara (IRL) 127 18-39 – – +30:36 02:47:36