Americans Emma Coburn and Courtney Frerichs Pull Off Incomprehensible Upset and Go 1-2 in Women's Steeple
by LetsRun.com
August 11, 2017
LONDON — In a shocking upset on a scale not seen in American distance circles since Billy Mills won Olympic gold in the 10,000 in 1964, Americans Emma Coburn and Courtney Frerichs won gold and silver in the women's steeplechase tonight at the 2017 IAAF World Championships.
Heading into the last water jump, it was a three-person race between the two Americans and 2015 champion Hyvin Kiyeng of Kenya. Coburn had by far the best water jump of three and never looked back as she approached the last hurdle with no fear and went on to win in a new American and championship record of 9:02.58, breaking the old American mark of 9:07.63 that she ran in Rio to grab bronze last year (previous CR was 9:06.57). Frerichs outdueled Kiyeng to finish a clear second in 9:03.77, an incredible 15.32 seconds faster than her previous best of 9:19.09, ahead of Kiyeng's 9:04.03.
Article continues below player.
Paris Diamond League winner Beatrice Chepkoech finished a heroic fourth in 9:10.45 after battling back from way behind after initially forgetting to go over the first water jump and falling less than a minute later, two incidents that cost Chepkoech almost 10 seconds. World record holder and Olympic champ Ruth Chebet, who led most of the race, was 5th in 9:13.96. 2017 world leader Celliphine Chespol, just 18, was sixth in 9:15.04.  
The race (Video here)
The race started at a modest pace (Coburn ran her first full lap from the finish line at about 9:20 pace), but before the pace picked up there was big drama on the very first water jump. As the runners approached the first water jump, Chepkoech, the betting favorite who had convincingly defeated everyone ranked in the top 5 in the world this year on July 1, had a brain freeze and failed to cut in for the water jump. Once past the water jump, she realized her mistake and had to turn around and go back over the water jump.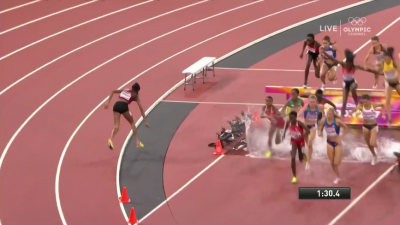 There was a table on the inside of the track and Chepkoech added extra distance by going around it on the way back to the jump. All told, she lost 6.8  seconds and even more energy than that as she had very little momentum when she hit the barrier.
Chepkoech wasted no time in trying to get back in the thick of things as within 45 seconds she'd already somehow managed to pass half the field and was in seventh, trying to bridge a gap to the top 6 that had started to pull away from the field as the pace was increasing. But she had tried to catch up too quickly and more misfortune hit Chepkoech as she went down after after jumping the barrier at the start of the backstretch at the 2:15 mark. Chepkoech lost another 2.8 seconds as many in the pack ran over her.
Amazingly, Chepkoech wasn't done. One lap later, she somehow found herself back in the seven-person lead pack thanks to a 66-flat lap she ran after she regained her footing.
At the second water jump, it was the world record holder Ruth Jebet who had taken the lead and she ratcheted up the pace. The hit 1k in 3:02.74 and some four minutes into the race, the lead pack was running single-file. Bahrain's Winfred Yavi, who had led the first lap and a quarter, was the first to crack and she started to fall off the main pack with four laps remaining. The lead pack of six would stay together until 1.5 laps remained. Throughout that time, the four Kenyan-born athletes – Jebet, Kiyeng, Chepkoech and Chespol would occupy the top four positions with the two Americans, Coburn and Frerichs, running in fifth and six.
With three laps remaining, the two Americans looked to be struggling to hang on to the back of the back (and for good reason as they hit 2k in 6:03.60) as a little daylight was opening up, but they never cracked. With two laps to go, the lead pack was bunched up. The next person to crack was the 18-year-old world leader Chespol, who lost contact with the lead pack with 1.5 laps remaining. As the runners approached the penultimate water jump, Coburn showed some life as she passed Kiyeng and started to battle Chepkoech for the second position. Chepkoech responded and before the bell she and Coburn both went by Jebet as Chepkoech hit the bell in 7:54.40.
The last lap will be one replayed for the ages in the US, as it was wild and crazy as five women battled for three medals.
On the turn, Jebet responded on the inside and got back ahead of Coburn. Kiyeng moved up on the outside as Coburn dropped back to fourth. However, at the end of the turn, the biggest mover was the one woman who no pundit expected to be in the medal hunt – Frerichs.
Running wide, she powered onto the backstretch and as she went over the barrier at the start of the backstretch she flew by Jebet and Coburn and moved into a virtual three-way tie with Chepkoech and Kiyeng. Halfway down the backstretch, the world record holder Jebet started to fade and it was now a four-person battle for the medals.
Chepkoech, who had heroically battled back from her own self-inflicted wounds, was the next to crack and started to fade just before the runners made their left hand turn towards the final water jump.
That left three women for three medals, and they hit the final water jump three abreast, thanks to Kiyeng moving off the rail and letting Coburn in on the inside. Coburn took the lead thanks to a flawless water jump. Conversely, Kiyeng had by far the worst water jump and fell into third as she lost a lot of momentum, more than the little that Frerichs lost as both stumbled on the landing.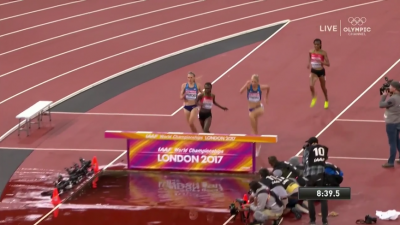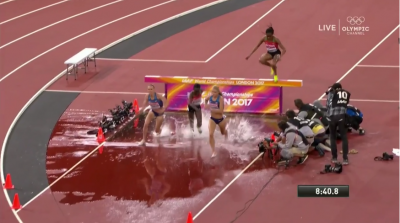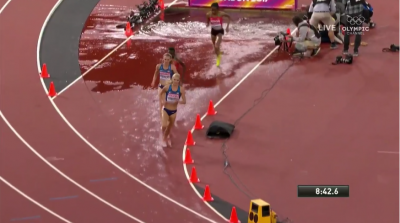 Coburn had a two-meter lead coming off the turn and now only one barrier stood between her and gold. Coburn showed no fear and attacked the final barrier and her lead would extend all the way home thanks to a 68.2 final lap as she'd win by 7 or 8 meters and have time to celebrate just before the line. Behind her, Frerichs finished off the race of her life to keep silver as Kiyeng settled for bronze.
Results *Race video
1 Emma COBURN USA 9:02.58 CR
2 Courtney FRERICHS USA 9:03.77 PB
3 Hyvin Kiyeng JEPKEMOI KEN 9:04.03
4 Beatrice CHEPKOECH KEN 9:10.45
5 Ruth JEBET BRN 9:13.96
6 Celliphine Chepteek CHESPOL KEN 9:15.04 WU20R
7 Etenesh DIRO ETH 9:22.46
8 Winfred Mutile YAVI BRN 9:22.67 PB
9 Gesa Felicitas KRAUSE GER 9:23.87
10 Purity Cherotich KIRUI KEN 9:25.62
11 Belén CASETTA ARG 9:25.99 AR
12 Genevieve LACAZE AUS 9:26.25 SB
13 Geneviève LALONDE CAN 9:29.99 NR
Aisha PRAUGHT JAM DQ
Birtukan FENTE ETH DNSSPLITS: 1000m 3:02.74 Ruth JEBET BRN
2000m 6:03.60 Ruth JEBET BRN
Quick Take: This race was absolutely bonkers
The pre-race favorite forgetting to run the first water jump. Americans going 1-2 in a distance race at Worlds. Courtney Frerichs running a 15-second PR to earn the silver medal. This was one of the craziest races we've ever seen and it's going to take a long, long time for it to sink in.
Here's a list of some more crazy/historic stuff that happened in this race:
-Coburn and Frerichs are the first U.S. women to ever go 1-2 in a distance race at Worlds or the Olympics.
-Coburn and Frerichs are the first U.S. women to ever win a medal in the steeplechase at Worlds.
-This time a week ago, the U.S. had never won a steeplechase medal in the history of the World Championships (established in 1983). In the span of four days in London, the U.S. won three.
-Coburn and Frerichs ran the two fastest times ever by Americans and now rank 6th and 7th on the world all-time list. Coburn's time was an American record and a championship record.
-Coburn is just the third female American distance runner ever to win World Championship gold, joining Mary Decker (1500/3000 in 1983) and Jenny Simpson (1500 in 2011). Amazingly, all three women attended the University of Colorado.
And then there's this one:
Stat of the year: America won more Steeplechase medals than Kenya at the 2017 World Championships. Incredible.

— Evan Jager (@EvanJager) August 11, 2017
Quick Take: Emma Coburn needed to run a perfect race to win, and she did
Coburn knew that she was facing the greatest championship field in the history of the women's steeplechase and even though she almost broke her own American record at the Pre Classic in May, (9:07.63), a medal was going to take a gargantuan effort. Still, her plan going in was to hang with the Kenyans as long as she could — no matter the pace.
"I came in ranked sixth on time, ranked fifth of the people in the final," Coburn said. "I knew that I had to have a perfect day to get on the podium."
But that's exactly what she did, and as the Kenyans fell apart during the final kilometer, Coburn kept it together all the way to the finish line. Coburn's position at the final water jump was actually the same as it was two years ago in Beijing — right with the leaders — but unlike in that race (and last year in Rio, when Kiyeng pulled away for silver after the final water jump), Coburn had a great final water jump, passing Kiyeng on the inside, and was able to pull away for the win.
"The whole race I just felt strong and controlled and powerful and I kept waiting and waiting for it to feel bad and it never did," Coburn said.
Coburn, assuming that her faster competitors felt just as relaxed, kept expecting three Kenyans to blow by her with a strong move, but it never happened. Coburn also said that having Frerichs — whom Coburn has never lost to — right with her for the entire race served as added motivation.
"Seeing Courtney right there again provided a little bit of motivation like, Hey, she's doing this, you can it too."
Coming off the barrier and into the homestretch, Coburn, surprisingly, was thinking about US 1500m runner Will Leer — the husband of her training partner Aisha Praught. Coburn always notices Leer's arms pumping hard when he kicks in races and channeled that in her drive for gold.
"I was thinking, Be like Will!", Coburn said.
It worked, and Coburn even had time to celebrate as she crossed the line. A few seconds later, she was joined by Frerichs and the two women collapsed to the track together sharing an embrace.
"I don't think it's family-friendly to tell you what I said to Courtney," Coburn said. "'Holy guacamole' is the PG version. She just kept saying 'Am I dreaming? Am I dreaming?' It's an unreal moment for both of us."
Quick Take: Anyone still questioning Emma Coburn's decision to leave Mark Wetmore & Heather Burroughs?
Before this season, Coburn surprisingly parted ways with longtime coaches Mark Wetmore & Heather Burroughs, who had tutored her since she arrived at the University of Colorado in the fall of 2008. At the time, it was certainly a bold move. At 26, Coburn was in her prime and coming off the greatest season of her career, with an American record and bronze medal in the Olympic final. And she was replacing Wetmore, one of the sport's most experienced and respected coaches, with her fiance, Joe Bosshard, a 27-year-old with no coaching experience.
Bosshard, who ran in college under Wetmore, kept a similar system in place this year but added more strength work, with Coburn training more like a 5,000 runner than in years past. It's impossible to say whether the switch was the difference between bronze in Rio and gold tonight. But Coburn said that, looking back, it was definitely the right decision.
"I think had I stayed with Mark and Heather, I'm sure that I would be a healthy athlete running well but I made a move just mainly for my happiness and I'm glad it worked out," Coburn said.  "And Joe's been doing a great job and I've been confident in him. And Mark and Heather are obviously having great success with Jenny [Simpson] and I root them on and wish them well but I think I'm not looking back. I'm really happy with the decision I made."
Video of Coburn's sister Gracie celebrating the victory
https://twitter.com/SInow/status/896121879899111424
QT: Courtney Frerichs silver medal
In a totally crazy race, with Beatrice Chepkoech forgetting the water jump and Emma Coburn winning the gold medal, the most improbable thing may have been what was what was happening behind Coburn: Team USA's Courtney Frerichs running a 15-second PR for the silver medal.
After getting silver, Frerichs and Coburn hugged and then lay together on the track, relishing the improbable. Frerichs then broke into tears as she tried to comprehend what she had accomplished.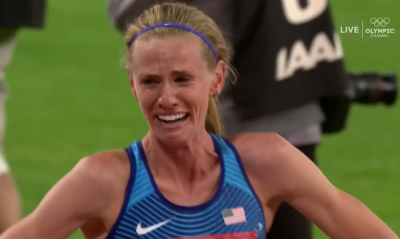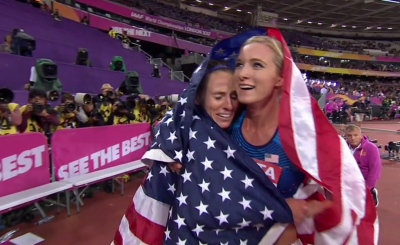 After her victory lap, she was still in a state of unbelief. "I kind of feel like I'm dreaming. Someone might need to pinch me," Frerichs said.
Frerichs came in full of confidence after her Bowerman Track Club group had great training in St. Moritz and some good results in London earlier this week. Teammate Amy Cragg won the bronze medal in the marathon and Evan Jager really went for it in the steeple, bringing home another bronze. Frerichs, who only could run a 65-second quarter in college, can now run them in 61 seconds, and she has been running 3:00/km (9:00 pace) during training. She knew she was ready for a big breakthrough and her coaches gave her a simple plan.
"Jerry (Schumacher, her coach) and Pascal (Dobert, assistant coach) told me to go with Emma. They sat me down yesterday. They said you looked great in that prelim, you're super fit."
Frerichs did just that in the final, and everything else Coach Schumacher told her seemed to come to fruition as well.
He warned her that something weird might happen and then Chepkoech ran past the water pit — when she saw that, Frerichs ticked off the weird category in her head.
She kept following the plan and running with Coburn.
"We knew at USA's we felt like the gap was closing between her and I. I really wanted to take a risk today and go for it with her. We knew she was going to run smart and that she was going to handle the tactics that the Kenyans and Ruth Jebet and all of them put out there. I just trusted that Jerry was going to be right. He told me to trust him on this one. He hasn't failed me yet, so I did."
Frerichs said she did not worry about splits, but saw the 2k split and knew something special was happening. Coming in she believed she could run sub-9:10, and now realized she could do that running 74s the rest of the way.
But she was not running for time, she was running for place, sticking with Coburn, that is until the final lap, when she showed no fear and went by Coburn on the backstretch and battled for the lead.
"Going into the last lap when there are five Jerry had said, if you can stick on Emma you might smell something special. And I looked up and thought 'This is what he's talking about. I have to go for this.' For a split section I was in the lead on the backstretch and the crowd just started to roar and I got that burst of energy. It felt just like when I set that NCAA record and the crowd went wild," Frerichs said.
Frerichs never quite took the outright lead, but she powered home to the silver. In a track meet of improbables, that was its own type of 'weird.'
"None of us expected this. Even beforehand [coach] Jerry [Schumacher] said 'Medalling's probably not a possibility,'" Frerichs said, noting that there were four runners in the field right near the 9:00 barrier.
No wonder Frerichs said, "I'm just kind of in shock at the moment."
QT: Courtney Frerichs believes she can be the first American under 9:00 in the steeple
While Frerichs may have been in shock with today's result, that did not mean she did not have very high goals. She said that even before this race, she believed she could be the first American to break the 9:00 barrier, and believed she could medal in 2020.
"I want to go for that nine-minute barrier. I've said for a long time that I felt like in the coming years, a US woman is going to break that nine-minute barrier. I didn't know who it was going to be but I kind of wanted it to be myself," Frerichs said.
That's a lot of confidence for someone who had a relatively modest 9:19 PR before tonight.
QT: While the Bowerman Track Club team was instrumental in helping Frerichs win silver, she was questioning earlier this year if she had made right decision to go to BTC
Frerichs was full of praise for coach Jerry Schumacher and her Bowerman Track Club team. She had great workouts this year, and then saw her teammates win two bronze medals at Worlds. The thing that stood out with Jager and Cragg's medals was they both went for it with Cragg showing an unbelievable "level of grit." Then she saw Team USA teammates like Kori Carter last night do the improbable and win gold out of lane 9 in the hurdles. All of those things helped inspire Frerichs.
Yet as much as she likes her teammates and Coach Schumacher, she said this past February when she was training in wet and cold Portland by herself, she questioned whether she had made the right choice to leave sunny Albuquerque to train with the BTC. However, she got through the tough patch of training and realized she was working out better even by herself than she ever had in the past. She stuck with it and the result was tremendous.
One woman who didn't get the chance to compete tonight was Frerichs' teammate Colleen Quigley, who was disqualified in the prelims. Quigley not being in the final gave Frerichs extra motivation.
"Obviously I train every day with Colleen and her not being able to be out here today gave me the motivation to show off for both of us, the work we've been putting in. I know she would have gone for it too," Frerichs said.
Quick Take: What the heck happened to the Kenyan born athletes?
Coburn ran a PR by over five seconds tonight but that time still only puts her #5 on the 2017 world list as four women — Chespol, Kiyeng, Chepkoech and Jebet — had run faster. So what happened to them?
Chepkoech ran heroically. She had to backtrack early in the race after initially missing the first water jump and then fell 200 meters later. Those mistakes cost her nearly 10 seconds in actual time and more in effort.  Considering her PR is 9:00 and she needed to run 9:02 or better to win tonight, it was going to take a ridiculous effort for her to win and she came up a half lap short of pulling it off. Chepkoech amazingly led at the bell, and was still battling for the lead down the backstretch, but she had had nothing over the final 200. Had she not forgotten to take the first water jump, she likely would have been the winner but that's sport.
Jebet has not been in the same form as her world record shape of 2016 and during the second half of her race, she did what she did so often last year and made a hard move to drop the field. But with Jebet not as strong as last year and her competition better than last year, that move was not nearly enough and she ran out of steam late.
Chespol is 19 years old and was running in her first global championship. At that age, with that level of inexperience, it can be hard to sustain success through an entire season (we saw a hint of it when she was only 3rd in Paris after wins at Pre and the Kenyan Trials) and it's likely that she's simply not in the kind of shape she was a couple of months ago.
That leaves Kiyeng, the only Kenyan to earn a medal, and there's not much to criticize about her race. She ran four seconds off her PR in a championship final and was with the leaders at the final water jump. Kiyeng said that she did feel some pain in her hamstring over the final 400, but what it came down to was that Coburn and Frerichs were just better tonight, plain and simple.
QT: Kiyeng Full of Compliments for the Americans
At the post-race press conference Kiyeng was asked how the Americans beat her and the other Kenyans. She essentially said by running tremendously well. "9:02 in [a] championship is not easy," Kiyeng said, noting there were six or seven women in contention with 800 to go and the Americans came out on top.
"For the US team, we say you are in good shape now. To run 9:02, 9:03 is very fast," Kiyeng said.
Quick Take: The Kenyans were not happy after this one
Kenya — and in the case of world record holders Jebet and Saif Saaeed Shaheen, Kenyan-born athletes — has dominated the steeplechase on both the men's and women's side for years but tonight, the United States owns the women's steeple.
Nobody was expecting this outcome, and the disappointment was evident in the mixed zone afterwards as Chepkoech and Jebet walked straight through, too heartbroken to talk. Kenya may well return to the top one day — "I promise we will come back," Kiyeng said — but tonight was a shock for Kenya, no doubt about it.
Quick Take: How did the U.S. get so good in the steeplechase?
Four years ago in Moscow, the U.S. had zero women advance to the steeplechase final. At the end of that year, of all the distance events, the U.S.'s medal prospects looked the dimmest in the women's steeple.
Yet just four years later, the United States has not one, but two medalists in the event. There are a few reasons for that transformation.
On a micro level, Coburn herself has become a better steepler. Had she not been hurt in '13, the U.S. likely would have had a steeple finalist in Moscow, and, once healthy, Coburn had a breakthrough year in 2014, dropping her PR from 9:23 to 9:11. Since then, the event has only continued to get better, and it's had a domino effect. Coburn has had to improve to stay among the top women in the world, and the U.S. has had to improve to keep up with (okay, try to keep up with) Coburn. Coburn also said she's drawn inspiration from fellow American Evan Jager, who has been pushing American steepling to new levels on the men's side as she's been doing the same thing for the women.
"When I saw [Jager] run 8:00 in Paris in '15, that motivated me that like, Okay, you can't keep these mental barriers of what you think is possible. And seeing him succeed made me want to do better and I hope Courtney feels the same way seeing Evan succeed and seeing me succeed I think motivates her."
But that alone does not explain tonight's 1-2 finish. The U.S. has had medal contenders in a bunch of distance events in recent years but has never come close to going 1-2 in any of them. Another big reason for the U.S.'s success in this event is that the U.S. has invested in the women's steeple — most importantly at the collegiate level, where it has been contested at NCAAs since 2001. Across the NCAA, there are dozens of highly-qualified steeple coaches drilling technique while working with quality facilities and major talents such as Coburn, Frerichs, Colleen Quigley and Leah O'Connor — all of whom would be competitive U.S. pros in the flat events — are bypassing the flat events to focus on the steeple. Other countries may still produce better raw talents in the event, but the U.S. has the best development system in the world in an event that few other countries are willing to invest in.
The final factor was that Coburn and Frerichs fed off one another tonight. Sticking with Ruth Jebet may have been an unfathomable goal for Frerichs, but trying to hang with Emma Coburn? Much more reasonable. Outkicking three other women on the final lap may have been too big a task for Coburn. But outkicking Courtney Frerichs once Frerichs passed Coburn on the backstretch? Much more manageable. Somehow this resulted in an amazing American 1-2.
Talk about this historic race on our messageboard:
MB:  !@#@!#@#@!# USA 1-2 IN STEEEPLE !@#@!#@!#@!#@!#
MB: Kenyan steeplers go home DEVASTATED
MB: Courtney Frerichs gets 2nd!!!!
MB: Coburn 5 sec PB for gold, Frerichs 16 sec PB for silver. USA USA USA meh
MB: Beatrice Chepkoech Would Have Won GOLD 
Did you miss the race? Watch it here.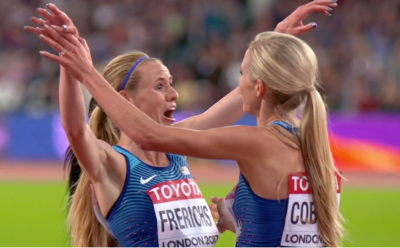 Editor's Note: We went back and tried to hand-time Coburn's laps. Some of these are a guess as the camera didn't show every lap.
39
74.3
72.1
72.2
72.0
72.1
71.6
68.2