Eliud Kipchoge (2:03:32) Holds Off Debutant Guye Adola (2:03:46) to Win 2017 Berlin Marathon as World Record Attempt Fizzles
by LetsRun.com
September 24, 2017
In the end, order was restored.
The 2017 BMW Berlin Marathon, one of the most anticipated marathons in history accompanied by unprecedented world record hype, did not go as planned. After a 1:01:29 first half (14:28 1st 5k), at 22km, Kenenisa Bekele, the greatest distance runner in history, fell off of the lead pack (and world record pace). He'd eventually drop out. Then at 30k, Wilson Kipsang, the former world record holder, dropped out of the race even though he was running with the leaders. About 20 minutes later, as the world record chances were fading away, 5km from the finish, the last of the Big 3, Eliud Kipchoge of Kenya, lost his lead to a novice, Guye Adola of Ethiopia, who was making his marathon debut.
For a few minutes, it looked as though the unheralded Ethiopian, who has a 59:06 half-marathon pb, would steal the show and spring one of the biggest upsets in marathon history as Adola's lead over Kipchoge grew as large as three seconds. But Kipchoge drew level at the 40-kilometer drink station, and over the final 2.2 kilometers, he showed, once again, why he is the finest marathoner in history, using a 2:53 41st kilometer to drop Adola and win his seventh straight marathon in 2:03:32. Adola, who came as close to beating Kipchoge as anyone has over the past two years, took second in 2:03:46, the fastest debut in history (though Moses Mosop ran a non-record-eligible 2:03:06 in Boston in 2011).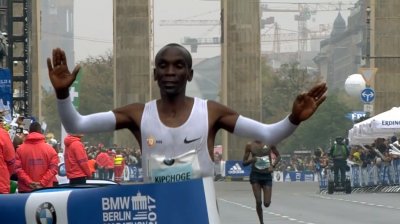 "This was the hardest," said Kipchoge shortly after the race when asked on TV if this was the hardest marathon of his career. "[Because of] the conditions. It rained very, very heavy. It was still the hardest because the ground was very slippery."
Kipchoge admitted he was surprised when Adola took the lead. "It was a big surprise and I had to concentrate fully on finishing effort and closing the gap," said Kipchoge. "I am happy to win in these conditions. My mind was to run at least the world record but I can say it is sport and tomorrow is a [new] day."
When Kipchoge was asked if he would one day hold the official world record, he responded emphatically. "Absolutely. I still have a world record in my legs."
Article continues below player.
Later, Kipchoge told reporters he knew by 5k that the world record wasn't going to happen because it had rained before the race and at points during the race. "After five kilometers I knew it was not possible," said Kipchoge.  "I could see how the road was (with so many puddles)… That's when I realized that the world record was not possible."
Behind Kipchoge and Adola, there ended up being a three-way sprint finish for third, which was won by Ethiopia's Mosinet Geremew, who lowered his pb from 2:10:20 (debut in Xiamen in January) to 2:06:09 with Kenyans Felix Kandie fourth (2:06:13) and Vincent Kipruto, who went with the leaders early, fifth (2:06:14).
American Ryan Vail had a nice day as he was 8th in 2:12:40, in his first marathon finish since 2014.
The Race
While two men managed to break 2:04 (just the sixth time that's happened in the same race), conditions were not perfect for running today, and it's fair to wonder what would have happened to the world record on a cool, dry day. Heavy rain overnight left the streets wet with puddles on the course, and it would remain humid (57 degrees Fahrenheit at start, 98% humidity) throughout the race with a spell of rain during the first half. Wind (around 5 mph) was not much of a factor.
Nevertheless, the world record was the goal and the elite runners assembled in Berlin were committed to chasing it. By two kilometers, the combatants had announced themselves as a breakaway pack had already formed up front. That lead group consisted of four rabbits (the assigned lead group pacers — Sammy Kitwara, Gideon Kipketer, and Geoffrey Ronoh — plus one other), the Big 3 (Kipchoge, Kipsang, and Bekele) and two challengers: Kenyan Vincent Kipruto (2:05:13 pb, 2011 Worlds silver) and Ethiopian Guye Adola (59:06 HM, making his marathon debut).
World record chances looked good in the early stages of the race as the leaders passed 5k in 14:28 and hit 10k in 29:04 — 2:02:38 marathon pace. But they would slow to 14:40 for the next 5k split – world record pace is 14:34.2 per 5k – and at 15k (43:44) the leaders were actually behind WR pace, on track for a 2:03:01 marathon. That's where things would settle as the leaders would remain on basically 2:03 flat pace for the majority of the race (through 35k) until falling off late.
Kipchoge, perhaps as a result of his experience at Breaking2 in May, made an effort to run in the middle of the group, trying to gain as much time as possible by drifting off the pacers, who ran three abreast ahead of him. Bekele sat behind in the third row of the lead pack, running just off the shoulder of Kipchoge, while Kipsang was content to run toward the outside, often choosing not to draft by running wide of the pacers (though he would drift inside later). Any drafting benefit was far less than what Kipchoge enjoyed at Breaking2, however, as the lead pack was far looser in Berlin, with only three pacers at the front as opposed to six (the fourth pacer in Berlin, originally meant to be part of the second group, did not run right at the front and thus offered little drafting benefit).
The field hit halfway almost exactly on world record pace (61:29), though they were well short of Kipchoge's pre-race goal of 60:45. Soon after that is when the carnage began. Pacer Geoffrey Ronoh stepping off just after 22 kilometers was not a surprise. But the race became interesting a few seconds later when defending champion Bekele began to fall off the pace. Given Bekele's history of falling back only to mount incredible comebacks — most notably in this race last year — no one was discounting Bekele just yet, but by 25 kilometers he was 21 seconds down and his chances of winning the race were shot. The leaders were running fast, but not suicidally so. There was simply no way Bekele was going to make up that much time over Kipchoge, Kipsang (and two others) over the final 17.2 kilometers and, after running in 5th for the next 5k, Bekele dropped out at some point after hitting 30k in 2:04:20 pace (1:28:24). 
Kipketer stepped back during the 27th kilometer, leaving Kitwara as the only pacer remaining. Then Kipruto also began to struggle, and at 30k, he found himself nine seconds adrift. Kipruto would go on to finish in a respectable 2:06:14 but his chances for victory were over.
The biggest shock, however, came at 30 kilometers when Wilson Kipsang went from running world record pace to a complete stop in a matter of seconds. Kipchoge and Adola hit 30k in 1:27:24 which is 2:02:56 pace – one second under the WR – and Kipsang was just two seconds behind them. It was truly a strange sight as Kipsang looked to be doing fine and even picked up his drink at the drink station just in front of the 30k mark, grabbing a few sips. But as soon as he cleared the 30k timing mat, he slowed to a walk before shuffling off to the side of the course and waiting for transport back to the start/finish area. No reason was given on the broadcast for his abrupt exit.
Kipsang dnf at 30k pic.twitter.com/8mf6uQikU1

— LetsRun.com (@letsrundotcom) September 24, 2017
A Classic Battle
With Kitwara stepping off as well, that left just two men in the lead group: Guye Adola, the rookie running his first-ever marathon, and Eliud Kipchoge, the greatest marathoner the world has ever seen. The stage was set for a classic battle. Youth vs. experience. Ethiopia vs. Kenya. Adidas vs. Nike. And, most importantly, Adola vs. Kipchoge for the Berlin Marathon title.
They ran together for the next five kilometers (14:40) and at 35k (1:42:04, 2:03:03 pace), the world record was well within their sights. But whether it was the weather, fatigue, or the fact that Kipchoge and Adola were not just racing the clock, but each other, the pace would slow dramatically from 35k to 40k (15:04 5k split; WR pace is 14:34), tossing any chances of a world record out the window.
What remained, however, was a fantastic race and surprisingly, it was Adola who made the first move, opening up a three-second gap at 37.5 kilometers. It was an odd sight, with Adola running on the left side of the road and Kipchoge hugging the blue markers (showing the shortest route to the finish) on the right — a feature he had pointed out to Adola a few minutes earlier. Odder still was the fact that Kipchoge — who had not lost a marathon in four years — had actually been gapped by another human being.
It would not last long. Kipchoge drew level by 38 kilometers, only for Adola to respond with another move and restore the gap to two seconds. But Kipchoge closed it up once again by the time they hit 40 kilometers (1:57:08), the two men were level. Kipchoge was not content to share the lead, however, and as he continued to press, Adola eventually cracked; a 2:53 41st kilometer from Kipchoge left Adola four seconds adrift and the margin would only grow as Kipchoge, wearing his trademark late-race smile/grimace, continued to motor.
By the time he hit the Brandenburg Gate with a quarter of a mile remaining, Kipchoge had extinguished the drama, allowing him to enjoy the familiar sight of a crowd roaring him on to victory. He broke the tape in 2:03:32, but still had plenty of energy left, running to embrace longtime coach Patrick Sang. Adola came through 14 seconds later in second and was congratulated by his coach, Gemedu Dedefo.
If you are wondering if Kipchoge was despondent about not getting the world record, the answer was no as he soon jogged back onto the course to celebrate with his adoring fans.
Quick Take #1: As if there was any doubt, Eliud Kipchoge is the greatest marathoner in history
Coming into the race, most people,  including ourselves, believed that Kipchoge was the greatest marathoner the planet has ever seen. However, as we mentioned in our preview, if Wilson Kipsang had won this race — and particularly if he had broken the world record — a strong argument could be made that Kipsang was the greatest in history. Kipsang would have led Kipchoge in World Marathon Major wins, they'd be 2-2 head to head and Kipsang would have been only the second man in history to get back the marathon world record after losing it (with two-time Olympic champ Abebe Bikila, who set a WR in both of his Olympic wins in 1960 and 1964, being the other).
However, Kipchoge was the winner today and he's now won 8 of his 9 career marathons and run at least 2:04:05 for five straight years.
If you count Kipchoge's 2:00:25 in the Nike sub-2 exhibition, Kipchoge and Kipsang have run 9 of the fastest 21 marathons in history with Kipchoge having 5 and Kipsang 4. Kipchoge leads their head to head 3 to 1.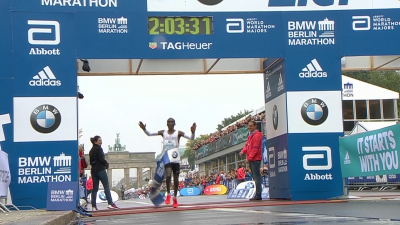 Kipchoge and Kipsang's Fastest Marathons
World Rank / Time / Athlete / Event
1      2:00:25    Eliud Kipchoge 2017 Nike Breaking2
5      2:03:05    Eliud Kipchoge                    2016 London
7        2:03:13    Wilson Kipsang Kiprotich       2016 Berlin
9      2:03:23    Wilson Kipsang Kiprotich       2013 Berlin
10    2:03:32   Eliud Kipchoge       2017 Berlin
12     2:03:42    Wilson Kipsang Kiprotich       2011 Frankfurt
17     2:03:58    Wilson Kipsang Kiprotich       2017 Tokyo
19      2:04:00    Eliud Kipchoge                2015 Berlin
20     2:04:05    Eliud Kipchoge                 2013 Berlin
21     2:04:11    Eliud Kipchoge                2014 Chicago
Quick Take #2: The weather was a factor in missing the world record, but how much of a factor is uncertain
After the race, Kipchoge was asked about the race and he said the combination of Adola's challenge and the weather made this the hardest marathon of his career. A slick course definitely didn't help his chances of breaking the world record, but it's impossible to say exactly how much time it cost him.
It's worth noting however that the women's race featured an even bigger slowdown over the final 7.2 k. After a 69:40 opening half, at 35k, Gladys Cherono was on 2:19:26 pace but she ended up winning in 2:20:23.

Kipchoge has now run 10 marathons (including Breaking2), but he still believes that he can accomplish the one feat that has eluded him in the marathon and run the world record. We're certainly not doubting him, and considering he ran 2:03:05 in London last year, he could definitely do it in the British capital next spring. But today's race was another reminder that — even for a legend like Kipchoge — a lot of things have to go right in order to set a world record
Quick Take #3: What a debut from Guye Adola
By itself, running 2:03:46 — the fastest debut in history on a record-eligible course (Dennis Kimetto's 2:04:16 at 2012 Berlin was the old record) — is a remarkable accomplishment. But even more remarkable was the way Adola accomplished it. He went out on world record pace through halfway (61:29), kept going close to that pace even when marathon titans Kipsang and Bekele could not handle it and then, as if we hadn't seen enough, actually gapped Kipchoge — only the greatest marathoner of all time. Considering Kipchoge has only lost one marathon in his life, putting a gap on him in the final 5k of the race is about as close as you're going to get to defeating him (Adola wound up 14 seconds behind Kipchoge at the finish, the closest anyone has come since Kipsang was 5 seconds back at 2015 London).
Though he was overshadowed by the Big 3 (we gave him all of one sentence in our preview), Adola was far from a nobody coming into the race as he is an accomplished half marathoner. He owns a 59:06 personal best at that distance achieved when he won the prestigious and lucrative Airtel Delhi Half-Marathon over Geoffrey Kamworor in 2014, after taking bronze at the World Half Champs earlier in the year. He also won his most recent half, March's Rome-Ostia Half Marathon, in 59:18.
But given his stellar debut, the marathon is where he will want to focus now, and today's run immediately enters him into the discussion of "best marathoners not named Eliud Kipchoge." He's also yet another star that is coached by the don of Ethiopian marathoning, Gemedu Dedefo, whose stable also includes 2017 Dubai champs Tamirat Tola and Worknesh Degefa, 2016 Boston champs Hayle Lemi and Atsede Baysa, and 2:04 man Tsegaye Mekonnen. What a training group that is.
One other thing about Adola's run. This fall, we've been focused a lot on the depth of the World Marathon Majors and his great runs shows why. If a race only brings in a few big names and a couple of them don't run well (like Bekele and Kipsang today), then the race could be a real dud. Imagine if Adola wasn't in this field. The race would have been boring as heck as Kipchoge would have been running all alone after 30k and the storyline would only be that he didn't get the WR instead of the fact that he won a great race.
Quick Take #4: The marathon gods claim their victims
Whenever a bunch of guys attack the world record, there is always collateral damage. If five guys go through halfway on world record pace, as they did today, the marathon gods are going to claim at least two of them, and that's what happened as both Bekele and Kipsang wound up dropping out. Vincent Kipruto also wound up struggling as he was passed by Mosinet Geremew and Felix Kandie in the final mile, both of whom were almost 90 seconds behind Kipruto at halfway. Still, finishing 5th in 2:06:14 isn't too bad when you go out way over your head.
Quick Take #5: An impressive run from Japan's Yuta Shitara
Before the race, we documented Shitara's bold quest to race Berlin just eight days after setting the Japanese national record in the half marathon (60:17). So how did he do today?
Very respectably, as it turns out, as he was 6th in 2:09:02 — a 25-second PR. Shitara could still benefit from running a more even pace (his splits were 62:57-66:05), but we're sure he wants Toshinari Takaoka's national record of 2:06:17. That record will celebrate its 15th anniversary on October 2nd (Chicago 2002) but Shitara certainly will give it multiple scares in the years to come.
Shitara's splits today in Berlin were much closer together than his marathon debut in Tokyo (61:55-67:32 for a 2:09:27).
Quick Take #6: A good bounce-back marathon for American Ryan Vail
Brooks' Vail, 31, was the only U.S. pro, male or female, to race in Berlin today, and though he would have liked to have bettered his 2:10:57 pb, more than anything he was looking for a solid bounce-back after failing to finish a marathon since November 2014. That's what he got as he took 8th place in 2:12:40, the third-fastest marathon by an American this year.
Hit one of my two goals. Top 10 at my 3rd World Marathon Major. I'm back! @brooksrunning

— Ryan Vail (@ryanvail) September 24, 2017
Update on 9/25: We reached out Vail for some more thoughts about his race and he wrote, "The time wasn't what I was hoping for, but I won the pace group by around 20 seconds, so I'm happy I had the mental drive to compete after being out so long… [I'm] proud to be top 10 and want to use this as a springboard toward 2020."
That's our race recap. Top 30 results appear below. Talk about the thrilling race on our messageboard.
Top 30 Men's Results
1 Kipchoge, Eliud (KEN) 2:03:32
2 Adola, Guye (ETH) 2:03:46
3 Geremew, Mosinet (ETH) 2:06:09
4 Kandie, Felix (KEN) 2:06:13
5 Kipruto, Vincent (KEN) 2:06:14
6 Shitara, Yuta (JPN) 2:09:03
7 Sano, Hiroaki (JPN) 2:11:24
8 Vail, Ryan (USA) 2:12:40
9 Adams, Liam (AUS) 2:12:52
10 Mellor, Jonathan (GBR) 2:12:57
11 Malaty, Benjamin (FRA) 2:13:10
12 Belachew, Melaku (ETH) 2:13:22
13 Gokaya, Koji (JPN) 2:14:28
14 Lashyn, Dmytro (UKR) 2:14:45
15 Tiruneh, Chalachew (ETH) 2:15:05
16 Lehmann, Adrian (SUI) 2:15:12
17 Kikuchi, Masato (JPN) 2:15:32
18 van Schuerbeeck, Willem (BEL) 2:15:49
19 Seaward, Kevin (IRL) 2:15:50
20 Sharp, Matt (GBR) 2:16:02
21 Csere, Gaspar (HUN) 2:16:03
22 Abdulaziz, Ebrahim (NOR) 2:16:38
23 Cuneaz, Rene (ITA) 2:16:53
24 Martelletti, Paul (NZL) 2:17:10
25 Mull, Brandon (USA) 2:17:17
26 Kreienbühl, Christian (SUI) 2:17:17
27 Herzog, Peter (AUT) 2:17:37
28 Criniti, David (AUS) 2:17:57
29 Arrospide, Iraitz (ESP) 2:18:09
30 Gelaw, Getaye Fisseha (ETH) 2:18:15
---
PS. This was our favorite part of the broadcast.
It's official. After 17 years as a startup, we have arrived. https://t.co/gxVDCnwAoS pic.twitter.com/klxzJy86po

— LetsRun.com (@letsrundotcom) September 24, 2017