After String of Misses, Robby Andrews Takes Down Matthew Centrowitz to Win First US Outdoor 1500 Title
By LetsRun.com
June 24, 2017
SACRAMENTO, Calif. —  At the end of a thrilling men's 1500 final, Robby Andrews used his patented kick to surge by Olympic champion Matthew Centrowitz in the final 40 meters and claim his first outdoor national title in 3:43.29 thanks to a 52.23 final 400 and 25.9 final 200 as Centrowitz, who revealed after the race he's been battling a virus and almost didn't compete at USAs, settled for second in 3:43.41. Third place went to former Columbia/Oregon runner John Gregorek  (3:43.99) who picked off fearless upstart Craig Engels (4th, 3:44.01), who had ditched the Ole Miss jersey and was racing in a Nike singlet for the first time today, right at the line.
2016 Olympian Ben Blankenship, who grabbed the lead with 600 to go and held until the end of the final turn, totally ran out of gas and faded to next-to-last (3:46.42). The only man Blankenship beat was Olympic 800 bronze medallist Clayton Murphy who saw his bold 800/1500 double backfire as he left the track limping while grabbing his hamstring.
The Race (a full race video appears immediately below and a gif of the finish appears at the bottom of the article)
After a quick first 100, the race turned tactical as 400 was reached in 63 with Centrowitz in the lead. Then as the runners approached the turn 500 meters into the race, Robby Andrews made a critical but surprising move. Rather than stay in the back as has so many times, Andrews who was only ahead of three people at 400, decided it was time to make a move to the front. Instead of running the third turn out three-wide out in lane two, Andrews made a big surge some 490 meters into the race and grabbed the lead and was on the rail midway through the turn.
Things remained tactical at 800 (2:08) until Blankenship made a move similar to what Andrews did a lap earlier. The only difference was Blankenship's move to the front just before 900 meters was stronger and meant to last to the finish. Blankenship ran the 200 between 900 and 1100 in 27.5 and only Centrowitz matched it stride for stride. At the bell (2:50.27), Blankenship and Centrowitz had about five meters on Murphy, Engels and Andrews and that would lead would grow to nearly a full second (7-8 meters) at 1200 (3:03).
On the backstretch, Centrowitz smoothly ran behind Blankenship as Engels and Andrews slowly clawed themselves back in contention. As the entered the final turn, suddenly it had become a four-man race as Engels was right behind Centrowitz and Andrews right behind Engels. Midway around the final turn, it was still a tight a four-person battle between the three Olympians from last year and Engels but Blankenship was running out of gas. Centrowitz passed him as they rounded the final turn and as he did that Engels came up on the outside of Centrowitz and briefly took the lead.
Article continues below player.
However, Centrowitz responded and reclaimed the lead, but Andrews, who had been tracking Engels the whole last lap, soon surged to victory. Behind Andrews and Centrowitz, Engels started to tie up as Gregorek, who was only ahead of three people at the bell and only five people with 200 remaining, was coming on like a freight train. Gregorek's last 400 was nearly exactly the same as Andrews (52.23 for Andrews, 52.36 for Gregorek) and his last 200 appeared to be unofficially virtually the same as well (25 high whereas Centrowitz was like 26.3) and proved to be just enough as he just got by Engels at the line.
Results and analysis appear below. Here is a gif of the finish: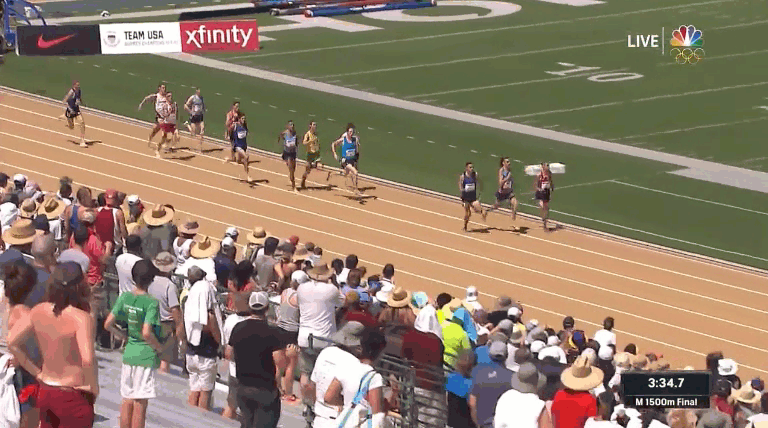 PLACE
ATHLETE
RESULT
1
Robby Andrews

adidas

3:43.29
2
Matthew Centrowitz

Nike / Nike Oregon Project

3:43.41
3
John Gregorek

ASICS

3:43.99
4
Craig Engels

Nike

3:44.01
5
Cristian Soratos

adidas

3:44.49
6
Jordan McNamara

Nike

3:44.81
7
Samuel Prakel

Oregon

3:45.02
8
Josh Thompson

Nike / Bowerman TC

3:45.07
9
David Ribich

Western Ore.

3:45.44
10
Benjamin Saarel

Colorado

3:45.57
11
Andrew Hunter

adidas

3:46.37
12
Ben Blankenship

Nike / NIKE OTCE

3:46.42
13
Clayton Murphy

Nike

3:50.55
Quick Take: After coming up short against Matthew Centrowitz three times in the last two years, Robby Andrews is a national champion
The last two years, Andrews has shown up to USAs and finished second to Centrowitz, but neither race was particularly close, Centrowitz winning by 1.50 seconds in 2015 and .79 last year. In between, Andrews pushed Centrowitz all the way to the line at USA Indoors in 2016, but once again, he came up short as Centro won by .07. In all, Centrowitz was 9-1 against Andrews in their career over the 1500/mile distance and Andrews' lone defeat Centrowitz came at the 2015 Stockholm meet when Centrowitz threw in the towel over the final 200 after battling for the lead for the first 1200.
But Andrews was the best man in the race today, and he showed it over the final 100 meters. Andrews knew that Centrowitz wasn't at his Olympic gold-medal-winning best today, but he was in a state of euphoria upon arriving in the mixed zone. This was the first time Andrews had won any race outdoors — let alone a national championships — in almost exactly one year (his last win was at the USATF Club Champs 800 on June 25, 2016).
"I'm not going to say it's a true battle. He's definitely said he's been banged up. But you know, it feels really good to win a race."
Andrews had only run three races coming in, neither of them terribly impressive (3:38 at Swarthmore, 1:4.47 at the adidas Boston Boost Games on June 5th and a 1:47.60 nine days ago).
"It's been a little bit of a wacky year for everybody," Andrews said. "I had a lot of question marks coming in."
But he knew his fitness was coming around as workouts had been going very well. He was well-positioned at the end and his terrific kick caused him to change his expectations on the fly.
"At one point [late in the race], I was racing for third. And then I was like, 'Oh, I can get him, I'll go for second.' And then I'm like, 'I can win this thing.'"
Andrews said he will try to get the standard as quickly as possible, which shouldn't be a problem (in 2015, he was in the same situation and hit it in his first race after USAs). He's running the TrackTown Summer Series in Portland on July 2 and New York on July 6 and those will be two good chances to get the time.
When we spoke to Andrews' coach, Jason Vigilante, after his outdoor opener in Swarthmore, he was pleased with it even though Andrews was only sixth as he said the goal was to have Robby race well in August.
Quick Take: "Running free" paid off for Andrews today
Andrews was in shape to make the Olympic final last year, but poor positioning caused him to be DQ'd in his Olympic semifinal and he said that he's felt as if he's had a "huge monkey on my back" ever since.
"This was pure instincts today. I was overthinking things a lot… we just said let's get in there and run free."
Even if Andrews didn't overthink today's race, he ran well tactically. The criticism of Andrews is that he often positions himself too far back to use his tremendous kick. Today, he actually had the lead some 600 meters into it. And even though he gave up the lead on the backstretch of the penultimate lap (he said Blankenship's move caught him by surprise), he never strayed further back than fifth after that. Andrews pointed out that this race was similar to USAs in 2015 (when he was second to Centro) but instead of kicking from 10th place, he was kicking from 4th.
Staying at the front against the world's best in London will be harder for Andrews than it was today, but when you beat the Olympic champ, you have to be taken seriously.
Quick Take: About that IAAF standard…
We fully expect Andrews to get the 3:36.00 World Champs standard before July 23 considering he's run at least that fast in each of the past two years. But if Team USA were selected today, it would be Centrowitz, Gregorek and…Ben Blankenship.
That's right — in addition to Andrews, no one in spots 4 through 11 has the standard as of now. Blankenship's chances of making Worlds at this point are essentially zero (if any of those men run faster than 3:36, he won't be going) but he's the leader in the clubhouse, so to speak.
Quick Take: Matt Centrowitz reveals he almost ended his 2017 season as he missed 2-3 weeks of running after his Oxy win
After the race, the Olympic champ Centrowitz revealed that as recently as two weeks ago he didn't think he would be running this race because of a virus he had suffered from an adductor strain. If you've got 10+ minutes, his post-race comments were pretty interesting.
Centrowitz said, "If you had asked me two weeks ago if I was racing I would have said there's a better chance of me not running it than running it… I just started training about 10 days ago, getting back into it. Today the main goal was just qualifying, give myself another 5 or 6 weeks to get better fitness and hopefully get another medal at World Championships." But he did say he wanted the win, "Today third is as good as first, but obviously I'm disappointed I couldn't win here."
Centrowitz also did not want his injury and illness problems to detract from Andrews' win.  Centro said on Andrews, "He's a tremendous talent. I'm not surprised that he won or that he made the team. He's one of those guys like Leo Manzano who always finds a way to get on the team, regardless of the season he's having." Centro also had comments on Galen Rupp, Eric Jenkins, and Clayton Murphy which you can find here.
As for his injuries, Centro said he first had a left adductor strain in April. He recovered from that to run 3:33.41 and defeat Mo Farah at the Oxy meet on May 18th. The Monday after Oxy, he started having chest pains, his heart rate was through the roof, and he checked himself into the ER. In 2014, Centrowitz suffered from pericarditis (inflammation of the sac surrounding the heart and it is often caused by a virus), and it caused him to miss 6 weeks and the entire indoor season. Centro indicated this was another bout of pericarditis (Centro said there is another runner in Portland with a different training group who suffers from the same ailment).
This time, Centro took off two to three weeks completely from running, and he says he did no cross training besides riding a stationary bike about 10-minute mile pace with his dad. When he resumed training, he was able to start working out 3 or 4 days later, but his right adductor started bothering him. He ended up having a small tear and he thought he wouldn't be able to run nationals as there wasn't enough time to recover. Centro said it was then that he hit rock bottom and that is when he dyed his hair blonde.
"I don't do so well with injuries. One (injury) is kind of emotionally draining for me but when I have 2, 3 things pop up in span of 4 to 6 weeks. I was ready to just can the season to be honest…I dyed it when I thought I was shutting my year down. I kind of hit rock bottom. I thought no one's going to see me, I'm done with my year so I dyed it. The day after I dyed it was when they said I was racing," he said.
That was roughly 2 weeks ago, and then 10 days ago he started working out again and now he's got roughly 6 weeks to get ready for the World Championships.
Quick Take: If you think Johnny Gregorek making this team was a total shocker, you haven't been paying attention
Gregorek was certainly not favored to make this team, but his making the team wasn't a fluke, either. He was 6th at the Olympic Trials and had been running even better this year — 3:53 for the mile indoors, then a near-victory over Clayton Murphy at Drake and a 3:36 win at Swarthmore (#2 SB in the field). He bombed at the Pre Classic (last in the B mile in 4:03), but Gregorek's pre-USAs results were way better than Robby Andrews' (he actually beat Andrews twice head-to-head) even if Gregorek didn't have Andrews' level of previous success. One of the reasons why we weren't sure if Andrews would make the team is because he lost to Gregorek at 800 in their final race before USAs in the 800 at the University of Pennsylvania on June 15th (Gregorek was 1st in 1:47.33 and Andrews 4th in 1:47.60).
That said, this was certainly a breakthrough moment for the 25-year-old Gregorek, who ran for four years at Columbia before a fifth year at Oregon. Gregorek said that pretty much everything had gone perfectly in training and races until he got a little overambitious and pushed the envelope too hard in workouts before Pre. But his last three weeks have been good, and it culminated today with his first U.S. team.
Gregorek had A LOT work to do on the final lap (he was 12th with 300 to go) and even with 100 to go he was sixth and looked to have no shot at catching Engels, Andrews and Centrowitz, who were pulling away. But he kept telling himself that he couldn't let down his friends and family, including father John, a 3:51 miler himself. With 80 to go, he thought of coach Frank Gagliano yelling "HIT IT!" in his head and that helped propel him to the line where he just nipped Engels for third.
Quick Take: Engels Went for the Win and Came Up Oh So Short to Going to Worlds
Craig Engels was a surprise 4th in the Olympic Trials 800m last year. However, he didn't have the Olympic standard so he wasn't going to go to the Olympics. Today he was 4th by only .02, and would have had time to go chase the Worlds standard.
Engels was clearly frustrated with coming so close today, but should be applauded for running to win. As a guy who was racing in college just a few weeks ago, it took a lot of guts to take the lead from Centrowitz as the runners hit the homestretch. No fear. That boldness may have cost him a Worlds spot, but it bodes very well for his future.
Quick Take: Clayton Murphy's chances of making the World Championship team are in serious jeopardy
When Murphy announced his intention to double in the 800 and 1500 at USAs, we applauded his guts. But running five races in four days in the oven that is Sacramento was always going to be challenging, and Murphy did not look great in either of his last two races (the 1500 semi on Thursday and the 800 semi on Friday). Today, he totally ran out of steam over the final 200 and finished last. After the race, he grabbed his hamstring and had to be supported as he hobbled through the mixed zone.
Murphy may have a chance for redemption tomorrow, but given how he exited the track, at this point, we're not even sure if Murphy will start the 800 final (he did not speak to the media after the ace). Murphy's run today, as well as Shannon Rowbury's eighth-place finish in the women's 1500, served as an important reminder: doubles are hard. And doubles when you're racing three (Rowbury) or four (Murphy) times in a three-day span are even harder.
Update: We asked Paul Doyle – Murphy's agent – for an update on his status for tomorrow's 800 final. Here is what he told us.
"It's not serious, his hamstrings were grabbing at 250 to go but there is no injury. We're doing everything possible to be ready for tomorrow. He will be ready."
Quick Take: Ben Blankenship — "Kind of a disaster all the way through"
Blankenship has had some success in the past by making sustained hard moves (when he made the Olympic team last year, he took the lead at the bell and pushed it for 200 until Centro took over) but said he may have overestimated his kick today and faded from first with 150 to go to 12th by the finish.
Blankenship said that the heat was tough to run in and that his race was "kind of a disaster all the way through."
He also had an explanation as to why championship finals are so often won in slow times.
"I hear these questions all the time," Blankenship said. "Olympic final, why did it go so slow? Who wants to take it? Find me somebody who wants to take it. If you're out there, do you want to put your neck on the line to get fifth? Probably not."
Drew Hunter after his first USATF final
Drew Hunter is only 19 and made the final. He knew a slow race was not the best type of race for him, but wished he was better positioned when the kicking started.
Talk about the 1500 final on our fan forum / messageboard: