by LetsRun.com
August 12, 2017
LONDON – The upsets continue.
Great Britain's Mo Farah came into tonight's men's 5000 final at the 2017 IAAF World Championships having won 10 straight global finals on the track. He was looking to end the championship portion of his illustrious track career by completing a fifth straight global championship 10,000/5,000 double on home soil. However, in a result fitting for a world championships that has been defined by unexpected result after unexpected result, Farah was outrun over the final 400 meters of a tactical men's 5000 by Ethiopia's Muktar Edris who ran a 52.3 last lap (26.3 last 200) to claim gold in 13:32.79 as Farah took the silver in 13:32.22 ahead of America's Paul Chelimo who took the bronze in 13:32.30 – his second straight medal at a global championship (Chelimo won silver in 2016).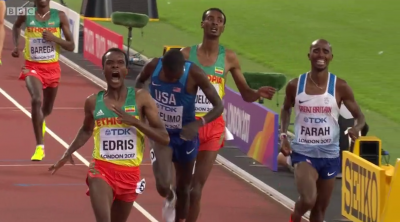 This was yet another unexpected result at the 2017 IAAF World Championships where Usain Bolt lost the men's 100, a Turk won the men's 200, Americans went 1-2 in the women's steeplechase, and in the race just before the men's 5000, the world record holder failed to even medal in the women's 100 hurdles.
The Race 
The race was extremely tactical for the first 2k except for the first lap. The American Chelimo took things out in 62.25, perhaps seeing if anyone wanted to help him push the pace. They did not and the 2nd lap was run in over 70 (2:12.83) – the first of four straight laps over 70 seconds as the leader would hit 1600 in 4:35.25 and 2k in 5:48.05.
2200 meters into the race, Ethiopia's Selemon Berega, who has a listed age of 17 and has run 12:55 this year, injected a little pace into the event. From 2k to 3200, the laps were 64.82, 66.26 and 64.31 as they hit 3200 in 9:03.45 (2nd 1600 in 4:28.20).
Just before 3k, it was the Aussie Patrick Tiernan who went to the lead and everyone in the field was fine to let him gap the field. At 3200 he had a 6-7 meter lead and a lap later after his 62.85, he led by close to 12 meters. But the pack wasn't worried about Tiernan and his 62-64 laps. With 2 laps remaining (11:41.4 for Tiernan), Tiernan still led by more than 5 meters but he hadn't damaged the field. The chase pack, led by Farah, still contained 12 competitors, meaning only one racer had fallen out of contention, and they were lining up behind Tiernan.
Farah and company gunned Tiernan down quickly thanks to a 29.9 200 and Farah was in the lead. At this point, most assumed they knew how this would end. Farah would control things from the front as he has time after time and win yet again.
However, as they approached the bell (12:40.17, penultimate lap was just over 58 with a 28-low final 200), something unexpected happened. Farah gave up the lead as Kejelcha, the 20-year-old World Indoor champ at 3k, came by on Farah's outside. Kejelcha wasn't the only man in the lead pack of eight with eyes on taking down Farah as Edris also passed him as well. As they hit the backstretch, Kejelcha and Edris opened a slight 2-3 meter lead on Farah who being followed by a fading Berega and a charging Chelimo.
With 200 to go, it was now a four-person battle for glory. Kejelcha and Edris still had a slight gap on Farah and Chelimo but the two in third and fourth were charging hard. Coming off the final turn, the gap was gone and it was anyone's race. 
Farah wanted to move out to try to challenge for the lead but he was boxed in behind the two Ethiopians with Chelimo on his outside. However, Kejelcha would soon start to struggle and as he did so, he moved wide, opening up the rail for Farah. Farah and Chelimo moved past Kejelcha but Edris had already moved by Kejelcha and was moving away to glory.
Edris had done it – dethroned the king. Edris ran his last four laps in about 3:57.5 – (63.7, 62.4, 58.1, 52.3). A few meters past the finish line, he did the Mobot to celebrate.
Behind him, Farah didn't quit even though he was beaten. He ran hard through the finish and leaned to hold off Chelimo for silver. He soon crumpled to the track, shocked by his defeat, before getting up and being feted by the crowd much as Usain Bolt had been after his loss in the men's 100 final.
We have our analysis and post-race reaction below the results and splits.