The upsets continue: Mo Farah is beaten in men's 5,000 at Worlds, Muktar Edris dethrones the king
by LetsRun.com
August 12, 2017
LONDON – The upsets continue.
Great Britain's Mo Farah came into tonight's men's 5000 final at the 2017 IAAF World Championships having won 10 straight global finals on the track. He was looking to end the championship portion of his illustrious track career by completing a fifth straight global championship 10,000/5,000 double on home soil. However, in a result fitting for a world championships that has been defined by unexpected result after unexpected result, Farah was outrun over the final 400 meters of a tactical men's 5000 by Ethiopia's Muktar Edris who ran a 52.3 last lap (26.3 last 200) to claim gold in 13:32.79 as Farah took the silver in 13:32.22 ahead of America's Paul Chelimo who took the bronze in 13:32.30 – his second straight medal at a global championship (Chelimo won silver in 2016).
Article continues below player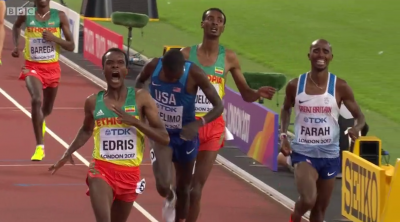 This was yet another unexpected result at the 2017 IAAF World Championships where Usain Bolt lost the men's 100, a Turk won the men's 200, Americans went 1-2 in the women's steeplechase, and in the race just before the men's 5000, the world record holder failed to even medal in the women's 100 hurdles.
The Race 
The race was extremely tactical for the first 2k except for the first lap. The American Chelimo took things out in 62.25, perhaps seeing if anyone wanted to help him push the pace. They did not and the 2nd lap was run in over 70 (2:12.83) – the first of four straight laps over 70 seconds as the leader would hit 1600 in 4:35.25 and 2k in 5:48.05.
2200 meters into the race, Ethiopia's Selemon Berega, who has a listed age of 17 and has run 12:55 this year, injected a little pace into the event. From 2k to 3200, the laps were 64.82, 66.26 and 64.31 as they hit 3200 in 9:03.45 (2nd 1600 in 4:28.20).
Just before 3k, it was the Aussie Patrick Tiernan who went to the lead and everyone in the field was fine to let him gap the field. At 3200 he had a 6-7 meter lead and a lap later after his 62.85, he led by close to 12 meters. But the pack wasn't worried about Tiernan and his 62-64 laps. With 2 laps remaining (11:41.4 for Tiernan), Tiernan still led by more than 5 meters but he hadn't damaged the field. The chase pack, led by Farah, still contained 12 competitors, meaning only one racer had fallen out of contention, and they were lining up behind Tiernan.
Farah and company gunned Tiernan down quickly thanks to a 29.9 200 and Farah was in the lead. At this point, most assumed they knew how this would end. Farah would control things from the front as he has time after time and win yet again.
However, as they approached the bell (12:40.17, penultimate lap was just over 58 with a 28-low final 200), something unexpected happened. Farah gave up the lead as Kejelcha, the 20-year-old World Indoor champ at 3k, came by on Farah's outside. Kejelcha wasn't the only man in the lead pack of eight with eyes on taking down Farah as Edris also passed him as well. As they hit the backstretch, Kejelcha and Edris opened a slight 2-3 meter lead on Farah who being followed by a fading Berega and a charging Chelimo.
With 200 to go, it was now a four-person battle for glory. Kejelcha and Edris still had a slight gap on Farah and Chelimo but the two in third and fourth were charging hard. Coming off the final turn, the gap was gone and it was anyone's race. 
Farah wanted to move out to try to challenge for the lead but he was boxed in behind the two Ethiopians with Chelimo on his outside. However, Kejelcha would soon start to struggle and as he did so, he moved wide, opening up the rail for Farah. Farah and Chelimo moved past Kejelcha but Edris had already moved by Kejelcha and was moving away to glory.
Edris had done it – dethroned the king. Edris ran his last four laps in about 3:57.5 – (63.7, 62.4, 58.1, 52.3). A few meters past the finish line, he did the Mobot to celebrate.
Behind him, Farah didn't quit even though he was beaten. He ran hard through the finish and leaned to hold off Chelimo for silver. He soon crumpled to the track, shocked by his defeat, before getting up and being feted by the crowd much as Usain Bolt had been after his loss in the men's 100 final.
We have our analysis and post-race reaction below the results and splits.
 SPLIT Leaders
1000m 2:48.20 Andrew BUTCHART GBR
2000m 5:48.08 Mohamed FARAH GBR
3000m 8:32.93 Patrick TIERNAN AUS
4000m 11:09.67 Patrick TIERNAN AUS
| | |
| --- | --- |
| Lap | Split |
| 1 | 62.25 |
| 2 | 70.58 |
| 3 | 71.52 |
| 4 | 70.90 |
| 5 | 72.80 |
| 6 | 64.82 |
| 7 | 66.26 |
| 8 | 64.32 |
| 9 | 62.85 |
| 10 | 63.34 |
| 11 | 62.57 |
| 12 | 54.24 |
| |  52.62 (26.28, 26.34) 52.3 for Edris |
Analysis: How did Mo Farah finally get beat in a 5,000? 
That's the big question everyone wants to know. It's so big that we break it down in its own article here: LRC Analysis: How Did Muktar Edris Finally Beat Mo Farah in the 2017 World Championship 5,000 Final?. Short answer: Farah believed the Ethiopians employed team tactics to sacrifice Kejelcha for Edris to win. Edris said that was not the case. The one thing for certain is Edris closed in 52.3 which is very hard to beat, no matter how fit Farah was.
QT: Farah was in sub-26:40 and 5k PR shape a week ago
Farah said at the press conference if you "if you were to ask me a week ago [what sort of shape I was in] I would have said definitely sub-26:40 shape and [for] 5k I would have said I'm definitely capable of running close to a personal best (his personal best is 12:53)". Farah said after 50 laps on the track this weekend it's hard to say where he is now.
QT: Paul Chelimo "I'm taking over for Mo." Credits Mo for helping him go from a 13:30 guy to a world star
Two years ago when the last World Championships took place Paul Chelimo did not run faster than 13:37 on the year and placed 11th at USA nationals. At the time, Chelimo was in the Army World Class Athlete Program and the team had moved to Portland, Oregon, to train with coach Dan Browne. Browne had trained as an athlete under Farah's coach Alberto Salazar and was using Salazar as a coaching resource. There was one added benefit to being in Portland and on the Nike campus: Chelimo began to see and interact with Mo Farah. "Two years ago, at the previous World Championships, I was running 13:30s, and just being close to Mo in Portland, Oregon, was amazing. When I got to Portland, Oregon, the first person I took a picture with was Mo," Chelimo said.
Chelimo made it clear multiple times how much respect he has for Mo. "I respect Mo a lot. I wish Mo would still be here. This is the person who made me work hard this year. Every time I wake up I have to think about Mo," Chelimo said.
Chelimo now wants to take the baton from Farah. "I'm taking over for Mo. I won't disappoint you Mo. Every time I go to the races, I [am going to] do it for Mo."
QT: Edris doing the Mobot and Chelimo doing the Mobot and throat slash were not meant as signs of disrespect for Mo
After winning gold Edris started celebrating by doing a Mobot. On the starting line, Chelimo did this:
We know you want to beat Mo Farah but this kind of gesture is far from classy, Paul Chelimo. #motime #london2017 pic.twitter.com/3aE7vhkoXm

— Jon Holmes (@jonboy79) August 12, 2017
Chelimo's gesture was viewed the most critically by some in the press, but both athletes wanted to make clear they only did the mobot because they respect Mo so much and he is the man to beat.
"With the slash, I meant that I'm going to make it hard today for Mo," Chelimo said before reiterating how much he respects Mo. Edris said, "I just wanted to show him I'm receiving the winning spirit (from Mo). I just wanted to show respect for him as well."
Full press-conference video (Farah says he was in sub 26:40 shape, Chelimo discusses taking over for Farah, and Farah talks about some of the greats from Tergat, Gebrselassie to Bekele):
Quick Take: Chelimo said that if the field had not gone with him early in the race, he would have tried to break away
Championship races are frequently slow and that's what Chelimo expected from tonight's race. But Chelimo also felt that if the field let him go like they did at USAs, he could steal the win and as a result he ran the first lap in 62.25 to test the waters. But Farah, who usually goes out at the very back in championship races, was right on Chelimo from the get-go and once Chelimo realized they weren't going to let him go, he backed off and steeled himself for a big kick.
Ironically, the fact that Chelimo earned a silver medal at last year's Olympics may have actually hurt him in this race. Had he made the same move in last year's Olympic final, Farah and the field may have allowed him to get a gap as his credentials at that point weren't particularly impressive (remember, he was only 3rd at the Olympic Trials). But Chelimo is now a known quantity as a result, when he makes a move, the field have to respect it.
"I think he probably [watched] the USAs and saw what happened at USAs and he was like I don't want to let this guy go, because if I let this guy go, it might go like that. And you saw what happened: Pat Tiernan took the lead, nobody tried to follow him. People just left the distance between him. And I was like, If that was someone else, if that was Kejelcha, that would be tough. I wish I was the underdog today. Because if I do that and they let me go, that would be easier."
Quick Take: Patrick Tiernan: "As unrealistic as it might seem, you come into these championships trying to win. I don't think there's any other point coming here."
Tiernan made his bid with 2k to go, and he led the race for around 1400 meters before the pack ran him down over the final two laps, with Tiernan ultimately fading to 11th place.
An athlete like Tiernan is in a tough spot in a championship final like this. It's clear he's one of the top runners in the world, but it's equally clear that Tiernan, who ran a PR of 13:13 at the Pre Classic and still lost by 13 seconds to Farah, had an almost zero percent chance to win this race. That leaves him with a couple options: run to finish as high as possible, or run the race that gives him the best chance to win, no matter how small that chance might be. Tiernan chose the latter.
"As unrealistic as it might seem, you come into these championships trying to win," Tiernan said. "I don't think there's any other point coming here."
Tiernan said he'd give himself a B in his first season as a pro, but that may be a little harsh. He's obviously got a way to go to challenge the top guys in the world, and his 10k finishing place last week was a disaster (22nd place). But he was 13th at World XC, ran PRs at 3,000 (7:37; he actually ran 3 3k PRs this year), 5,000 (13:13) and 10,000 (27:29) and finished 11th at Worlds in the 5k after finishing 13th in his heat at last year's Olympics. Still only 22 years old, his future is very bright, though bridging the gap from 11th to contending for the podium will take a lot of work.
Quick Take: Moh Ahmed just has to get better, period
Ahmed had no regrets with how he ran tonight to take sixth in the world, and he shouldn't. He got beat by a bunch of studs and he knows it.
"I'm not disappointed with the race, I ran it exactly like my coach told me to run it. No regrets. All those guys are incredible athletes, there's no shame losing to them. I have aspirations to be on the podium, to be winning and that's the only frustrating part, coming short, not being close enough."
Ahmed was fourth in Rio last year and will leave London with an 8th in the 10k and a 6th in the 5k. After the 10k, Ahmed felt that he needed to up his mileage to be more competitive at that distance in the future, but he also felt that he was in the kind of 5k shape to do well tonight. And though he was in contention late in the race, he came up just short of a medal.
"This race showed that I'm there but I just don't have enough yet, top gears," Ahmed said.
Quick Take: Justyn Knight viewed London 2017 as a learning experience and hopes that this is just the beginning of his career as an elite
Knight acquitted himself impressively in London, bouncing back from a third-place finish at NCAAs to finish ninth in the world. Generally NCAA distance runners don't contend for medals at Worlds, so for Knight, who only turned 21 last month, to finish ninth here with a year left at Syracuse (potentially two as he has two years of indoor eligibility remaining) is incredibly impressive. We believe that's the highest finish ever in the men's 5k at Worlds for an athlete coming off an NCAA season (feel free to let us know if we're wrong).
But Knight knows that he won't have the excuse of youth for much longer; he'll be a pro by the next World Championships in 2019 and will be looking to mix it up at the front of the pack.
"I think moving forward, I gotta just expect more from myself," Knight said.
More Analysis: LRC Analysis: How Did Muktar Edris Finally Beat Mo Farah in the 2017 World Championship 5,000 Final?.
Talk about the action on our fan forum.