Shalane Flanagan Wins 2017 New York City Marathon – 1st American Winner in 40 Years
by LetsRun.com
November 5, 2017
NEW YORK — For the first time in 40 years, an American woman has won the New York City Marathon. 36-year-old Shalane Flanagan took the lead just before the 23-mile mark and never relinquished it as she was able to pull away from three-time defending champion Mary Keitany of Kenya to win the 2017 TCS New York City Marathon in 2:26:53.
The women's race was very slow early on. A lead pack of 15 women hit halfway in 1:16:18. Nine women were still in the lead pack at mile 20 (1:54:39 – that's 2:30:17 pace). But the 21st mile was a 5:26 — the fastest of the race — and soon it was a three-person race between Flanagan, Keitany, and Ethiopia's Mamitu Daska, a 2:21:59 marathoner.
Article continues below player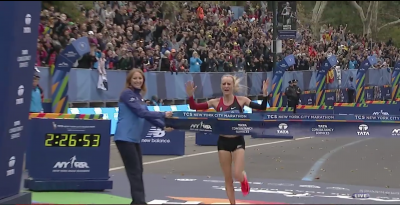 But the race was just getting going. The 22nd mile was 5:09 and the 23rd was 5:08. That 23rd mile gave Flanagan the lead and it only grew to the finish — and for good reason, as in the hilly Central Park, Flanagan was flying. She ran her 24th mile in 5:11, her 25th in 5:04, and her 26th in 5:12.
Keitany ended up second in 2:27:54 and Daska third in 2:28:08. Edna Kiplagat of Kenya, who was hoping to be the first woman to win Boston and New York in the same year since Norway's Ingrid Kristiansen turned the trick in 1989, was fourth in 2:29:36 with American Allie Kieffer a surprising fifth in a massive new pb of 2:29:39. Kieffer's claim to fame today was being the former indoor marathon world record holder – which she set in New York in April 2016 at 2:44:40. That was her PB before today.
Top 25 results and a full analysis appear below.
Top 25 Women
1 Shalane Flanagan USA 2:26:53
2 Mary Keitany KEN 2:27:54
3 Mamitu Daska ETH 2:28:08
4 Edna Kiplagat KEN 2:29:36
5 Allie Kieffer USA 2:29:39
6 Sara Dossena ITA 2:29:39
7 Eva Vrabcova CZE 2:29:41
8 Kellyn Taylor USA 2:29:56
9 Diane Nukuri BDI 2:31:21
10 Stephanie Bruce USA 2:31:44
11 Buzunesh Deba ETH 2:32:01
12 Christelle Daunay FRA 2:32:09
13 Aliphine Tuliamuk USA 2:33:18
14 Emma Quaglia ITA 2:34:10
15 Serkalem Biset Abrha ETH 2:34:23
16 Askale Merachi ETH 2:36:38
17 Adriana Aparecida Da Silva BRA 2:37:22
18 Jessica Augusto POR 2:37:33
19 Belaynesh Fikadu USA 2:39:01
20 Laurie Knowles USA 2:40:09
21 Kaoru Nagao JPN 2:44:26
22 Kate Pallardy USA 2:44:48
23 Charlotte Karlsson SWE 2:45:52
24 Beverly Ramos PUR 2:46:45
25 Manuela Soccol BEL 2:47:04
Quick Take: What a year for American marathoning
Back in April, Galen Rupp finished second in the Boston Marathon. Jordan Hasay was third in an American debut record of 2:23:00. If you told us right then that those would be the best performances by American marathoners this year, we'd have said, You're probably right.
Then came Amy Cragg's bronze at the World Championships in August. But the Americans were only getting started as then Galen Rupp won the Chicago Marathon while Hasay ran 2:20:57. Before today, 2017 was a banner year for American marathoning.
But what Flanagan did today topped them all. Rupp was fantastic in Chicago, but Flanagan was every bit as good over the final miles in Central Park, and she did it while dropping the best female marathoner on the planet. Additionally, Rupp was, if not the favorite in Chicago, then a very good bet to win. As of Saturday evening, only 0.8% of people in LRC's Running Warehouse prediction contest predicted a Flanagan victory.
Add it all together, and this was the most remarkable marathon by an American since Meb Keflezighi's 2014 Boston victory.
QT: Flanagan won for a reason – she absolutely crushed the final miles today
Prior to today, the closest Flanagan had come to winning her a marathon major was her debut in New York in 2010. In that race, Flanagan pulled away from Mary Keitany over the final mile. The only problem was Edna Kiplagat was 20 seconds ahead of Flanagan and was the champion. We went back and thanks to this message board post, found some splits from Shalane in 2010. In 2010, she ran 16:28 from 35km to 40k and 7:33 from 40k to the finish. Today, despite being 42 seconds faster at 35k than in 2010, she ran 15:57 from 35k to 40k and 7:00 from 40k to the finish. We couldn't find Edna's splits from 2010 but Runner's World talks about the decisive 5:11 25th mile being the difference (Shalane's 25th mile today was 5:04 and she had 5:09, 5:08, and 5:11 miles before that). We do know that Edna only won by 20 seconds in 2010, and Shalane ran 33 seconds faster today the final 1.2 miles so if Shalane had run as fast in 2010 as she had today she would have won by 13 seconds. Shalane's final 7km today was head and shoulders ahead of Edna's in 2010.  
We have another article on Shalane's win: LRC Coach Jerry Schumacher on How Shalane Flanagan Dug into Her "Deep Well" to Win 2017 New York City Marathon
QT: Mary Keitany was not 100%
Shalane's final four miles were so good, we're not sure Mary Keitany could have beaten Shalane Flanagan if Keitany had been on top of her game, but after the race Keitany revealed she wasn't 100% and that she developed a "problem" yesterday, that caused her to not use her front-running tactics. Keitany said, "Yesterday afternoon I had a problem, and that's part of life because I experienced this at 3:00 p.m. yesterday, and I was not able today to deliver what I wanted." We're assuming Keitany started having her period, and will update this if we received more information.
UPDATE: We reached out to Keitany's agent, Gianni Demadonna, and he confirmed that Keitany received her period on Saturday afternoon for the first time in three months.
"Today in the race she was never feeling ok and the body was tired and without energy when she was trying to change the pace," Demadonna wrote. "She was not even by far the real Mary Keitany. She said the body was not responding at all. Believe or not believe this is the reason she was running so poor to compare to her normal standard today."
QT: Was it destiny that Shalane won today?
Sports sometimes can be the escape that people need in their lives and sometimes wins can almost seem too good to be true. Meb Keflezighi broke the American male drought in Boston the year after the bombings. Shalane Flanagan broke the American female 40-year drought in New York, just five days after the terrorist attack on the West Side Highway. The Houston Astros won the World Series this year for the first time after Hurricane Harvey.
Shalane Flanagan was asked if the recent New York terrorist attack was on her mind. "Athletics is a great way to make people feel good and to smile, to kind of forget about some of the negative things in the world. So I absolutely before this race was thinking about how this was a really tough week for New York, and I could relate to it because I was in the Boston bombings of 2013. It is — I was thinking of that as I finished, how it was amazing that Meb was able to be that clutch person in 2014 and how now I've been presented the opportunity to be that person for New York this time," she said.
QT: Let's stop talk of this being too good to be true
Sometimes when something is almost too good to be true, people want to focus on conspiracies. Talk of this race being rigged or watered down are absurd. Shalane Flanagan absolutely crushed the final five miles and would have won this race by a big margin in 2010 if she did what she did today then. New York elite athlete coordinator David Monti saw us after the race, and he's aware of the concept of American races possibly wanting to water down fields to get an American winner. He joked something along the lines of "you can't say we watered this one down." And he's absolutely right. David bought in the #1 (Mary Keitany, she ran 2:17:01 in London) and #2 (Edna Kiplagat, Boston champ and runner-up at Worlds) ranked marathoners in the world in 2017. Shalane had to beat the best today and that's exactly what she did. The other two didn't have their best days but with the slow pace, it might not have mattered.
QT: Shalane Flanagan was thinking of Meb today
The big American storyline heading into the 2017 TCS New York City Marathon was that it was Meb Keflezighi's final marathon. Meb has been the standard bearer of American distance runners for a generation and Shalane said she was thinking of Meb today during the final miles. In addition to thinking of her family and everyone who made today possible she said during the final miles, "I was thinking of Meb, and I was thinking of how I wanted to make him proud today, and I think I did."
Later she talked about Meb's influence, "Yeah, I feel lucky and blessed to have run in what I consider the Meb era. He's been the absolute best role model for all of us in the way he lives and conducts himself. I just love being around the man. He just — he's always smiling. I always tell him all the time, he has like the best giggle that I've ever heard. And he was a part of healing Boston after the bombings in 2014, and that's my hometown. So his performance meant the world to me and to the people who helped raise me and the town that I'm from. He's a special person for sure. So today I just thought just be like Meb as much as you can. He's the person that you would want your kids to emulate, and I want to emulate Meb. So I was just thinking, you know, keep it together those final miles as best I could and think about the people that have set this stage for me and have paved the way, and Meb is one of them. So I was absolutely thinking of him and thinking, I've got to make him proud today."
QT: WTF? Unheralded American Allie Kiefer Gets 5th After Doing CrossFit and Running 25 miles for 6 months last year
Don't worry if you'd never heard of Allie Kiefer prior to today as hardly anyone had. Yet if it wasn't for Shalane Flanagan winning the race, the biggest story of the day would have been a complete unknown finishing 5th in the NYC Marathon. Kiefer was a Foot Locker finalist in high school, and a scholarship athlete at Wake Forest, and clearly is a running lifer as she had tried stings of training under Brad Hudson and Steve Magness.
Last year she only made her marathon debut because she needed the money and switched from the half to the full at the Miami Marathon and ran 2:55. Then she set a then world indoor record of 2:44 at the Armory Indoor NYC Marathon (they were an advertising partner of LetsRun.com). However, in the back half of last year, she didn't ran more than 25 miles a week (update:  we originally said per week, but now think she may not have run 25 miles total over 6 months from this quote, "since I stopped training in June I haven't run more than 25 miles in the past six months") and started doing CrossFit workouts with her boyfriend according to a nice profile on her by Joe Battaglia of Flosports. She started coaching herself and her results in 2017 have been on a higher level (32:09 10,000m) but none of this predicted a 5th place showing in New York.
Kieffer was accepted into Nike's Project Moonshot, an offshoot of the Breaking2 project, where local athletes were given extra resources to help them prepare for New York. "It was like a semi sponsorship. So they helped me a lot in the buildup and really made it possible for me to see a massage therapist, do strength training, and I felt kind of sponsored. So that was really nice. And I think, when I was out there, I was just — I mean, leading up to the race, they allowed me to put in so much more training than I would have been able to on my own because I did a lot more workouts than I — and I recovered a lot better than I could if I don't see those people," she said at the post-race press conference.
Kieffer ran a great negative split. While many of the women went out slow just a result of the opening pace being slow, Kieffer was running her own race. She was off the leaders at halfway (1:16:36, 18 seconds back) and came back with a 1:13:03 2nd half. Kieffer said she had to run many miles by herself, but she held up over the distance better than anyone in the race except for Shalane Flanagan. Kieffer's 5:30 26th mile was the fastest in the women's race with the exception of Shalane Flanagan.
Be a fan and talk about the race on our fan forum.
More LRC coverage of Shalane's win: Coach Jerry Schumacher on How Shalane Flanagan Dug into Her "Deep Well" to Win 2017 New York City Marathon
Shalane Flanagan waited long enough for this. We'll let her say whatever she wants (H/T @JimmyDonofrio) pic.twitter.com/GeTLpawyLP

— Darren Rovell (@darrenrovell) November 5, 2017
ESPN video of finish

In tears. Thank you @ShalaneFlanagan for giving us something to believe in. Congratulations!

— des_linden (@des_linden) November 5, 2017
More: LRC Coach Jerry Schumacher On How Shalane Flanagan Dug Into Her "Deep Well" To Win 2017 New York City Marathon He talks about what changed in her training and how she can smell the finish line like Chris Solinsky.
Mile by Mile Notes
Women
Mile 1: 6:43
Mile 2: 5:58 (12:41) Dossena of Italy running off the front a little bit but there's a huge pack right behind her.
Mile 3: 5:55 (18:36)
5k: 19:09
Mile 4: 5:48 (24:24) 23 women within 4 seconds of the feed.
Mile 5: 5:39 (30:03) Deba starting to push now and opening a small gap at the front. She has about 20 meters on field. Now 30 meters.
Mile 6: 5:37 (35:40) Deba has been reeled in.
10k: 36:52 (17:43)
Mile 7: 5:38 (41:18) 18 women in lead pack.
Mile 8: 5:49 (47:07)
Mile 9: 5:48 52:54
15k: 17:52 (54:44)
Mile 10: 5:35 (58:31) Edna Kiplagat. Women still only on 2:33 pace as there's a pack of 17.
Mile 11: 5:50 (1:04:21) Keitany/Kiplagat now moving to front during mile 12.
Mile 12: 5:36 (1:09:57)
20k: 1:12:20 (17:36)
Mile 13: 5:40 (1:15:37)
Half marathon: 1:16:18. 15 women in lead pack. 5 Americans — Flanagan, Tuliamuk, Bruce, Taylor and someone called Belaynesh Fikadu.
Mile 14: 5:40 (1:21:17) Keitany is stepped on from behind and decides to start pushing and string it out. It's now four women at front — Keitany, Daska, Flanagan, Saina. Kiplagat just a meter or two behind. Now Deba, Vrabcova, Dossena and Tuliamuk all closing gap to join them too.
Mile 15: 5:38 (1:26:55)
25k: 1:30:07 (17:47) Nine women in lead group, including Americans Flanagan and Tuliamuk. Sara Dossena — an Italian triathlete making her marathon debut — is also with the leaders. 3
Mile 16: 5:42 Dossena
MIile 17: 5:26
Mile 18:  5:26 9 up front Taylor 8 seconds back
30k: 1:47:05 (16:58) Eight women in lead group with Keitany at the front.
Mile 19: 5:31
Mile 20: 5:37 (1:54:39) Flanagan leading, but there's eight women in lead group. During mile 21, Taylor has caught up and joined lead pack. Daska now pushing during mile 21 and she, Keitany and Flanagan putting a gap on rest of field.
Mile 21: 5:26 2:00:05 It's Daska, Flanagan and Keitany as they're back in Manhattan for the final 5 miles. Fastest mile of the race so far. Keitany now to the front during 22 miles but not putting a gap in.
35k: 2:03:56 (16:51)
Mile 22: (5:09) 2:05:14  Flanagan takes lead just before 23 miles and she and Keitany actually put a few meters on Keitany.
Mile 23: 5:08 (2:10:22) At 23 miles, Flanagan has about six meters on Daska and four meters more on Keitany.
Flangan's lead is growing! Flanagan has a five-second lead. Keitany drifting off to the side of the road.
Shalane is on one side of the road, Keitany on the other. Shalane cuts the tangent coming into the park and gains some time on Keitany.
Mile 24: 5:11 (2:15:32) 14 second lead for Flanagan. Keitany is pulling away from Daska, but doesn't look to be eating into gap to Flanagan. In fact, Flanagan's lead is growing.
Mile 25: 5:04 (2:20:35). Flanagan's lead has doubled in the span of one mile.
Mile 26: 5:12