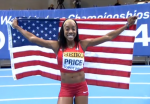 Chanelle Price took it out really hard and hung on to win gold at 800 at the World Indoors. Wire-to-wire, pr, world-leading time for the win. Impressive. Recap, analysis, post-race video. *Post race interview with World Champion Chanelle Price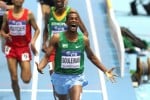 We tell you why Chanelle Price's gold medal was even rarer than you think, why running is definitely a young person's game, discuss what gets your DQed on the international level, ponder how Ashton Eaton isn't a cross-over star, look at the disappointing runs of Ajee' Wilson, Treniere Moser and Genze Bulut, and share with you two message board gems.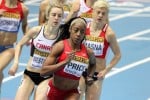 It was an intense day in the women's 800m qualifying. #1 seed American Ajee' Wilson was a total non-factor, #3 seed Laura Muir got bumped around and was in tears after, Chanelle Price made the final and dreams of gold, and a Swiss runner you've never heard of stormed into the final. Recap, results and post-race video.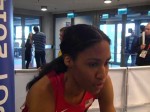 Video interviews with the American stars after Price made the final and Wilson didn't.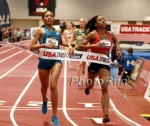 19-year-old teen phenom Ajee' Wilson of the USA has the top time in the world and teammate Chanelle Price is #2 in the world, but can an up-and-coming Brit Laura Muir steal the gold?
Event Schedule
| Race | Date | CST | CET |
| --- | --- | --- | --- |
| Heats | 03/07/14 | | |
| Final | 03/09/14 | | |
Outside Letsrun
Ajee Wilson and Laura Muir both struggled coming up well short of the final. Iceland's world youth star, Anita Hinriksdottir, appeared to make the final but was DQd for a lane violation.
We wouldn't go that far since only the winner and next 3 best times make it out of the 800 heats, but she is definitely one of the favorites.
She's the defending champion, but Kenyan selectors have chosen not to send anyone in the women's 800. To be fair, her beat this season is only 2:07.
"I thank God that the injuries are all gone and it is my prayer that I do not sustain any in 2014. I have very big plans this year and one of them is to get victory in major races. My focus is on the World Indoors,"
On The Boards
Navigate
Photos
Race Results
Analysis
Event Recaps
Interviews
Event Previews
Related Events