Men's 800 Heats: Mo Aman Looks Like He'll Be Pushed In The Final As Neither Nick Symmonds Nor Erik Sowinski Make The Final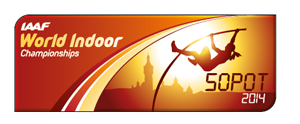 March 07, 2014 to March 09, 2014
by LetsRun.com
March 7, 2014
Sopot, Poland – The men's 800 at the 2014 World Indoor Track and Field Championships in Sopot, Poland didn't have any huge surprises as the top 5 fastest runners in 2014 all made the final. World champion Mohammed Aman made it through just fine in the first heat, but looks like he could be challenged by the rest of the field in the final as others ran very fast in qualifying. It was a disappointing day for the Americans as neither World outdoor silver medallist, Nick Symmonds, nor Erik Sowinski advanced, but it wasn't completely shocking as they only had the 12th and 13th fastest times in the field coming in.
Heat 1: Aman Gets The Job Done

Article continues below player
Only the winner from each heat advanced automatically to the final which was bad news for everyone in this heat as this heat had world #1 Mohammed Aman. Spain's Kevin Lopez, who is ranked 6th in the world this year, led this from the gun as he took them through 400m in 52.96 and 600m in 1:19.76. Aman kept good position in second as Erik Sowinski was running the whole race in the outside of lane 1 and lane 2. Heading into the last lap Sowinski made a move to go to the lead, but Aman felt him coming and responded and went to the lead. From there Aman closed in around 27 seconds to win the heat in 1:46.73 over Russia's Stepan Poistogov as Lopez finished 3rd and Sowinski faded badly over the last lap to 5th in 1:48.04.
Quick Thought #1: Aman looked good here, but not completely effortless. Then again he always looks like he's working very hard. He is undefeated since May of last year and in that time he's won 12 straight races not including heats, so we completely expect him to win in Saturday's final. However, the guys in the other heats ran fast and nothing in indoor track is guaranteed.
QT#2: Aman himself acknowledged the challenge he will face in the final. Post-race, he told the IAAF, "Seeing how my training is going, I have confidence. There are two strong guys from Poland in the race, Adam [Kszcot] and Marcin [Lewandowski]. They are the ones to watch." *Vid here
QT#3: After the race Sowinski was very disappointed and said he thought he ran a very bad tactical race (he ran at least the entire first 400 maybe 600 in lane 2), but Sowinski didn't make any excuses and said simply he didn't perform today. He was still happy to get his first chance to represent USA and is looking forward to getting his PR under 1:45 outdoors.
LRC Talks to Sowinski:
Heat 2: Man, Running Second Indoor Race of His Life, Wins Heat

Heat 2 was won by South Africa's Andre Olivier in the second indoor race of his life. Olivier came in ranked #2 in the world behind Aman as he ran a brilliant 1:44.99 in the first indoor race in Birmingham in February.
In this heat Qatar's Musaeb Abdulrahman Balla took the race out and acted as the unofficial rabbit for the first 400m as he took them through in 25.31 and 52.94. Olivier, Poland's Marcin Lewandowski and the Netherlands' Thijmen Kupers sat in 2-4 and there was a pretty big gap to Nick Symmonds who was in 5th at 400.
At the start, Symmonds had gone out slowly and let the field gap him but he eventually caught up to the main pack during the third lap.Would we have some of the old come from behind magic from Symmonds in the last 200m?
No, as the runners approached the bell, they started to pull away from Symmonds who was gapped once again.
The others were just way better as Olivier closed in 26.14 to just hold off Lewandowski in 1:46.26. and Kupers in 1:46.55. To his credit, Symmonds ran hard to the finish and was able to pass Balla (who was ultimately DQd anyway), but compared to the others, he looked flat and finished a distant 4th in 1:47.29. Two time qualifiers came from this heat as both Lewandowski and Kupers made the final on time.
Quick Thought #1: We watched this race on tv in the mixed zone with a Polish journalist who is a LetsRun.com fan. He had the quip of the night. After Symmonds faded at the end, he turned to us and said, "Maybe Nick met some (Polish version of) Paris Hilton last night. The Polish girls are very pretty." For the record we asked if he had met a Polish Paris Hilton yet, and he said no, the plan was to do that Saturday after the final.
QT #2: Olivier is a tall, big guy which doesn't usually bode well for the tight turns of indoors, but Olivier did just fine with it. It's pretty incredible that he broke 1:45 in his first ever indoor 800 earlier this year. The SA indoor national record is 1:44.91; Olivier only needs to PR by .09 to break that.
QT#3: Lewandowski said after the race he was really happy Balla took it out since he's a strength runner and doesn't like a slow race. He's probably one of the few who is upset there is only one qualifying round of the 800 as he said, "I'm disappointed there are only two round of running here, unlike the usual three." He'll have the home crowd behind him and a teammate to work with in the final which could be advantageous. He said, "I will be happy with a medal of any color, but the ultimate goal is two medals for Poland. With Adam (Kzczsot), we are enemies on the track, but friends away from it. I recently even got an invitation to his wedding."
QT#4: Symmonds said he was actually pretty pleased with his race afterwards, is retiring from indoor track and also is temporarily shelving the idea of being a 1500 runner as the appearance fees in the 800 as a silver medallists are too good to pass up.

He knew coming in that it was going to be hard to make the final and thought his best shot was to run very even splits and hope he could get one of the time qualifiers. He says he executed that plan and ran a season's best by a full second, but just didn't have that "other gear" in the last lap that he normally does during outdoor season.
He'd need to be in tip top form to compete for gold here for as Symmonds pointed out, there are two guys in the field who have run faster than the 1:45.00 AR.
Symmonds also said that this was the last indoor race of his career as he's officially "retiring" from indoor track. He doesn't think indoor suits him and he'd rather skip the indoor season and have a long buildup for outdoor. He said if this was an Olympic year, he probably would have skipped this meet altogether after he got sick, but since it's the only global championship this year he figured "might as well" go for it.
Looking ahead to outdoors he said he'll probably try the 1500 at USAs just to try something different, but that the focus will still be on the 800 this year as now he's a World silver medalist and that's the event meets are going to pay him to come run. First race is Tokyo on May 11th.
Nick Symmonds Talks to LRC
Heat 3: Poland's Adam Kszczot

The Polish crowd got some excitement on this one as local favorite Adam Kszczot took the heat in the fastest time of the day of 1:45.76 ahead of UK's Andrew Osagie in 1:45.88 with the second fastest time of the day.
The fast time can be credited at least partly to Kenya's Jeremiah Mutai who set a blistering pace from the gun going out in 25.29 and 51.71. Behind him there was a decent gap to Kszczot, Osagie and the rest of the pack who stayed within striking distance.
However, on the 3rd lap Mutai started to fade, having some contact with Ireland's Mark English and fell back to 4th. At the bell, Kszczot had the lead as they went through in 1:19.28 and he closed in 26.48 seconds with Osagie right on his heels. Behind them, Mutai recovered and was able to pass English in the final straight, although not before the two had even more contact which sent Mutai way wide.
QT#1: If there is someone who is going to challenge Aman on Saturday, Kszczot is a good bet. The guy is a proven talent indoors as he has a 1:44.57 indoor PR, which ranks 4th fastest ever on the all-time lists. He has won gold at Euro Indoor Champs in 2011 and 2013 and he beat his countryman Lewandowski at the Polish National Championships two weeks ago on this very track, so if you have to choose between them go with Kszczot (although he only won by.09 seconds over Lewandowski). After the race he told the IAAF, "The final will certainly be a demanding race, but I have confidence in my abilities. Compared to my first indoor championships four years ago, the rivals are stronger here, but so am I." He'll have the home crowd cheering him on which will only help his chances on Saturday.
QT #2: Osagie is a 2012 and 2013 800 finalist outdoors and won a bronze medal at World Indoors in 2012. He looked good here and maybe it's just his way of running, but didn't look like he was all-out at the end which would be strange since only the heat winner advances automatically. Either way, he's another runner who is proven indoors so look for him to be mix in the final.
QT#3: Mutai is an interesting case. When we first looked him up on tilastopaja.org it listed him as a 400 hurdles World Youth silver medalist from 2009 so we thought maybe we had the wrong guy. But no, it is him and it looks like even as recently as 2012 his focus was the 400 and 400H. Then in 2013 he ran a 1:43 at the Kenyan Police Championships (when he only had a 1:48 PB) and went to Worlds for Kenya where he didn't make it out of the first heat. Based on today's race that's not too surprising as his tactics are horrible and he was all over the place in this race. Still, maybe we've stumbled onto the next Brandon Johnson. Mutai is only 21 so we'll keep an eye out for him. For the record we did talk to him after the race, but English is not his first language, so it wasn't very informative.