Men's 1,500 Prelims: Will Leer And Nick Willis Move On To The Final – Silas Kiplagat And 2014 World Leader Do Not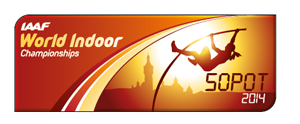 March 07, 2014 to March 09, 2014
by LetsRun.com
March 7, 2014
Sopot, Poland – In the men's preliminary round of the 1,500 today at the 2014 IAAF World Indoor Championships, Will Leer of the US and Nick Willis of New Zealand, both coached by former Michigan coach Ron Warhurst, moved on to the final. It's the first global final of Leer's career.
Those not making the final included 2011 World Championship silver medalist Silas Kiplagat and 2012 World Indoor bronze medallist Mekonnen Gebremedhin of Ethiopia, newly minted Canadian 1k record holder Nate Brannen and American Lopez Lomong.
Article continues below player
2014 world leader Mohamed Moustaoui also didn't advance as he was a late withdrawal.
Results for the heats and quick thoughts appear below with a view video interviews.
Heat 1
POS BIB ATHLETE COUNTRY MARK
1 220 Homiyu Tesfaye GERGER 3:47.07 Q
2 154 Jakub Holuša CZECZE 3:47.20 Q
3 181 Mekonnen Gebremedhin ETHETH 3:47.22
4 401 Lopez Lomong USAUSA 3:48.06
5 194 Lee Emanuel GBRGBR 3:48.09
6 360 Omar Mohamed Abdi SOMSOM 3:56.52 PB
333 Ioan Zaizan ROUROU DQ R163.2
Split times
200m 32.19 Ioan Zaizan ROMANIA ROU
400m 1:04.68 Ioan Zaizan ROMANIA ROU
600m 1:37.52 Ioan Zaizan ROMANIA ROU
800m 2:09.13 Omar Mohamed Abdi SOMALIA SOM
1000m 2:39.09 Lee Emanuel GREAT BRITAIN & N.I. GBR
1200m 3:08.09 Lee Emanuel GREAT BRITAIN & N.I. GBR
1400m 3:34.00 Homiyu Tesfaye GERMANY GER
Heat 2
POS BIB ATHLETE COUNTRY MARK
1 162 Ayanleh Souleiman DJIDJI 3:38.94 Q
2 298 Nicholas Willis NZLNZL 3:39.14 Q
3 265 Silas Kiplagat KENKEN 3:39.70
4 205 Chris O'Hare GBRGBR 3:40.06
5 106 Andreas Vojta AUTAUT 3:42.10
6 128 Nathan Brannen CANCAN 3:42.51
7 359 Mitja Krevs SLOSLO 3:43.22 NIR
8 305 Wesam Almassri PLEPLE 3:53.84 NIR
Split times
200m 29.48 Ayanleh Souleiman DJIBOUTI DJI
400m 59.18 Ayanleh Souleiman DJIBOUTI DJI
600m 1:29.14 Ayanleh Souleiman DJIBOUTI DJI
800m 1:59.29 Ayanleh Souleiman DJIBOUTI DJI
1000m 2:29.35 Ayanleh Souleiman DJIBOUTI DJI
1200m 2:59.03 Chris O'Hare GREAT BRITAIN & N.I. GBR
1400m 3:25.94 Nicholas Willis NEW ZEALAND NZL
Heat 3
POS BIB ATHLETE COUNTRY MARK
1 184 Aman Wote ETHETH 3:36.75 Q
2 273 Abdalaati Iguider MARMAR 3:37.83 Q SB
3 400 Will Leer USAUSA 3:38.02 q
4 263 Bethwell Birgen KENKEN 3:38.56 q
5 376 Ilham Tanui Özbilen TURTUR 3:39.31 q
6 236 David McCarthy IRLIRL 3:39.46
7 169 Adel Mechaal ESPESP 3:41.27
8 222 Aitor Gomez GIBGIB 4:07.34 NIR
Split times
200m 29.27 Ilham Tanui Özbilen TURKEY TUR
400m 58.66 Aman Wote ETHIOPIA ETH
600m 1:28.09 Aman Wote ETHIOPIA ETH
800m 1:57.89 Aman Wote ETHIOPIA ETH
1000m 2:27.11 Aman Wote ETHIOPIA ETH
1200m 2:56.03 Aman Wote ETHIOPIA ETH
1400m 3:23.40 Aman Wote ETHIOPIA ETH
Quick Thought #1: Two Auto Qualifiers Makes it a Crapshoot: Pre-race, we criticized the IAAF for running the 23 guys here in three heats instead of cramming everyone into two heats, or running three heats and taking no time qualifiers, so the best men would be selected to the final and that criticism proved to be right on the money.
Top 2 in each heat? Really? The casualties of that weirdness were both Kiplagat and Gebremedhin. Neither ran badly. Both were third in their heat, but neither made the final.
The second heat with Kiplagat, Souleiman and Nick Willis was totally loaded. Gebremedhin was in heat 1 which was very slow at the start. He found himself in a bad position and had to run way wide. He closed very well but missed out on the final by .02.
Quick Thought #2: Speaking of heat 1, Lopez Lomong was in that heat and the slow start there (2:09 800) doomed him.
Lomong is good in honest paced races as he's more of a 5000 guy. This race turned into a 700. Not Lopez's type of race.
Quick Thought #3: Souleiman is Our Favorite, Willis Reveals He Was Sick at Millrose But Kept Quite Because He Had Called Out Galen Rupp: Nick Willis looked really good in heat 2 as did Souleiman.
After today's races, we'd say Souleiman is definitely the favorite (we liked him coming in but even more so now) but Willis was right there with him and had that close that he was lacking at Millrose.
After the race, Willis told us there was a reason why he may have not won at Millrose – he was sick. But he didn't tellanyone that then and he didn't consider pulling out since he'd tweeted at Galen Rupp for pulling out of Boston the week before.
Willis told LRC off camera:
"I was sick at Millrose but I didn't tell anyone about that. After that tweet about Rupp, I wasn't about to pull out of that race. I was pretty happy with how Millrose went considering (I was sick) and today obviously showed this is more of my true form."
"I knew I was in good shape but when only the top two go through- you have no idea what form the other guys are in – so it's very cut-throat."
"A couple of us were talking about it and thinking of pushing (the pace) ourselves. But Souleiman ended up going to the front. It stayed honest enough that I realized I could sit and wait for the last lap. Thankfully I was good enough for top two."
15 second IAAF video of Willis below.
Quick Thought #4: Will Leer made it as a time qualifier but says he's got more in the tank for the final:
"I'm not going to say I eased it in but there is more in the tank for (the final) tomorrow," said Leer who added you never know if the tracks on the track or truly accurate so you need to run hard through the finish."
As for the final, Leer told us he's got a strategy for the final – only problem is – he's keeping it a secret.
Quick Thought #4: Free Training Advice From David McCarthy of Ireland
The former Providence runner, competed in his first global championships here and didn't make the final. He enjoyed the experience and really appreciated how "relaxed" people were in the hotel and it wasn't nearly as stressful as he had anticipated.
He had some good advice after the race for aspiring 1500 racers.
"Relax as much as you can for as long as you can. You can't fight for position."
Chris O'Hare Didn't Make the Final:

Nick Willis is All Business- 5 Seconds

Silas Kiplagat Before Finding Out He Didn't Make Final
"If not (in the final), I'll be ok"

Bethwell Birgen Makes It on Time