Women's 1,500: Treniere Moser Looks Like A Medal Contender And Heather Kampf Proves She Belongs
By LetsRun.com
March 7, 2014
The opening morning session of day 1 was a disappointing one for US mid-d fans as only one American made the final in the 800s and only one in the men's 1,500. But then the US women's 1,500 runners got the US some momentum back as both Americans qualified for the final taking first and second in their heats.
Mary Cain's replacement, Heather Kampf, spectacularly and surprisingly led heat one from start to nearly the finish and Treniere Moser looked like a big-time medal threat in heat three. The third heat winner was the heavy favorite in the event, Sweden's Ethiopian-born Abebe Aregawi.
Article continues below player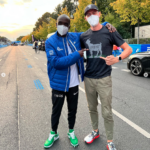 Kipchoge loves the 1:59:40 Shirt Get Yours Today
Shirts are $10 off if he breaks the world record and you order today.
Heat 1: Kampf Is Clutch
Heather Kampf went to the front and took the field through splits of 67.09 and 2:16.03 for the first 800.The pace picked back up on the third 400 (67.76 – 3:23.79) and closed faster still for the final 300. As the top six runner's approached the bell, the top four started to get clear of everyone else in the battle for what would end up being only two qualifying spots.
Russian champ Elena Korobkina tried to get by Kampf at the bell, but Kampf held her off and everyone else until the final 50m when Morocco's Rababe Arafi got by and won the heat in 4:10.9. But Kampf held on to the final and only other qualifying spot in this heat.
Quick Thought #1: A clutch and fantastic race for Kampf.  Her outdoor PR is only 4:08.37 and she ran 4:11.27 here, leading from start to nearly the finish to make a World final.
Kampf started off her post-race interview saying, "I think I have a little bit of a chip on my shoulder here as the alternate because everyone keeps asking me, 'How does it feel to have no expectations coming in?' And I wasn't just some kid who got picked up off the street. I was third in the US and I really wanted to prove that I belonged in this race and in this field and can do something against some of the best athletes in the World."
She said that was definitely partly what motivated her to take it out and lead from the gun and said this track with it's really short straightaways is perfect for front running. Plus she has a long stride so likes having room to run her own race.
Asked if she would take the same front-running approach to the final she acknowledged it would take a much faster pace to be able to control the race like that in the final and wasn't sure if it would be the best strategy or not. She said it was something she'd talk with her coach about and definitely didn't discount the possibility of being the unofficial pace setter for the final tomorrow.
Splits:
200 – 33.16 – Heather KAMPF
400M – 1:07.09 – Heather KAMPF
600M – 1:41.64 – Heather KAMPF
800M – 2:16.03 – Heather KAMPF
1,000M – 2:50.33 – Heather KAMPF
1,200M – 3:23.79 – Heather KAMPF
1,400M – 3:55.69 -Heather KAMPF
Heat 2: Aregawi Was In Total Control
Coming in, we thought a fall might not even keep Aregawi out of the final. We guess we won't ever know as she stayed out of harm's way in this heat and looked like an overwhelming favorite.
Former Michigan runner Nicole Sifuentes took this out early, but it was Aregawi who took the lead around the 700 mark and never looked back as she tightened the screws on the way home and went 67-63 to win in 4:08.74 in a heat where the top 5 all advanced.
Aregawi Post-Race:
"I've trained well, with God's help, and I hope to produce good results. Just as everyone hopes to do well for their country, I hope to do well for my country. There may be a lot of pushing and collisions, and I'll try to avoid running into that kind of situation. Once I'm in the race, I'll see what I have to do to avoid being bumped."
Sifuentes was happy to make the final and planned on leading it out in 2:12 (they ended up going out in 2:15):
"I wanted to get it going and I did, but clearly I slowed. The important thing was not to freak out. I managed to finish very well after being caught in the back. I did not have good tactics and I almost paid for it. This is the first World Championships final. It means a lot to me. I am very happy and I need to get ready for tomorrow (in tears)."
https://www.youtube.com/watch?v=H9mc9zbG_yE
Splits:
200M – 33.65 – Nicole SIFUENTES
400M – 1:07.41 – Nicole SIFUENTES
600M – 1:41.28 – Nicole SIFUENTES
800M – 2:15.21 – Abeba AREGAWI
1,000M –  2:48.73 – Abeba AREGAWI
1,200M – 3:21.93 – Abeba AREGAWI
1,400M – 3:53.19 – Abeba AREGAWI
Heat 3
Treniere Moser certainly looked like a big-time medal contender in the third heat as she kicked away from everyone else and won convincingly in 4:12.63 as Luiza Gega of Albania got the second qualifying spot in 4:13.78.
Moser ran her last 800 in 2:13, had a last 200 of 30 and won easily. She looked GREAT.
Results – POS     BIB     ATHLETE     COUNTRY     MARK
1     867     Treniere Moser     USA     4:12.63 Q
2     601     Luiza Gega     ALB     4:13.78 Q
3     622     Mimi Belete     BRN     4:16.02
4     647     Isabel Macías     ESP     4:17.14
5     819     Maruša Mišmaš     SLO     4:18.92
6     831     Gamze Bulut     TUR     4:24.52
Split times
200m 39.02 Luiza Gega ALBANIA ALB
400m 1:21.78 Luiza Gega ALBANIA ALB
600m 1:46.38 Luiza Gega ALBANIA ALB
800m 2:19.74 Luiza Gega ALBANIA ALB
1000m 2:53.12 Luiza Gega ALBANIA ALB
1200m 3:26.33 Luiza Gega ALBANIA ALB
1400m 3:57.36 Treniere Moser UNITED STATES USA
Quick Thought #1: Treniere Moser looked fantastic but the interesting thing is she may have sounded even more confident than she looked afterwards – "I have one of the best kicks in the world."

Moser seems poised to medal in our minds as everything seems to be there for her. Supreme fitness as well as mental confidence. She just oozed confidence in her post-race comments:
"We were prepared for anything. My last two races (before USAs) were sit and kick and at nationals it was just go all out," said a very confident Moser after the race. "We started out really slow and then it got going a little bit but then I adjusted really well. I just let them fight for the lead and just sat back and really depend on my kick."
"My coaches told me I have one of the best kicks in the world and I have to just believe in it."
"As far as the final, I have to be prepared for anything, and that's the good thing about my training, I feel very prepared going into the final so now it's just about relaxing and just running."
Quick Thought #2: When asked if she was going to concede the gold medal to Abebe Aregawi, Moser said "I'm not intimidated whatsoever."
"You never know how these races will go. I'm just ready. We've been training very, very well all year and I've been very, very consistent. I've been with the Oregon Project for a year so I'm way better than I was last year (at Worlds)."
"I'm not intimidated by her. I'm going to get as close as I can and depend on my kick and maybe it will be gold. I don't know but I'm shooting for a medal."
"Yes on paper, she's impressive. She had a great outdoor season last year and last year indoors, I ran in Stockholm where she got the record too (a natioanl record of 3:58.40) so I know what she can do, but I'm in great form right now."
Here's a stat for you that shows you how much better Moser is now than a year ago. In that 3:58 race, Moser was fourth in 4:12.09.