Men's 3,000m: The Stars Advance, Including Americans Rupp And Lagat, And What A Tremendous Final We're Going To Have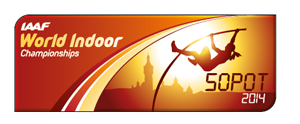 March 07, 2014 to March 09, 2014
by: LetsRun.com
March 7, 2014
Sopot, Poland – In the prelims of the men's 3,000 meters tonight on day 1 of the 2014 IAAF World Indoor Championships, all of the favorites advanced to set up a much anticipated, mouth-watering final which will take place on Sunday at 4:10 pm time here (10:10 am ET).
That being said, the prelims were far from dry. Galen Rupp's medal chances may have slightly increased, Kenya's Caleb Ndiku wore a winter cap for an indoor 3,000m, and afterwards, it's press members are still debating whether Dejen Gebremeskel looked great or awful.
Article continues below player
Those are our main takeaways from the men's 3000m qualifying.
Looking at the results, everything looks according to form, with the four favorites Ethiopians Dejen Gebremeskel and Hagos Gebrhiwet, Kenyan Caleb Ndiku, and American Bernard Lagat all in top qualifying spots. Gebremeskel and the other Kenyan Augustin Choge all finished just ahead of Galen Rupp in heat #1, but but they ran less tactically controlled races than Rupp.
Quick heat by heat recaps below with video interviews coming from Poland.
Heat #1: Gebremeskel Goes from Last to 2nd in 600m
The qualifying in the 3000m featured 2 heats with the top 4 in each heat and next 4 fastest losers advancing.
Heat #1 started modestly (4:02 1500, 4:17.5 for 1600) but the pace would increase from there.With little fanfare, these guys ran their final 1600 in sub 4:00 (3:58-9).
Ali Kaya of Turkey did most of the early leading. With 800 remaining, the clock read 5:48.8. With 600m to go, the real racing began with Collis Birmingham of Australia in front and Galen Rupp in tow. Until 610 meters to go Dejen Gebremeskel, the Olympic silver medallist, was in last place.
Birmingham stayed in front and Gebremeskel began moving up through the field. With 300m to go Rupp went to the lead. He looked composed and looked around to see where the rest of the field was with 450 to go. Augustine Choge had fallen back to third at the bell, but he started moving up on the last lap and would pass Rupp along the last turn and get the win.
On the final straightaway, Gebremeskel came by Rupp for second with Great Britain's Andy Vernon moving up the most to get the last qualifying spot. Collis Birmingham would fade back to 6th from 2nd at the bell, but would be rewarded for pushing the pace from 600m out by making the final on time.
The leaders ran their last 800 in 1:55.9-1:56 (58.5 (29.6, 28.8), 56.9 (28.4, 28.4)
Rupp Ready for Final

Rupp ran a lot of the race in the outside of lane 1 and lane 2, but said coach Alberto Salazar had told him not to worry about running a bit extra distance since the pace would be slower in the heats and that it was more important to not get tripped up and have a good position for the kick.
Rupp said some of these guys like to race at the end in the heats, but his goal is to just conserve as much energy as he can and going into the last lap he looked back and knew he had a qualifying spot pretty comfortably and was able to let up the last 100.
Talking about the final Rupp said, "I think it's a pretty wide open race and it's going to be really fun. It's going to be a tough one, but I like my chances to get in there and pick up a medal."
Augustine Choge Knows About Championship Racing: Choge has not had great success outdors in Championships but did get the silver two years ago behind Lagat. After qualifying tonight he said, "Championship races are not like the Grand Prix meets. They are more tactical. It doesn't really matter if you are physically ready. If you are not strong in the mind, it will be really tough. These races really test how strong your mental side is (not your) physical strength."
QT #1: Gebremeskel Composed or Crazy
Track-side, there was some debate amongst the journalists whether Gebremeskel was in trouble as the race was going on. LRC's Robert Johnson was under the firm belief Gebremeskel was just staying out of trouble, running in the back and would qualify for the final which is what happened, but others thought he looked strained and one even predicted he wouldn't auto qualify for the final (Johnson took great glee in watching Gebremeskel mow down most of the field after this guy said that).
Going from 2nd to last to 2nd over 600m is not the ideal way to run a final, especially indoors, as Gebremeskel had twice as many turns to go around and gave up twice as much ground to the stagger than he would have outdoors. But he arguably had the most relaxed first 2400 of anyone as he just ran in last. If he tries to run like this in the final, he's in trouble, but if he figured the easiest way not to make the final was to fall, mission accomplished.
QT#2 Rupp More Composed
Galen Rupp ran tactically very sound and looked more composed and relaxed on the final lap than Choge and Gebremeskel. If his medal chances went up, they only went up slightly as the three other guys we expect to beat him looked good in heat #2. The 3000m is stacked at World Indoors and Rupp's best distance is 10,000m.
Heat 2: Lagat, Ndiku and Gebrhiwet Look Great
Everyone in heat #2 if they could run under 7:45.8 they could be a time qualifier for the final and Kiwi Zane Robertson did his best to make sure the race was sub 7:45. He covered the first 1500 in 3:57 – roughly 5 seconds ahead of heat #1. The pace would then slow a little but pick up again. By the finish the top 6, including Robertson and Canada's Cam Levins qualifying on time, would make the final.
With 700m to go the top 6 which included the favorites, and Hayle Ibrahimov, Levins, and Robertson were clear of the rest of the field. Lagat was content to sit near the back in 6th, then moving up to 5th, where he was at the bell while Ndiku, where a winter cap was leading.
Over the final lap, Ndiku, Gebrhiwet, and Lagat were clearly best along with Ibrahimov. No surprises here. Ndiku beat Lagat convincingly earlier this year and made a point of keeping the lead here through the finish, even though their are no bonus points for the final.
Ndiku Wore the Hat on Purpose ("It's my own swag") and Wants to Challenge Farah to a Duel

Afterwards, Ndiku revealed that he wore the hat on purpose. "It is my own swag and i like my country – that's why I was branded in Kenya," said Ndiku. "I also like the sponsorship Nike has given me. I trust them and (am) proud to be with Nike."
He definitely got everyone's attention with the hat.
Ndiku, a former World Junior XC and 1500m champ has great range. When asked what his best event was he said, "I think I am one of the best athletes because I can't say any one event is my best event." He pointed out that last year alone he ran a 10,000 in the 28s at altitude (28:39), 3:50 for the mile (3:49 is his pb), 3:29 for 1500 and 13:03 for 5000.
"But right now I'm thinking I'm more 5000 , because I've been seeing that Mo Farah has been giving us a lot of trouble. I want to go in the 5k so we may meet in the last lap."
Lagat at 39 Still on Top of His Game
Lagat talked a lot to the press about he still gets the job done at age 39. He said it's easier now than before in some ways as he's having a lot more fun and doesn't feel any pressure. He's accomplished a lot already and implied it's only running, which is less stressful when he has the perspective of being a family man.
The less stress helps him he said, but he stressed first, "I train very hard."
Lagat was told the youngest competitor here is 16 and that the kid wants to be famous and then Lagat was asked for advice for the wannabe star.
Lagat said, "In our sport – well in all sports – you can be famous by doing one thing – by performing well. But you also have to have a good attitude, and also be the guy that is always friendly, respectful, is a gentlemen – all those things combined. It's not just running fast or how you relate to the media. It's everything combined. You can't just (be someone who does) not want everyone to think you are an a-hole or something like that so you have a plastic (fake personality) in you. You can't fabricate, you can't pretend. It has to be who you are."
As for this race itself, Lagat was really happy with his first round saying that going in he knew it was going to be a hard pace since they were in the second heat and there were going to be guys who wanted to try and make the final on time. He said he was thankful for that since it made the race simpler for him and he really hoped the guys who took the pace early on made the final since they deserved to after setting up the pace. (Note: They did)
When asked about how he'd deal with sprinters like Gebrhiwet and Lagat in the final, Ndiku welcomed a sprint finish.

"Actually, I don't have a problem with that right now, because I'm a 1500 runner. Last year, I ran 3:29 so when you talk about the last lap I believe in myself."
Cam Levins said it felt good but wasn't all out:
Levins said he heard that some of the guys were going to push the pace and he planned on just hanging in there and getting pulled to a time qualifier. This was definitely an honest effort for him and he said it was "hard" and asked how he felt he said, "I obviously just finished racing so don't feel real real good, but it doesn't feel like it was a full effort."
QT: Superb Final Set Up
The final that was anticipated with all the stars we got. The top three in heat #2 looked great. In heat #1, Galen Rupp ran strongly, and Gebremeskel was able to go from 2nd to last to 2nd there as well, so he is ready, even if he wasted some energy doing it. Don't forget Choge was second to Lagat at World Indoors two years ago.
Ndiku summed up a host of guys prospects in the final when talking about his own chances. He said, "I can't say that is was so easy but I can go faster in the final. I believe good things will happen in the final. I can't say I am going to win, but I will try my best."
Ndiku did say he'd have no trouble with it coming down to a sprint finish even versus a kicker like Lagat. "Actually, I don't have a problem with that right now, because I'm a 1500 runner. Last year, I ran 3:29 so when you talk about the last lap I believe in myself."
It should be a GREAT final on Sunday.
Who wins? Well Bernard Lagat himself didn't even seem to know.
Asked if there was one guy who could stop him from winning a 3rd consecutive World Indoor title, Lagat that was a "really tough question" and said, "I cannot just pick one. I have to really pay attention to all the 5 main guys in there" naming Gebremeskel, Gebrihwet, Ndiku, Choge and Rupp.
Oh and if you're maybe counting Lagat out of winning the gold because he got beat by some of these guys early in the season in Germany, then forget it. Lagat disclosed to us that he was just getting over an illness for that race so was feeling very weak and was happy with how he raced considering.