Ajee' Wilson – The World's Fastest Woman In 2014 – Bombs Out Of 800 – Chanelle Price Still Carries America's Hope For Gold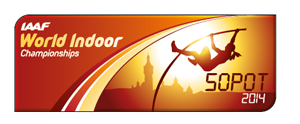 March 07, 2014 to March 09, 2014
by LetsRun.com
March 7, 2014

Sopot, Poland – On a morning that was brutal for quite a few top names, there was no bigger casualty than American Ajee' Wilson in the women's 800. Wilson, who came into today's first round as the fastest women in the world in 2014 (2:00.43), bombed out of the women's 800 with a disappointing fourth place finish of 2:02.90 in heat two.
Coming into these championships, everything had been lining up for the 19-year-old Wilson, who was the World Youth champion in 2011 and World junior champion in 2012 and a Words finalist in 2013, to arrive as America's newest track and field star. With fellow teen Mary Cain out with an injury and not able to garner the lion's share attention of the press, Wilson was positioned to be the big story.
Article continues below player
And she was. She did make headlines today, but not the type she imagined coming in. Instead of becoming America's first ever world indoor 800 women's gold or silver medalist (the US has won four bronzes in the 15 editions of this meet), Wilson will be a spectator for Sunday's final.
Wilson wasn't the only big casualty to fall by the wayside today. Britain's great young hope, 20-year old Laura Muir, also failed to advance to the final despite coming into the meet with the #3 time in the world. Because Muir had crushed US runner-up Chanelle Price earlier this year, Muir was pegged as the LRC favorite in this event.
There was one young star, Iceland's Aníta Hinriksdóttir, the 2013 World Youth champion who turned 18 in January, who ran great. Hinriksdóttir ran a 2:01.03 pb in heat one but was later disqualified for a lane violation.
Price, who came in with the #2 time in the world, did advance to the finals to give America a real medal hope.
Detailed heat recaps below with post-race reaction from the top runners.
Heat 1: Laura Muir Bombs, Cichoka Gives The Poles Someone To Root For and Aníta Hinriksdóttir Gets DQd
Britain's Laura Muir was supposed to run away with this one but instead she was a well beaten third. She started in lane one and as the field came down on her around the 100 meter mark, there was a lot of contact as she got squashed. She put her arm out to protect herself and also got stepped on from behind.
Muir didn't handle it well as she panicked a bit and ended up swinging out into lane three to try to move up on the second lap. Did that tire her out? She had next to nothing at the end of this one.
The winner of the heat was Poland's Angelika Cichoka, who ran a new world lead of 2:00.37 – very close to her lifetime outdoor pb of 2:00.20. Cichoka took the lead from Iceland's teen prodigy Aníta Hinriksdóttir who led until just before the bell. Aníta Hinriksdóttir did a nice job of digging deep and hanging on for 2:01.03, nearly the first sub 2:01 clocking of her career indoors. That pb proved to be short-lived though as she was DQd for a lane violation.
The post-race mixed zone where the athletes conduct interviews was an emotional place after this one.
"My goal was to a new personal record so I'm very happy," said a smiling Hinriksdóttir to reporters after the race. LetsRun.com then informed her the bad news that at a DQ had just come up on the board next to her name and Hinriksdóttir immediately slammed her water bottle into the ground and walked off.
As for Muir, she was in tears in the mixed zone and unable to compose herself to speak to the press.
Heat 1 Results
POS BIB ATHLETE COUNTRY MARK
1 764 Angelika Cichocka POLPOL 2:00.37 Q WL
2 671 Laura Muir GBRGBR 2:02.55
3 839 Olha Lyakhova UKRUKR 2:02.71 SB
4 804 Yekaterina Kupina RUSRUS 2:03.17
5 698 Roseanne Galligan IRLIRL 2:03.30 SB
700 Aníta Hinriksdóttir ISLISL DQ R163.3(b)
Split times
200m 29.43 Aníta Hinriksdóttir ICELAND ISL
400m1:00.00 Aníta Hinriksdóttir ICELAND ISL
600m 1:30.41Angelika Cichocka POLAND
Heat 2: Ajee Wilson is a nonfactor
Heat 2 started out fast (28.71, 59.59) and Ajee Wilson was running in last. Since Wilson is known for running her own race and not tying up, there was no reason to panic, right? She'd move up. Nope.
When it came time to race and make the bid for the final, Wilson had little too offer. The top two in this heat, Nataliaa Lupu and Marina Arzamasova went for it just before the bell when they took over from early leader Natoya Goule, the 2013 NCAA indoor and outdoor champ.
Lupu and Arzamasova made their moves but Wilson never challenged and went home as a result.
"I got a little too comfortable and when they went, I couldn't go (with them). It just got away from me," said Wilson after the race.
When Wilson was asked what she'd learn from this race, Wilson said, "I just gotta be more aggressive (in the future). It's really disappointing. I didn't expect this at all."
"Stuff happens."
Goule ended up third in a new indoor pb of 2:01.89 but didn't advance to the final.
LRC Interview with Ajee Wilson

Heat 2 Results
POS BIB ATHLETE COUNTRY MARK
1 838 Nataliia Lupu UKRUKR 2:00.65 Q SB
2 612 Marina Arzamasova BLRBLR 2:01.15 q SB
3 714 Natoya Goule JAMJAM 2:01.89 PB
4 878 Ajee Wilson USAUSA 2:02.90
5 644 Stina Troest DENDEN 2:02.95 PB
6 737 Malika Akkaoui MARMAR 2:06.04 SBSplit times
200m 28.71 Natoya Goule JAMAICA JAM
400m 59.59 Natoya Goule JAMAICA JAM
600m 1:30.30 Nataliia Lupu UKRAINE UKR
Heat 3: Chanelle Price Gets The Job Done As Selina Büchel Suprises
Chanelle Price's breakthrough 2014 continued as she advanced to the women's 800 final on time with a second place 2:01.05 run. Price used her normal bold aggressive running style and led for the first 750 meters of this race. She managed to hold on for second in 2:01.05 after getting passed late by Switzerland's Selina Büchel, who ran a big lifetime pb (indoors or out) of 2:00.93 – previous pb of 2:01.66. Büchel dropped to her knees and almost had a look of disbelief on her face after crossing the finish line first.
Price Reacts
Afterwards, a bubbly Price was excited to be in the final.
"I'm just going to take this in. I'm really excited (to be in the final)," said Price who wasn't sure she had made the final on time when the race was over. "I was looking for the (US) flag (to pop up on the scoreboard) – American flag (there it is) – 'Yes!'"
Price said coming into the heat she was "confident" but "nervous" but there was never any doubt as to how she'd run.
"That's been my style since I was a little girl – just go," said Price. "I always do the work for the majority of the race so it's nice to get in on time."
As for the final, Price, who said she felt a little "flat" today said she's dreaming of gold.
"Of course, I want that gold. If I execute my plan, it will take me to that."

Büchel Thrilled and Ready to "Fight For Every Position" in the Final.

We caught up with the 23-year old Büchel after the race as well. She, like Price, was very excited to be in the final. Büchel slso like Price – works a job and doesn't just run. Büchel works half-time as some sort of urban planner (we believe she figures out where plants should be planted in cities but we had a little trouble understanding what she was saying exactly).

"It's fantastic. I knew my form was very good. I'm just happy – it's so great (to make the final and PR)," said Büchel. "I knew I only had a little chance (for the final), but it was in my head, 'I really want to make the final.'"
When asked what would be in her head in the final, Büchel said, "To fight for every position."
Heat 3 Results
POS BIB ATHLETE COUNTRY MARK
1 823 Selina Büchel SUISUI 2:00.93 Q PB
2 870 Chanelle Price USAUSA 2:01.05 q
3 641 Lenka Masná CZECZE 2:01.25 q PB
4 813 Anna Shchagina RUSRUS 2:02.95
5 627 Jenna Westaway CANCAN 2:03.52
6 696 Ciara Everard IRLIRL 2:03.69 SB
Split times
200m 28.52 Chanelle PriceUNITED STATES USA
400m 58.92 Chanelle Price UNITED STATES USA
600m 1:29.73 Chanelle PriceUNITED STATES USA
What Should We Expect For The Women's 800 Final?
Sunday's final is a wide open affair. The fact that the #1 and #3 seeds were thrown out today shows that anyone in the final really does have a chance. Will we see a sub 2:00 clocking in the final good opportunity of the year.