An Insider's Account Of Day 1 Of 2014 World Indoors: 10 Behind-The-Scenes/Interesting Stories From Day 1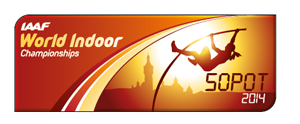 March 07, 2014 to March 09, 2014
By LetsRun.com
March 7, 2014
Stuck for most of the day in the bowels of stadium on day of the 2014 IAAF World Indoor Championships, watching most of the track and field (athletics) action on a TV monitor so we could interview athletes in the mixed zone (for you for free of course), we made good use of our time and discovered a few gems.
We figured we'd better find out some interesting facts to justify us not just saving a ton of money and covering it from the comfort of our living room. We hate not being able to watch the races live in person but the set-up here makes that difficult.
Article continues below player
Some of these items appeared in our recaps previously but we've taken out the best inside stories and present them to you in one place. Enjoy.
1) A Polish journalist who loves LetsRun.com had the line of the night: "Maybe Nick (Symmonds) met a Polish (version of) Paris Hilton last night."
We watched this race on tv in the mixed zone with a Polish journalist who is a LetsRun.com fan. After Symmonds faded at the end, he turned to us and said, "Maybe Nick met a Polish (version of) Paris Hilton last night. The Polish girls are very pretty." For the record, we asked if he had met a Polish Paris Hilton yet, and he said no, the plan was to do that Saturday after the final.
Oh yeah, one more thing we learned from the Polish journalist: The 11,000 crowd that attended the Polish National Championships included a ton of seats given to school kids. The only problem was a lot of them didn't show up. The journalist said his parents wanted to come to the meet, but were told they couldn't as there were no tickets – yet he said the arena wasn't full because some of the kids didn't show.
2) Nick Symmonds had some interesting quotes on the recent USATF controversies.
"It's a shame we had to have Jordan Hasay to save USATF's butt here. But these guys (points at LetsRun.com) are the only ones doing a good job of getting to the bottom of it. I hope we continue to keep USATF honest. That's an injustice we can't tolerate any more."
"Transparency is what we really need here. You've got to have the TFAA involved in every decision. Too often, certain people bully others and these decisions end up being made that are against USATF's own operating protocol."
Symmonds also said he's loving being with Brooks as he can now say whatever he wants and doesn't have to worry about violating certain clauses in his contract.
"Having the freedom to speak my mind. Brooks wants me to be happy and they encourage me to speak my mind and they even encourage some of these 'publicity stunts.'"
3) Abebe Aregawi had a sham marriage to become a Swedish citizen.
Talking to a Swiss journalist in the mixed zone today, we were reminded on article we saw briefly on twitter or something in a Swedish language newspaper but never put up on LetsRun.com.
It's come out in recent days thanks to investigative reporting by Expressen newspaper that Aregawi's marriage to the man who is currently her coach was a sham. It was needed for citizenship purposes.
Aregawi was asked about her marriage last year in Moscow and said everything was fine. She even gave a long, in-depth interview after Moscow and reaffirmed the status of things. But Expressen has proven otherwise. She was divorced before Moscow last year.
The Swiss journalist today even told us today that Aregawi's former agent Jos Hermens even admitted the marriage was a sham.
4) The key to being a World Junior XC champion, a 3:29 1,500 guy and a 13:03 guy – SWAG.
Caleb Ndiku of Kenya wore a cap indoors today when racing the 3,000 as shown here.
When asked to explain it, he said it was simple – Swag + Branding.
"It is my own swag and i like my country – that's why I was branded in Kenya," said Ndiku. "I also like the sponsorship Nike has given me. I trust them and (am) proud to be with Nike."
Speaking of Ndiku, he might have had the best one-liner of the night that was actually about running.
On why he wants to be a 5,000 guy: "I've been seeing that Mo Farah has been giving us (the Kenyans) a lot of trouble. I want to go in the 5k so we may meet in the last lap."
5) Nick Willis was sick at Millrose but didn't think about pulling out or making an issue of it as he's just called out Galen Rupp for dropping out of Boston on Twitter.
Willis didn't have a great close in New York but he did tonight.
6) A man running just the second 800 indoor race of his life won his heat to qualify for the World Indoor final.

Heat 2 of the men's 800 was won by South Africa's Andre Olivier in the second indoor race of his life. Olivier came in ranked #2 in the world behind Aman as he ran a brilliant 1:44.99 in his first-ever indoor race in Birmingham in February.
And the crazy thing is Olivier is a big man – 6'3.5″.
7) LetsRun.com needs to be careful when they tell teenagers they've been DQed after just running one of the best races of their lives.
We've been big fans of Iceland's Aníta Hinriksdóttir, the 2013 World Youth champion who turned 18 in January, for a while and tried to raise her profile a bit by calling her "Iceland's Mary Cain."
Well, Hinriksdóttir ran fantastic on the track and broke 2:01 but then surprisingly was DQed for a lane violation. The only problem was no one apparently told Hinriksdóttir before she got with the media and was talking excitedly about her indoor PR. We saw the DQ on the monitor and awkwardly sort of blurted out, "They list you as a DQ on the TV." Her reaction was swift and passionate – water bottle slammed to the ground and an immediate exit out of the mixed zone.
8) Treniere Moser is very confident right now.
These post-race quotes pretty much sum it up perfectly.
"My coaches told me I have one of the best kicks in the world and to just believe in it …"
"I'm not intimidated by (Aregawi). I'm going to get as close as I can and depend on my kick and maybe it will be gold."
9) Money Talks: Nick Symmonds said plans to try the 1,500 are on hold as appearance fees as the Silver medalist are pretty nice.
Symmonds has talked about possibly moving up to the 1,500 and even trying for an 800/1,500 double in Rio. That being said, he's always realized he's paid for being one of the world's best 800 runners. That was reinforced tonight when he said he won't be running many 1,500s in 2014 as the appearance fees, which he didn't get in the past, are hard to pass up. As for 1,500, he will do it at USAs most likely.
10) This is the food they serve in the press room for lunch and dinner. It's called smalec and yet that's their word for lard. And boy is it delicious. Incredible.
We really do love the food here. We had an incredible dinner last night.