Cornell's And Nigeria's 20-Year-Old Stephen Mozia Fails To Advance To Finals, But Catches Eyes Of Fellow Competitors In Men's Shot Put
by LetsRun.com
March 7, 2014
Sopot, Poland – March is a very busy month for Cornell's Stephen Mozia.
Last weekend, he smashed the Olympic gold medalist Adam Nelson's Ivy League indoor track and field meet record by nearly 5 feet, to move to #2 in the NCAA at 20.79 m (68' 2.5″). Today he competed for Nigeria, the country where his parents are from, at the 2014 IAAF World Indoor Championships. Next weekend, he's got another huge meet – the NCAA Championships.
Article continues below player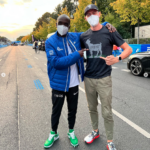 Kipchoge loves the 1:59:40 Shirt Get Yours Today
Shirts are $10 off if he breaks the world record and you order today.
At Worlds this morning, Mozia failed to advance to the finals as his 18.91 m second mark was short of the 20.26m that ended up qualifying for the final. But the trip to Poland wasn't for naught as Mozia had a massive third-round foul that was over the automatic qualification mark of 20.70m. The throw really caught the eyes of his fellow competitors.
Mozia told us after the meet that his coach, Megan Johnson, told him after round two she was already proud of him for competing well and they decided as a result to just go for it on round three. While the throw technically didn't result in a mark, it certainly left a mark in the eyes of Mozia's fellow competitors.
"After I threw it, every other thrower was like, 'Wow this kid is the real deal. He's going to be a real thrower," said Mozia after the meet. "All of them were also (saying), 'You are only 20. Next year you are going to be winning this.' So it was a nice experience but I wish I hit that last throw."
Our full interview with Mozia appears below:
LRC's Robert Johnson used to coach at Cornell and Employee 1.1, Steve Soprano, went to Cornell.