List Of American Medalists At IAAF World Indoor Championships – Mid And Distance Events
by LetsRun.com
March 5, 2014
We've done a little research. Below are all of the American medalists in the history of the IAAF World Indoor Championships.
Note: The 1985 competition was known as the World Indoor Games, but we've included it.
Article continues below player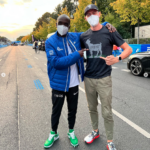 Kipchoge loves the 1:59:40 Shirt Get Yours Today
What a legend!
Drug cheat Regina Jacobs' medals are still technically on the books but we've scratched her out below as her whole career is a farce in our minds.
It's interesting to note that ignoring her, the US women have never won gold at World Indoors. A US-born man has only won gold once (David Krummenacker gold in 800 in 2003). Kenyan-born Bernard Lagat has achieved World Indoor 3,000 glory in each of the last two competitions.
Hopefully more history is made in 2014.
More: LRC Ranking The American Mid-D And Distance Runners' Medal Chances At 2014 World Indoors From #1-12
*Complete 2014 World Indoor Track And Field Coverage
| | | | | |
| --- | --- | --- | --- | --- |
| Year | Men's Medalist(s) | Medal | Women's Medallst(s) | Medal |
| 1985 | Don Clary | silver 3,000 | PattiSue Plummer  | Bronze women's 5,000 |
| 1987 | Terry Brahm | bronze 3,000 | none | |
| 1989 | Jeff Atkinson | bronze 1,500 | none | |
| 1991 | none | | none | |
| 1993 | none | | Joetta Clark/Lynn Jennings | bronze 800 and 3,000 |
| 1995 | Erik Nedeau | bronze 1,500 | Regina Jacobs, Lynn Jennings, Joan Nesbit | gold 15, silver 3k, bronze 3k |
| 1997 | Rich Kenah | bronze 800 | Joetta Clark | bronze 800 |
| 1999 | none | | Regina Jacobs | bronze 1,500 |
| 2001 | none | | none | |
| 2003 | David Krummenacker | gold 800 | Regina Jacobs | gold 1,500 |
| 2004 | none | | Shayne Culpepper | bronze 3,000 |
| 2006 | none | | none | |
| 2008 | none | | none | |
| 2010 | Bernard Lagat  | gold 3,000 | Alysia Johnson (Montano) | bronze 800 |
| 2012 | Bernard Lagat  | gold 3,000 | Erica Moore | bronze 800 |