Pre-Meet Press Conference: World Record Attempts For Pearson, Dibaba And Eaton? XC In The Winter Olympics? And Does The Mayor Of Sopot Read LetsRun.com?
by LetsRun.com
March 6, 2014
*All the Latest World Championship News Can Be Found in Our World Championship Section
Sopot, Poland – Less than three hours after landing on the ground in Sopot, Poland, LetsRun.com was attending the pre-meet press conference for the 2014 IAAF World Indoor Championships.
Article continues below player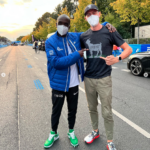 Kipchoge loves the 1:59:40 Shirt Get Yours Today
Shirts are $10 off if he breaks the world record and you order today.
Don't worry- we were still on top of our game despite the jet lag as one of our questions got the biggest response of of the day. We got the whole press room to chuckle when we asked Genzebe Dibaba if she's going to go for the World Record and the $50,000 bonus that goes with it at Worlds and if she maybe regretted breaking the old record by seven-plus seconds as it would be way easier to get if she'd only run 8:22 rather than 8:16.
Dibaba wasn't the only one talking about World Records. Sally Pearson and Ashton Eaton also revealed whether they're going for the $50,000 world record bonus this weekend. Speaking of Pearson, 8-time global hurdles gold medalist Allen Johnson said Pearson is "the best – not one of the best" and "probably the best hurdler I've ever seen in person." Bruny Surin said he thought a Brit – yes, a Brit (James Dasaolu) – would have broken the 60m WR had he not been injured. All of that plus Pentathlon world record holder Nataliya Dobrynska of the Ukraine talks politics, cross-country as a winter Olympic sport and does the mayor of Sopot read LetsRun.com?
Below we give you the highlights of today's presser which was pretty interesting.


Genzebe Dibaba – reigning 1,500 champ – WR holder 1,500, 3,000 and 2 miles
When asked why she was doing the 3,000 here and not the 1,500 since she is the reigning 1,500 world indoor champion (she won by a record 2.00 full seconds two years ago), Dibaba, the world indoor record holder at 1,500, 3,000 and 2 miles, said she had hoped to do the 1,500/3,000 double here but that wasn't possible as two of the races are on the same day so she had to choose.
"This year, from the beginning of the season, my preparation has been for the 3000. I actually hoped to double and compete in both but since they are on the same day, I had to choose one," said Dibaba through a translator. Nothing was mentioned or asked about the fact that the 1,500 and 3,000 prelims on Friday are 8 hours and 10 minutes apart, meaning the double seems very doable given the fact the 1,500 final is Saturday and 3,000 final is Sunday.
Dibaba said she didn't expect to break the 1,500 world record in her first race of the season, but did know that her training had been going very well. Once she got the 1,500 record, she said she expected to get the other records at 3,000 and 2 miles.
Later in the press conference, after a question went to Australian hurdler Sally Pearson about whether the world record might be a possibility here at Worlds, we asked Dibaba if she might go for the world record given the fact that the IAAF offers a $50,000 bonus for the world record. We asked if she regretted breaking the old record by more than 7 seconds earlier this year as it made the potential $50,000 task all the much harder.
The press room enjoyed our question as everyone laughed.
"I'm not looking for world records here – I'm here just to win . It would be very tough to break the world record," said Dibaba.
"I'm not disappointed (I beat the old record by so much and won't be able to get the $50,000 here) because what I really wanted to know was how fast I could go and I saw what my limit was," added the Ethiopian.
When asked about big sister Tirunesh, Dibaba said, "From the beginning, my aim has been to emulate her."
Ashton Eaton – World and Olympic champion – indoor and outdoor world record holder 

A confident and excited Ashton Eaton addressed the press today. Meet organizers said they are expecting large crowds at the state of the art Ergo Arena (opened in 2010) which drew 11,000 for the Polish championships and that pleased Eaton.
"My aim is always to treat the crowd because I've always had great crowds who have treated me well and crowds fuel me. As far as I've heard, the atmosphere is great. And a good atmosphere and myself feeling good normally result in some great performances for me. I think I'll have those two things."
Eaton responding to a LetsRun.com question as to whether he'd try to break the world record he set 2 years ago in winning gold since there is a $50,000 IAAF Bonus:
"It's not about (money). Until you mentioned (the bonus), I even forgot (it existed)," said Eaton. "It's all about pushing the limits and seeing where it takes you. I'm not going for a world record; I'm competing to win and whatever else happens is a cherry on top."
On competing alongside his wife, Brianne Theisen-Eaton (CAN), in the combined events:
"My coach will definitely be the most tired tomorrow. This is the first time (Brianne and I) have done a World Indoor Championships together. This will be the first time we've competed (in the combined events) at the same meet in such close proximity. So when I'm doing the long jump, she'll be doing high jump and we'll be 20 meters away. It'll be fun to kind of look over and cheer her on and see how she's doing and also get some encouragement. We do practice together so I think (competing at the same time) will increase our performances, (as we'll be) able to feed off each other."
Eaton explaining why he's a fan of new pole vault record holder Renaud Lavillenie:
"When Renaud (Lavillenie) decided to do the decathlon this summer to try to break the (decathlon pole vault) world record, I already thought highly of him, but after that I just gained even more respect for him. He warmed-up with all the decathletes. He did the whole decathlon and even though he didn't break the world record, he enjoyed himself."
"You can tell he's a real sportsman; to me, that's what it's all about. He just like athletics. I myself am one of those people (as well)."
On why he wants to try the 400 hurdles this year:
"The 400 hurdles just sounded like fun. I'm taking it easy this year as far as the decathlon is concerned (so I can be ready for 2015 and 2016). I like running the 400 and I like the hurdles, so I thought it'd be fun this year to do that, get some fitness, try something new and break up my training a bit."
Allen Johnson – 3-time world indoor champion, 4-time world outdoor champ, 1 time Olympic champ in hurdles
On his passion for the sport:
"The reason why I competed so long is I really enjoyed running," said Johnson who competed through 2010 when he was 39. "If I was physically able to compete today, I'd still be competing. Athletics provided me with a lot of friends, and excitement and I got to travel the world. I really, really enjoyed it. And because of that, I now want to give back (as a coach – he's at Air Force)."
"It's a real joy for me to see (my athletes) improve – particularly at the Air Force Academy as they are going to
go and serve the country."
Allen Johnson was sitting next to women's hurdling star Sally Pearson on stage and was full of praise for her when asked about Pearson – "She's the best – not one of the best" – "probably the best hurdler I've ever seen in person."
"This girl is perfect. Start is great, technique is great.  (In 2012), we (Johnson and a former women's hurdling gold medalist – he didn't name her) were joking, 'She'd have to fall down and break her leg twice for her not to win the Olympics'."
"(In 2013 though) I could tell, she's not in top form from watching her (as she was injured)."
"In my opinion, when she's in top form, she's the best – not one of the best. She's (Pearson) probably the best hurdler I've ever seen in person."
"As a fan of track and field, I want to see those two (Pearson and 2013 world champion Brianna Rollins of the US) go at it. With both of them (on top of their game), I think the women's world record could be in jeopardy. "
Johnson on the men's hurdles -Pascal Martinot Lagarde is Johnson's favorite for 2014 World's:
"Right now i think the (men's) hurdles are a little bit in transition. I think a lot of these young guys will try to use these championships to establish themselves as the front-runners going to outdoors and then into next year and then even onto Rio in 2016. This is where it starts."
"It's extremely difficult to pick. As Sally (Pearson) said, anything can happen in the hurdles. On paper, Pascal Martinot (Lagarde) is the overwhelming favorite."
Sally Pearson – Doesn't Rule Out The World Record

Pearson said her injuries were very hard to deal with last year.
"The thing that was the hardest was trying to get over two hamstring tears in the span of 8 weeks. It was a huge emotional roller-coaster for me and I was on the verge of giving up (on the year)," said Pearson who stuck with it and won silver at Worlds.
Pearson changed coaches in the offseason (to Antony Drinkwater-Newman from long-time mentor, Sharon Hannan), and worked a lot on strengthening her hamstring and glutes which in turn has helped her back feel a lot better.
"At the moment, things have been going very well. Everything is going really well this year – I don't want another 2013," said Pearson who leads the 2014 world list at 7.79.
7.79 isn't too far off Susanna Kallur's 7.68 world record. Could that go down?
Possibly.
"I don't think it (the 7.79) was a perfect race. There still is a lot more to improve on. More so – my flat time
between the hurdles. I felt I could give a lot more in that race. I think it (the world record) is definitely within reach. It's just a matter of whether my body allows me to do it."
Bruny Surin – 2-time 60m champ
The two-time world indoor champion from Canada (1993 and 1995) was full of praise for James Dasaolu, who isn't here as he's injured, and 20-year-old American Marvin Bracy.
"Personally I think (James) Dasaolu could have broken the world record after what I saw in Birmingham (where Dasaolu ran 6.47 – Maurice Greene's world record is 6.39)."
As for the favorite this weekend?
"Personally I think Bracy (20-year old Marvin Bracy of America) is the favorite."
Surin was even more emphatic as to who his women's favorite was.
"Shelly-Ann Fraser-Pryce – (this is her) first world indoors. I'm going to go for her 100% – 100%. She has great reaction time," said Surin.
Surin also revealed today he's got two daughters who are great athletes. Kimberley-Ann Surin plays tennis at the University of Arkansas and his 18-year old daughter Katherine Surin has recently started running track (this is her third year). She started at 100 and 200 but dad moved her to the 400 and she's hoping to break 55 this year and go to World Juniors. "She (Katherine) loves it. That's her passion now. Her dream is to make the Olympics one day."
Random fact: Did you know that Canada hasn't won a medal at World Indoors since 2008?
Nataliya Dobrynska – Ukraine – 2008 Olympic Heptathlon champ and 2012 World Record Holder in Pentathlon (set at Worlds)

Dobrynska was full of praise for the US, Europe and Poland for their support in the current political crises. "Ukraine is in a very hard position. But I must say, in the Ukraine, there is no one that wants war," said Dobrynska through a translator. "I would like to thank everyone from the United States, Europe and especially from Poland for supporting us. I hope it's resolved in a diplomatic way in the near future."
In terms of track and field comments, Dobrynska said she didn't think the political crisis at home would impact the athletes' performances in Poland.
Dobrynska said her world record gold medal winning performance two years ago was not her best performance ever but "it was enough to get a world record."
The 31-year old, who is now retired, got some laughs when she compared herself to Ashton Eaton who was sitting next to her on stage. "Ashton and I both have the world record (from two years ago)- the difference is I'm retired," said Dobrynska. "If Ashton Eaton will beat the world record again, it might motivate me to get back in sport. So Ashton I'll be watching you – please motivate me to get back."
Lamine Diack – IAAF Head – Cross Country An Olympic Sport?
Diack started off his remarks by praising the organizers and Poland in general for hosting so many IAAF events. "Poland is a country which love athletics," said Diack who added that organizers expect Sunday's finals to be a total sell-out.
After the 2014 Winter Olympics, the new IOC head said they'd be re-considering all events at the Olympics. As a result, Diack was asked if the IAAF would push once again for cross country to be added to the Winter Games.
Diack said he would love for XC to be an Olympic sport once again.
"If it is not winter, then why not the cross country in the world championships (or Olympics outdoors). (We have) the 5000, 10,000 and marathon. Why not cross country in (there as well)? It's very important for promoting long distance running."
When asked for his thoughts about Jamaican Veronica Campbell-Brown being cleared for competition by the Court of Arbitration of Sport even though the IAAF asked for a two-year ban, Diack took a diplomatic stance and said that the rules and been followed and therefore she'd be welcomed back.
"We would like to wish her the best – all the success. The anti-doping control process (was followed)," said Diack who pointed out she was "cleared of the charges."
Sopot Mayor – A LetsRun.com Fan?
We highly doubt the mayor of Sopot, Jacek Karnowski, who also is the head of the local organizing committee, reads LetsRun.com, but you never know and it sure did sound like it.
"You have to have a dream to make your dreams come true and our dream was to host the world indoor championships," said the Mayor who said everyone was "happy to organize this beautiful event."
Anna Rogowska – Poland's Pole Vault World Leader, 2009 World Champ (4-time Global Medalist)
We don't generally don't give a lot of attention to the women's European pole vault scene, but liked a quote by UK's Holly Bleasdale who talked about facing Rogowska at last year's European Indoor Championships. We liked the quote enough to make it Thursday's Quote of the Day:
"She wanted to share the gold but I refused. I wanted to fight for it and beat her. That's the fire in me. … I'd rather have got silver than shared gold. I'm such a fighter and competitor that I don't want to share gold with someone. I want to fight for the gold for my own and I was ready to risk losing that. I knew that she was done and tired, psychologically a bit weak. It paid off. … It sounds really harsh when I say it but that's what athletics is. I think she was a little bit upset. She was here to defend her title and had the opportunity to do that. I could tell she wasn't happy. But I wanted to win gold for GB and not win it joint with Poland."
We like Bleasdale's spirit and think ties are horrible for spectators, so approve of her forcing the jump-off and glad she ultimately won. Here at the press conference, Rogowska was asked about the jump-off with Bleasdale and how the two will face each other once again here in Sopot. Rogowska said through a translator that if a similar situation happened again she would hope to be the one that wins.
Videos:
Q&A With Eaton, Dibaba, Pearson, Dobrynska, Anna Rogowska

Ashton Eaton And Nataliya Dobrynska:

Retired Athletes Allen Johnson & Bruny Surin

IAAF President Lamine Diack On Veronica Campbell-Brown's 2-Year Ban And Overturn By CAS And On XC In Olympics 
Sopot Mayor's Dream Becomes A Relaity
Lamine Diack's Opening Statement (video link fixed)
Lamine Diack Answers Another VCB Doping Question (English speakers might not be able to understand unless you can make out the translation being played in the background.)