Full Kenyan And Ethiopian Squads Unveiled For 2014 World Indoors – Chanelle Price And Ajee' Wilson Will Face Zero Competitors From Either Country
by LetsRun.com
February 28, 2014
The 2014 World Indoor Championships get under away in less than a week – next Friday in Sopot, Poland. The Ethiopian and Kenyan teams have been announced and there is great news for Ajee Wilson and Chanelle Price fans, who currently sit at #1 and #2 on the Worlds list. Kenya and Ethiopia have entered zero women in the 800.
This isn't a real surprise to be honest as no Ethiopian women had the qualifying time of 2:03.00 indoors or 1:59.00 outdoors. The fastest Kenyan woman indoors in 2014 is Bernard's Lagat sisters Violah at 2:05.41, but one never knew if any of the three Kenyan women with qualifiers from last year might enter. Three Kenyan women had the qualifying time – world champ Eunice Sum and Janeth Jepkosgei (both of whome went under 1:59.00 outdoors last year) and Winny Chebet, who ran 2:02..67 last year indoors (1:59.40 outdoors) – but none were entered.
Article continues below player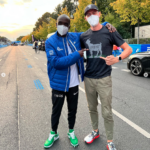 Kipchoge loves the 1:59:40 Shirt Get Yours Today
What a legend!
Below you will find the full Kenyan and Ethiopian teams. Next to each entrant is their 2014 best time and it's place on the 2014 World list. That mark is followed by their lifetime pb.
Kenya Men:
800m: Jeremiah Mutai (1:46.77 #12/1:43.9)
1,500m: Bethwell Birgen (3:35.3 #3/ 3:30.77), Silas Kiplagat (3:35.85 #4/3:29.27)
3,000m: Augustine Choge (7:37.11 #7/ 7:28.00), Caleb Ndiku (7:36.27 #5, 7:30.99);
Kenya Women:
800:None:
1,500m: Viola Kibiwot (no 1500s indoors this year – 8:43.42 for 3000 #6, 3:59.25)
3,000m: Irene Jelagat (8:40.75 #3, 8:40.75), Hellen Obiri (8:29.99 #2)
Ethiopian Men:
800m: Mohammed Aman (1:44.52 #1, 1:42.37)
1,500m: Mekonnen Gebremedhin (3:37.42 #12, 3:31.45), Aman Wote (3:36.4 #5, 3:32.65)
3,000m: Hagos Gebrhiwet (7:34.13 #1, 7:30.36), Dejen Gebremeskel (7:34.70 #3, 7:34.14) – alternate Yenew Alamirew – 7:37.10
Ethiopian Women:
800: None:
1500m: Axumawit Embaye (4:08.88 #15, 4:05.16 – just 19 yrs old), Gudaf Tsegay (4:08.47 #12, 4:07.27 – just 17 years old)
3,000m: Genzebe Dibaba 8:16.60 #1, 8:16.60). One of the following two is an alternate: Almaz Ayana (8:43.47 #5, 8:40.53/14:25 5k ), Hiwot Ayalew (8:43.29, /14:49 5000)