2014 IAAF World Indoor Schedule and Television and Streaming Information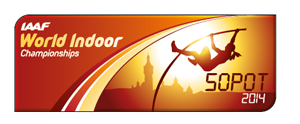 March 07, 2014 to March 09, 2014
by LetsRun.com
March 4, 2014
The 2014 IAAF World Indoor Championships in Sopot, Poland begin on Friday. The competition consists of morning and evening sessions on Friday and Saturday and just an evening session on Sunday.
Poland is 6 hours ahead of the US ET and 1 hour ahead of the time in the UK.
Article continues below player
The meet will be broadcast both in the US and in Britain. In the US, it will be on Universal Sports tv (taped highlights) or online live – note you must subscribe to the tv network to watch it. In Briain, the BBC will have the coverage both on tv and online.
TV/streaming coverage info appears below. Full schedule of events here.
The good news is you don't have access to that, we will be there to cover it for you.
United States: Universal Sports network online broadcast (full events)
March 7: Morning Session @ 4:00amET
March 7: Evening Session @ 11:15amET
March 8: Morning Session @ 4:00amET
March 8: Evening Session @ 12:00pmET
March 9: Evening Session @ 9:50amET
In terms of tv, it appears they'll have highlight shows as this is what they've told us they are showing on TV:
March 7 8pm – 9pm Track & Field – 2014 IAAF World Indoor Championships from Sopot Poland #1
March 8 8pm – 10pm Track & Field – 2014 IAAF World Indoor Championships from Sopot Poland #2
March 9 8pm – 10pm Track & Field – 2014 IAAF World Indoor Championships from Sopot Poland #3
Britain – BBC Two and Red Button (and online)
March 7: 09:00 – 12:00 & 19:00 – 20:30 BBC Two
March 7: 12:00 – 13:00 & 17:00 – 19:00 Red Button
March 8: 09:00 – 11:30 & 17:10 – 20:30 BBC Two
March 8: 10:30 – 13:00 BBC Red Button
March 9: 14:00 – 18:00 BBC Two