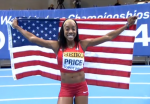 Chanelle Price took it out really hard and hung on to win gold at 800 at the World Indoors. Wire-to-wire, pr, world-leading time for the win. Impressive. Recap, analysis, post-race video. *Post race interview with World Champion Chanelle Price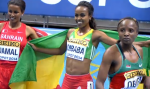 Genzebe Dibaba dominated to remain undefeated in 2014 (like Mary Cain), defending champ Hellen Obiri got silver, and the Americans weren't factor.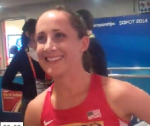 LRC video with the Americans after the 2014 Worlds.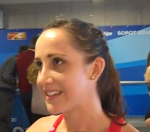 The women's 3,000m heats were a waste of time as only 3 runners were eliminated, but Gabriele Grunewald and Shannon Rowbury made the final and we talked to them and got some insights for the final.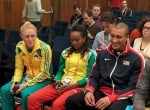 (updated with videos) The customary pre-meet press conference was quite interesting. G. Dibaba, Sally Pearson and Ashton Eaton all revealed whether they're going for the $50,000 world record bonus this weekend. Speaking of Pearson, 8-time global hurdles gold medalist Allen Johnson said Pearson is "the best - not one of the best" and "probably the best hurdler I've ever seen in person." Bruny Surin said he thought a Brit - yes, a Brit (James Dasaolu) - would have broken the 60m WR had he not been injured. All of that plus Pentathlon world record holder Nataliya Dobrynska of the Ukraine talks politics, cross-country as a winter Olympic sport and does the mayor of Sopot read LetsRun.com?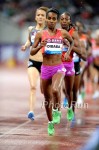 Genzebe Dibaba, Ms. World Record 2014, gets her chance to shine and Hellen Obiri of Kenya will try to challenge, and after that it's wide open. Can one of the two Americans sneak in there?
Event Schedule
| Race | Date | CST | CET |
| --- | --- | --- | --- |
| Heats | 03/07/14 | | |
| Final | 03/09/14 | | |
Outside Letsrun
Aden's athletes include stars like former world 800 champion Abubaker Kaki, 1500 Olympic champion Taoufik Makhloufi and Ayanleh Souleiman and Dibaba benefits from training with some of the other athletes who are in Ethiopia.
"I am in good shape, and therefore confident. We must retain the 3,000m title." We like the optimism but good luck beating Genzebe Dibaba.
"I can hope for a tactical race. But since the world record holder will be in the 3000m, I think I'll have to be prepared for anything! The first goal is to make the final and then from there, I'm just hoping to mix things up mid-pack and see how high I can place."
On The Boards
Navigate
Photos
Race Results
Analysis
Event Recaps
Interviews
Event Previews
Related Events