Honolulu Marathon *Results

RRW Lawrence Cherono (2:08:26) And Brigid Kosgei (2:22:14) Smash Course Records At Honolulu Marathon, Win $50,000 World record holder Dennis Kimetto dropped out again. Nick Symmonds ran 3:00:35.

RRW King Cheserek Wins Battle Of Sexes Kalakaua Mile In Hawaii And Defeats Nick Willis And Will Leer The race does not give splits and makes the runners essentially time trial it by feel. Excellent.
*MB: Nick Willis' 8-Month Pregnant Wife Runs 6:59 Mile In Hawaii
Foot Locker High School XC Champs *Results *Race Replay

LRC Claudia Lane Dominates To Repeat As Champ, Misses Joining Sub-17:00 Club (link fixed) 17:03 for Lane as only 3 women in the last 30 years have ever gone sub-17. She'll attempt to be first-ever 3-time girl's champ next year.

LRC Dylan Jacobs Wins To Make Carl Sandburg High In Illinois The First With Two Different FL Champs (Lukas Verzbicas) As Soph Graydon Morris Is 2nd Jacobs turned the tables on rival Daniel Kilrea as sophomore Morris moved up to take second and could become the second boy ever to run at 4 Foot Lockers (Jorge Torres).
More From USA Marathon Champs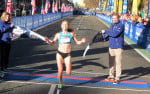 Sara Hall completed a nice double, Tim Ritchie kept the Saucony team rolling, Parker Stinson went for it, a 50-year-old made the Trials, and a history lesson on Jerry Lawson.
*Recommended Read: USA Marathon Champ Sara Hall Defies Convention Hall has always had great range and now is enjoying the success her non-standard approach is bringing. "In my mind, I flash back to times that you are thinking you aren't even good at this sport. It makes you realize that, wow, when you hear those voices, don't believe those voices."
2017 Fukuoka Marathon Was Incredible *Fukuoka Results

Wow! LRC Norway's Sondre Moen Makes History, Smashes European Record To Win Fukuoka In 2:05:48 Moen, who ran 59:48 during his buildup, became the first non-African born male to break 2:06 on a record-eligible course as he stunned the world and Bedan Karoki. 2012 Olympic champ Stephen Kiprotich grabbed second in 2:07:10 just ahead of the Suguro Osako, who set a new Nike Oregon Project record of 2:07:19.
Kipchoge Vs. Farah At London 2018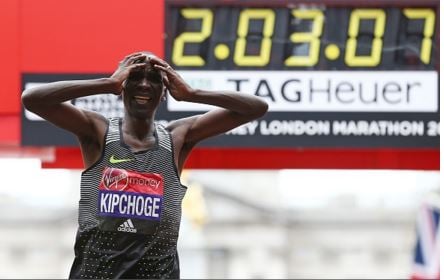 Eliud Kipchoge Will Return To The London Marathon; Looking To Maintain His Unbeaten Record With A Third Title After winning in 2015 and 2016, Kipchoge skipped a year to chase the sub-2 hour marathon, but now he's back and says, "I know that I have the world record in me so we will have to wait and see what happens."
*Kipchoge Happy To Be Racing Mo Farah In London Kipchoge: "It's great he will be racing because I'm sure that will make the atmosphere more special."
*MB: Eliud Kipchoge is taking Mo Farah very seriously
Want a Better Running Shoe?
Beta Better Running Shoe Site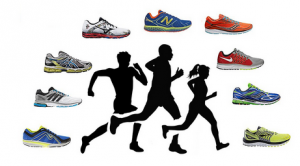 It's Time to Change How We Find Running Shoes