Claudia Lane (17:03) Crushes Field to Win Second Straight Title at 2017 Foot Locker Cross Country Championships
By LetsRun.com
December 9, 2017
Claudia Lane has been making history all fall, so it's only fitting that she made a little more in her final race of the season on Saturday. After a season that saw Lane set course records at Mt. SAC and Woodward Park, Lane, a junior at Malibu High School, ventured south to San Diego's Balboa Park and destroyed the field at the 2017 Foot Locker Cross Country Championships, becoming the fourth girl to win two straight national titles. As she did last year, Lane opened up an early lead en route to a wire-to-wire win. Unlike last year, there would be no late challenge from a rival as Lane clocked a sizzling 17:03.4 (only one girl has run faster in San Diego in the last 23 years) to win by 19 seconds over runner-up Katelynne Hart, a sophomore from Glen Ellyn, Illinois.
The race
Article continues below player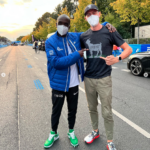 Kipchoge loves the 1:59:40 Shirt Get Yours Today
What a legend!
As expected, the girls' race was the Claudia Lane show. Lane went to the front (she had an eight-second lead at the half-mile) and kept pushing. By the mile (5:17) her lead was 14 seconds. However, it wouldn't get much bigger. At two miles (10:58), she led the Midwest duo of Katelynne Hart and Olivia Theis by 15 seconds.
Lane's win was never in question, but her attempt to become just the seventh girl under the 17:00 barrier at Balboa Park was in jeopardy, as at two miles she was three seconds behind her 2016 pace (where she finished in 17:04). Lane picked things up the final mile, but came up three seconds short of going sub-17:00, though her 17:03.4 was still the fastest time here since 2010. Behind Lane, Midwest rivals Hart and Theis were in a tight battle for second and Hart edged Theis just before the line.
On the race broadcast, there was mention of Lane having a sore throat this week which may have affected her run at the record books.
Results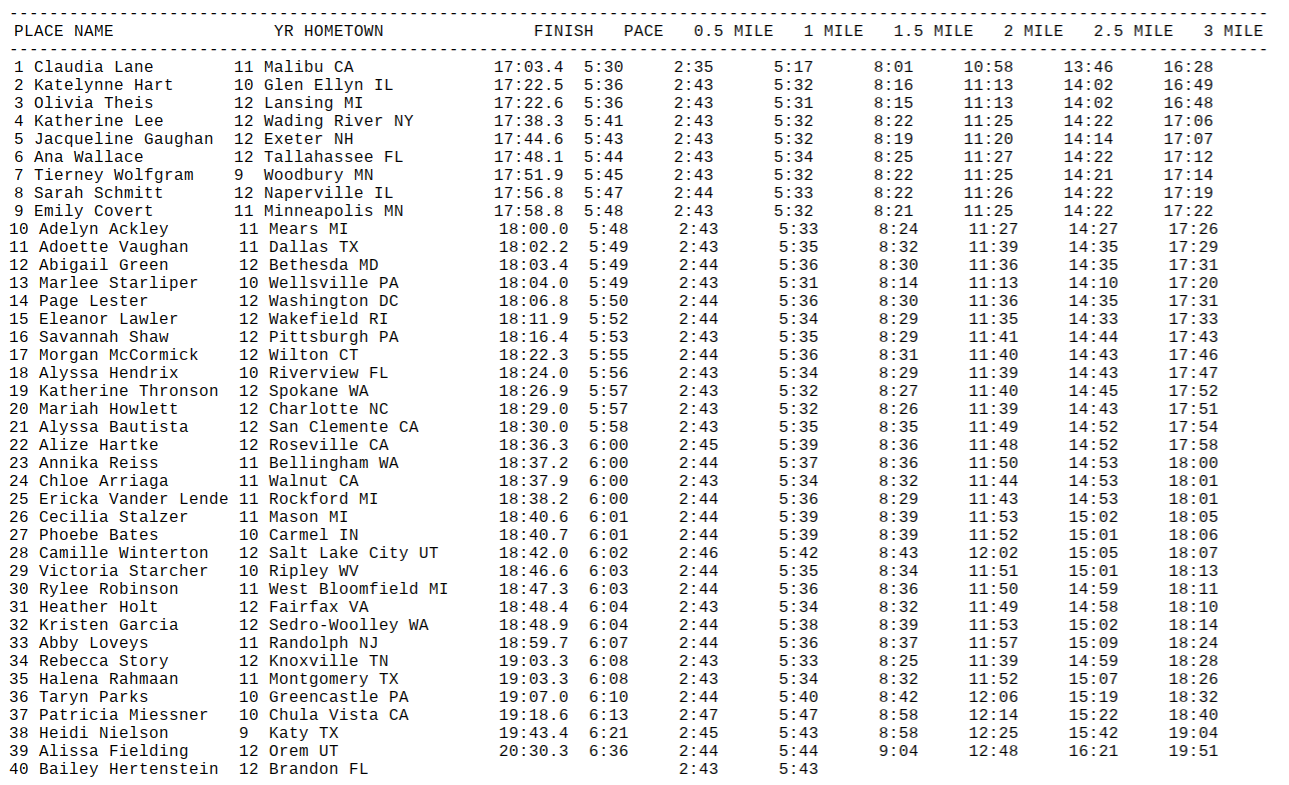 Quick Take: Lane will go for history next year.
No girl (or boy) has ever won three Foot Locker titles. Claudia Lane could do it next year. Afterwards she confirmed she'll be back next year, going for her historic third Foot Locker title and possibly the course record of 16:39.
"I'm so excited. I'm so grateful to have this opportunity again and to win is really cool," she said. "It (the course record) was on my mind but I'm fine I didn't break it. There's always next year."
QT: Will we get the much-anticipated Claudia Lane-Katelyn Tuohy matchup next year?
This year the girls' high school cross country scene had two of the most dominant runners in ages setting course records on different sides of the country with Lane doing it out west and Katelyn Tuohy out east. But at the national meets, Tuohy raced at NXN and Lane at Foot Lockers. With Lane going for the three-peat next year, the burden falls on Tuohy to make the Lane-Tuohy matchup occur at Foot Lockers. Because of scheduling conflicts, neither girl can run both meets in the same year — NXR NY and FL Northeast are on the same day, as are NXN finals and FL West.
QT: Don't overlook Katelynne Hart
A lot can change in a year and there is no guarantee that both Tuohy and Lane will be dominating in 2018. That may open the door for Katelynne Hart, who is only a sophomore. Hart clearly is very good. She was 4th at NXN last week, and then got the better of Theis today to finish second. Could she up her game next year and challenge Lane?
Another girl to look out for is freshman Tierney Wolfgram of Minnesota, who was seventh today. As Tuohy (who was 13th at NXN last year) showed, it's possible to make a big improvement from your freshman to sophomore years.
QT: Off day for Northeast and South champs
Rebecca Story, the South champ and last year's third placer, was only 34th today. Marlee Starliper, the Northeast champ, was 13th.