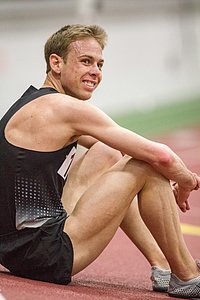 Two For Two LRC Galen Rupp Gets Back The American Two-Mile Record, Runs 8:07.41 In Boston Bernard Lagat's 8:09.49 and Rupp's previous 8:09.72 AR are history as he went for it big time tonight. Rupp took a crack at Kenenisa Bekele's 8:04 WR as he was at 4:59 at 2k but faded a bit at the end.
*LRC Photo Gallery
*LRC Interviews With Galen Rupp And Alberto Salazar After Rupp's Record Run Both seem very excited for his mile AR attempt in 3 weeks.
*LRC Galen Rupp's 8:07.41 Two Mile Record Broken Down – Lap by Lap Splits
*MB: Galen finished post AR workout with 4:01.6
*MB: Official Galen Rupp 2 Mile Prediction & Race Talk/Split Thread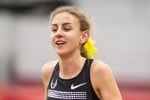 Mary Cain ran her best race of 2014 but in the end she missed the world junior mark by .01. Abbey D'Agostino and Jordan Hasay ran lifetime bests in second and third.
More Weekend Distance News
Sochi 2014: Did NBC Get Lolo Jones In The Olympics?
Week That Was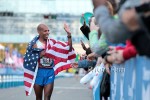 LRC
The Return Of The Mexican Marathoners? US Men Impress In Houston. Just How Good Was Galen's 13:01 Really? And A Look At Mo's London Competition
As we analyze last week's action, along the way we remind you to
never trust a Canadian
,
never marry a distance runner
and
don't forget to drink 10 pints
before your next marathon.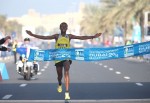 Talk about having no fear of the marathon. An unheralded 18-year-old with a 62:53 PR at 13.1 went out on world record pace and ended up with a dominant 2:04:32 victory as a Ethiopian debutant won in 2:04 for the 3rd straight year. Wow.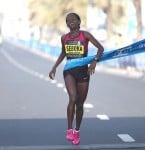 (updated) This was certainly an upset as Seboka, until recently, was a journeywoman. But no longer. In the 30th marathon of her career - yes, 30th - thanks to a strong surge at 35k which broke the pack, she defeated the #2 10,000 runner in history, Meselech Melkamu, and finished off a 71:20 2nd half. 2011 NYC champ Firehiwot Dado was third.
Win $100 – Submit Your Photo Now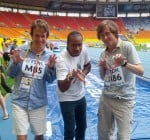 Rojo, Wejo and Yohan Blake performing "The Beast" is our personal LRC photo of the year. What's your 2013 running photo of the year? Submit or tweet your entries to us. Winner gets a cool $100.
US Marathoning: Aaron Braun And Ben Bruce Making Debuts
Want a Better Running Shoe?
Beta Better Running Shoe Site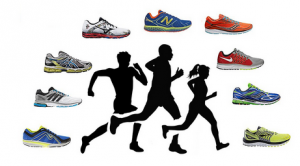 It's Time to Change How We Find Running Shoes