Wallace Spearmon Leads Men's 300m Field at NYRR Millrose Games
New York, January 21, 2014 – Two-time Olympian and world-record holder Wallace Spearmon leads a stellar Men's 300 meter field at the NYRR Millrose Games, one that showcases both Olympic and World Championships medalists. The 107th edition of the NYRR Millrose Games will be held on Saturday, February 15, at The New Balance Track & Field Center at The Armory.
Spearmon, 29, is one of the most decorated sprinters in American history, having earned World Championships medals in the 200 meters and 4×100 meter relay. A short sprint specialist, Spearmon has a personal best of 19.65 seconds for 200 meters, and has already run 20.68 this season.
"I love the 300m distance," said Spearmon. "I am ready and can't wait to race at the Millrose Games at The Armory."
Article continues below player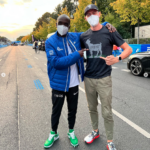 Kipchoge loves the 1:59:40 Shirt Get Yours Today
What a legend!
In 2006, Spearmon set the 300 meter indoor world record, timing a blistering 31.88 seconds. The mark could well be in jeopardy on the fast oval at The Armory.
Joining Spearmon on the starting line will be three of Trinidad & Tobago's best long sprinters. Lalonde Gordon and Jarrin Solomon, both 2012 Olympic 4×400 meter bronze medalists, and former 400 meter World Championships bronze medalist Rennie Quow are all entered.
A resident of Queens, Gordon often competes at The Armory. Last year, he set The Armory record for 300 meters with a time of 32.48. A year prior, Gordon earned an individual bronze medal in the 400 meters at the Olympic Games.
"I'm going to be running in front of my home crowd so I've got to bring my 'A' game," said Gordon. "This is like my backyard. I'm very excited."
Bringing both short sprint specialists such as Spearmon and longer sprinters like Gordon, Solomon, and Quow is sure to create an intriguing and fast matchup, something rarely witnessed in indoor track and field.
"Seeing this great field together at one of our signature events, the 300m, will really be a show stopper," said Dr. Norbert Sander, Executive Director of the Armory Foundation. "The world record is definitely in play."