2014 Houston Marathon and Half Marathon - 2014 USA Half Marathon Championships

Houston, TX
January 19, 2014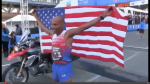 The 38-year-old Meb Keflezighi showed he's still a huge force in American distance running as he kept pushing the pace and got the win over Aaron Braun in 1:01:23. Cancer survivor Serena Burla, who ran 2:28 last year, got the win and some good publicity.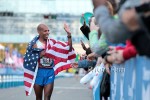 This week we start by trying to put Galen Rupp's American record in perspective before handing out praise to the US men for their record-setting day in Houston, where Meb Keflezighi and  Serena Burla picked up big wins. Along the way, we give out big props to the Houston organizers, remind you to never trust a Canadian, never marry a distance runner and don't forget to drink 10 pints before your next marathon. Plus Mo Farah will soon find out all of the big talent is in the marathon and rare, rare praise for a Mexican marathoner.
Interesting piece on Rizzo, who talks about how he became deaf as a teenager after getting braces and didn't regain any hearing until they came off 2 years later. The 2:13 marathoner is hoping to compete well after a disappointing race at the US Marathon Champs, where he "dropped out" and jogged home for 2:20 (18th).
Meb Keflezighi leads a men's half field that includes Aaron Braun, Luke Puskedra, Shadrack Biwott and Josphat Boit. The women are led by Adriana Nelson, Serena Burla, Sara Hall, Mattie Suver and Lisa Uhl. Defending champion Bazu Worku (2:05:25) leads the men's marathon field while Afework Bekele (2:23:59) leads the women.
Outside Letsrun