2014 Dubai Marathon - Standard Chartered Dubai Marathon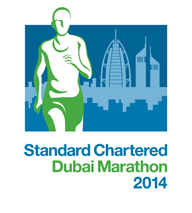 Dubai, UAE
January 24, 2014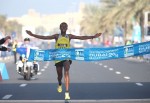 Talk about having no fear of the marathon. An unheralded 18-year-old with a 62:53 PR at 13.1 went out on world record pace and ended up with a dominant 2:04:32 victory as a Ethiopian debutant won in 2:04 for the 3rd straight year. Wow.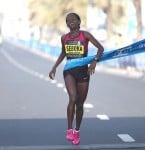 (updated) This was certainly an upset as Seboka, until recently, was a journeywoman. But no longer. In the 30th marathon of her career - yes, 30th - thanks to a strong surge at 35k which broke the pack, she defeated the #2 10,000 runner in history, Meselech Melkamu, and finished off a 71:20 2nd half. 2011 NYC champ Firehiwot Dado was third.
The unofficial seventh Major, with the biggest prize in marathoning ($200,000), is Thursday night. The men's race features six sub-2:07 performers, whereas the women's race has three sub-2:22 performers and 7 sub-2:24 performers, but most eyes might be on debut performers Atsedu Tsegay (Ethiopian half record holder - 58:47 PR), and  Abera Kuma (13:00/26:52).
The two 2:21 Ethiopians lead a field of 9 sub-2:24 women including 2010 Dubai champ Mamitu Daska, 2011 NYC champ Firehiwot Dado, and Masters runner Berhane Adere (2:20 PR).
Outside Letsrun