2014 Sainsbury's Glasgow International Match: Bernard Lagat, Chris O'Hare, Laura Muir and Hellen Obiri All Win
by LetsRun.com
January 25, 2014
The entertaining 2014 Sainsbury's Glasgow International Match – a team competition between Great Britain, Scotland, the US and an international Commonwealth team- which was shown live on BBC One today is in the books and the Commonwealth Team is the winner.
Commonwealth – 62
GB and NI – 59
USA – 53
Scotland – 40
Article continues below player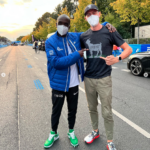 Kipchoge loves the 1:59:40 Shirt Get Yours Today
What a legend!
We recap the mid-d and distance action for you below. Scotland's Laura Muir might have been the distance star of the day as she was very impressive in the women's 800 where Chanelle Price PRd; Chris O'Hare won the men's 1500 over Britain's upcoming star Charlie Grice; a Scottish record fell in the men's 600 and reigning world champs Hellen Obiri and Bernard Lagat started off their 2014 campaigns with wins.
The live discussion thread of this race is here: Glasgow International Match Coverage / live stream. Full Results can be found at the bottom of this article.
Women's 1500: Hellen Obiri Dominates
Reigning world indoor 3000 champ Hellen Obiri took control of this race with just over 600 meters remaining. She rushed to the lead just before three laps remained and instantly gapped the field. She rolled off a series of basically 31 point laps (her last 200 was 30.91) and closed in 1:34 for her last 600 to win going away.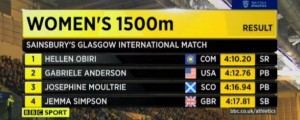 1500 METRES – Women OFFICIAL RESULTS
1 COM Hellen OBIRI KEN 4:10.20 SR 4
2 USA Gabriele ANDERSON 4:12.76 PB 3
3 SCO Josephine MOULTRIE 4:16.94 PB 2
4 GBR Jemma SIMPSON 4:17.81 SB 1
Split Times
400 GBR Jemma SIMPSON GBR 1:09.37
800 GBR Jemma SIMPSON GBR (1:09.98) 2:19.35
1200 COM Hellen OBIRI KEN (1:08.37) 3:27.72
Finish COM Hellen OBIRI KEN (42.48) 4:10.20
Women's 800: Laura Muir Impresses As Chanelle Price PRs
Former high school sensation Channelle Price ran aggressively in this one early on as she had the lead for the first 650 as she hit splits of 29.27, 59.74 and 1:30.84 but halfway down the back-stretch it was Scotland's Laura Muir, who attends school in Glasgow, who grabbed the lead and won in a new Scottish national record of 2:00.94. Chanelle Price ended up with a nice consolation prize in second – a new indoor personal best of 2:01.91.
Quick Thought #1: Muir was one of the biggest revelations of 2013 as she lowered her pb from 2:07.3 to 2:00.80. Yes 6.5 seconds in one year. She showed here that 2014 is going to be even better and she's a name you need to know as she's just 20.
Quick Thought #2: This was a good run for Price. She's run a lot of indoors over the years in HS and at Tennessee but her indoor pb was just 2:02.93 coming in (outdoor 2:00.15). Price had already run four races this year coming in – 400 (54.64), 500 (70.60), 1k (2:40.03), mile (4:43.64).
800 METRES – Women OFFICIAL RESULTS
1 SCO Laura MUIR 2:00.94 NR 4
2 USA Chanelle PRICE 2:01.91 PB 3
3 COM Claire GIBSON GBR 2:06.29 2
GBR Marilyn OKORO DNF
Split Times
400 USA Chanelle PRICE USA 59.74
Finish SCO Laura MUIR SCO (1:01.20) 2:00.9
Men's 3000: Bernard Lagat Opens With A Win
Reigning world indoor champ Bernard Lagat turned 39 last month but he was able to ignore the inevitable coming of Father Time in this one as he got the win after a surprising challenge from Brit Andy Vernon (13:23/27:53 pbs).
Kenyan Vincent Rono, the 2006 NCAA champion in the 1500 for South Alabama who now serves as a rabbit most of the time in Europe in the summer, led most of this one as they hit splits of 64.33, 2;06.90, 4:16.24, 5:21.84. With 200 remaining however, it was Vernon who went to the lead as the real racing began for the victory. Rono instantly was a total non-factor as Lagat quickly responded. Just before the final turn, Lagat grabbed his first lead of the race but he didn't cruise to victory and power home as you may have thought. Vernon refused to give up and Lagat had to keep working to make sure he got the win.
Leader to leader the last 200 was 27.5 as the last 400 was 57.7 ish.
Quick Thought #1: Not sure what to make of Lagat's victory. It wasn't particularly impressive over the last 200 as he didn't win going away. Lagat seemed to acknowledge that fact when he talked to the BBC after the race. "It was kind of hard for me at the beginning, but once I got the momentum going, I kept an eye on the other guys," said Lagat. "I'm targeting (World Indoors) because I won it last time, but it's not getting easier. It's getting harder but I'm going to keep trying my best. Why not give my best and see what happens. If I win that would be perfect. If not, I'll be happy anyways."
Quick Thought #2: A good run for Vernon, who was second to Chris Derrick at the BUPA XC meet a few weeks ago. Vernon just missed his 7:49.84 indoor pb (7:45.74 outdoor pb).
"I had some good performances over the cross country season, but I was actually surprised i ran as fast as I did (today) as I 've only had one track session on Tuesday," said Vernon to the BBC. "The rest has been cross country buildup. It' means my strength is very high at the moment and hopefully I can improve on that and try to get below 7:40 this season."
Quick Thought #3: A few interesting tidbits came up about Bernard Lagat on the BBC telecast which you'd never see on a US broadcast. First Steve Cram pointed out Lagat is still the Kenyan record holder at 1500. Then when the race was over the loud-speaker started playing (we guess for all USA wins), "Born in the USA," and Cram pointed out how the song wasn't accurate.
3000 METRES – Men OFFICIAL RESULTS
1 USA Bernard LAGAT 7:49.83 SR 4
2 GBR Andy VERNON 7:50.10 SB 3
3 COM Vincent RONO KEN 7:55.45 SB 2
SCO Mark MITCHELL DNF
Split Times
1000 COM Vincent RONO KEN 2:38.52
2000 COM Vincent RONO KEN (2:43.34) 5:21.86
Finish USA Bernard LAGAT USA (2:27.97) 7:49.83
Men's 1500: Chris O'Hare Just Holds Off Charlie Grice
This was a great race.
Just before the bell, the two Brits Chris O'Hare, the former Tulsa star who was running for Scotland, and 20-year old Charlie Grice (3:38 pb) really made a push and instantly gapped James Magut and David Torrence.
O'Hare had the lead with 100 remaining (after a 26.71 segment from 1200 to 400) but Grice was right behind. O'Hare dug deep as these two were battling hard for the win. Magut, who had fallen close to 10 meters behind on the first turn of the last lap, suddenly started to charge in the last 100. As O'Hare and Grice were battling each other, Magut came up really fast in the last 50 and got past Grice but not O'Hare as this was a three-way photo finish with O'Hare winning in 3:48.62.
Quick Thought #1: An entertaining race to say the least. In wondering how Magut suddenly nearly came back from the dead in this one, we realized he just measured his kick more evenly. Often times, 1500 runners think they have a little bit more in the tank than they actually do. O'Hare's last 200 was 25.11 but he went 12.27-12.84. Still, the fact that he had the lead gave him the victory as he ran the shortest distance. Magut was probably slightly faster over the last 200 but he was running more distance and coming from behind.
Quick Thought #2: The Brits must be happy to have Charlie Grice, the European U-23 silver medallist. He ran 3:38.03 last year at a 19-year old and competed well here. Putting that time in perspective, realize the US had 28 men go 3:38 or faster last year but the youngest was 22-year old Trevor Dunbar.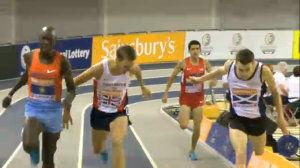 1500 METRES – Men OFFICIAL RESULTS
1 SCO Chris O'HARE 3:48.62 SB 4
2 COM James MAGUT KEN 3:48.65 PB 3
3 GBR Charlie GRICE 3:48.69 SB 2
4 USA David TORRENCE 3:50.12 SB 1
Split Times
400 COM James MAGUT KEN 1:02.95
800 SCO Chris O'HARE SCO (1:03.16) 2:06.11
1200 SCO Chris O'HARE SCO (1:02.96) 3:09.07
Finish SCO Chris O'HARE SCO (39.55) 3:48.62
Men's 600: Guy Learmonth Pulls Off A Big Upset
Scotland's Guy Learmonth pulled of a shocker and went from last to first on the last straight to capture the men's 600 in a new national record of 1:16.48. With American Bershawn Jackson a DNS due to a hamstring issue, the early leading duties were left to Olympic 800 finalist Andrew Osagie who ran aggressively through splits 24.02 and 49.21. Osagie held the lead coming off the final turn, but in the end, those splits proved to be a little too aggressive as the man who bided his time in third ended up winning just barely over Kenya's 2013 world championship team member Jeremiah Mutai.
Quick Thought #1: This was a shock result for sure. We'd have thought that Mutai, who won a silver in the 400 hurldes in 2009 would be ideally suited for 600, but the winner was the 21-year old Learmonth who has just a 1:47.14 pb. Mutai has a 1:43.9 pb and Osagie has a 1:43.77 pb.
600 METRES – Men OFFICIAL RESULTS
1 SCO Guy LEARMONTH 1:16.48 NR 4
2 COM Jeremiah MUTAI KEN 1:16.52 PB 3
3 GBR Andrew OSAGIE 1:16.86 SB 2
USA Bershawn JACKSON DNS
Split Times
200 GBR Andrew OSAGIE GBR 24.02
400 GBR Andrew OSAGIE GBR (25.19) 49.21
Finish SCO Guy LEARMONTH SCO (27.27) 1:16.48
Full Results TEAM STANDING
DAY 1 – 25 Jan 2014