Pre Classic 2013
LRC Alberto Salazar To Come Out of Retirement To Go For Masters Mile World Record For Professional Coaches At 2013 Pre Classic The super competitive Salazar is not going to let anything stop him from breaking the 4:43 clocking rival Nike coach Jerry Schumacher recently put up in practice. Salazar is employing Dathan Ritzenhein as a training partner and rabbit. Therefore, Dathan is out of the Chicago Marathon, but patriots rejoice as he'll represent the USA at the World Half as a result.
The IAAF Raises The White Flag

LRC Source: IAAF To Legalize EPO Later This Week If WADA is able to bring down Lance, then the IAAF realized their top stars are at risk as well. Plus not allowing EPO discriminates against third world athletes who can't afford to do high low training as altitude tents are too expensive.
Perhaps You Were Looking For ... This Page?
LRC April Fools Archives: *2012 *2011 *2010 *2009 *2008 *2007 *2006 *2004 *2003 *2002 *2001
We were threatened with a lawsuit for our 2004 edition.

April 1st, 2012 - Truth Is Sometimes Stranger Than Fiction
April 1st, 2011 - Truth Is Sometimes Stranger Than Fiction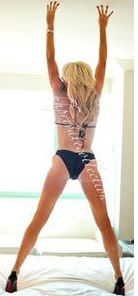 LRC Meet the LRCer Who Had Sex With Suzy Favor Hamilton Jacob (name changed) was your typical LRCer, a 26 year old virgin. Making $250,000 a year, he was in Vegas for a trade show. He was given a flyer about escort services. Being smarter than everyone else, when he called the escort service, he asked for an Olympic runner. The rest is history. Click here to read all about it.
April 1st, 2013 - Truth Is Sometimes Stranger Than Fiction
New Running Book
LRC Ben True, Leo Manzano and Galen Rupp Get $500,000 Advance for the Book: Train Hard, 2nd Place Easy, The American Way After beating the Kenyans at 1,500m, 10,000m, and the national sport of cross country it is time for an update of the classic: Train Hard, Win Easy, The Kenyan Way. The American stars received a $500,000 advance for the book.
More From Our Forums