LetsRun.com's 2009 US Distance Rankings
We rank the top-10 Americans in every event from 800m up to the marathon

By LetsRun.com
December, 2009
LRC US Rankings 2009 was a banner year for US distance runners and for LetsRun.com and we thought of no better way to celebrate the end of the year than with the first-ever LetsRun.com US year-end distance rankings. Instead of the 12 days of Xmas, it's the 12 days of LetsRun.com during the final 12 days of 2009. We give you the top 10 in each distance event.
Men 800 * Women 800 * M1500 * W1500 * MSteeple * WSteeple * M5000 * W5000 * M10,000 * W10,000 * M Marathon * W Marathon
---
Marathon
2009 USA Women's Marathon Rankings
Kara Goucher And Desiree Davila Are 1-2 For USA

Desiree Davila became the first Hansons-Brooks female star when she finished 1 spot behind Kara Goucher at Berlin's World Championships Marathon. Goucher, a Worlds medalist at 10,000m, took center stage in Boston, but ultimately could not match the finishing speed of Salina Kosgei and Dire Tune. Behind the top 2 are a mix of elder greats (Deena Kastor and Colleen De Reuck) and the young American champion Ilsa Paulson.
2009 US Men's Marathon Rankings
Meb, Hall And Ritz Continue As America's Big 3

Meb Keflezighi's win in New York capped a strong year for US Marathoners. Meb pr'd twice and won New York, Dathan Ritzenhein pr'd and ran 2:10:00 but his best events were shorter, Ryan Hall finished 3rd and 4th in Boston and New York, and a number of other runners had top performances (Jorge Torres' debut in New York, Jason Hartmann winning Minneapolis in 2:12, Josh Cox pr'ing at a windy California International Marathon and Nick Arciniaga having another top year stand out in our minds).
---
10,000m
Men's 10,000m
4 Americans Break 27:40 But It's A 2-Horse Race For The #1 Ranking

Whose year was tops, Dathan Ritzenhein or Galen Rupp? Rupp won the NCAA and USATF 10,000m before running a gutsy race in Berlin. Ritzenhein peaked later and finished his last 5,000m of the Berlin 10,000 in 13:37 to place 6th. Also, who would have expected Tim Nelson (27:36) and Patrick Smyth to have such big improvements in '09?
LRC Boards: Tim Nelson Congrats Thread
Women's 10,000m
"Reign Of Shalane" Ends As Begley Bags #1 Ranking
American record holder Shalane Flanagan switched coaches and ultimately decided to switch gears in 2009. From here forward, America's greatest track distance runner of all time may be focused on marathon training. Thanks to Nike's Oregon Project, the 10,000 wasn't bare for America in '09. Amy Begley upset the Olympic medalist at USAs and finished 6th at Worlds in a career-best year.
---
5000m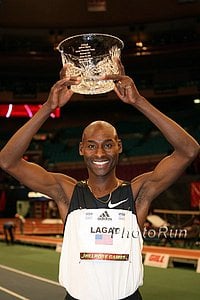 Men's 5,000m
Lagat Leads Stellar American Year
One American got a silver medal at Worlds and two more Americans went sub-13 minutes. Dathan Ritzenhein's electrifying run left him with the American record. Was it good enough to rank him #2 ahead of WC finalist Matt Tegenkamp? Yes.
Women's 5,000m: Shalane Flanagan Leads The Way Jen Rhines may have been 9th at the Worlds this year, but she is only #3 in the US rankings, as Flanagan and Jenny Barringer get the top 2 spots.
---
Steeplechase
Women's Steeple
Jenny B Reigns Supreme
Barringer was sensational in 2009 at many distances and smashed her American steeplechase record. A measured race at Worlds, however, left her just short of the medals.


Men's Steeple
Huling's 8:14 Earns Him #1 Ranking In Down Year For US
---
1500m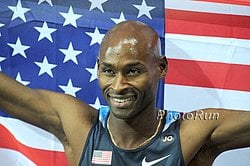 Men's 1,500: Lagat Leads Strong American Contingent The USA put 3 guys into the 1,500m final at the World Champs and Bernard Lagat came home with a bronze in a very strong year for US 1,500m runners. Outside of the World Champs, frosh sensation German Fernandez went undefeated in the NCAA ranks and took down Tony Waldrop's 35-year-old NCAA indoor record.
Women's 1,500: Rowbury Is The Class Of Most Amazing 1,500 Quartet In American History Coming into the year, only two Americans had ever broke 4:00 outdoors. Well, this year, three Americans broke four and none of them were our #1-ranked metric miler for the year.
---
800m
Men's 800m: The Nick Symmonds Show Symmonds was clearly the top dog in the US in 2009 as he was the first US Worlds finalist in over a decade. We break down the top 10 and recap the year for the men's half milers.
Women's 800m: Maggie Vessey And Anna Willard Turn Heads These two women who started 2009 as no-names in the world 800m ranks turned quite a few heads with their Golden League and IAAF Grand Prix wins. However, only one of them could be ranked #1 and that is ... You'll have to click through to find out.
---