SOLINSKY STUNS WITH USA 10,000M RECORD AT STANFORD
By David Monti
(c) 2010 Race Results Weekly, all rights reserved
PALO ALTO (01-May) -- Galen Rupp came here tonight to the Payton Jordan Cardinal Invitational to beat Meb Keflezighi's American 10,000m record of 27:13.98. Keflezighi's mark had stood for nine years and Rupp, with the help of two Kenyan pacemakers and strong rivals who pushed him, accomplished his goal, clocking 27:10.74.

But in an unforeseen twist, Rupp would not become the new American record holder. Finishing fourth, he was beaten by two Kenyans, Daniel Salel and Sam Chelanga, and American man who had never before run the 10,000m distance, Chris Solinsky. The 25 hear-old Solinsky, who was dejected after he failed to make the American Olympic team at 5000m in 2008 when he finished fifth in the USA Olympic Trials, made a stunning 10,000m debut here. Clocking 26:59.60, he became the first American ever to break 27 minutes and the fastest-ever 10,000m runner who was not born in Africa.

"I kind of jokingly said to Jerry (Schumacher, his coach), that I could go anywhere from 26:55 to 28 minutes," Solinsky told reporters after the race. "It was my first one; I've never done a 10-K before."

But Solinsky found himself in a lead pack of six runners who passed half-way in 13:34.2, and who were reliably clicking off 64-second laps. Led by pacemakers Mathew Kisorio and Simon Ndirangu, who took pacing instructions from Rupp's coach, Alberto Salazar, a pack of five contenders had formed: Rupp, Solinsky, Salel, Chelanga, and Canada's Simon Bairu. When the last pacemaker retired, Rupp took over the lead and was just slightly behind the pace to break Keflezighi's record.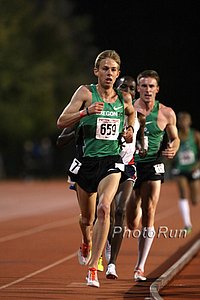 "Just a couple of seconds slow!" shouted Salazar to Rupp.

With fewer than 1000 meters to go in the race, Solinsky decided to seize the lead. Wearing white knee sox and running with form which looked just as clean as in the early laps, Solinsky ran the penultimate circuit of the 25-lap race in 60.1 seconds, and opened up a lead.

"I looked at Schumacher with between 1000 and 900 to go, and he gave me the signal to go," Solinsky continued. "When he gave me the signal to go I felt good enough and I said I'm going to see what I can do. As soon as I went I said, OK, let's see if I can get 27 minutes."

With the small crowd cheering, Solinsky turned the final lap in 56.1 seconds, good enough to get under 27 minutes. Salel, just 19 and also making his debut at the distance, finished second in 27:07.85. Chelanga clocked 27:08.39 to break his own NCAA record, finishing third. Behind the fourth place Rupp, Simon Bairu set a Canadian record of 27:23.63 in fifth place. Eleven men broke 28 minutes, and the first eight finishers all set personal bests. There were smiles on many faces, but Solinsky seemed completely shocked.

"I can't even put it into words," Solinsky said haltingly. "You know, I don't know. It still hasn't sunk in what I just ran because, honestly, we come in here hearing all about Galen was going to make a record. We just wanted to come in and have a fast race."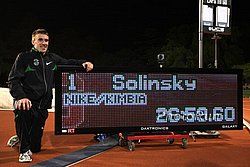 Despite his accomplishment, Solinsky insisted that he was not moving up to the 10-K.

"My teammates said that if I ran 27:20 I'm a 10-K guy. If I don't, I'm still a 5-K guy and I'm just dabbling."

Bairu, who trains with Solinsky, was nearly as happy with his new Canadian record. The old mark of 27:36.01 was set by Jeff Schiebler in the same 2001 race where Keflezighi set his American record.

"I knew I was going to probably blow up with 10 laps to go," said Bairu. "But the plan was just hold on as long as you can, and then whatever's left: how badly do you want that record?"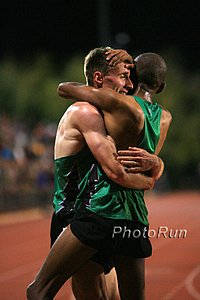 Bairu jokingly disagreed with Solinsky about whether his teammate was actually a 10-K runner now.

"He's been saying that for the last two weeks," quipped Bairu. "He's definitely a 10-K man in denial."

Elsewhere in the meet, Shalane Flanagan was upset in the 5000m by Shannon Rowbury who passed the Olympic bronze medallist in the final 150m of the race after her attempt at breaking her own American record fizzled. Rowbury, who just came off of a long stint of endurance training at high altitude in San Luis Potosi, Mexico, clocked a personal best 15:00.51 to Flanagan's 15:04.23. Amy Begley finished third in a career best 15:05.59.

"It's really my first 5k that turned out," said Rowbury, last summer's World Championships bronze medallist at 1500m. "I just made sure to keep pushing the last stretch."

Jenny Barringer won the 1500m with a powerful stretch run to catch Morgan Uceny. Uceny seemed to have the race well in hand coming out of the final turn, but Barringer was able to find another gear.

"That's the kind of gift you get in your first race (of the season)," Barringer explained. "It's better to be the hunter than the hunted."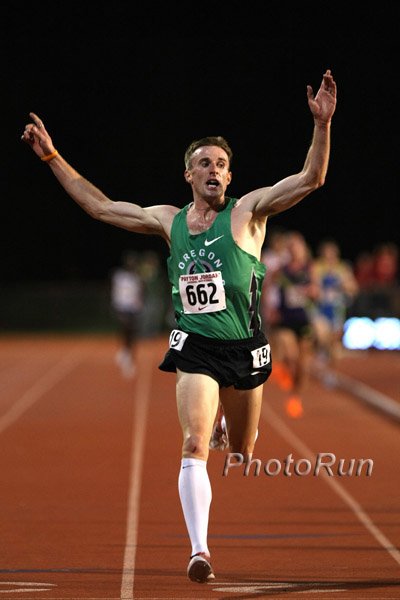 Men's 10,000 Results

Finals                                                         
  1 Chris Solinsky               Nike/Kimbia           26:59.60
  2 Daniel Salel                 Kenya                 27:07.85
  3 Sam Chelanga                 Liberty               27:08.39
  4 Galen Rupp                   Nike                  27:10.74
  5 Simon Bairu                  Nike/Kimbia           27:23.63
  6 Chris Thompson               Otc                   27:29.61
  7 Tim Nelson                   Nike/Kimbia           27:31.56
  8 Robert Curtis                Reebok                27:33.38
  9 Kensuke Takezawa             S&B                   27:55.02
 10 Carlos Romero                Mexico                27:57.52
 11 Takeshi Makabe               Kanebo                27:57.53
 12 Scott Bauhs                  Adidas                28:03.99
 13 Brent Vaughn                 Nike/Kimbia           28:05.33
 14 Boaz Cheboiywo               Kimbia                28:06.60
 15 Brett Gotcher                Adidas                28:09.21
 16 Chris Barnicle               New Mexico            28:10.59
 17 Andy Vernon                  Adidas                28:11.43
 18 Shawn Forrest                Nike                  28:12.48
 19 Jason Hartmann               Nike/Kimbia           28:25.99
 20 Patrick Smyth                Nike                  28:33.14
 21 David Jankowski              Zap Fitness           28:34.27
 22 Jeremy Johnson               Brooks Team           28:37.84
 23 Brian Medigovich             Unattached            28:40.54
 24 Josh Moen                    Team Usa Mn/Strands   28:43.27
 -- Simon Ndarangu               Kenya                      DNF
 -- Anthony Famiglietti          Saucony                    DNF
 -- Mathew Kisorio               Kenya                      DNF
 -- Alistair Cragg               adidas                     DNF
 -- Sean Quigley                 Puma/Kimbia                DNF
 -- Mark Kenneally               Unattached                 DNF
More Coverage:
*Race Photos *Videos of Race With Interviews
*Boards: Men's 10,000 Splits
*Full Results
---
Runner's World &
Running Times



Combined Only $22
a Year
Save $87

---

Running & Track and Field Posters
---

Offers of interest: Nike Lunar Glide Discount Discounting on this shoe not allowed until recently.
---