Post-Worlds Updates
10 Years Ago, The Armory Track Was Almost Used As Makeshift Medical Bay For 9/11 Survivors
LRC Exclusive: Achilles Injury After Worlds Kept Brimin Kipruto From Going After World Record In Zürich
The Short Track Stanford Of Europe? Rieti Is Saturday *Results
Rieti Saturday: Rudisha 1:41.33!!!, Kiprop 3:30.46 PR (Results) Rudisha returned to the site of his 1:41.01 world record and he came close to matching it. Asbel Kiprop, two days after not being able to finish 3rd in Zürich to win the $40,000 Diamond League title, blasted a 3:30.46 to get a PR faster than Andrew Wheating. And WORLD CHAMPION Jenny Simpson raced for the first time since Worlds. The result? 4:06.13 for 10th place.
*Video Of Rudisha's Run
*IAAF Recap Rieti: Bernard Lagat Wins Fast 3k In 7:32.13 Lagat outkicked Vincent Chepkok, Thomas Longosiwa and last year's winner Tariku Bekele. In the 100, Walter Dix won in 10.02 over Jamaica's Lerone Clarke in 2nd, and Justin Gatlin 3rd. Lashawn Merritt ran 20.13 to win the 200 beating Norway's World Champs fourth placer Jaysuma Saidy Ndure (20.41).
*Aussie Jeff Riseley Gets Pulled To 800 PR In Rieti With 1:44.64 For 7th
Rieti On The Boards: *Asbel 3'30.46 *RUDISHA 1:41.33 *Jenny Simpson 4:06.13 in Rieti Today

One Year After 1:41.01 - David Rudisha Returns To Rieti Jenny Barringer Simpson races for the first time since Worlds, Willis vs. Kiprop at 1,500, and Lagat vs. T. Bekele at 3,000.
*Phil Hersh Catches Up With Jenny Simpson, Who Is Looking For PR In Rieti *Simpson Speaks (Video)
*Pearson Hoping To Break Flat Australian 100m Record In Rieti A French coach thinks the 110 hurdles champ might be a medal contender in the flat race.

Tue: Zagreb Preview: Usain Bolt To Return To Action & Face Kim Collins At 100m
Distance News
Non-Distance News
Don't Forget
Boston Marathon Registration To Open On Monday
Looking Ahead
NJ Democrats Sticking With Carl Lewis In Appeal
More Post-Worlds
Sad: Seraphino Antao, Kenya's Only Short Sprinter To Win A Medal At A World Championships, Dies At 73 He won the 100y/200y at the 1962 Commonwealth Games, making him the first Kenyan athlete to win a gold medal at an international level.
Bad: British Agent/Manager Ian Ladbrooke Has Cheated Elite Runners Out Of Close To A Half Million Dollars In Winnings Includes athletes such as Boston Marathon champ Caroline Kilel as well as top marathoners Wilson Chebet and Patrick Makau.
Three Recommended Reads
Random But Interesting
*Dai Greene Is Stunned By People's Reaction To His Gold - Seb Coe Asked For His Autograph
*Judge Kicks King Carl (Lewis) Of NJ Ballot He says that just because he's famous doesn't mean he doesn't have to follow the rules.
*
"Marathon Mom" Jenny Finch Now Has Big Goal Of Beating Armani Toomer's Time (4:13) At ING New York City Marathon The guys at photo run will certainly be happy to take her photo.
*After Promising To Win Gold In 2012, Abel Kirui Gets His Wish - 3-Rank Promotion In Police Force
*282,824 Apply For 2012 Tokyo Marathon
*Runners Tribe Guy Asks If Good Racing Tactics Can Be Taught "Running from the front requires more energy. But then again, so does catching up to the leader." We're not sure why the article is full of praise for Bernard Lagat's tactics. One could easily argue tactics cost him gold in Daegu.
More Post-Worlds News
After Being Asked If He's An "Inconvenient Embarrassment" For T&F, Oscar Pistorious Cuts Short A BBC Radio Interview We don't know how anyone could call him an embarrassment. We'd call him an inconvenient inspiration.
*LRC MB: Pistorius "inconvenient embarrassment" Pissed at BBC
Post-World Championships Distance News
LRC Men's 5,000 Gets Physical: Farah Wins But Lagat Says He Had It Deserving champ Mo Farah goes home with 5,000m gold, but were it not for a now-DQed Imane Merga getting physical with 3 top contenders in the span of 300m, including prime rival Bernard Lagat, Farah may have returned to Oregon with 2 narrow losses. We've got the story of the most controversial distance event at Worlds.
LRC Women's 800 Final: Semenya Goes Down Caster Semenya goes home with silver as Russian Mariya Savinova ran 1:55 to shock the huge favorite and herself to take home the gold, with Alysia Montano just missing out in 4th. Semenya, who was permitted to skip the press conference amid the 2009 controversy in Berlin, did a great job talking to the media in her first Worlds press conference.
*After 6th Place Finish In 800, Maggie Vessey Says She's Disappointed She concedes that having to run multiple fast 800s to make the final took a lot out of her.

Sunday AM: 2011 World Championships Marathon: Abel Kirui X 2 Kirui destroyed the field the second half to get his second world title. Despite being 2009 World Champ, Kirui switched coaches this year to LRC message board favorite Renato Canova. Kirui gave Canova a call after the race. The American men struggled.


Saturday: LRC Bolt Back - 19.40 ... Lemaitre Medals - 19.80 ... Vlasic, Thor, Dix - Silver ... We recap the non-distance action from the penultimate day in Daegu, including Sally Pearson's phenomenal 12.28 in the 100m hurdles, a super-fast 200m final, and more posing from high jump 2nd-placer Blanka Vlasic.
*"The Fierce White Girl" Sally Pearson Sets CR
*Bolt Photos

Friday:
*LRC Day 7 Non-Distance: Dwight Phillips Gets Gold #5, US 4 X 400 Kicks By S. Africa, VCB Over Jeter And Felix, US Shotputters Shut Out The quotes, the interviews, the results ... plus the cover jinx barely survives, why Pistorius didn't run for South Africa's medal-winning 4 x 4, and more.

On The Boards: LaShawn Merrit kicks home for gold like a boss
*Dwight Phillips wins his 4th WC LJ - Bib #1111
*Carmalita Jeter! UGH
Worlds Thursday
LRC Day 6 Jenny Gets Gold Jenny Simpson powered home the final 100m to stun the world Thursday night to end America's 28-year drought of distance gold. Her run was unexpected, but in retrospect not totally shocking, as the American phenom showed in 2009 she can run with the world's best when fit and healthy. And she's definitely fit and healthy now and from now on will always be Jenny Simpson ... World Champion.
*British Media Falls In Love With "Starlet" Hannah England, Who Won Silver Some great photos of her on her victory lap.
*Hannah England Makes Mentor Kelly Holmes Proud By Winning Silver
*Seb Coe Always Believed In Her As Well (But Few Others) It's a shame the British media doesn't realize how hard it is to win an NCAA title.
On The Boards: *Simpson wins 1500m - Uceny falls! *GUTTED for Morgan Uceny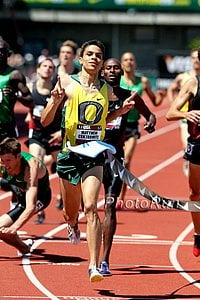 LRC: 1,500 Semis: Matt Centrowitz Puts On A Clinic As He, Asbel Kiprop And Silas Kiplagat Cruise Into Finals The American champ ran like he belonged from the very start and won his heat in a race where he never left the rail and looked like a total veteran, not a 21-year-old rookie. Meanwhile, a few names like Amine Laalou, Deresse Mekonnen, Leo Manzano and Daniel Kipchirir Komen fell by the wayside. Former FSU product Ciaran O'Lionaird advanced easily as Nick Willis surprisingly struggled and sought medical treatment afterwards.
*Extereme Dehydration May Have Caused Nick Willis To Have A Hamstring Problem He was carried off on a stretcher (great pic included).

LRC In Daegu: American Glory, Evil Sorcery Jinx Rule Day 6 In Daegu World champ and new US record-setter Lashinda Demus and her mother/coach talk about how video games brought her to glory, Jesse Williams wins the first US high jump gold in 20 years and throws a barb at Dwight Stones, and the biggest news of all: The



LRC How Rudisha's Night Was Almost Ruined David Rudisha is now safely in the record annals as a world champion, but a little-noticed collision almost cost him his shoe and the title. We've got the photo evidence to prove it and virtually unanimous WR predictions from his rivals. Also: Oscar P and RSA are set to vie for a 4 x 4 medal, while Kenya's 4 x 4 sprinters heroically made the final ahead of medal favorites Bahamas ... but will Rudisha be running in the final? We asked Kenya's top sprinter.
LetsRun.com's Promotion Of Blake's Flinch Continues To Go Viral Worldwide
Previous Worlds
800m Final LRC David Rudisha Gets The World Title He Deserves, Nick Symmonds Comes Up Short Rudisha had been undefeated in every race since the last World Championships and on Tuesday he won the one race he hadn't won in two years - the World Championships. American Nick Symmonds was in medal contention but came home in fifth and the American medal drought continues at 800m.
More On The Boards: Mens 800 Final
*Nick Symmonds Post-Race Comments



Monday: LRC Lots Of Sprint Intrigue: WR Holder Dayron Robles Goes From Gold To Zilch, Allyson Felix Upended By Botswanan, Pistorius Has Chance But Fades Good thing there was no distance action Monday night, as we wouldn't have had time to recap all the sprint/field event action. A DQ in the hurdles that gave Jason Richardson the unexpected World title, Allyson Felix got a PR but lost, and Oscar P fizzled out. Plus an unexpected medal in the shot for an American, a thrilling pole vault and, oh yeah, the 100m women's final, where HSI got its 2nd gold of the night.


Men's 10,000m: LRC Ibrahim Jeilan, A Guy You've Never Heard Of, Stuns The World In Men's 10,000m The men's 10,000m was a total shocker as Ibrahim Jeilan, a former World Junior champion who was passed over by the Ethiopian team on two occasions and had to go to Japan to keep his running career alive, shocked the world's best distance runner Mo Farah in a great duel over the final 100m, as Farah apparently kicked too hard, too soon. Galen Rupp was 7th and the great Kenenisa Bekele dropped out, losing his first 10,000m ever.


LRC Kenya's Heavenly Day 1 Ends With Perfection! Vivian Cheruiyot Leads Kenyans To 1-2-3-4 Domination Of Women's 10,000 The much-anticipated battle between the undefeated Meseret Defar and Vivian Cheruiyot never materialized as Defar fell off and then dropped out, but Cheruiyot did come through as expected. The Oregon track club's Sally Kipyego got the silver as the Kenyan women's day went from incredible to heavenly, as they followed up near perfection in the marathon with total perfection in the 10,000. The American women struggled, as Shalane Flanagan was 7th and Kara Goucher was lapped. Jen Rhines was 9th.
*LRC Video Reaction From Cheruiyot, Kipyego, Flanagan And Goucher

LRC Recap Now Up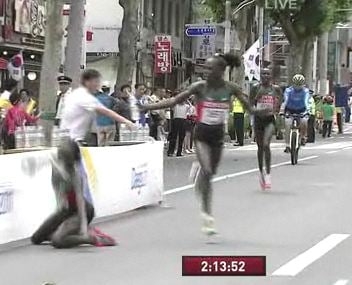 Saturday's Action Underway: Edna Kiplagat Survives Fall, Leads Kenya To 1-2-3 Sweep In Marathon To Start Worlds Kiplagat has shot to the top of the world marathon ranks in the last two years (New York champ last year, 2:20 for 3rd in London) and she backed it up with an impressive win despite falling at a water station in the final 10km. Priscah Jeptoo was second and Sharon Cherop third. Tera Moody - just months removed from 3 surgeries - was the first American (interview here) in 17th and Kathy Newberry was 30th (interview here).
*LRC Post-Race Comments From Kiplagat *IAAF: Patience and family support key to Kiplagat's Rise
On The Boards: women's marathon play by play
Sunday 90th ISTAF Berlin Meet *Meet Website
*Preview Of 90th ISTAF Berlin: Yohan Blake, Kirani James, Paul Koech WR Attempt In Steeple? This former Golden League meet remained independent and didn't join the Diamond League, but it still is one of the top meets in the world. It's got some stars this year and we understand in the steeple LRC favorite Paul Koech is going for it.
*Olympic Champ Yelena Isinbayeva Pulls Out Of ISTAF Berlin, Citing A "Lack Of Form" Remember she was a disappointing 6th at World Champs.
*IAAF Article On Meet
Other Results
New York Times Profiles Lukas Verzbicas' Quest For Jr. World Triathlon Title The race is Sunday.
3 Recommended Reads
LRC Zürich Recap: Blake 9.82! Over Powell, Nixon Chepseba?! Wins Diamond League 1,500 Title, Kemboi Wins Again, Savinova Wins Stacked 800 It's called the best one day track meet in the World for a reason, it gets the stars. This year's meet had 18 events and in 17 of them it featured the recent World Champ (and in the women's 200 it had Jeter and Felix). Yohan Blake beat Asafa Powell in the 100, Vivian Cheruiyot faced a tough challenge from Sally Kipyego in the 5000, as Shalane Flanagan struggled. Nixon Chepseba and Jenny Meadows got surprise overall Diamond League titles and $40,000, as Dayron Robles crossed the finish line first again. LRC Recap and analysis, as we even take a look at Allyson Felix and Carmelita Jeter six years ago.
AFP: Blake Gets Zurich Win
Kenya: Cheruiyot, Chepseba, Kipsiele Win Diamond trophies
*US Victories For Carmelita Jeter In 200, Jenn Suhr In Pole Vault, & Brittney Reese In The LJ In Zurich DL Jenn Suhr beat WR holder Yelena Isinbayeva, but lost the overall DL by 1pt to German Silke Spiegelburg.
*Jenny Meadows Gets 3rd, Wins Overall DL
*Sally Pearson Wins 100m Hurdles She'll run a flat 100 in Italy this weekend and then the hurdles again in Brussels DL.
*NZ's World Champ Valerie Adams Wins Zurich Shot Put/DL Title
*IAAF Recap

On The Boards: Blake 9.82 (0.0) !!!!!!
*Shalane Flanagan 5k in Zurich
*With James: 44:36 NR; Blake 9.82 PB - who needs Bolt
10 Years After September 11th
Non-Diamond League Upcoming
Random
Greek Appeals Court Overturns Convictions For Former Sprint Stars Costas Kenteris And Katerina Thanou We disagree 100% with their lawyer's assessment of what this all means. Their lawyer says, "I am proud as a Greek, because the decision demonstrates that the [athletes] were totally clean." No it doesn't. It just means they couldn't be criminally convicted of perjury or staging a crash. The conviction of their coach for "on charges of possession and storage of illegal substances" was upheld and the facts are that Kenteris and Thanou did miss three drug tests in 2004 - only one of which was for the alleged car crash.
He's Back? Abdi Abdirahman Takes Lead At 3 Miles, Never Looks Back And Easily Wins The times were slow, as Abdi (60:12) kept looking over his shoulder wondering where the competition was. In the past, sub-61:00 hasn't even placed in the top 10, but today only three broke 61:00. In the women's race, newly-minted US citizen Janet Cherobon-Bawcom, formerly of Kenya, won in 68:31.
*Running USA Recap With Top 10 Result *LRC MB US 20k Champs *LRC MB: Abdi is Back!!!
*Pre-Race Article On New Haven
*Shocking Final Eve: Bolt, Jamaica Set 4 X 100 WR SI.com Usain Bolt saw the 37.04, crossed the line, threw the baton 100 feet in the air, danced for 30 minutes on the track, and of course unlike any HS or college kid who might do that, was celebrated rather than DQed. *Best Video Of What Happened To US Team
*US Youngsters Carry Team - Christian Taylor's 17.96 TJ Stuns Field Taylor and Will Claye took gold and bronze in the TJ to overshadow men's 4 x 100 fall. Taylor's 17.96m jump is the 2nd-longest triple jump in World Champs history.
*LRC Video: Lananna Quick Take On USA Team Performance Simply put, the US crushed the rest of the world medal-wise, winning some surprise medals from Simpson, Centro and the TJers but also missing some opportunities in men's shot, men's 400H, men's 4 x 1.

Other Sunday Results/Post-Worlds Thoughts
*Philip Hersh: The US Cleans Up In The Medal Counts At Worlds; Allyson Felix Walks Away With 4 Medals After Helping The Women's 4 X 1 Win Gold Allyson Felix is only the 4th athlete ever to win 4 medals at the World Championships.
*Russian Tatyana Lysenko Upset WR Holder Betty Heidler To Win Women's Hammer But she's a former drug cheat who was involved in Russia's largest doping scandal.
*At The Beginning Of Last Month, Ciaran O'Lionard Hadn't Run Under 3:40, Now He's Finished 10th In The World Article talks about how he'll now be getting funding from Ireland Sports Council and how he had to spend 2 hours in anti-doping because he "couldn't produce a sample" due to dehydration.
*Despite Success, UK Coach Charles van Commenee Still Very Critical Of His Team He describes the performance of the men's 4 x 400m in their final as "appalling, unforgivable."
*IAAF To Stick With False Start Rule Despite Bolt's DQ
*Of False Start In 100m, Bolt Says, "It was all my fault. People are saying that Yohan twitched, but that is not the case."
*IAAF Says Doha Can Bid For Late September 2017 Worlds
LRC: Matt Centrowitz Gets Bronze As Asbel Kiprop And Silas Kiplagat Go 1-2 Only 21, Centrowitz ran like a seasoned pro and got the first American-born track medal since 1987. Another 10 meters and his medal might have been a different color. Asbel Kiprop got Kenya its first World Championships 1,500m gold and Silas Kiplagat backed him up with silver. Ladies (and gentleman for the first time), we also tell you how to get onto Centro Nation. Recap and extensive post-race reaction.
*Matt Centrowitz Says Jenny Simpson's 1,500 Win "Set The Tone" And Made Him Believe He Could Medal

More Distance: Lauren Fleshman Gives An Inside Look Minute-By-Minute Of Her WCs Experience "I didn't know who won, who got medals, who I pipped at the line, what time I ran, or what place I finished. Complete immersion into maximum effort drowned out all my senses ... all I could think about was this: June 24th: 8th in the USA September 2nd: 7th in the world. Just goes to show, you never know what awaits you. Believe in turnarounds. Believe in yourself."
*Based On Pre-Race Workout, Alberto Salazar Says Mo Farah Is In Perfect Shape To Win 5k Gold
Worlds Friday
LRC Vivian Cheruiyot Completes 10k/5k Double American Lauren Fleshman finished a solid 7th in a race that saw Vivian Cheruiyot run away with her 2nd gold of the champs, closing in 58.6 to lead Kenya to their 8th and 9th medals of the championships.
*LRC: Women's 5,000m Analysis And Reaction
*More Cheruiyot Photos
Rec Read: How Cheruiyot Got The Double The Daily Nation Cheruiyot's manager Ricky Simms before the race: "If it is a slow race, Vivian will win. If it is a fast race, Vivian will win."

LRC: Women's 800m Semifinals: Caster Semenya Is Back, Maggie Vessey And Alysia Montano Make The Final Caster Semenya looked like Semenya of '09 and if that is the case, there is nothing else the other women in the field can do. For the first time since 1988, two Americans are in the final. Can the US get its first medal since the late Kim Gallagher's bronze in '88?
*Vessey At Another Level In 800 Semis Steve Ritchie
*Jenny Meadows Misses 800m Final
*MB: Caster Semenya strikes again
LRC Ezekiel Kemboi Gets Gold And Does The Mini Bolt Ezekiel Kemboi absolutely crushed the field the final 200m to arguably become the greatest championship steepler ever. He was so majestic the final 200 that he had time to celebrate in lane 7 before the silver medal was determined.
*Kemboi Explains To Kenyan Media Why His Celebration Was Extra Long "My friend Usain Bolt remember was not in the finals and he would have danced well. I had to do (it) for Usain Bolt and me."
*Kemboi Left Stadium "In Stitches And Awe In Equal Measure"
*Kenyan Media Happy With "Stylish" 1-2 Finish In Steeple - Proclaims Cheruiyot Winner Of Women's 5,000 Before Race Is Even Run
*Eldoret Erupts In Joy For Most Popular Runner In Town - Kemboi
On The Boards: Ezekiel Kemboi Appreciation Thread - That was the greatest final 200 (and celebration by a distance runner) ever
LRC: Day 4: Teenage King James Nips Merritt In 400m, Zaripova Takes Steeple Going Away, Uceny And Simpson Make 1,500m Final We recap all of Tuesday's pm action outside of the men's 800m final in this piece. We break down the 400m final, the women's steeple final (and where Jenny Simpson would have finished), look at the 1,500m semis and much more.



LRC: Day 4 Daegu Distance Previews: Men's 800 Final - Nick Symmonds Goes For A Medal, 1,500 1st Round Highlight Busy Day Great distance action, including the women's steeple final, men's 1,500m round 1 and women's 5,000m round 1 and of course the anticipated 800m final with Symmonds, Rudisha and Kaki.

LRC Usain Bolt False Starts ... Or Did He? Video Proof That Yohan Blake Flinches And Then Usain Bolt False Starts The video shows very clearly that Yohan Blake flinches and then Usain Bolt subconsciously reacted and bolted from the blocks. According to IAAF rules, at a minimum Blake should have been warned. Under no scenario should Bolt have been given the DQ.
*Telegraph Article Here Picking Up The LRC Cause On The Blake Flinch
LRC Bolt's DQ, Ashton Eaton's 1,500m And More

Usain Bolt DQed For FS, Yohan Blake Wins Title *Bolt: "Looking for tears? That's not going to happen."
*Dix (silver): "I couldn't believe it, it's kind of surreal. I didn't think they were going to kick him out. It's pretty hard to kick Usain out of the race."
*Bolt's Coach: "I think he would have run in the sixties (9.60s)."

LRC: Rojo Blogs From The Couch About Daegu: Post #2 - 6 Quick Thoughts About The Men's 10,000, Men's 100m And Men's 800/Thoughts On Human Nature's Attempt To Explain Everything Rojo laments that humans seemingly always try to have a nice and neat explanation for everything like Bolt's DQ or Farah's narrow loss and normally it ends up being wrong. Along the way, he refuses to throw Bekele under the bus and hopes for his resurrection but seemignly has no problems with running all over Matt Tegenkamp. Heartless. Plus big praise for Maurice Greene, Nick Symmonds and even Khadevis Robinson.

Want To Know The Truth About Oscar P? Read This:
Recommended Read: The Scientific Interpretation Of The Oscar Pistorius Research
Recommended Read: Boston Globe: John J. Kelley, 80; Marathon champ carried hopes of the nation Kelley lived in a day and age when foreigners were dominating the Boston marathon, but he always showed up and gave it his best (he finished 2nd 5 times) and one magical day he emerged as the winner. He should be an inspiration to all modern day US marathoner hopes like Ryan Hall, as foreigners won Boston 11 years in a row before his win in 1957 and 10 years in a row after it.
New England Runner: Tribute To The Renaissance Man Kelley
The New London Day (Local Paper): John Kelley, running legend, dies at 80
NY Times: John J. Kelley, Marathon Champion, Dies At 80
Non-Worlds News
Kenyan Benson Barus Wins Virginia Beach Half Marathon In 1:02:22, Ryan Hall 4th In 1:03:02 Hall said, "I think I could run a marathon at that pace but when I'd go to the front and try to go a faster it would feel very uncomfortable. That's a good sign actually."
Usain Bolt And Jamaica Get World Record (International Visitors Click Here, Post-Race Press Conf. Here)
Centro After His Bronze (Much More Here, Watch Race Here)
Simpson Gets Gold (International Visitors Click Here)
Ezekiel Kemboi Wins And Has The Greatest Celebration Ever (International Visitors Click Here)
Simpson After Her Gold (For More On Jenny's Post-Race Reaction, Click Here For Her Highlights From The Post-Race Press Conference)
Men's 800 Final (International Visitors Click Here, Post-Race Interviews Here)
A Scintillating Men's 10,000 Finish (US Visitors Only)
Women's 10,000 Highlights (US Visitors Only, International Visitors Click Here)
Monaco Photos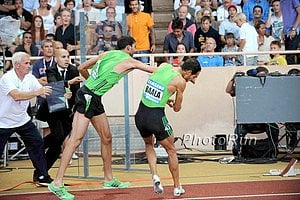 LRC Contest Recap - The Greatness Of You
A Must-Watch (We're Not Sure How We Missed This) - Sammy Wanjiru's Mom Theatens Others With A Machete 2 Weeks Ago (More Here)
Great Deals

Universal Sports Back To Top