Women's Marathon: Fall Does Not Stop Edna Kiplagat From Her First World Title and a Kenyan 1-2-3 Sweep
By LetsRun.com
August 27, 2011
In case you did not know it, Edna Kiplagat is one of the top marathoners in the world. Last year at the ING NYC Marathon after a dawdling pace the first 20 miles, Kiplagat blasted the final 10k to take the New York title. In the opening event of the 2011 World Track and Field Championships in Daegu, South Korea on Saturday, Kiplagat bested her New York performance. After a similarly dawdling opening 20 miles, Kiplagat not only blasted the final 10k to get her first World title, but she did so after falling in the final 10k after a collision with Sharon Cherop.
The first half was run in a pedestrian 1:16.46 and there were roughly 30 women still together including American Tera Moody.
By 30km the pace had picked up slightly (1:48:35 split, 2:32:43 pace), but the front pack still contained 17 women.
Soon that would change. Around the 33km mark, just before the two hour mark, Kiplagat decided that the real racing should begin. Before you knew it (less than a couple of minutes) there was a pack of four up front, Kiplagat, Kenyan teammates Priscah Jeptoo (Paris champ in 2:22:51) and Sharon Cherop (2010 Toronto champ 2:22:42), and Ethiopian Bezunesh Bekele (5th in London this year).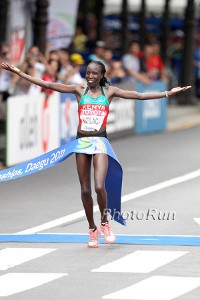 Edna the Champ
Kiplagat was the most accomplished of the group and soon her class showed as she continued pushing the pace again and Bekele was the first to crack. Jeptoo then lost contact with the lead group and heading into the water stop right before the 2:14 mark Kiplagat was slightly ahead of Cherop.
Then, before you knew it, disaster struck for Kiplagat. She moved sharply to her right to get water and cut in front of Cherop. Kiplagat's leg on the backswing clipped Cherop and down Kiplagat went. In a show of true sportsmanship, Cherop turned around looking to possibly help Kiplagat up, but before she could do anything Kiplagat had bounced back up and was running again. The fall let Priscah Jeptoo catch back up to her Kenyan teammates.
How would Kiplagat respond to the fall in the 24th mile of a marathon on a humid day? Like a champion. After running with Cherop and Jeptoo for a few minutes she struck again. She pulled away and now it was Jeptoo who was best able to give chase.
However, once Kiplagat made her final for home, this one was not in doubt. Kiplagat went on to get the comfortable 17 second victory, 2:28:43 to 2:29:00 over Jeptoo. Now all that was unresolved was whether Kenya could sweep the medals. Cherop made sure they did. She came in at 2:29:14, 9 seconds ahead of Bezunesh Bekele as Kenya started the Worlds in perfect fashion (also winning the World Marathon Cup team competition which takes the cumulative time of the top 3 runners from each country). Japan's Yukiko Akaba (6th in London) rounded out the top 5 here.
Outside of the top 5, the women were running not only for pride but also for time in the World Cup team race. Xiaolin Zhu in 6th place led China to second place, 46 seconds up on Ethiopia which got the bronze by 38 seconds over Japan. The 5th place team Ukraine was then nearly 13 minutes back.
Meanwhile, American Tera Moody (2:30.53 pr) was having a strong showing. She had been with the lead pack through 35km, even taking the lead at one point. The slow pace was perfect for her as she could run the race she wanted with a lot of company. She would end up finishing in 17th in 2:32:04 just outside of her goal of a top 15 finish.
Post-Race Reaction on the Fall, Plus Tera Moody and Kathy Newberry
The discussion after the race centered rightfully on the fall. Cherop who should get the good sportsmanship award of the day said, "It was not my fault, but after seeing my friend had fallen down, I slowed and waited for her." Kiplagat got up quickly, but Cherop definitely slowed, looked back and looked to try and assist her. Kiplagat said, "When I fell down I had to wake up, I had to try and pick up my form...I didn't know if I was gong to wake up and pick it up again or if I was going to stop..." She then added after 1 km she felt better and pushed again.
Jeptoo was the biggest beneficiary of the fall as she had been dropped by Cherop and Kiplagat and used it to get back with the leaders. She said, "I felt very bad.. They told us that we wait for her." It was unclear who the "they" Jeptoo was referring too, but it was clear from hearing from all three Kenyan women that they worked together to let Kiplagat recover from the fall. The team work paid off with the first marathon sweep at the World Championships.
As was mentioned above, Tera Moody had the best day for the Americans finishing in 17th place just 1:11 from her pr on a humid day. This was definitely the best marathon of her life. Even more impressive was the fact Moody missed four months of training (not running a step) after undergoing 3 foot surgeries after the Houston Half Marathon in January. She resumed training at the end of May and 3 months later was 17th in the World.
Moody who is coached remotely by Brad Hudson of Marathon Performance, lives in Colorado Springs and does most of her training by herself. During her time off she crossed train religiously on a stationery bike and she felt the heat of cross training on a bike with no wind helped prepare her for the humidity of Daegu. Moody does some of her training on a treadmill as well which helps with the heat. Now her attention turns to the Olympic Trials in January in Houston. She said, "The goal is to make the team. I need to get some running in... I'm still going to cross train one or two days a week."
QT1 (Quick Thought #1): Edna Kiplagat is now officially a star of the marathon. Since returning to the marathon last year and being coached exclusively by her husband Gilbert she has had tremendous success. Her transformation as a marathon shows that different systems work for different people (before she was coached by Kimbia's well respected Dieter Hogan). This race played perfectly into her hands as she showed in New York she can blast the final 10k off a slow pace. The slow early pace will also make the recovery easier for her New York defense in November.
Clearly, she's great in slow races. However, it shouldn't be forgotten that she followed up her New York win with a fine time 2:20:46 in London (third-place).

QT2: Kudos to the sportsmanship from Cherop. The great thing about our sport is Cherop's act was not even that surprising.
QT3: Both Moody and Kathy Newberry (30th place in her second marathon, interview below) both were super pumped when the topic of the Olympic Marathon Trials came up. Hard to believe they are less than 5 months away in Houston. Speaking of the American women, 47 year old Colleen de Reuck finished in 38th place.
The Champ Edna Kiplagat on the Fall And the Kenyan 1-2-3 Sweep


Tera Moody On Her 17th Place Finishing After Missing 4 Months of Training


Kathy Newberry After Running Worlds in Her 2nd Marathon


LRC Exclusive: Sarbi the Mascot Does a Techno Dance on the Course


2011 World Championship Marathon Results
*Team Results Here

| | | | | | |
| --- | --- | --- | --- | --- | --- |
| 1 | 578 | | KEN | 2:28:43 | |
| 2 | 575 | | KEN | 2:29:00 | |
| 3 | 572 | | KEN | 2:29:14 | (SB) |
| 4 | 340 | | ETH | 2:29:21 | |
| 5 | 534 | | JPN | 2:29:35 | |
| 6 | 250 | | CHN | 2:29:58 | |
| 7 | 829 | | SWE | 2:30:13 | |
| 8 | 240 | | CHN | 2:30:25 | |
| 9 | 718 | | POR | 2:30:29 | |
| 10 | 547 | | JPN | 2:30:52 | |
| 11 | 218 | | CHN | 2:31:11 | |
| 12 | 349 | | ETH | 2:31:22 | |
| 13 | 581 | | KEN | 2:31:29 | (SB) |
| 14 | 339 | | ETH | 2:31:37 | |
| 15 | 880 | | UKR | 2:31:58 | |
| 16 | 223 | | CHN | 2:31:58 | |
| 17 | 963 | | USA | 2:32:04 | (SB) |
| 18 | 552 | | JPN | 2:32:31 | |
| 19 | 549 | | JPN | 2:33:42 | |
| 20 | 182 | | BRN | 2:33:47 | |
| 21 | 876 | | UKR | 2:34:21 | |
| 22 | 542 | | JPN | 2:35:16 | |
| 23 | 778 | | RUS | 2:35:39 | |
| 24 | 403 | | GBR | 2:35:57 | |
| 25 | 634 | | LTU | 2:36:05 | (SB) |
| 26 | 241 | | CHN | 2:36:10 | |
| 27 | 271 | | CRO | 2:36:41 | |
| 28 | 608 | | KOR | 2:37:05 | (SB) |
| 29 | 587 | | KEN | 2:37:07 | (SB) |
| 30 | 966 | | USA | 2:37:28 | (SB) |
| 31 | 737 | | RSA | 2:38:16 | |
| 32 | 960 | | USA | 2:38:23 | (SB) |
| 33 | 881 | | UKR | 2:39:25 | (SB) |
| 34 | 611 | | KOR | 2:40:23 | |
| 35 | 594 | | KOR | 2:42:28 | |
| 36 | 859 | | TUR | 2:42:56 | |
| 37 | 742 | | RSA | 2:43:59 | (SB) |
| 38 | 932 | | USA | 2:44:35 | (SB) |
| 39 | 653 | | MGL | 2:45:58 | |
| 40 | 943 | | USA | 2:46:44 | (SB) |
| 41 | 697 | | PER | 2:47:21 | |
| 42 | 385 | | GBR | 2:50:51 | |
| 43 | 614 | | KOR | 3:03:34 | |
| 44 | 592 | | KOR | 3:10:06 | |
| 45 | 630 | | LES | 3:28:30 | (SB) |
| 46 | 107 | | ARU | 3:49:48 | (SB) |
| | 355 | | ETH | DQ | |
| | 142 | | BIH | DNF | |
| | 311 | | ESP | DNF | |
| | 353 | | ETH | DNF | |
| | 696 | | PER | DNF | |
| | 793 | | RWA | DNF | |
| | 895 | | UKR | DNF | |
| | 902 | | UKR | DNF | |
| | 738 | | RSA | DNS | |